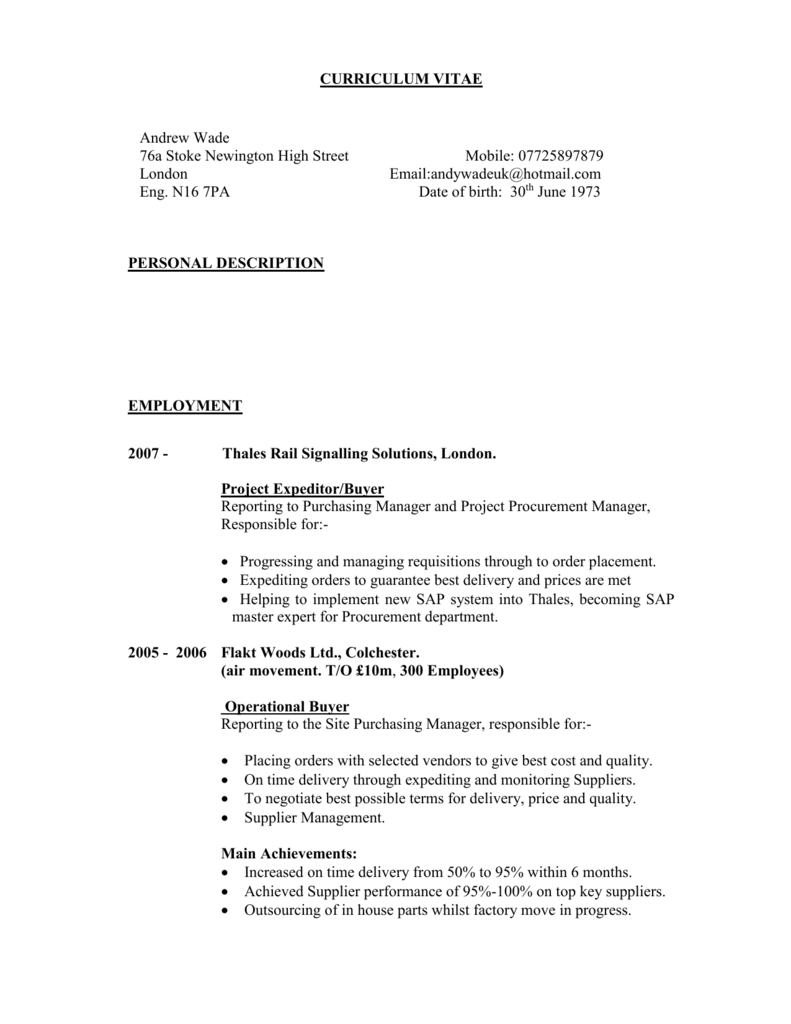 CURRICULUM VITAE
Andrew Wade
76a Stoke Newington High Street
London
Eng. N16 7PA
Mobile: 07725897879
Email:[email protected]
Date of birth: 30th June 1973
PERSONAL DESCRIPTION
EMPLOYMENT
2007 -
Thales Rail Signalling Solutions, London.
Project Expeditor/Buyer
Reporting to Purchasing Manager and Project Procurement Manager,
Responsible for: Progressing and managing requisitions through to order placement.
 Expediting orders to guarantee best delivery and prices are met
 Helping to implement new SAP system into Thales, becoming SAP
master expert for Procurement department.
2005 - 2006 Flakt Woods Ltd., Colchester.
(air movement. T/O £10m, 300 Employees)
Operational Buyer
Reporting to the Site Purchasing Manager, responsible for:



Placing orders with selected vendors to give best cost and quality.
On time delivery through expediting and monitoring Suppliers.
To negotiate best possible terms for delivery, price and quality.
Supplier Management.
Main Achievements:
 Increased on time delivery from 50% to 95% within 6 months.
 Achieved Supplier performance of 95%-100% on top key suppliers.
 Outsourcing of in house parts whilst factory move in progress.

2004 - 2005
Temporary agency work


2003 – 2004
Call Centre/Customer service for insurance company
Data Entry/Customer service for postal company
Travelling World-Various Temporary work (Australia)



2003 – 2003
Reducing Supply base which resulted in internal cost savings.
Organisation and set up for shows/events at exhibition centre.
Farm Work, hostel Refurbishment and Retail assistant.
Implementing new Waste Management/Recycling project.
Suffolk Housing Assoc.
Data Entry clerk, Temporary work only
1996 - 2003
Ransomes Jacobsen Ltd., Ipswich
(Turf care equipment, T/O £66m, 350 employees)
Purchasing Professional
Reporting to the Supplier Manager, responsible for:



The procurement of a range of 'products', value £4M+
Identifying new suppliers and negotiating supply contracts
Operating within ISO9001 disciplines
Supply Chain Management of the KanBan system provider
Main achievements:
 Achieved target savings of £330K over previous years spend.
 Introduced 'kits' for individual product consumables, saving on
lost/damaged items
 Early involvement in design project of new product to ensure
suitability of procurement processes and suppliers capability.
 Reduction of Supply base which resulted in internal cost savings
 Analysed make v buy strategy which resulted in saving of £100k
1991 - 96
Hughes TV & Audio Ltd. Woodbridge 200 employees
Sales Assistant
Reporting to the Regional / Branch Manager, responsible for:



Deputising for Branch Manager
Customer interface
Demonstrating products and providing all appropriate information

Banking of money, stock ordering, store displays
Achievements:
 Managed branches when regular manager unavailable
 Achieved Sales targets
 Satisfied customers by meeting their requirements.
EDUCATION / TRAINING
1999
1998
1996- 2006
1984 -1989
Associate membership of the Chartered Institute of Purchasing & Supply
Professional courses: CIPS Business Statistics and Economics, Time
management and Understanding Purchasing Course
In-house & external training programmes
Farlingaye School, Woodbridge – Six GCSE passes
OTHER INFORMATION
IT skills include SAP, MS, Word, Excel, Lotus Notes, Oracle, Outlook & Explorer
skills
Full clean driving licence.
Interests include collecting music, movies, travelling and various sports.