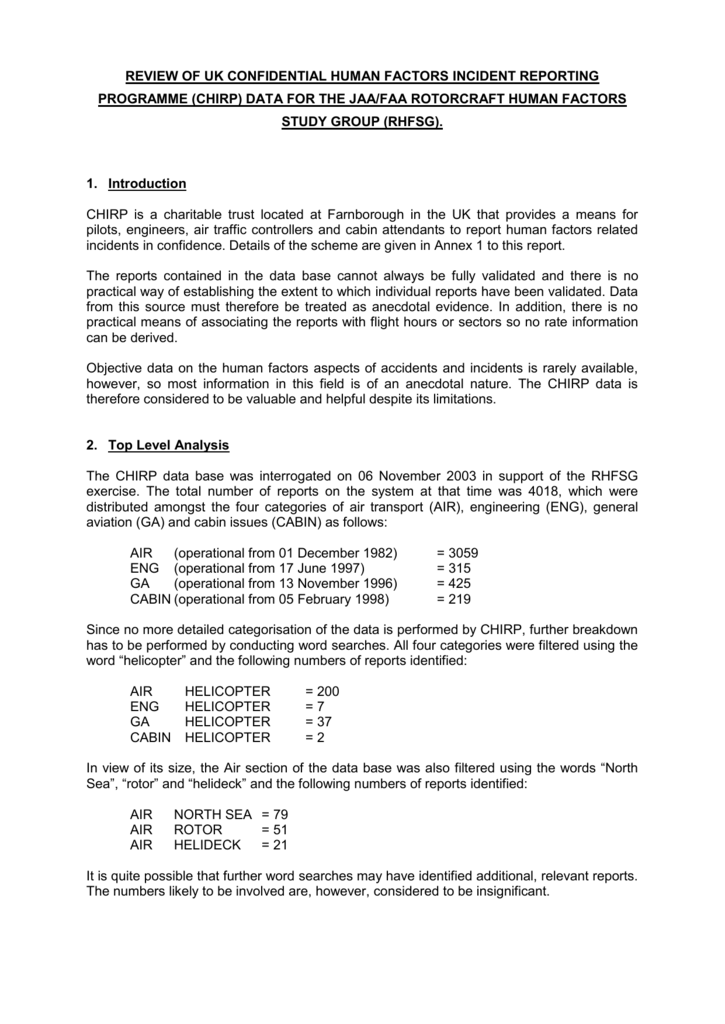 REVIEW OF UK CONFIDENTIAL HUMAN FACTORS INCIDENT REPORTING
PROGRAMME (CHIRP) DATA FOR THE JAA/FAA ROTORCRAFT HUMAN FACTORS
STUDY GROUP (RHFSG).
1. Introduction
CHIRP is a charitable trust located at Farnborough in the UK that provides a means for
pilots, engineers, air traffic controllers and cabin attendants to report human factors related
incidents in confidence. Details of the scheme are given in Annex 1 to this report.
The reports contained in the data base cannot always be fully validated and there is no
practical way of establishing the extent to which individual reports have been validated. Data
from this source must therefore be treated as anecdotal evidence. In addition, there is no
practical means of associating the reports with flight hours or sectors so no rate information
can be derived.
Objective data on the human factors aspects of accidents and incidents is rarely available,
however, so most information in this field is of an anecdotal nature. The CHIRP data is
therefore considered to be valuable and helpful despite its limitations.
2. Top Level Analysis
The CHIRP data base was interrogated on 06 November 2003 in support of the RHFSG
exercise. The total number of reports on the system at that time was 4018, which were
distributed amongst the four categories of air transport (AIR), engineering (ENG), general
aviation (GA) and cabin issues (CABIN) as follows:
AIR
(operational from 01 December 1982)
ENG (operational from 17 June 1997)
GA
(operational from 13 November 1996)
CABIN (operational from 05 February 1998)
= 3059
= 315
= 425
= 219
Since no more detailed categorisation of the data is performed by CHIRP, further breakdown
has to be performed by conducting word searches. All four categories were filtered using the
word "helicopter" and the following numbers of reports identified:
AIR
ENG
GA
CABIN
HELICOPTER
HELICOPTER
HELICOPTER
HELICOPTER
= 200
=7
= 37
=2
In view of its size, the Air section of the data base was also filtered using the words "North
Sea", "rotor" and "helideck" and the following numbers of reports identified:
AIR
AIR
AIR
NORTH SEA = 79
ROTOR
= 51
HELIDECK
= 21
It is quite possible that further word searches may have identified additional, relevant reports.
The numbers likely to be involved are, however, considered to be insignificant.
3. Detailed Analysis
3.1 General
All 397 reports identified were individually reviewed, and duplicates eliminated along with
reports covering matters not relevant to the study. Reports of a general nature not directly
related to an incident were also removed. The remaining 72 reports were then categorised
according to whether they addressed maintenance or design issues, and allocated to a
category in the RHFSG scheme of 28 April 2004 (see Annex 2). Although not always
explicitly stated, it was possible to confidently assign all but one of the reports to the small
(<3175kg) and large (>3175kg) helicopter weight classes. The 'doubtful' report (no. 2038)
was assigned to the large helicopter class, giving a total of 15 small helicopter reports and 57
large.
In common with incident reports where the information available is limited and the full context
sometimes unknown, it can be difficult to be certain of the precise nature of the problem. In
addition, trying to fit the reports to a fixed classification scheme will often result in
compromises; sometimes a suitable category does not exist, and at other times the data
appears to cover more than one category. For the purposes of the RHFSG exercise, the
reports were allocated to the issues established in the RHFSG scheme wherever it was
considered reasonable. Where more than one issue was covered, the report was allocated to
what was considered to be the primary issue, and any secondary issue(s) not otherwise
highlighted were noted in Annex 2 and Annex 3 for information.
The 72 reports reviewed are reproduced in Annex 3 to this report. Each entry comprises the
CHIRP reference number, the section of the data base and keyword used to filter the data,
the classifications allocated, and the verbatim text of the report as it appears on the CHIRP
data base.
3.2 Maintenance and design issues
Of the 72 reports reviewed, 44 were considered to be fully relevant and 28 potentially
relevant. These were divided into maintenance and design issues by weight class as
indicated in the following tables:
Small helicopters (<3175kg):
Maintenance
Design
Relevant
()
2
8
Potentially
relevant (?)
1
6
Irrelevant
(x)
12
1
Total
Potentially
relevant (?)
0
22
Irrelevant
(x)
55
0
Total
15
15
Large helicopters (>3175kg):
Maintenance
Design
Relevant
()
2
35
57
57
Design issues clearly dominate the CHIRP reports for both small and large helicopters and
the reasons for this are revealed in Section 3.3 below.
3.3 RHFSG classification
3.3.1
General:
The RHFSG classification system comprises four sections:
1.
2.
3.
4.
Operational issues identified from fixed-wing experience.
Issues identified from fixed-wing experience (NPA 25-310).
Known rotorcraft specific HF issues.
Other issues arising from data analysis.
Each section contains a number of issues against which the reports are compared. An entry
is then made against each issue in each section to which one or more reports were allocated
according to the following scheme:
Class 1 – Issue identified as a causal factor in a fatal accident.
Class 2 – Over 10% of HF issues attributed to this cause.
Class 3 – Other HF causal factors.
NB: Possibly because the general aviation section of CHIRP has been running for only
about one third the time of the air transport section, the number of reports relating to
small helicopters are quite low. In order to avoid undue emphasis being accorded to
individual small helicopter reports, the percentages for both the small and large
helicopter categories have been calculated using the total number of relevant reports
(72).
3.3.2
Class 1 issues
By definition, CHIRP reports would not normally be expected to relate to fatal accidents since
these will usually be comprehensively covered by a full accident report. Two reports (1113
and 1164) however, do relate to the same problem that had been the cause of a fatal
accident and the corresponding issue (1.14 – misuse of adjacent controls) is therefore set to
Class 1 for small helicopters.
3.3.3
Class 2 issues:
In the context of this report, Class 2 has been allocated to the three issues covered by 10%
or more of the 72 CHIRP reports reviewed. All three issues qualify for the Class 2 rating for
large helicopters only. The three issues are:
3.2 Flight deck environment – 19 reports (26.4%)
2.4 Human error with no associated technical failure – 9 reports (12.5%)
3.1 Low visibility rig approaches – 8 reports (11.1%)
Flight deck environment issues (3.2) are clearly the most prominent in the CHIRP database
by a significant margin, and are predominantly related to offshore commercial helicopter
operations. Review of the corresponding reports reveals sub-issues of: immersion suits; lack
of air conditioning; noise; vibration; lack of sun visors; lack of heaters; uncomfortable seats;
poor air quality. Whereas these issues may individually appear relatively innocuous, when
coupled with long duty periods they can easily lead to excessive fatigue and hence human
error. There are also reports of one crew member waking up to find the other asleep. One
solution might be to improve the flight deck environment; another approach may be to reduce
the maximum allowable duty time.
The reports allocated to the "human error with no technical failure" category cover a range of
problems. In six of the nine reports (253, 526, 552, 563, 625, 968), however, the issues of
flight crew fatigue and crew duty time are mentioned. Since there is good evidence to
suggest that these issues are linked to flight deck environment, there is a case for including
these six reports in the flight deck environment category, further increasing its importance.
The relatively high incidence of reports relating to low visibility rig approaches or airborne
radar approaches (ARAs) suggests this to be an area of particular concern to pilots involved
in offshore commercial helicopter operations. Six of the eight reports on the subject were
associated with incidents; two related to inadvertent loss of height (342 & 2207), two related
to near misses with the platform (496 & 610), one concerned loss of sight of the platform and
a late go-around (675), and one concerned the loss of the platform target on the radar
display (631). Although this is an operational issue, it should be borne in mind that the only
practical solution lies in the development of appropriate airworthiness requirements. A robust
technical solution to the conduct of low visibility rig approaches is required. The UK CAA has
already recognised that the aircraft's weather radar is neither designed nor certificated for the
purpose for which it is being used in this instance.
3.3.4
Class 3 issues:
Class 3 has been allocated to the remaining issues covered by the CHIRP reports as
indicated in Annex 2.
Review of the CHIRP reports prior to the establishment of the RHFSG classification scheme
had identified human-machine interface (HMI) issues as a significant concern. Fifteen
(20.8%) reports were considered relevant and one (1.4%) potentially relevant as shown in
the following table.
RHFSG
classification
RHFSG
class
CHIRP report numbers
<3175kg
1.6
1.7
1.14
1.15
2.2
2.4
3.17
3.19
3
3
1
3
3
2
3
3
240 (?)
1581
1113, 1164
1067
No. of
reports
Total number
of reports in
classification
% of
classification
related to
HMI issues
1
3
2
3
1
2
2
2
1
3
2
3
1
12
2
3
100%
100%
100%
100%
100%
17%
100%
67%
>3175kg
684, 953
799, 801
537
625, 800
720, 1490
1594, 2250
It is noted that the HMI related reports account for 100% of the reports in six of the eight
RHFSG classifications concerned, and most of the reports in a seventh. Effectively spreading
the HMI issues across a number of (mostly class 3) classifications appears to have diluted
the importance of this issue, and it is recommended that it be considered a high priority
issue. It should also be noted that the associated CHIRP reports are quite evenly shared
between the small and large helicopter categories, suggesting that this issue is not confined
to offshore commercial helicopter operations.
3.3.5
Other Issues:
Four of the 72 reports could not sensibly be allocated to any of the RHFSG categories. Of
these, one related to duty hours (480), one to the burden of regulation (1532), one to check
list deficiencies (1935), and one to pilot training matters (2106).
4. Conclusions
In the context of the RHFSG exercise, the CHIRP data is considered to represent a valid
input as anecdotal evidence.
In terms of the RHFSG criteria, the following four issues were ranked as either Class 1 or
Class 2, and therefore represent areas of major concern:
1.14
- Misuse of adjacent controls.
3.2
2.4
3.1
- Flight deck environment.
- Human error with no associated technical failure.
- Low visibility rig approaches.
Two thirds of the reports allocated to issue 2.4 are considered to be related to flight deck
environment through flight crew fatigue.
In addition, HMI issues (potentially including RHFSG classification issues 1.6, 1.7, 1.14, 1.15,
2.2, 2.4, 3.17 and 3.19) collectively accounted for 22.2% of the CHIRP reports and should
therefore also be considered a major area of concern.
D A Howson
UK CAA
Research Management Dept
[email protected]
Annex 1
THE UK CONFIDENTIAL HUMAN FACTORS INCIDENT REPORTING
PROGRAMME
INTRODUCTION
Although accident/incident rates in commercial air transport operations have reduced to an extremely low level,
the number of accidents with Human Factors causes has not declined at the same rate and thus has become the
dominant cause in major accidents.
Incident reporting programmes have proved to be valuable tools in the identification of safety related issues and
the definition of corrective actions. In the specific case of incidents involving human error, the availability of an
independent, voluntary, confidential reporting medium has provided valuable additional information to that
available through formal or mandatory reporting systems.
THE CHIRP CHARITABLE TRUST
The UK Confidential Human Factors Incident Reporting Programme, more commonly known by the acronym
CHIRP, has been operating since 1982. In 1996 following a comprehensive independent review by the Guild of
Air Pilots and Air Navigators (GAPAN), the Programme was restructured to enable it to make a more effective
contribution to the resolution of important safety related issues in the UK air transport industry.
CHIRP was established in its present form, as a charitable company limited by guarantee, on 1 November 1996.
This corporate structure was selected in order to provide a totally independent organisation, with management
and fiscal responsibilities held by an independent Board of Trustees. The Programme is funded by the Civil
Aviation Authority, which in turn is funded by the air transport industry.
The current Board of Trustees comprises 12 independent members and the Chief Medical Officer of the Civil
Aviation Authority, who is appointed on an ex-officio basis. The Chairman is Professor Tony Nicholson, an
acknowledged specialist in Aviation Medicine, and formerly Commandant of the Royal Air Force School of
Aviation Medicine. The remaining Trustees are:
Captain Stephen Bligh
Chief Executive MCA
Mr Rupert Britton
Secretary/Legal Adviser CAA
Captain Clive Elton
Independent
Captain Chris Hodgkinson
GAPAN
Captain John Hughes
Independent
Dr Simon Janvrin
Chief Medical Officer CAA
Captain Jock Lowe
Independent
Rear Admiral Stephen Meyer Chief Inspector MAIB
Air Cdre Rick Peacock-Edwards Independent
Mr John Saull
Independent
Mr Ken Smart
Chief Inspector AAIB
Mr Philip Wake
The Nautical Institute
The Trustees together with 16 nominees from the principal air transport interests in the UK comprise the Air
Transport Advisory Board. Current nominees are:
Ms P Barltrop
Captain D Chapman
Captain A Davis
Captain W Epton
Mr C Hague
Captain D Harrison
Air Cdre A Hudson
Mr P Jones
Mr J McKenna
Mr M Newman
British Airways Engineering
Head Flight Ops Department CAA (SRG)
British Helicopter Advisory Board
General Aviation Mfrs & Traders Assoc
Society of British Aerospace Companies
British Air Line Pilots Association
Director Defence Aviation Safety Centre
NATS ATO Policy & Performance
Chief Surveyor CAA (SRG)
Assoc Licensed Aircraft Engineers
Captain E Paintin
UK Flight Safety Committee
Mr M Pardoe
UK Operators Technical Group
Captain R Screen
Flight Operations Liaison Group
Captain T Sindall
Independent
Mr R Trott
Guild of Air Traffic Control Officers
Mr I Weston
Safety Investigation Data CAA (SRG)
The role of the Advisory Board is to provide counsel on the most appropriate way in which specific issues might
be resolved and to advise the Trustees on the performance of the Programme. The composition of the Board is
reviewed regularly to ensure that the membership is appropriate to the scope of the Programme. Advisory Board
members act as individual expert advisers and not as representatives of their sponsoring organisations.
Information is provided to the Advisory Board on a confidential basis and all means of identifying the individual
reporter are removed from reports prior to any discussion.
CHIRP employs a permanent staff of four under the management of a full-time Director, Mr Peter Tait. The
organisation is located on the QinetiQ (formerly DERA) Site at Farnborough.
THE PROGRAMME
CHIRP currently receives confidential incident reports from professionally licensed pilots, air traffic controllers,
licensed engineers and approved maintenance organisations employed within the UK air transport industry. The
Programme has been extended to General Aviation and is also being made available to Design and Production
organisations. With effect from July 2001, the Programme was extended to Cabin Crew members. A Cabin
Crew Advisory Board has been formed to assist in this initiative.
On being received, reports are validated as far as is possible and reviewed with the objective of making the
information as widely available as possible whilst maintaining the confidentiality of the source. Anonymous
reports are not normally acted upon as they cannot be validated. When appropriate, report information is
discussed with relevant agencies with the aim of finding a resolution. Only depersonalised data are used in
discussions with third party organisations and the confidentiality of the reporter is assured in any contact with an
external organisation.
No personal details are retained from reports received. After ensuring that the report contains all relevant
information, all personal details are returned to the reporter with an acknowledgement letter. Each report is
allocated a unique reference identification. After the return of personal details, CHIRP is unable subsequently to
contact the reporter. The reporter may, if he/she wishes, contact the CHIRP office for additional information by
using the report reference identification.
A newsletter FEEDBACK, covering current topics from disidentified reports and including new report forms, is
sent four times a year to all commercially licensed pilots, air traffic controllers and engineering personnel, a
circulation of around 30,000. Some reports are disidentified further (e.g. time and place, company, reporter's
gender) before being published in FEEDBACK, or making any data available to other agencies. FEEDBACK
maintains an awareness of Human Factors issues among the flying, air traffic controller and aircraft maintenance
communities and provides a forum for discussion. Two separate newssheets, entitled GA FEEDBACK and
CABIN CREW FEEDBACK and containing reports of particular interest to light aircraft operations/leisure flying
and cabin crew are distributed to both communities.
Depersonalised data are recorded in a secure database at Farnborough for analysis of key topics and trends.
Disidentified data are made available to other safety systems and professional bodies.
For more information on the Programme, contact:
CHIRP, Building Y20E, Room G15, Cody Technology Park, Ively Road Farnborough, GU14 0LX.
Tel: +44 (0)1252 395013; Fax: +44 (0)1252 394290; e-mail: [email protected] or www.chirp.co.uk
Annex 2
RHFSG CLASSIFICATION SCHEME
Key to Colour Coding
Class 1 – Issue identified as a causal factor in a fatal accident.
Class 2 – Over 10% of HF issues attributed to this cause.
Class 3 – Other HF causal factors.
1. OPERATIONAL ISSUES IDENTIFIED FROM FIXED-WING EXPERIENCE
UKCHIRP
Index
Issue
<3175kg
Priority
1
>3175kg
%
2
Absence of Reaction or inadequate
reaction
Procedural Non-compliance
3
Limitations Non-compliances
4
Pilot fighting against automation
5
Wrong data entry
6
Rotor speed management
1.4
7
Error prone equipment
1.4
8
Poor mastering of novel systems by
lack of extra training
Fuel management
9
10
11
Snow ingestion, Ice and consequences
of icing awareness
Information integrity
12
Language
13
Flight below Minimum altitude
14
Misuse of adjacent controls
2.8
15
Standardisation issues
1.4
16
Take off/Approach configuration
17
Take off/Approach data
18
Wrong take off/approach path
Priority
%
2.8
2.8
2. ISSUES IDENTIFIED FROM FIXED-WING EXPERIENCE (NPA 25-310)
UKCHIRP
Index
Issue
<3175kg
Priority
>3175kg
%
Priority
%
1
Crew awareness
1.4
2
1.4
6
Technical failures that rely on human
intervention
Human error that relies on technical
protection system.
Human error with no associated
technical failure.
Vulnerability of the design to misselection
Poor visibility
7
Excessive workload
8
The potential to correct errors
9
New technology
10
Human error resulting in a latent
condition which is subsequently
combined with a technical failure.
Vulnerability to accidental damage
3
4
5
11
12
13
Inconsistent/ambiguous maintenance
data and procedures.
Task complexity.
14
Accessibility provisions
15
Incorrect fluids
16
Materials & Fabrication methods.
17
Fasteners/Bolts/Latches
18
Protection of structure
19
Control Systems, general
(e.g. misassembly, jamming)
2.8
12.5
See 1.14
1.4
4.2
1.4
1.4
1.4
2.8
1.4
3. KNOWN ROTORCRAFT SPECIFIC HF ISSUES
UKCHIRP
Index
Issue
<3175kg
Priority
1
Low Visibility Rig Approaches
2
Flight Deck Environment
3
Crew Seat Design
4
Locking of Crew Seats
5
Labelling Terminology
6
Document Stowage
7
Collective Control
8
Pilot's View
9
Windscreen Wipers
10
Engine Malfunction Indication
11
Fuel Gauges
12
Low Fuel, Oil, Hyd. Fluid Warning
13
'Brakes On' Indication
14
'Gear Up' Warning
15
Rainwater Leaks
16
Pilot Intervention Time
17
Tailrotor failure/loss of effectiveness
>3175kg
%
Priority
%
11.1
1.4
26.4
1.4
See 2.6
See 1.9
Secondary issue in
report 2478
Secondary issue in
report 625
See 1.1
2.8
18
See 2.6
19
HMI with new flight deck technology.
20
Wire Strikes
21
Difficulty performing secondary tasks.
22
The need for autorotative guidance
23
Enhanced HQs
24
Wind assessment
4.2
Secondary issue in
report 2041
1.4
4. OTHER ISSUES ARISING FROM DATA ANALYSIS
UKCHIRP
Index
Issue
<3175kg
Priority
1
2
Tolerance to variations in engine-off
landing profile
Loss of control/over control
3
Passenger awareness
4
T/R protection
5
Initial maintenance schedule
6
Emergency egress capability
7
Accessibility of controls
8
Human physical characteristics
9
Unintentional interference
10
Engine Event monitoring
11
Crashworthiness
12
Fuel tank vent tubes
13
Hoist standards
14
15
16
17
18
>3175kg
%
1.4
Priority
%
Annex 3
CHIRP DATA
Key:
Wt. class
Maint./ Desn.
S = <3175kg, L = >3175kg
 = relevant, ? = potentially relevant, x = irrelevant
Report
No.
Key Words
Wt.
class
Maint.
Desn.
RHFSG
classification
Text
16
[GA]
HELICOPTER
S

x
2.14
Accessibility
provisions.
DCJ 15th March 1999
This Report Submitted to CAA SDAU with Defective Parts
During annual inspection, front landing gear dampers required replacement due low
deflation. On removal of damper from lower fitting, severe exfoliation corrosion was
found on damper attachment lug of undercarriage bracing strut P/No 269A 3120.
The lug failed completely during further inspection.
Investigation of the other three damper lower attachments revealed the same
condition. Failure to detect this defect could result in a rollover during ground
operation.
1. This area is difficult to inspect with the damper installed
2. There is no special maintenance call-up for this area
3. Why did I not notice this defect before?
4. I have proposed a repetitive calendar-based inspection to CAA SDAU
34
[AIR]
HELICOPTER
S
x
?
2.6 (3.18)
Pilot view &
visual cueing
5. This defect, I have since discovered, affects older types of this helicopter, typically
20 years plus, but could apply to the whole fleet in time.
DISIDENT PW
The incident was none other than allowing myself to fly into thick cloud inadvertently.
environment.
55
[AIR]
HELICOPTER
S
?
?
2.17
Fasteners/
bolts/ latches.
In conditions of High Pressure haze in the area, the forward and diagonal visibility
slowly deteriorated as I progressed west. There was no clear point at which I could
say I am below limits. As I descended in height from 2000' AGL to 1000' TO 500'
and the visibility continued to deteriorate I failed to make a decision to turn back,
land or divert.
At a point where the visibility was down to about 800-1000 metres in haze/mist I slid
imperceptibly into cloud. Realising the danger I reverted to instruments (Thank God
the Army had given me 20 hrs instrument flying and a White rating) - I successfully
completed a talk down approach to an airfield which was closed due to fog.
Moral of the story:
1. Stop BEFORE reaching the point of no return.
2. Know that clouds cannot be seen in mist/haze.
3. Instrument flying training is crucial EVEN in VFR rated
aircraft/helicopters - It saved my skin.
(The only valuable thing I learnt out of this incident - which shook me rigid!, was that
I learnt my limits, and learnt the real dangers. of mist/haze, at a time when my
experience was limited.)
DISIDENT PW
A very simple incident of which I am still by no means certain in my own mind.
I had flown down to the destination on a navigator training SCT trip. On arriving at
the destination I shut the helicopter down and carried out a 'turn around' servicing.
As I completed the servicing a car appeared to drive my navigator and myself to
lunch and after collecting my bag from the cockpit I drove off. Three hours later I
returned rather later than planned and had to hurry in order to make a take off time
to get back to Base. I carried out a quick walk round, signed for the turn round and
started up. Ten minutes into the twenty minute flight to the to the en route
destination we felt a sudden shake of the aircraft, exactly similar to a shake I had felt
during an occasion ten years ago when I had flown through the slipstream of a
Phantom; I turned through 360 degrees to try to see the other aircraft but failed to
spot anything. However, I did spot the chimneys of a power station 1000' below me
and thought that we must have flown through a localised thermal. On landing at the
en route airfield we discovered that half the port rotor gear box cowling was missing.
I was certain when I took off that all the cowlings were fastened, but obviously I was
far less certain afterwards. Equally I can't say I HADN'T locked all the catches. All I
can say is that:
1. I could easily have been interrupted by the driver just as
I came to the two crucial catches and may easily have started
the checks again immediately after them in the sequence.
2. I hurried the walk-round because I knew I had done the
servicing. Therefore I reduced the normal double check of ground
125
193
[AIR]
HELICOPTER
[AIR]
HELICOPTER
L
L
x
x
?

3.2
Flight deck
environment.
3.2
Flight deck
environment.
crew, then pilot, to one action.
3. In our hurry to make the take off I started up while my
navigator was still telephoning, thus not making use of a
possible independent check.
It is still possible it was a mechanical failure, but I trust it will not be a mechanical
failure that I have again.
DISIDENT PW
Had a meal when en-route. Sun bright - wore dark glasses. Co-pilot handling a/c.
FELL ASLEEP - WOKE - LOOKED GUILTILY AT CO-PILOT. HE TOO WAS IN THE
MIDST OF A LONG BLINK. It is possible we were both asleep at the same time for a
few minutes.
No deviation from flight path. NO NAV ERRORS. 3.20 into flight. Scheduled
departure time 0730.
I normally get up 2 hours before take off. I drive 35 mins to work. I usually arrive at
work 1.10 mins before scheduled departure time. I usually have a cup of tea and
some toast for breakfast.
I know this is not an abnormal situation but I feel it worth mentioning because of the
on going nature of the problem as the route is very busy and the low sun problem
significant particularly in summer when we can get above the weather/ice. Also the
cockpit in all helicopters is very hot, as the design required all round visibility results
in a large green house.
DISIDENT PW
After completing round trip of 5hrs 05mins completely without incident, both captain
and co-pilot felt absolutely knackered- both had flown approx 150hrs on similar
routes in past two months which is not excessive by any standard currently likely to
be recognised. However the excessive noise in the cockpit, the appalling vibrations
and the noisy radio/intercom combine with the wearing of a survival suit to produce
an accident waiting to happen.
Whilst no accident happened on this trip, it is disappointing to realise that with the
industry in the financial state that is, the chances of any improvement in ANY of the
factors I have mentioned is very slight.
I believe that the stresses of long distance flying in helicopters are not understood or
recognised. These stresses are mental, not physical, and are by nature cumulative.
The North Sea is singularly unforgiving, and with the extra variables of long flights, a
high degree of professionalism and alertness is needed. Our aircraft certainly
doesn't help. Quite a few crews get very tired.
I don't know if this is the sort of information you want, but it may throw a little
background light on our sort of operations. The problems are mechanical, but they
cause mental stress which is both tiring and dangerous.
219
222
[GA]
HELICOPTER
[ENG]
HELICOPTER
S
L
x



3.2
Flight deck
environment.
2.19
Control
systems,
general (e.g.
missassembly,
PCT/17.04.02
I flew my helicopter to a large country property that is owned by a friend. I landed at
around 1600hrs on a late December day. As this was the first time I had landed at
this site, I had a good look around so as to determine my take-off route. The best
way out was to the North with a paddock running for about 100 metres before
meeting a 1 metre fence. About 250 metres past the fence there was several acres
of dense woodland.
After our meeting and a couple of cups of coffee I returned to my helicopter about
1½ hours later. Despite it now being night the visibility was good with a clear night
and still air. I had landed in a couple of inches of snow and about 50 metres from a
lake. As I sat in the cockpit I noticed a slight mist appearing along the lower edge of
the front screen. A check of the O.A.T. showed just above freezing. Part of the preflight checklist requires that the bleed air heat/demist is selected OFF for take off.
This is to maximise engine power and minimise T.O.T. (Turbine Outlet
Temperature). The misting in the cockpit, which I assumed was from my breath, was
still showing along the lower screen but did not present a flight hazard at this time.
Right, I am now ready to go. Landing Lights on, a cheery wave to my friend and up
in to a high hover to check VSI (Vertical Speed Indicator) and DI (Direction Indicator)
response. Everything looking good, a peddle turn to put me onto a North heading for
departure and away I go. To my horror within five seconds the entire screen froze
over like a white blanket and I was quite literally flying blind. At the point of 'white out'
I estimate my height as about 20 ft and forward airspeed around 40kts. There was
absolutely no possibility of carrying out a safe landing so a continued take off was
the only option. An immediate check of the VSI (Vertical Speed Indicator) showed a
positive rate of climb and the I.A.S. (Indicated Air Speed) was good. I waited until I
passed through 500 ft before fixing the collective with the friction and then reaching
up and turning on the bleed air de-mist. This system is very efficient and within
seconds the screen was clear and the rest of the journey was completed without
further incident. I am not sure whether the screen froze up on the inside due to
condensation from my breath or whether it froze up on the outside. The helicopter
was parked near to a lake in near freezing conditions and there is a chance that
moisture formed on the outside surfaces. Quite frankly, if I am confronted with a
similar set of weather conditions on take off again I will select heating ON and
accept a small reduction in power and increase in TOT.
DCJ 12th February 2002
Please find enclosed 2 CHIRP reports. (see E 221)
I would like to ask that they are not used in entirety and specifics are not quoted as I
would easily be identifiable.
jamming).
These two reports highlight the HR/HF problems caused by impractical,
inappropriate, antique, uneducated and just plain bad management practices in
maintenance.
Hope they will be of some use and add to the body of evidence (even if only
statistical) to re-enforce the message that these things should be taken seriously.
Regards
The company I work for was recently reprimanded by the CAA following an incident
with Human Factors implications. Engineers were being pulled from hangar
maintenance work to do outdoor and other Line tasks. The hangar checks they were
doing were being carried out in unfavourable and unsuitable Line hangar conditions,
rather than the more suitable Heavy maintenance hangar.
An aircraft is due a major check. In accord with the criticisms levelled by the CAA
after the last incident, it has been brought in to the Heavy maintenance hangar.
Personnel from the Line maintenance have been designated to work on this aircraft
with no interruptions allowed for ad-hoc line tasks. So far so good.
Because they are dedicating men to work on this aircraft, Line maintenance
manpower has been depleted. So what have the Line supervisors been told to do if
they are running short of manpower? They are instructed to now take Heavy
maintenance personnel onto the Line to cover manpower shortages.
The situation is also subject to inter-departmental politics and suchlike, but in
essence they don't seem to realise that they have not sorted out the problem at all,
just shifted things around.
11/2/02
Follow-up telephone call:The incident that the CAA was concerned with was when two tail rotor cables on an
S 61 helicopter broke during transition to a helideck. The cables had been
inadvertently crossed; a duplicate inspection had failed to detect the miss-assembly.
The LAEs were reprimanded for the failure.
However, the CAA criticised the Company for switching staff back and forward
240
[GA]
HELICOPTER
S
x
?
1.6
Rotor speed
management.
between Line and Hangar work and between shifts. They also criticised the
Company's lack of insight to Human Factors considerations. The CAA have also
obliged the Company to implement two year refresher courses for Engineering staff,
including HF training.
There is insufficient manpower for the work to be done; additional training has added
to the problems. There is difficulty in taking annual leave due to this shortage.
PCT 4 July2002
I had already flown the aircraft twice that day, once on a short trip from AAA to BBB,
and then on a series of joyrides lasting approximately an hour. The aircraft had been
shut down after both flights. I prepared for the return flight to AAA, and the start-up
proceeded normally until the last few moments.
I finished all Vital Actions prior to putting the checklist away, put the checklist away,
finished the last few items, and started to increase the RPM to 104% - the normal
operating RPM. Prior to this point the RPM is set at 75%. At the same time as
opening the throttle, I switched the governor on. I was momentarily distracted, and
the next time I looked at the RPM gauge both the engine and rotor RPM gauges had
exceeded the upper red line that is they were both in excess of 116%. I wound RPM
down to approximately 90% and checked the governor was on. I do not remember
clearly if I switched the governor back on or whether it was still on. I then shut the
aircraft down and went to seek advice from home base.
Since then I have become aware that I'm not the only person to overspeed an R22
and not understand exactly how it happened. The advice I have received has been
inconsistent, with various reasons given for doing things differently to the POH
checklist.
The last items on the POH "Starting Engine and Run-up" checklist for the R22 (POI-I
pages 4-7) are:
Cyclic/Collective Friction
Governor
RPM
Lift collective slightly
OFF
ON
102% - 104%
Horn light at 97%
Now, that last but one item is a bit ambiguous. I have also spoken with a helicopter
pilot who runs R22 safety courses, and have been given the following advice.
1. Do all the mag checks and needle splits at 75% - my understanding is that this is
for noise reduction.
2. When ready, at 75% turn the governor on. Roll on throttle, ensuring the governor
captures at 80%. RELEASE BUT GUARD the throttle until RPM stabilises at 104% if it runs away upwards, you can catch it before it goes BEYOND LIMITS.
3. At 104%, roll off a bit of throttle and ensure the governor takes RPM back to 104%
- at this point I suppose you could also do the RPM horn check.
4. Roll on a SMALL amount of throttle - 1 or 2% - to ensure the governor brings the
RPM back down. POI-I allows momentary transgressions into the red band.
After that, you're all ready to fly. Why has this been promoted as the way to do it,
and what other considerations are there?
Firstly, you're not doing two things at once, i.e. switching the governor on AND
rolling on throttle, so you can monitor RPM rise.
Secondly, this is a critical phase - you're just about to go flying - so unnecessary
distractions should have been sorted out before now. Total concentration on getting
to operating RPM then lifting safely is crucial.
One of the problems with the governor is that is has made the pilot less aware of the
RPM because it is assumed that the governor will maintain 104% automatically. It
will for most of the time, but it's not infallible- Remember that the RPM gauge is a
PRIMARY instrument. Look after the RPM and everything else will look after itself.
Some of the previous advice I had received is that people switched on the governor
at 90% to avoid the governor making large throttle changes and overstressing the
drive train, or to avoid the aircraft spinning on a slick or icy ramp when the tail rotor
is not effective at low RRPM. The advice is that normally the MP doesn't need to be
controlled to avoid overstressing the drive train, but a slick/icy ramp may need the
throttle guarding to prevent a spin.
253
[AIR]
NORTH SEA
L
x
?
2.4
Human error
with no
associated
technical
failure.
END
On the day in question this crew (myself and co-pilot) were scheduled for a morning
flight to the Brae Field (141 n.miles N East of Aberdeen.) This flight took 3 hrs 40
minutes and on completion we were rescheduled for a second flight to the Brae. This
was in a different aircraft so entailing complete re-planning for a take off as soon as
possible. This flight took 4 hrs.
Because of deteriorating weather conditions our return to Aberdeen necessitated on
ILS approach and although it is company policy for the co-pilot to fly such an
277
[GA]
HELICOPTER
S

?
2.17
Fasteners/
bolts/ latches.
approach in those conditions I elected to fly the approach myself. The co-pilot was
very experienced and had flown the approach on the earlier flight so it was my 'turn'.
At approximately 350 feet on the approach (DH 210') the co-pilot stated that he was
visual with the lights and added 'slightly to the left'. At that point I turned 10 degrees
right. At that stage the co-pilot said "I have control", took control, turned left and
landed, not without some difficulty, especially at keeping the lights in view. If weather
conditions had been a little worse we would have had to overshoot.
When the co-pilot took control I realized that my brain had "frozen" and I was not
able to correlate the visual signs from the ILS and what the co-pilot was saying.
In commenting on the above I would point out that in the previous 32 days I had
flown 100hrs 25minutes, the first time I had flown at such a rate. With the present
financial climate in the North Sea all the signs are that this situation (i.e. high rates of
flying) are likely to continue.
21st November 2002
+++ Helicopter G XXXX recently flown to AAA Airfield. On approach pedals felt odd,
very difficult to land.
On inspection, (after four attempts) found that tail rotor blade bolts were unmatched.
(+++ use two sizes that cannot be mixed as there is a large mass difference).
A blade had been replaced by a facility at BBB.
Surprised that the tail rotor and gearbox was still attached.
317
[AIR]
HELICOPTER
L
x
?
3.2
Flight deck
environment.
Helicopter grounded by independent engineer.
DISIDENT PW I am writing in the hope of your assistance in countering what for
many pilots is a very unpleasant problem. Namely passenger smoking. In the S6l in
particular, but also in most other helicopter types, the airflow is from the pax cabin
into the cockpit. Also, in the S6l in particular, but also in most other types, one is not
permitted to separate pax cabin from cockpit, because it is considered this could
prevent the pilots assisting pax following e.g. a ditching. (NB. usually a cabin
attendant is not carried.) The result of this is that one is regularly fumigated/
kippered by the Cherry Briars, Havannas etc. of those in the back. This does nothing
for one's alertness/general performance during the flight, and often results in an
acrid dry throat/nose, plus catarrh, post flight. The following would seem to be the
answer:- 1. Open cockpit windows. This though on a S61 has the effect of
increasing the forward airflow into the cockpit. 2. Use the ventilator fan. On most
occasions this just isn't up to
as many as 19 pax all smoking. 3. Put on No Smoking sign. The Company (mine) is
342
[AIR]
HELICOPTER
L
x

3.1
Low visibility
rig
approaches.
416
[AIR]
HELICOPTER
L
x

3.2
Flight deck
environment.
against this for
fear of offending the clients. The pax regard the right to smoke
throughout the flight as virtually divine! (and do not always
obey notices). The answer, for my money, is for the C.A.A. to legislate forthwith
against smoking in all aircraft, where pax cabin and cockpit are inter- connected.
Can you lobby for this?
DISIDENT PW The type of approach being made was a radar/NDB approach. The
weather reported by the installation was 300 feet cloudbase and about 3/4 NM
visibility, wind calm. The sea was as calm as a millpond and the surface like a
mirror. Other helicopters had already made successful approaches and landings in
the same vicinity.On reaching our mimimum descent height we could see the
surface,but forward visibility was nil as we were still marginally inside the cloudbase.
Knowing that if we overshot on the approach we would have to go to our diversion, I
told the copilot that I was resetting my radio altimeter warning light "bug" 50 feet
lower and continuing to descend. Almost immediately there- after we saw the
installation about 1/2 mile ahead in haze with no dis- cernible horizon. I ceased to
scan the instruments for a few seconds while looking at the installation to assess
how best to make a landing. Shortly the copilot warned me that we had descended
below 50 feet and I am still shocked at how quickly I descended so low without
perceiving it.
DISIDENT PW I read your Helicopter reports about people snoozing with interest. It
was my habit, and also many other rig pilots at that time to take a quiet cat-nap
during low activity periods. On this occasion we had just done our rig crew change,
refuelled, and were inbound to an en route stop before the final sector to base.
We were at 500 ft "below", drizzle, squalls etc. - normal weather! The Co-Pilot and
myself alternated flying and had finished the excellent meal supplied by the rig. I
made sure the Co-Pilot knew he was in control and had my 10 min cat-nap. When I
awoke the Co was fast asleep! Mercifully the aircraft was at 400 ft on course,
Automatic Flight Control System engaged (but no height hold). Over the years I have
heard a number of similar hair raising stories. It amazes me that no one has flown
into the sea yet. (To be both asleep unintentionally is even worse and not unknown.)
This particular Co-Pilot was one of a number who had consistently been doing 80-90
hours a month. Anyone doing this amount of Helicopter flying continuously becomes
entirely automatic in action and only half with us.
I think mainly due to consistent high vibration and noise, the fatigue factor in flying
Helicopters, especially on longer trips (excess 5 hours) would appear to be much
greater than comparative modern fixed wing/jet aircraft, and apparently is not
appreciated by a large number of people in the Aviation field.
Though I have no axe to grind here as I no longer do this form of Aviation, I feel the
Helicopter maximum and accumulated permitted hours should be reviewed in kind
(i.e. specially for Helicopters) and new legislation should be introduced to reduce the
480
[AIR]
HELICOPTER
L
x
?
Other.
486
[AIR]
ROTOR
L
x
?
3.2
Flight deck
environment.
maximum to a realistic 60-70 hours a month. (60 Accumulative - 70 monthly
maximum).
RS
I must say - with a personal hat on - how I totally agree with the comments on page
6 of Feedback 7 under "Background" in respect of the last two paragraphs. The
short term effects of high density duty - especially in helicopters - are just not
appreciated. As an example, yesterday I left home at 0610A, reported at 0645A for
an 0800A departure from my base for a 2 hour flight direct to a rig 100 nm to the SE.
We needed to be at FL 55 to talk to Border Radar so that we had some chance of
avoiding RAF exercise aircraft. Temperature at FL 55 was -2 degrees C and we
were IMC so we had icing to contend with. Just 8 minutes out from the rig, having
planned a direct return flight to base, the pax load was increased to the maximum
capacity.
Furious flight planning followed which resulted in a decision to tech. stop in
Newcastle. A nearly maximum weight take off was made with the wind curling
through the oil rig derrick and once the tension of that had gone, we made a blind
climb to FL65 in IMC through the Exercise area so we could file a revised Flight Plan
with London Information. Border Radar eventually came into range after 20 minutes
and to quote them we became the jam in the sandwich between 15 eastbound
fighters and 6 westbound fighters - all at unknown altitudes - and within 4 miles of
our position. A poor weather ILS was carried out into Newcastle, both crew then
unloaded the baggage compartments - North Sea helicopter pilots you will note
hump freight and baggage, whilst fixed wing airline pilots hump the hosties!! Eight
passengers then decided to leave the flight as they lived nearer to Newcastle than
Aberdeen, but did this without a word to the crew or handling agent. That hassle
sorted, we took off for Aberdeen, arriving at 1400A. Post Flight paper work
completed, into the office to sort out my mail and that of my boss as he is on leave,
ring the CAA to sort out a problem and by 1630A start feeling sleepy so I go home.
Only a nine and three quarter hour duty day with 5.35 flying, but by 1900A I was
asleep at home in front of the television. Previous day was 8 hours in the office after
2 days off, with a full 8 hours of sleep prior to the flight, so in theory there should
have been no problem with fatigue.
We also fly to a rig which is well North of the Magnus platform. This is an 0915A to
1500A flight, invariably routing through Sumburgh at least on one of the sectors. We
find that after three days of a combination of these flights, the crews are just plain
tired. So much for 28 day limitation protection.
RS
In the cruise VMC on top in bright sunshine blade flash through the front rotor
system onto the flight deck caused an increasing feeling of unease and tension.
After about 45 minutes I left the flight deck and obtained a baseball cap from my Nav
bag and returned to the flight deck, the symptoms immediately began to subside and
496
[AIR]
HELICOPTER
L
x

3.1
Low visibility
rig
approaches.
disappeared totally within 10 minutes.
This problem has occurred before when I didn't have a cap available and the
problem continued until I either descended below cloud or completed the flight.
RS
I was the captain of a helicopter flight to an offshore oil platform. The weather
forecast indicated the presence of low stratus and shortly before we arrived the oil
platform went into fog. I elected to conduct a NDB plus Weather/Mapping radar
approach to the destination. Now, my co-pilot was relatively new to the North Sea
and having demonstrated the approved approach technique to him in VMC just two
days prior, I was determined to show him that in the real situation I followed the
exact same procedure and resisted the temptation to "grobble" in visually at low
speed.
With the copilot handling the controls and flying on instruments and myself
monitoring the profile, we descended to the MDA of 170' radar altimeter at
approximately one and a half NM and continued the run in to Decision Range of
0.5NM. The aircraft was flown at the approach speed of 75 kts and the approach
was into the light wind reported at 10 kts. I could see the surface but there was no
horizon and forward visability very poor.
I was conscious of a nagging doubt about the procedure which I had demonstrated
so confidently in VMC. How much off the nose should I put the radar blip? Too little
and the oil platform, a large 300' to 400' high structure would be right in front and
above us at less than half a NM while we closed at 60 kts ground speed. Too much
offset and I would pass abeam the platform by such a distance that I could not hope
to see it.
The radar painted the target only every 5 secs and as the platform's blip approached
the bottom of the screen I wondered if there was a blank space in the radar display
into which the blip could disappear without ever getting to the declared minimum
range, in which case each successive sweep would just shave off the leading edge
of the blip so that it never got any closer. However, the approach continued normally
and I wanted to demonstrate the importance of adhering to approach procedures.
At the minumum range of 0.5 NM, the offshore structure was not in sight and I called
for the turning missed approach procedure to be executed. As we turned away and
climbed I was shaken to see the oil platform in a twenty degree bank suddenly
appear in the 1 o'clock, hurtle down the starboard side and be passed before I could
even squeak.
In retrospect I think that this experience warranted an MOR as it indicated that the
procedure might be unsatisfactory and the limits too low. However, it is worth noting
that in my company the pilots do not have direct access to the relevant MOR forms.
Another factor which might bear investigation is that there appears to be no
provision in the aircraft maintenance schedules for calibration of the all important
airborne radar.
499
501
[AIR]
HELICOPTER
[AIR]
HELICOPTER
L
S
x
x

?
3.2
Flight deck
environment.
2.4
Human error
with no
associated
technical
failure.
RS THE HELICOPTER PILOT AND THE LADY DOCTOR.
The weather was beginning to get warmer and my problem was this itching in a
place one cannot scratch in public. Eventually it became obvious that only a visit to
the doctor's would help.
Now my doctor is youngish, blonde, not unattractive and a lady. So there I was trying
to explain that my situpon was sore and irritating me. "Can you tell me EXACTLY
what the matter is?" was the question. After some more mumbled explanation came
the dreaded words: "You had better take your trousers off and lie on the couch. "
Lying there gritting my teeth I heard the verdict: " Yes heat and perspiration can
cause this and you are quite hairy. " I sprang to the defence of a family characteristic
and explained that it was this rubberised garment I wore that caused me to get so
hot. Did I detect a raised eyebrow - a slightly quizzical look in those blue eyes? I
went on hastily to tell how helicopters had a disconcerting habit of, infrequent though
not unknown, choosing to flutter down towards the sea and that the North Sea in
particular is not very hospitable. As the unnecessary loss of a pilot annoys the
company accountants and proves to be most unpopular with the families we are
therefore required to wear what is colloquially called a "goonsuit" in an attempt to
overcome the problems created by this irksome trait.
All this produced a response that I should try to wear something cooler. So here is a
plea from an overheated helicopter pilot who is clothed in too much rubber during
long, hot and uncomfortable flights. Please Feedback help to save us from these
embarrassing itches and concentrate on the job in hand! Use your influence with the
manufacturers of immersion suits to make them improve their materials and produce
clothing that we can wear in comfort.
RS
We taxied from the hangar to a parking spot 100m away to carry out the normal
engine power check prior to the first flight of the day. This aircraft has two
"motorcycle" twist grip throttles alongside each other and to carry out the check each
throttle is retarded in turn, power is applied and readings taken to check power is
above the minimum specified.
As I approached the spot, I rolled the No.2 Engine throttle back against the ground
idle spot - something I would usually not do until I was fully stopped on the spot. I
then applied the brakes, turned off the landing lights, and then attempted to close
the No.2 Engine throttle again. Of course it would not move as it was already closed
against the idle stop. Having failed to recognise this I asked the Co-Pilot - a new
Captain - to try his No.2 throttle. He did not recognise the throttle was closed either.
Convinced we had a stuck throttle I radioed for an engineer to come to the aircraft
but luckily before he left the hangar I realised what I had done.
The reasons for all this? - because it was the third early morning start out of the past
503
[AIR]
HELICOPTER
L
x
?
2.1
Crew
awareness.
526
[AIR]
HELICOPTER
L
x
?
2.4
Human error
with no
associated
technical
failure.
537
[AIR]
HELIDECK
L


2.2
Technical
failures that
rely on human
intervention.
four days - up at 0455 local, in work at 0545, man up at 0630 for 0700 departure.
Nothing unusual in this if you fly a long range North Sea helicopter. CAP371 just
does not cater for the shattering tiredness one feels after three days of early morning
flights to the northern East Shetland Basin and back - seven and twenty eight day
restrictions do nothing to protect the pilot against cumulative short term fatigue.
RS
In the previous 6 days before this incident and on the day in question I had
completed 68 hours duty and 40 hours flying hours. This incident occurred on the
2nd flight of the day which totalled seven and a half hours flying and twelve hours
duty.
Whilst planning our route back to Aberdeen from the oil rig I failed to notice that on
our intended track, which was to be direct to Scotstown Head NDB, lay the West
Shetland island of Foula which rises some 1500ft on its West side.
Because we never fly overland and often fly inbound at 1500ft I chose this height as
our transit height. On a suggestion from the P2 we climbed to 2500ft en-route in
order to improve our communication with Sumburgh.
We would not otherwise have climbed and since we were IMC all the way would
have probably flown into the cliffs on Foula.
There have been many occasions when I have not been able to concentrate towards
the end of a twelve hour duty because of both fatigue and discomfort. I do not
believe the FTLB has any idea of the scope and nature of present day UK Offshore
Helicopter flying.
RS
Accepted marshalling instructions to park between two other company helicopters
which allowed for very little clearance. My fault entirely in accepting instructions
although I believe fatigue was a major contributory cause. I had flown 99 hours in 28
days and 105 in the calendar month.
Prior to the day's flying I had seriously considered whether I was fatigued sufficiently
to endanger the flight. I can honestly say no. However what is apparent following
similar decisions to fly under these circumstances (i.e. high monthly hours) is that
after about 30 minutes into the flight the cumulative effect of a high "28 day" total
really hits you and then I do become excessively fatigued.
With reference to Feedback No.8 "The Sleep Spot" I personally would never
consider taking a "nap" in a helicopter regardless of the type of operation and
particularly at 500'!! I don't know anyone who would.
RS Weather...Excellent. Duty hours...Plenty in hand. Tired/Worried...Not at all.
The A/C was landed on the station to drop two pax and some boxes. One box had
been left behind, unmanifested but the station had been told to expect it. As is
normal the deck scheduler approached the A/C when the "anti-coll" light was
switched off, opened the right side sliding door, handed me a return manifest (freight
552
[AIR]
NORTH SEA
L
x
?
2.4
Human error
with no
associated
technical
failure.
only) and continued with his business of off-loading the pax and freight. I worked out
the new take-off weight and prepared the sector weight chit watching the scheduler
as he passed in front of the A/C and went to the left-hand cabin door, opened it and
was obviously looking for something. As all was nearly complete I started to prepare
for take-off as he closed the left door, came round the front again and taking the
sector weight chit from me moved off towards the exit stairs. The next action was to
sort out communications with the cabin as one of the two men I had dropped had
been wearing the headset on the way out. This took a short while as the passenger
was not English but did speak it. So off we go; throttles open from idle, pre take-off
checks (incl C.W.P. clear, anti-coll on, flot gear on, all clear around, radio call "seven
on board", where did the scheduler go? Obviously fed-up with waiting for me to sort
out the comms and continued below (funny not like him), another good look around
and gentle lift-off to hover, something catches my eye on right side!! Scheduler and
helper kneeling-down on helideck!! re land on, both clear, thumbs up and continue
flight. What the hell was he doing there? Simple he'd gone back to have another
look for that box. Well why no warning light on the C.W.P.? Equally simple system
u/s! The door lock light operates if either cabin door or the tail boom compartment
door is open and the actual functioning is rarely checked as the compartment is
usually opened after the cabin doors and closed before them.
So what do we have? My fault partly as despite having had two looks around and
done all my checks I should have insisted on seeing the final "thumbs-up" from him
at deck edge. His fault partly for having gone back without making his intentions
clear and today when all this happens together the one system which would have
shown me all was not ready was u/s. Who said sod's law?
Despite it all and notwithstanding that we are tightening-up a few procedures how
about a few more thoughts. What about a separate (duplex) warning for all doors
and compartments? A friend's new Honda 5 door has a very natty diagram showing
whatever is open; what about it on a $2m helicopter? Then how about a bit of rig
design which ensures that the exit line/stairs are in the normal field of view not 130
degrees behind the fwd/aft centreline of the a/c. (They might also have access to the
fire gear then as well that could be useful).
I believe the plan is also to get headsets for these guys now so that should fill in any
remaining gaps, let's hope they don't go u/s or cause any mis-understandings on our
one frequency. Meanwhile let's hope this will cause my contemporaries, should they
be in the same situation, to think again and check again.
RS FLIGHT TIME LIMITATIONS; S61 AIRCREW.
"The following flying hours were achieved on 2 consecutive days; 8.4 hours day
flying (including 4 hours Instrument Flying) and 8.5 hours day; 0.5 hours night flying.
Despite being fit and well rested before both periods of duty I experienced
unreasonable fatigue during the second day after the cumulative total of about 14
hours flying. Experience in Scandinavia has shown me that a 2 day limit of 14 hours
is much more realistic. The present limit in UK for S61 aircrew of 9 hours per day
which can accumulate at that rate per day subject to crew duty time limitations is a
flight Safety hazard."
The above is a copy of my company incident report rendered last month; their
replies follow. Fleet Manager: This is the first written report of the problem which is
causing concern throughout the Fleet - as evidenced by a growing number of verbal
reports from pilots. The common theme is that, due to the cumulative effects of
fatigue, individuals find themselves making an increasing number of mistakes. I am
seriously concerned that unless the pressure of work is relieved, a serious
misjudgement with possible fatal consequences, is inevitable. The situation is ripe
for it; particularly with the onset of worsening weather conditions. Flight Manager is
urgently requested to review the situation. God forbid that we find ourselves in an "I
told you so " position. Flight Manager: Aircrew are still being recruited and trained,
with establishments continually being reviewed. It is not Company policy to condone
such high levels of productivity in the long term, however the company must reserve
its rights to operate within our approved flight time and duty hours limitations
scheme. Perhaps the CAA might care to address the problem and amend CAP 371.
.................
All highly laudible?
I have enclosed a copy of my logbook for that period. It illustrates the intensity of my
flying over the relatively short period of 8 days (and that included one Day Off).
Regrettably, by the start of my second flight on 7th October unknowingly I had
exceeded the 100 hour 28 day limit (but not the duty time limit). Operations maintain
the crew duty times in this company and are supposed to warn aircrew when
approaching limits........ No excuse for me though. Let this not cloud the real issue
since this only became relevant near the end of the work period under discussion.
My main point is that the present 9 hours per day flying time limit is in itself possibly
too high but in any case is dangerously high when used accumulatively. It is worthy
of note that all of the flying was carried out in "normal working hours ", mainly in
daylight and not in extreme weather.
I find it difficult to be specific on the subject of fatigue itself other than that of feeling
rather weary. It was only when I read back ATC clearances incorrectly and miss-set
engines during routine power checks that my poor performance was obvious.
I have more than a decade of experience on the S61 on North Sea Operations
including 6 years with a Norwegian Company. In Norway we reported frequently for
duty at 0300 local for extensive flights many of which included three hours or more
of inter rig shuttling. However, their flying hour limitations were as follows. We felt
that these limits were realistic.
1 Day ...... 9 hours
2 Days...... 14 hours
7 Days...... 35 hours
In my present Company, in the UK Sector, commercial awareness caused me to
continue flying when I was in the fatigue bracket. Even as I type this report on a
November evening I was to have flown eight and a half hours today and am
scheduled to fly a similar amount tomorrow. Competition on the North Sea is fierce
and we aircrew have to play our part. Can I.A.M. put more pressure on the CAA to
change the present legislation as soon as possible? How about a Trial change? Or
do we have to wait for an accident as referred to by our Fleet Manager.
562
[AIR]
HELICOPTER
L
x

3.2
Flight deck
environment.
563
[AIR]
HELICOPTER
L
x
?
2.4
Human error
with no
associated
technical
failure.
ATTACHED:- Pilot's Log Sheets (2).
RS
Every day I drive to work in my 4 year old Ford Escort which is blissfully comfortable,
with a seat that slides, tilts, pitches etc. - a noise level that is remarkably low heating and ventilation readily to hand etc. etc. Although not a new latest model it
FEELS GOOD to drive.
On arrival at work I climb into a helicopter (worth about 3 million pounds) and am
subjected to appalling noise levels - even allowing for the use of a good headset
AND earplugs, very aggravating levels of vibration, an excruciatingly uncomfortable
seat, a cockpit heater that works flat out or not at all - etc. etc. The list goes on and
on. Why has the situation been allowed to come about? I would suggest that the
fundamental reason is that the helicopter manufacturers have not HAD to pay much
attention to this aspect of helicopter design, as the person who is responsible for
buying the machine is seldom the person who flies it. This is directly contrary to the
situation as applied to the motor industry - in order to sell the machine one has to
take care of the comfort needs of the driver.
How can this situation be resolved? As you chaps at CHIRP might carry a bit of clout
with The Helicopter manufacturers perhaps you could send copies of letters like this
to Augusta, Bell, Westland etc. (Sent a letter to Westland myself - didn't even get an
answer).
RS
The point I want to make is that 3 round trips out of Aberdeen each averaging two
and a half to three hours is too much for one day, no matter how many days rest
were allowed previously. And when such busy days are normal up to 3 times a week
for many North Sea pilots, then the potential for human error to cause a catastrophic
incident is far too high.
The specific occurrence which I am reporting exemplifies the kind of mistakes which
I know other pilots are sometimes making at the end of a long day.
On the seventh and last deck landing of the day and the fifth night deck landing, I
closed the airstair door after embarking passengers. I checked that the door handle
593
[AIR]
NORTH SEA
L
x

3.2
Flight deck
environment.
610
[AIR]
HELICOPTER
L
x

3.1
Low visibility
rig
was fully moved to the left, pushed hard against the door and looked to ensure that
the latches were in position. I should have used a torch to look at the latches, but
thought I could see them well enough with available cabin light.
En route back to Aberdeen, while conducting cruise checks, the other pilot noticed
that the airstair door warning light was illuminated. This light must have been "on "
while the pre take-off checks were executed, but obviously both pilots failed to notice
it at that stage. Appropriate action was taken to secure the door and the flight was
completed without further incident. The latches were incorrectly positioned. At the
time of the failure to notice the warning light, both pilots had already completed ten
duty hours, seven and a half flying hours, three hours in poor-weather-IMC, one and
three quarters night hours and nine sectors.
On completion of the day, both pilots had worked eleven and a half hours and flown
eight and a half hours. This is by no means exceptional. I believe that the Flight
Time Limitations Board has a criterion that pilots should not expect to fly seven or
more hours per day on more than four days per year. Well, I have far exceeded that
in 1985, while many of my colleagues make my experiences seem like a holiday. I
know that there is a shortage of helicopter pilots and that my employers are
struggling to make a profit, but lives are at stake. Please limit daily flying and duty
hours.
RS
This report is not of a particular incident but to highlight a continuing and perennial
problem for North Sea S61 crews, i.e. flying without a cabin heater.
Having just had my first experience of this winter, the only thing I can be sure of is
that it probably won't be the last. Although wearing thermal socks under my
immersion suit, and cape leather flying gloves, it didn't take long for hands and feet
to feel cold, although the flight lasted less than two hours. However 2 hours at a
temperature barely above freezing is no joke. The company's attitude is that crews
should " dress for the occasion ". Bodily warmth is not a problem it is the extremities,
and I believe that thermal socks and gloves are the best one can do. There is no
doubt that crew performance deteriorates markedly in extremes of temperature at
either end of the scale. Pilots think that flying over the North Sea in winter without
cabin heating is a flight safety hazard, but the company certainly expects it of us.
I would like to see serviceable cabin heating on the Minimum Equipment List. Can't
the CAA make it mandatory by issuing a Notice to AOC Holders on North Sea
Operations.
What do CAA Flight Operations think of the situation, are they aware of it and do
they condone it? Let's hear what Medical Branch/I.A.M. have to say on the subject
too, if they care to comment.
RS
I was giving retraining to experienced North Sea Helicopter Captain. Although
platform was giving very poor visibility I decided to make an approach
approaches.
625
[AIR]
NORTH SEA
L
x

2.4
Human error
with no
associated
technical
failure.
3.14
Gear up
warning.
(NDB/RADAR) down to .45NM @ 150' (other Captain handling) to give him
experience. I pointed out to him the fact that provided the approach pattern was
followed to the letter there was no problem and when/if we overshot we would divert
to Unst. Approach was flown " perfectly " but I was slightly alarmed to see a platform
light pass quite close underneath and to one side in the fog during overshoot.
Procedure has now been modified.
RS
Although I am outside N.Sea work now, I am amazed that fatigue continues to be a
cause of concern, evident from CHIRPS and from talking to pilots still engaged in
offshore work. The unspoken near accident occurrences seem to be on the
increase, nobody has apparently learnt any lessons - but I did!
A typical winter's night on the North Sea, the third rotation of the day, a "short" trip to
get us back to base within statutory limits, no hot food since breakfast (0730L), the
heater went u/s, having flown 5.45 hours just a "little bit tired", we began to feel the
cold, we were requested to make a change to our pre-planned route, the last 2 stops
being rigs without fuel, a quick discussion ensued and we both reckoned we would
be still OK to do the job without refuelling after the last 2 stops and get back to base
"in time". Our freight load had been miss-calculated, in fact weighing three times
more than we had been told, another calculation well within WAT limit and because
of the increased loading time, therefore another fuel calculation, but happily still OK
to crack on without picking up any more fuel. Still no heater and feeling "cooler", but
lo' and behold hot food for two!
All loaded, no passengers, Captain's turn for take-off and the leg to the next rig, all
checks carried out properly, there was enough time for me to have my meal before
the next stop - or at least part of it. The Captain then volunteers to carry out the prelanding checks himself and do the radio calls - "thank you very much". While eating
this meal, and keeping an eye outside (as this was the busiest time of day for the in
field shuttle aircraft), I made a mental note that one of the "shuttlers" was heading for
the semi-sub anchored beside our destination rig, and having some problems raising
them for landing clearance, a quick call in between time from the Captain of our
aircraft secured our landing clearance; I had noticed that one of the ADF's was
tuned to a BBC broadcast, which had not been tuned in by myself.
About three miles from the rig, I put aside my meal tray in preparation for landing
and to man the Speed Select Levers, I picked up the check list, the Captain preempted what I was about to do and in as many words said don't bother I've done
them, OK fine. The in field shuttler was still calling his destination and not getting any
reply, as he was progressively getting closer his calls were becoming more frequent,
and I calculated he would be landing roughly at the same time as we would be,
nothing unusual in that.
On the final stages of our approach, the last 50 feet or so, the shuttle aircraft
eventually got through to his destination, almost simultaneously I heard our
destination calling us, but because of all the other chatter, what he said was
unintelligible, as our aircraft settled to land, saying all clear on this side, I noticed our
aircraft begin to sink through its normal landing height (i.e. wheels down on the deck
height) - i.e. gulp, no wheels down! We both realized this at the same split second,
he (The Captain) raised the aircraft into a higher hover, and our hands met on the
gear down lever!
Once landed safely, we glanced at each other, words were not necessary!
What our "desk" was trying to tell us, was that our gear was up, but because of all
the radio interference (and from the BBC) he could not get through.
This incident occurred during a 9.00 hour flying day, of which 9.30 was rotorsrunning.
Too cold, too much flying, too much rotor running time, too much willingness to help
the customer, too many duty hours, too much trust, too many mistakes, too much
asked of the crews. At the time we were working seven day weeks.
631
[AIR]
HELIDECK
L
x

3.1
Low visibility
rig
approaches.
I'm sure this is just one of the many incidents that has happened, but has remained
unreported fully.
RS
We were making a rig Radar/NDB approach to a semi-submersible. The rig had
been in fog that morning, but prior to our departure, the fog had lifted into low stratus
and was beginning to disperse. Since the wind direction was such that the helideck
would be on our starboard side, I elected to fly the approach and have the co-pilot
carry out the landing. By 150 feet on Radalt we were down to 70 knots IAS and
running in to a decision range of 0.5 n.m., visual with the surface. Shortly after the
co-pilot called "One mile", I briefly looked across at the Radar screen and saw the
return at 0.7 n.m.
On looking back at the Radalt, I found that the height had increased by about 25
feet, as I'd inadvertently allowed the nose to come up a few degrees. At the same
time, the co-pilot called that he had lost Radar contact with the rig. Believing that this
might be due to the increased nose-up attitude, I quickly adjusted the tilt of the
antenna down a few degrees, convinced that the rig would reappear at just over half
a mile. It did not. I called "Overshooting" and commenced a climbing turn away from
652
[AIR]
HELICOPTER
L
x

2.6 (3.18)
Pilot view &
visual cueing
environment.
the location. Several seconds later, the co-pilot called that he was visual with the
derrick out to the left, through the broken stratus. The distance was difficult to
estimate, but the rig looked too close for comfort.
RS I was the Captain of a helicopter which had departed from Aberdeen on a June
morning, and after landing on an offshore platform, we were estimating Aberdeen
approximately 3 hours later. The North Sea was that day affected by haar (sea fog)
and while still some distance from Aberdeen, we copied the ATIS which was
reporting fog.
As we were radar vectored to the ILS for runway 17, the RVR was consistently
reported to be below 600 metres. The ILS was going to be flown using raw data
displayed on an HSI with a Glide slope at the side.
Now, my company, in common with some other helicopter operators is in receipt of a
special dispensation from the CAA which takes account of "the unique
characteristics of the helicopter" and permits ILS approaches in RVRs as low as 300
metres.
I continued with the approach and briefed my co-pilot; he was to fly the ILS, reducing
his airspeed to a bare 70 knots at Decision Height, where he would level the aircraft
and fly a level section for 15 seconds, while maintaining the Localiser (not easy
where the beam is so narrow). It would be my duty to monitor his handling and to
seek visual reference prior to taking control for landing.
The procedure developed as briefed and whilst flying level at the OCL I was able to
see some Approach Lighting - just. I advised my co-pilot:
"I can see........the lights.........I have control"
I assumed control of the aircraft, but no sooner had I done so than we over-flew the
runway threshold and there were no more High Intensity Approach Lights to be
seen, in fact there was nothing to be seen at all!
"......No I can't! - You have control!! - Overshoot!!"
and I threw it all back to the co-pilot, who, bless him, picked up his instrument scan
and we climbed away.
On the next attempt, the RVR was considerably better and we completed a normal
landing.
672
[AIR]
HELICOPTER
L
x

3.2
Flight deck
environment.
I have since wondered which of "the unique characteristics of the helicopter" were
being taken advantage of.
RS
There are a number of problems relating to North Sea helicopter flying - which are
perhaps emphasized by the fact that a lot of the passengers arrive by jet airliner and
an hour later they are crammed into a helicopter. For the crews who exchange the
comfort of their (5 year old) cars for the comfort of a cockpit of a 3M pound
helicopter the contrast is similarly striking.
The passengers do not like or expect to find freight lashed to the floor - or
underneath their seats. They do not like sitting in front of freight - however secure it
may look - nor do they like seats being folded up against emergency exits - they like
every exit to be available. Sometimes the protests from the passengers forces
freight to be offloaded. Generally it is best to fly freight and passengers separately
so that the cabin is either in the freight role with appropriate seats up against the
cabin wall OR in the passenger role with all seats down and secured properly to the
floor.
Best of all would be, if some helicopters were employed permanently in the freight
role - say some S61Ns - which are ideally suited to this task.
In regard to the cockpit environment, firstly I enclose a local newspaper showing that
a number of pilots feel that the situation can be improved easily.
In the road transport World there are regulations governing the noise and comfort
levels in long distance lorries. It would be helpful if similar standards could be drawn
up for long distance helicopters. Please bear in mind that lorry drivers can wear light
clothing and do not wear a heavy lifejacket.
I have ceased to be surprised that at the end of a six hour flight over the North Sea
that the accuracy of flying both by myself and my co-pilots is not as good as I would
like. Nor am I surprised that crews fall asleep easily; a doctor during a health
monitoring sortie recently on my co-pilot was fast asleep on the inbound leg when
we got to 30 miles. On long legs I invent activity - like reading through the check lists
- the ops manual - the Aerad in order to keep my brain alert - it works for me.
Overleaf I have listed some of the main problems with brief details of rectification.
NORTH SEA HELICOPTER ENVIRONMENT - COCKPIT.
PROBLEM POSSIBLE RECTIFICATION
Airframe vibration - Fit either Manufacturers "longflight" seats (research has shown
that or design seats which absorb vibration - as exposure to low frequency are fitted
to lorries and coaches. sound is damaging to internal organs).
Direct sunlight. Fit moveable shaded sun visors - as fitted to
lorries and coaches.
Dehydration - arising from Fit 2x1 litre water bottles within reach of hot cockpits +
wearing crew. Contents to be changed before each survival suits + lifejackets sortie.
Rigs often unable/unwilling to provide for six + hours continuously. "orange squash".
Poor ventilation/heat stress. Fit small fans with small rubber blades directional - on cockpit coaming - to blow cool
air on face/torso - particularly helpful when
"cooking" on the ground prior to
startup/takeoff.
675
[AIR]
HELIDECK
L
x

3.1
Low visibility
rig
approaches.
Very high noise levels 120db+. Supply best available - noise attenuating
headsets/light weight helmets/visors. Over long
flight concentration lapses and prolonged
exposure causes high tone deafness - and loss of
licence.
RS The "TOO CLOSE FOR COMFORT" article in the number 10 issue of Feedback
prompts me to write to you about an experience I had during an approach to an
offshore oil platform.
I was the Commander of the helicopter and my co-pilot was also an experienced
North Sea Captain. This particular day the weather forecast indicated deteriorating
visibility but we were carrying plenty of fuel and it did not give us any cause for
concern. When we made radio contact with the platform we discovered that the
weather was in fact much worse than intial reports had indicated. The cloud base
was estimated as 500ft with visibility at 1-2 NM and signs of fog patches forming. I
elected to carry out a radar/NDB approach.
From the wind direction we had been given it was clear that my co-pilot would have
to carry out the actual landing so I flew the procedure while he kept visual lookout.
We descended towards the platform and found the cloudbase to be 300ft and not
very well defined, but we did establish good visual contact with the sea surface and
the descent was continued. The forward visibility was about 1 NM but less than that
in patches. My co-pilot read off the ranges to go from the radar and at .75 NM
announced that he could see the outline of the platform. At .5 NM he had firm
contact and I handed over control to him for the landing.
On looking up to get my own visual bearings I was a little unnerved to see how close
we were to such a large structure, a feeling I had experienced before. The helideck
was at a height of 230ft above the sea surface so it was obviously necessary to
climb to get on to it. Imagine our horror when on initiating this manoeuvre the
platform promptly disappeared from view. I ordered an immediate overshoot at
maximum power. I found my hands instinctively going to the controls and I had to
force myself to allow my perfectly competent co-pilot to continue handling the aircraft
while I carried out the checks and monitored the flying. How close did we get to the
platform? I hate to think!
684
[AIR]
HELICOPTER
L
x

1.7
Error prone
equipment.
1.15
Standardisatio
n issues.
After we had settled down at a safe height and discussed the problem I chose to
make another approach but this time we would not descend below the height of the
helideck. When we made visual contact from that approach we knew that we could
carry out the landing without having to climb and that is what we did, this time
without frightening ourselves.
RS Had just completed some short inter-platform flights and had just landed to refuel
prior to next sector. Normal procedure is to pull the Radio altimeter C.B. when hot
refuelling to eliminate radhaz which is the top collared one on a vertical C.B. panel
behind the co-pilot's seat. This particular A/C in the fleet had been modified and the
radalt C.B. had been moved to another position. The top collared C.B. was now the
captain's artificial horizon C.B.! Yes, I pulled it. Pre take-off checks, yes, I missed it.
Although the little fail flag must have been showing, the horizon was still indicating
sensibly. After take-off, it was not until I started turning that I noticed the fail flag.
The obvious answer is more care during pre take-off checks which I fully accept.
However some design aspects could be utilized to help the pilot notice fail flags
more quickly when the workload is high.
1) A "No Flags" check is not possible on this aircraft as two glideslope
flags are always in view on the HSI and ADI even when an ILS frequency
is not tuned. The original spec of the aircraft ex factory was such that
no flags showed on the flight instruments unless a selected aid was not
functioning. As the default position of the G/S flags is "full fly down"
when the HSI beam bar is being driven by the ANAV system, the CAA insisted
that the G/S flag be visible when ANAV was selected on the HSI. A better
solution would be to cause the G/S flag to default to "full fly up".
2) The ADI fail flag appears at the top of the instrument next to the
Angle of Bank indicator. In wings level flight, (which normally includes
the first portion of the take-off) the Angle of Bank portion of the ADI is
720
[AIR]
ROTOR
S
x

3.17 Tail rotor
failure/ loss of
effectiveness.
738
[AIR]
HELICOPTER
L
x

3.2
Flight deck
environment.
not scanned as rapidly as the centre of the instrument.
3) The flag itself is not that big and is striped red and black. Nature has
proved that stripes offer very good camouflage. A solid red flag which
covers more of the instrument would be much more noticeable.
4) As to cockpit ergonomics, well that's a different matter. The helicopter
industry is at least 10 years behind our fixed wing cousins in this field.
RS Tail-rotor/crop contact on pulling up at end of swathe, resulting in drive-shaft
failure and loss of control at apex of turn onto the next run, aggravated by probable
unduly low airspeed (see below), unawareness of initial impact and lack of any
immediate warning symptoms thereafter. The machine in question had a couple of
minor faults not amenable to rectification at that particular stage of the operation.
Namely:(a) boom pressure-gauge mounted too low, hence obscured by rudder pedals
unless pilot raised on very thick cushion, thus appreciably modifying his
attitude perception, especially of a tail-low condition, and ...
(b) unreliable ASI tending to fluctuate and under-read, thus tempting the
pilot to ignore low IAS associated with a semi-flared profile, whilst
groundspeed remained deceptively high.
It is assumed that these false indications, combined with external factors (tailwind
component of nearly 10 knots, undulating ground, tall obstructions ahead) caused
the basic error of judgement, despite something of the order of 100,000 such turns
executed in the past without a sign of tail-strike proneness.
NB. It is noteworthy that a previous accident in which I was involved, although
completely different in nature and origin, nevertheless does resemble this
one in principle in that it is thought to have arisen through a number of
secondary and apparently disparate causes (i.e. simplistic so-called
"rogue blade" theory found to be erroneous, but the actual collective
instability encountered could be attributed rather to vibrations from
brunelling of rotor grip, loose engine mount, etc., identifiable in toto
only after disassembley of the damaged aircraft).
MORAL Keep an intelligent watch for those small points - they can sometimes
add up to catastrophe!
RS It was a fine, clear day, with a bright sun. Outbound I had the sun abeam me (the
co-pilot was in shadow). The angle of sun was such that I was constantly conscious
of its presence out of the corner of my eye, and there was a flickering effect caused
by the rotor-blade shadows that was very discomforting. By the time we arrived at
the platform I had a severe headache, which I consider was caused by this effect. I
was given 2 paracetamol by the rig medical attendant, before flying back.
However, on the return the sun was about 15 degrees off the nose. It shone straight
into my eyes (and those of my co-pilot this time), and even sunglasses were
ineffective. Vision in that sector was impossible, compounded by a brilliant reflection
off the sea. Even instrument reading was difficult. The discomfort level in our survival
suits and life-jackets (worn to conform to the oil company's commercial requirement)
was high, even though the OAT was only 10 degrees C at most. Opening the flight
deck windows helped ease discomfort, but caused a lot of distracting noise (in
addition to the already high ambient levels). By the time I arrived back, I was feeling
quite unwell.
760
[AIR]
HELICOPTER
L
x

3.1
Low visibility
rig
approaches.
The helicopters have no sun-visors, in spite of being requested several times by
crew members who regularly experience these problems. The "soft hat" suggested
by a correspondent in a recent Feedback would not have been a solution to either
the outbound or inbound situation.
RS Reference your note regarding my CHIRP. I agree the decision range for a radar
approach has recently been increased from one half NM to three quarters NM.
However the instance I outlined in my report occurred at between one NM and three
quarters NM indicated radar range and we almost hit the rig. So the simple answer
to your question is yes such near misses will still occur. To be honest it is a miracle
that a helicopter has not hit a rig using this procedure. I suppose we must be
thankful for small mercies. Personally I feel approval of this procedure by the CAA
was an act of gross criminal negligence and that they should be taken to task over it.
The lives of thousands of people have been put in serious jeopardy by sheer
complacency. It is ridiculous, even now, that the procedure is still being used
because the Flight Manual supplements state categorically that the Wx radar MUST
NOT be used for collision avoidance. The radar accuracies are not published, they
are not calibrated and the manufacturers do not know how accurate they are
because they were not designed for collision avoidance in the first place. The
procedure has been flown down to minima which equate to minima for
precisionapproaches to land airfields. Now I ask you what self respecting authority
would allow you to carry out an ILS using uncalibrated ground or airborne
equipment. Well that is what has been and still is happening in the offshore
helicopter industry. As you will have gathered I feel pretty strongly about this subject
but there are numerous other areas eg offshore alternates, Low Vis ILS etc. which
have been approved along similar lines to radar approaches i.e. unscientifically by
pressure on the CAA from sharp helicopter operators who can gain a commercial
advantage with reduced minima or being able to carry less fuel therefore more
payload. Unfortunately this commercial advantage is short lived as all the others
apply for and generally get the reduced minima etc. This leads to a downward spiral
and gradually erodes safety margins until they become unacceptably low. The North
Sea has reached this state and something has to be done soon. The responsibility
lies fairly and squarely on the shoulders of the CAA. If they continue to shirk their
responsibility I dread to think what the consequences will be.
797
[AIR]
NORTH SEA
L
x
?
2.13
Task
complexity.
N.B. SEE REPORT NO. 750
RS WEATHER IMC.MIX ST,SC FROM 1500FT TO 6000 FT + PRECIPITATION,
[RAIN,HAIL & SNOW]
This report does not really concern one particular flight, (though I shall use the one
above as an example).
I think the time has come to express concern over legislation concerning flight in
icing conditions on the North Sea.
My own career on the North Sea spans only 3 years and the AS332 is the only type
for which I am rated. However in the space of 3 short years there have been well
over a dozen changes to the AS332 icing limitations.
The original Flight Manual Supplement was OK once you had MEMORIZED the
available flight ENVELOPES and how they differed with regard to items of
equipment being available or not. Since then there have been amendments,
changes, new FM Supplements, Ops Circulars etc. dispensed like confetti. To
summarize a FEW :- The flight envelopes were altered, then the icing clearance was
withdrawn, then it was back with changes regarding ice detection equipment, then
the Circulars started; regarding what specific temperatures to avoid, which part of
stratiform cloud to avoid, the need for the air below 500ft, limitations for onshore
approaches if this, that and the other conditions existed, a new set of departure
limitations and so it goes on. The most recent being the CAA imposed circular on
engine icing. This involves avoiding certain temperature/precipitation combinations,
unless there is air +3 degrees C or above at MSA, in which case we can fly in the
prohibited areas for an ACCUMULATED ten minutes.
So wherein lies the problem?
1) The average pilot is now suffering from brain failure, trying to
remember which bits of all the various legislation is still in force
and which bits have been scrapped. 2) We are all only too aware of the penalties for
"breaking the law".
However, many items are vague and some of us feel that it is inevitable
someone will get CAUGHT OUT eventually. 3) The whole system is creating a
complete lack of confidence in the
compilation of safe and effective legislation. The N.Sea operators
between them have nearly 150,000 hours of AS332 experience - how much
longer do we have to put up with "stop-gap" measures? I think that
cultivating this attitude within pilots is basically unsafe! 4) The recent engine icing
limitations are forcing pilots into either :-
(a) Known icing conditions where build-ups can be reliably measured
e.g. on the day in question, pilots were searching for an altitude
between cloud layers or over the tops - a position where they would not
have flown prior to this limitation.
(b) Low level flying, either to avoid the temp/precipitation combinations
or to dissipate ice build-ups. On 15/2/87 the temp at 500ft was
+2 degrees C and isolated showers were around. The legislation calls
for +3 degrees C at this altitude if flight in icing (for 10 mins) has
been encountered. Some pilots therefore "had" to divert to comply with
the law, whilst the rest of us let common sense prevail and pressed
on - at what cost to our licences if we are caught and at what cost to
our jobs if we comply?
(c) The chances of not being able to recover into Aberdeen IFR in bad
weather and having to resort to use of the "Low Level Route" - not
exactly an improvement in safety when a perfectly serviceable ILS is
available.
799
[AIR]
HELICOPTER
L
x

1.15
Standarisation
issues.
So what do we do? Introduce FULL anti-icing equipment as a mandatory
requirement I suppose. Meantime let's have some common sense to bolster
people's confidence.
RS Here is a CHIRP about a problem that I had with my altimeter. Generally, setting
the correct pressure is just awkward and slower than such a simple task ought to be.
However, this incident demonstrated to me that, when combined with "a bit of
pressure", the "awful" altimeters are liable to force an error.
There is an ongoing problem with altimeters as fitted to N.Sea helicopters. On
several days in 1985, the pressures were lower than 950mb and it was discovered
that many of the sub scales would not go low enough, as the altimeter did not
conform to the British standard. At first it was proposed that in those circumstances,
pilots should set (Pressure Setting + 33mb) and remember that their altimeters
would then read 1000ft high. Fortunately this was thrown out. The alternative of
British altimeter was deemed too expensive, so the third solution of modification was
adopted.
The first modification involved a new sub scale with graduations at 2mb intervals, but
this produced lots of setting errors. The second modification is another new sub
scale plus a change in gearing, but the figures and graduations are so small that
combined with the vibration they are too difficult to see. Added to this is the problem
that the combinations of; direction of scale; direction of movement of scale; direction
of adjusting knob; are all completely random.
It's entirely possible that a pilot will use one particular type of altimeter for several
flights, so as to condition his actions. Then on the next flight he may find himself
using a similar looking altimeter which operates in a different sense.
800
[AIR]
HELICOPTER
L
x

2.4
Human error
with no
associated
technical
failure.
1.15
Standarisation
issues.
With your reputation in the field of Human Factors, do you think that you could
persuade the CAA Airworthiness Division and the Helicopter Operators to improve
the situation.
My employers, B----- Helicopters,LD do not like their employees filing MORs or
CHIRPs.
RS I was the Captain and handling pilot of an AS332, on a public transport flight. We
were tracking some 170 degrees M to the (ADN) VOR at some 4000ft, which put us
just above a layer of Sc that was expected to give moderate icing. We intended to
carry out an IFR approach to runway 17 at (Aberdeen), but because of the icing
considerations we were cleared under radar control, to remain above cloud until
within 10nm DME.
We had requested radar vectors to the ILS, but were told by ATC that this was not
available, as the ILS was radiating for runway 35 while a flight checking aircraft
carried out calibration runs. Consequently, I requested a radar approach to runway
17. After passing 10 DME, we descended to 3000ft on QNH 1027mb, and approach
checks were completed with a brief for the SRA to runway 17.
I was some 5nm north of the VOR at 3000ft, and encountering moderate icing, when
the radar controller asked if we were established on the localiser. The non-handling
pilot replied that we were not using the ILS as we understood that it was not
available. To this the controller replied that it had just become available, and that we
should report established on the localiser and also descend to 2000ft on QFE of
1020mb. (We were now quite close to the VOR and at 3000ft on 1027mb, were
probably above the glidepath.)
This change of plan was somewhat unexpected. My co-pilot quickly tuned and
identified the 2 ILS receivers, while I set the QFE and promptly commenced the
descent to 2000ft QFE. During the descent, I checked the ident code, selected the
ILS on the HSI, set the QDM of the centre line and altered heading to establish on
the localiser. I also got the approach plate out of the book and quoted the minima
and salient points of the ILS procedure, in a rather hurried brief.
At 2000ft, my co-pilot said, "You've gone below 2000ft!". I replied that I had not, but
then saw that my altimeter was set on 1030mb and not the correct QFE of 1020mb.
Now, this incident was not terribly life threatening in itself, for we came clear of the
cloud at about the same time as the mistake was noticed, and even then we were
only 100ft below the cleared altitude. But what concerns me is, how did I come to set
completely the wrong pressure setting, so as to descend below the cleared altitude?
There are clear parallels to be drawn between this minor incident and the loss of GBDAN at Tenerife in 1980 :a) The unexpected change of plan.
b) The difficulty in executing the new procedure.
c) The flurry of activity required to comply with the ATC instructions.
However, this does not explain why the wrong datum pressure was set, after all,
altimeter pressure settings are constantly being changed without error.
Consider the attached diagrams of the altimeters, drawn to actual size. The
altimeters are viewed from a distance of some 50cm, while the instrument panel is
acknowledged to suffer from shake. In the AS332 fleet of many aircraft, the
individual helicopters are fitted with altimeters of types "A" & "C" or "B" & "C". As the
pilots fly from either seat, according to crewing requirements and convenience, a
pilot may find himself using an instrument of type "A", "B", or "C".
These altimeters are superficially similar, but the sub scales and the mode of
changing the datum pressure setting are all different. It seems now, that most of my
colleagues have difficulty in seeing and setting the correct pressures.
801
[AIR]
HELICOPTER
L
x

1.15
Standarisation
issues.
Whatever happened to the altimeters with veeder counters for the pressure setting,
that we used to have 20 years ago?
APPENDED: DRAWING OF ALTIMETERS, TYPES A, B & C. (SCALE - FULL
SIZE).
RS There are THREE different types of altimeters on Bristow Tiger Helicopters
namely :DRAWING APPENDED SHOWING 3 ALTIMETERS WITH SUBSCALE SETTING
KNOBS.
PROBLEMS
1. Almost impossible to read sub scale especially in dark + vibration.
2. No two altimeters necessarily work in same way in the same cockpit.
REQUEST : Standardisation of altimeters.
N.B. One upon a time we had altimeters which worked in natural sense and
had large analogue display of pressure setting - but not now!
827
[AIR]
HELICOPTER
L
x
?
3.2
Flight deck
environment.
Other.
876
[AIR]
HELICOPTER
L
x

3.2
Flight deck
environment.
viz : small sketch appended.
RS PW/FP At Aberdeen, helicopters generally commence their take off from halfway
down runway 35/17, entering at Holding Points Charlie and India. I always WINCE at
the instruction to, "Line up after the departing (or landing) ________". A helicopter
lining up in the path of a fixed wing aircraft seems to be an accident just waiting to
happen. The practice is not new, but most recently, I had just changed to tower
frequency as my helicopter arrived at Holding Point Charlie, when I was instructed
to, "Line up after the departing 748". It was raining at the time, the visibility was not
too good and my cockpit windows were misting up. As I acknowledged the ATC
instruction, a 332 crossed my nose on take off. I had to think for a moment; I was to
line up after a departing aircraft and one had just departed, but it was a 332 and not
a 748. With a bit of window rubbing and peering, I saw a fixed wing begin its roll from
the full length - yes, line up after THAT one. Am I the only person who's heard what
happened at Los Rodeos? It is said that if enough monkeys are given typewriters,
then in time one of them will write Hamlet. We are not monkeys, but consider our
"Hamlet" :- 1) An aircraft using the full length of the runway. 2) A helicopter intending
to enter the runway near the mid point. 3) An instruction for the helicopter to line up.
4) An additional, optional and conditional instruction not to carry out instruction 3)
immediately. 5) The helicopter crew seeing an aircraft coming down the runway.
Items 1), 2) & 3) will produce an incident while items 4) & 5) should prevent its
occurrence. The example related above shows how weak items 4) & 5) are. "Oh
come!" I hear someone say, "That's as likely as a 7000 ton ferry sinking because
nobody closed its doors".
RS NOT DIS-IDENT. Thank you for your telecomm re fatigue amongst helicopter
crews etc. I don't think I am the best person because I might just go over the top in
any discussion - which would be counter productive. I am presently still on the mend
following an airworthiness problem in June when the main spar in the stabilizer of a
332L gave way in flight causing handling problems and requiring a high speed runon landing out with the flight manual clearance.
Only two years ago a control rod in the tail rotor broke - causing me to force land the
332L in a farmer's field. A year before that I experienced a problem in the
transmission which shut down an engine during a vertical take off. In all three cases
passengers were on board.
So if I were to appear before a board in London we may end with the 332L being
grounded rather than having its airworthiness reviewed by the CAA and DGAC
(French CAA) as is presently happening following several airworthiness problems
this year alone.
I have passed on your requirement for someone to represent North Sea helicopter
pilots so somebody may get in touch with you. However for most pilots the review of
helicopter pilot fatigue has come too late. There is a rapid turnover of pilots in the
North Sea, with all pilots under 30, half the pilots aged 30-40 and a quarter of pilots
40-50 now leaving for fixed wing flying. Our former colleagues now in Dan Air,
Brymon and others have told us that they happily fly longer trips because the
working environment both in the air and on the ground is so much better, let alone
the better prospects, cheaper holidays, safer aircraft etc. How I wish I were thirty and
fancy free!
Having flown fixed wing myself I would say the the North Sea helicopter working
environment is primitive in the extreme - mostly because the machines are
derivations of military vehicles. The main concern is for the comfort of the
passengers - and the working environment for the crew has been a matter of
supreme indifference for the manufacturer, the Oil Company, the helicopter operator
and the CAA.
For most pilots the effects of high noise levels (120db+), poor sound insulating
headsets, high levels of airframe vibration, lack of sun vizors, poor levels of
ventilation and heating, incorrect, repeat incorrect seats in the 332L plus wearing a
rubber immersion suit, boots and bulky lifejacket, means that those who can leave
the industry do so - and accept an initial 50% drop in pay in order to get a foothold in
fixed wing flying. The operational problems which continue to cause anguish and
hence fatigue for the crews on the 332L are the lack of screen demisting and
windscreen wipers on the MAIN central windscreens. This makes decisions very
difficult when arriving at decision height off an ILS in precipitation - misted up inside
covered in rain/slush/snow outside! The operators wish to lower decision heights to
150 feet for slow speed helicopters - even if the crew can't see out of the main
windscreen! Mind you it works well in the simulator!
I think if the Chairman of the Board considering crew fatigue were to come to
Aberdeen and fly in the jump seat of a 332L for the permitted 9 hours per day, 30
hours per week, 100 hours per month I think we might see some change - if only we
might need a new Chairman. It has been put to me that the 332L is a young man's
helicopter. However all the young men are leaving - voting with their feet? Is this
significant?
The problems about helicopter cockpit environment and associated pilot fatigue and linking pilot error accidents + incidents needs to be solved now as all operators
are now experiencing a crisis on many levels with so many pilots leaving the North
Sea for fixed wing flying. The requirement for helicopter pilots is now exceeding
availability and those presently remaining are individually carrying more load which
results in more leaving the industry for fixed wing or becoming medically grounded
with stress/fatigue related problems - (the CAA will have the figures).
Perhaps now that the Oil Companies cannot get the helicopter support that they
have been used to we might see some improvements.
Please keep pushing gently on our behalf. It is in everyone's interest to get the
modifications done - the correct equipment installed and the best operating systems
worked out. The present level of safety on the North Sea - is not good enough - this
week 3 Chinooks go up for sale as passengers will no longer fly in them). There is a
long way to go before we get close to fixed wing standards.
898
[AIR]
HELICOPTER
L
x
?
2.7
Excessive
workload.
ATTACHED: AIRCRAFT INCIDENT REPORT DD 26.06.87
RS Recently a number of Oil Company executives expressed concern that during
December a Sikorsky S-76 had struck the sea during a night inter-rig shuttle flight in
the AUK-FULMAR offshore oil field.
Further checking with several sources at Aberdeen airfield suggested that:
a) The handling pilot (the captain) had blacked out for some seconds allowing the
helicopter to descend to strike the sea.
b) The non-handling pilot (the co-pilot) was busy with paperwork and therefore not
monitoring the flying and reacted only on the impact.
c) The Automatic Voice Alerting Device (AVAD) which calls "100 feet" during every
descent was de-activated with circuit-breaker having been pulled prior to the
incident.
d) The Captain was subsequently checked at Farnborough and under stress showed
symptoms of blacking out. At the time of the incident the captain was on his 14th day
of duty offshore.
Should the above be found to be substantially correct the following suggestions are
proposed for consideration by the CAA and the Dept of Energy prior to drawing to
the notice of AOC holders - as a matter of urgency:a) The radio altimeter bugs which control the AVAD "Check Height" warning to be
set to "guard" 200 feet by day and 500 feet by night for transit flying below 1000 feet
and inter rig shuttle flying.
b) Reference by the non handling pilot to check lists, planning boards, manifests or
documents should only be done when the helicopter is above the appropriate check
height, established in level flight with no bank applied. For shuttle flying all
paperwork should be completed while on deck.
c) When the handling pilot wishes to descend below the check height he alerts the
non-handling pilot who puts away all documentation and then concentrates on
monitoring the flying until touchdown, making the standard calls of "40kts" and
"safety pitch" at the appropriate times.
d) If while monitoring the descent and approach the non handling pilot sees
excessive bank, excessive rate of descent or excessive closing speed with an
installation he is to advise the handling pilot, and ensure a positive reply. Further
degradation of the situation should require a "missed approach" to be called and in
extremis control should be taken over to the extent of avoiding impact with the sea
or part of an offshore installation. Pilot incapacitation in whole or part i.e. black out,
strokes, heart failure or disorientation can occur at any time and if not adequately
guarded against will lead to an unnecessary and completely avoidable accident.
Partial incapacitation is difficult to detect in a dark cockpit.
e) The practice of oil companies to task the helicopter crew with sorting out
manifests, bundles of newspapers, small parcels and letters in the cockpit during
inter rig shuttle flights should cease. On landing at an installation the pilot should
only be handed the manifests for the destinations in sealed envelopes with the
destination clearly marked on each, and a separate envelope marked "pilot", with a
copy of the manifests of passengers names and weight of the freight + baggage. All
items of freight, post, document bags should be stowed either in the cabin or in the
baggage bay - not given to the pilots to sort out and stow somewhere in the cockpit.
f) It should be brought to the attention of helicopter crews that the deliberate
disabling of a protective device such as the AVAD should be considered as a
dereliction of duty.
908
[AIR]
HELICOPTER
L
x

3.2
Flight deck
environment.
1.15
Standarisation
issues.
ATTACHED: Newspaper article titled "Safety checks for North Sea
Helicopters".
RS If helicopter pilots are not paid more and given better working conditions they are
going to leave the offshore industry in droves for better paid jobs in the fixed wing
sector.
A survey conducted by the North Sea Pilot's Association (NSPA) allowed the 247
pilots who replied to a questionnaire to express their views. Of those who responded
55% said that they were considering leaving, most of them to fixed wing jobs. This
could present operators and the oil companies that they support with a grave
shortage at a time when many are reporting an upturn in exploration activity.
Whatever the unpredictable oil business does it looks as if UK North Sea operators
are going to be drained of pilots. The price per barrel will only dictate how hard the
shortage hits and how soon.
North Sea pilots feel that they are overworked and underpaid and many believe that
they are flying substandard equipment in what are acknowledged to be among the
most hostile conditions anywhere. A 50 hour week is quite normal as is nine hours or
more in the seat per day. A high proportion (66%) of replying pilots believe that their
flight time and duty hour limitations should be reduced but see little chance of this
happening as the volume of offshore work increases. This is producing concern for
safety because of fatigue. "Take care, do not not fly if you are too fatigued. A five
second nap on the ILS at the end of your ninth hour in the seat can be fatal", is a
quote from the NSPA report.
The seats themselves are often orthopaedic nightmares. The proportion of people
dissatisfied with their normal crew seating was found quoted as 67%. Exceptions to
this were British International Helicopters' and Bond Helicopters' AS332 Super
Pumas, whose seating most pilots were satisfied with.
A further complaint was the lack of standardisation in cockpit layouts. All the large
fleets suffered from this and many pilots consider it to be dangerous. Instruments
and warning lights were found to be obscured by parts of the aircraft or the pilot's
body. These included primary flight instruments, under-carriage panels and warning
panels. The problem was found on most types, says the NSPA.
On the subject of emergency and survival equipment and training, the NSPA survey
found that 101 pilots, 43% of those who replied, were unhappy with standards and
training levels. A high proportion of pilots considered their immersion suits to be illfitting and uncomfortable and 85% did not know whether their suits were watertight.
Some actually knew of suits that were not watertight. The full inventory of complaints
is too long to reproduce here but it paints a very disturbing picture.
953
[AIR]
ROTOR
L
x

1.7
Error prone
equipment.
Other.
Pilots have been unhappy with their lot for a long time but now that they are in short
supply they can do something about it. Many are doing so and voting with their feet.
To paraphrase a well known industry figure, "If pilots don't want to fly helicopters
they can go and do something else".
RS During six years flying the SK61N I had two in flight emergencies. On both
occasions I was able to respond quickly and correctly as I regularly trained on the
B.A.H. simulator and I found that its realism matched the emergency. On one
occasion with an engine malfunction just before LDP onto a rig a wrong diagnosis
could have had serious consequences.
During a recent check on the Bristow's AS332L simulator I was handling pilot and
commander during a procedural approach. I heard a high frequency warning with no
other cues. I thought that it was an engine fire and expected the co-pilot to carry out
the initial actions only calling on me to confirm the identity of the engine controls
before he operated them. In fact he advised me of an engine shut down. On the
debrief I was told that I had had a runaway up followed by a rotor overspeed and
957
[AIR]
HELICOPTER
L
x

3.2
Flight deck
environment.
engine shutdown.
Two points come out of this:1. Both the fire warning and rotor overspeed warnings on the AS332L
are high frequency beeping tones that can be mis identified
in an emergency. All audio warnings should be distinctly
different.
2. For a simulator to be of value it must be fully representative
of the aircraft. In this case an engine run away up should
have been associated with an increase of both engine and rotor
RPM noise before the rotor overspeed warning sounded. The
resultant increase of torque would also have caused an increase
in yaw and a change in the rate of climb/descent.
A simulator that does not represent the aircraft fully is potentially dangerous. I had
learnt to respond to in flight emergencies based on their simulated presentation. I
now have to hesitate as I can no longer trust that my initial response will be correct
as part of my training is done on a simulator that only partially represents the real
aircraft.
RS Many thanks for your letter of 11th May. I confirm that I have no objection to the
information appearing as a report in the next Feedback.
I am pleased, that following the splashdown of an S-76 near a platform in recent
months there has been a safety circular produced outlining the vital necessity of not
switching off the warning devices and not attending to paperwork and monitoring the
handling pilot below 500ft above the sea. The enclosed is relevant.
As you may be aware there is growing commercial pressure on the pilot flying hour
fatigue limits - especially the 30 hours flying over a 7 day period. Because of the
expansion of business coupled with the drift to fixed wing of the younger pilots i.e.
age less than 40, because of poor cockpit working environment (noise vibration +
poor ventilation) there is a growing shortage of qualified pilots. You will not be
surprised to learn that absolutely nothing has been done about it. The correct vibration absorbing ergonomic manufacturers - seat has yet to be fitted. Sun visors
as fitted to all cars/lorries/aeroplanes are not fitted. The ventilation system - to
provide cooling air for pilots who are now required by law to wear survival suits at all
times is not improved. The pilots who wish to wear noise attenuating (40db+)
lightweight helmets and visors are informed that the passengers might object.
Apparently it's "macho" to wear a headset on a civil registered helicopter even if it is
a derivative of the military PUMA helicopter. The military worldwide provide
lightweight helmets to all their helicopter crews - because the machine is noisy.
You can see in another industry how ferry boats have frequently sailed with their
968
[AIR]
NORTH SEA
L
x
?
2.4
Human error
with no
associated
technical
failure.
982
[AIR]
HELICOPTER
L
x

3.2
Flight deck
environment.
bow doors open - for lack of warning lights - which are not fitted until it is proved
necessary!
After two days off at home I went to bed at 2230 and got up at 0500 for an 0600
report for a flight from Aberdeen to the East Shetland Basin. Departed Aberdeen at
0650. All the Scottish Island Diversion Airfields were taffing mist and low cloud with
prob 30 tempos of fog. It was not possible to carry fuel for a Norwegian diversion
due wind direction. As the actual for Sumburgh was VFR I elected to carry extra
holding fuel to cover the period of the prob 30 tempos and refuel at Sumburgh. On
first receiving the Sumburgh ATIS it was found to be in fog which was worse than
the TAF had indicated. Air Traffic advised us that no improvement was expected so I
returned to Aberdeen. The flight was replanned via Kirkwal so that on a second flight
more time would be available at Sumburgh where there was by now an improvement
although still not to the weather indicated by the basic TAF. On arriving at Kirkwal
the weather had deteriorated to below minima but an approach ban did not exist. As
another aircraft was on finals we did not know until at the overhead whether we
would be cleared straight outbound in the procedure or to enter the hold. The cockpit
workload was also quite high due to having a co-pilot who was new to the North Sea
although otherwise very experienced. We were cleared straight outbound but I found
difficulty in following the track bar on the HSI not surprising as the co-pilot noticed I
was still trying to fly the reciprocal of the inbound QDR on the R NAV. I had failed to
select the VOR on the track bar. We returned to the VOR for a second approach that
went very much better but I found great difficulty in maintaining the instrument scan
during the latter part of the approach although this was not a factor in the need for a
go round and a second return to Aberdeen. On returning I realised that although I
had only done 4 hours flying at the time I felt completely washed out and think that
my mis-selection of the track bar and poor instrument flying was caused by feeling
so tired - whatever the flight crew limitations I always find early starts even after an
uninterrupted night's sleep cause me to be sufficiently tired to degrade my
performance.
RS You may know that the CAA have recently ruled that all N. Sea helicopter pilots
will now wear immersion suits at all times when flying over the North Sea. Although
this has been expected, some operators have done nothing to improve ventilation or
seats in helicopters where the cockpit temperature is 20 degrees centigrade plus.
You may be aware that there is a growing shortage of helicopter pilots - now
reaching the stage that there is extreme difficulty in meeting the essential tasking let
alone taking profitable ad hoc work that arises from time to time. The main causes of
the shortage is the demand from the fixed wing world - with BA recruiting up to age
39 - and the noisy uncomfortable, poorly ventilated cockpits on current North Sea
helicopter types quite apart from safety aspects.
I would be grateful for any moves to improve the cockpit environment - particularly
the AS332L, the main workhorse. The areas of most use would be
1. to fit the correct manufacturers pilot's seat with the correct lumbar support and
sufficient fore and aft movement.
2. the fitting of sun visors.
3. the fitting of ventilation fans to provide cooling air at face level.
4. the issue of high noise attenuating headsets such as the PELTOR.
5. the reducing of the monthly and yearly maximum flying hours to take account of
the high fatigue loading - which is all unnecessary - that presently exists on N. Sea
helicopters.
As changes will affect all operators they cannot - but probably will anyway - complain
that "they" are being adversely affected.
The destruction of the PIPER ALPHA oil production platform and the loss of an S-61
through engine bay fire (ditched - burnt out - and then rolled over and sank) and the
ditching of a NORWEGIAN AS332L through delamination of a metal plate on the
leading edge of a blade all within the space of 10 days has done little for the
confidence in the safety of the North Sea Oil Industry.
Whilst we do welcome members of the Government at the memorial service at
Aberdeen yesterday - we do note one oil analyst who says that the PIPER ALPHA
was an accident waiting to happen - in an industry where Government both profits
and directs but takes no responsibility.
1035
[AIR]
HELICOPTER
L
x

3.2
Flight deck
environment.
Please help to improve things for those who intend to remain in the industry.
RS I do appreciate your letter in view of the circumstances. Take it easy - as far as
you can - don't rush back to work - sit back and enjoy reading "Flight" from the front
page to the back in that order.
The "Chirp" system is doing wonders for Air Traffic - 600M pounds is promised to be
spent in providing an up to date system for the UK - after all the publicity. Perhaps
we should have built London's third airport on reclaimed land in the Thames estuary
as was mooted over twenty years ago.
The battle for improving helicopter cockpit environment continues - now that the
middle cut of N.Sea helicopters are leaving for fixed wing cockpits around the world.
At Aberdeen we are requesting pilots to work on their days off to keep the
programme going - even the supervisors are flying - so the situation must be getting
desperate!
On the personal level I've switched from the noisy AS332L cockpit to the less noisy
Sikorsky S61. I'm also using a PELTOR headset which is excellent in keeping out
background noise. The Company is still charging 25 pounds to people who wish to
use one - instead of issuing them free like immersion suits and life jackets. We've
1039
[AIR]
HELICOPTER
L
x
?
3.2
Flight deck
environment.
1052
[AIR]
HELICOPTER
L
x
?
2.6 (3.18)
Pilot view &
visual cueing
environment.
got to have them so why not provide them? Every other helicopter operator does.
This attitude results in some pilots having the PELTOR wishing to keep the intercom
and radio volumes down and perhaps the other pilot without the PELTOR needing
the volumes up to exceed the background perceived noise level.
No wonder we are looking forward to the reduction in flight and duty hours next year
- as we are already up to the legal limit in many cases. How the Company will cope
when flying hours are reduced to 700 per year - will be very interesting - they will
probably ask for and get a dispensation to operate at the old limit until they are able
to recruit enough pilots!
On the Oil Company side of things the merger of Britoil and BP has resulted in yet
one more oil company giving up offshore diversion i.e. having just enough fuel on
board to reach the rig and the alternate being another rig close by. This system of
fuel planning only allows for the loss of power from one engine. If you have an
airworthiness problem and have to land on at speed to retain control - as has
happened to me twice - in two years - the availability of a rig or a runway is
important. Only one oil company still uses offshore diversion - there used to be at
least six.
Things are slowly improving as management begin to admit that they now "know
about" the problems, get well soon - we need you.
RS Although not specifically a CHIRP this item is one that is causing serious
concern among helicopter pilots who have no practical avenue through which to
make representation without commercial detriment to their companies. At the
moment once a week engine turbines are washed using commercial washing
additives. After the wash the engine is dried by running it for 4mins and during this
period the heater which runs from the engine compressor has to be purged of the
washing fluid. This fills the cockpit and cabin with toxic smoke and a number of pilots
have subsequently complained of poor health. Even after the purge period when the
heater is next used in flight the aircraft is filled with the odour of the burnt additive. It
is felt that these fumes are toxic and harmful to health.
RS I was dismayed to read in Feedback 18 the Risky Shift article. I retired from
flying nearly three years ago and felt that adherance to the rules was being more
carefully observed as the Helicopter companies have shown themelves to be quite
unmerciless if a pilot is caught breaking them. It seems that there are still some
pilots who are prepared to risk their jobs for a few moments of bravado - and risk.
Although my experience occurred some years ago it seems that it is still relevant.
Flying from Aberdeen, the rig was reporting 200 feet cloudbase and half a mile
visibility. I was copilot having about 50 hours on type. Previously I was a senior
captain and IRE on another helicopter type and had around 4000 hours. The
seniority rules of the company prevented my obtaining a command. My captain was
a well-experienced ex-military helicopter pilot.
We commenced an en-route let down to 200 feet, the Captain flying while I called
altitudes and watched the radar. At 200 feet we were IMC so we set the radar
altimeter for 100 feet. At 100 feet we had intermittent surface contact and no forward
visibility. We descended further and the Captain slowed the aircraft to compensate
for the reduced forward vision. At about 60 feet, we were progressing at 50-60 knots,
in sight of the surface, no discernable forward visibility but with a few hundred yards
slant range visibilty.
I continued to monitor the radar when I noticed that we were descending below 50
feet at 400 FPM, with zero airspeed! I glanced across at the Captain and saw from
his erratic movements that he had lost control while trying to keep a visual reference.
I came on the controls with a firm "I have it". I applied power, dropped the nose and
called for the undercarriage to be raised and for the overshoot checks. He complied
without question but he was a little reluctant to accept that we had been about six
seconds from backing into the water. Had I simply called "Overshoot", I feel that
valuable seconds would have been lost while the Captain re-orientated himself.
I still wonder what might have happened had I been much less experienced. Would
the Captain have taken the risk in the first place? Would I have identified the
situation so readily? Would I have taken control from the Captain?
1067
[AIR]
HELICOPTER
S
x

1.15
Standarisation
issues.
1.14
Misuse of
adjacent
controls.
There should never be the need for these questions to be asked, let alone answered
if we keep to the procedures. No one likes to hear from a radio operator that XY has
just landed when you have just overshot but swallowed pride is good for your health.
RS With a greater than normal degree of domestic and work worries I arrived at the
Airfield to begin an unfamiliar task.
I was being pressed by Ops to leave, while trying to obtain a briefing from my
Observer when I was informed of the need to ground run the aircraft before
departure.
The helicopter had a totally different panel and switch layout to the aircraft that I
usually fly although it was the same type.
After a normal start I decided to switch off the Control Boost to immobilize the
controls as the run was to last for 5 minutes to check for leaks on newly installed
components.
I switched off what I thought was the CONTROL BOOST - moments later the engine
stopped.
I had switched off the FUEL VALVE by mistake!
1113
[AIR]
HELICOPTER
S
x

1.14
Misuse of
adjacent
controls.
1119
[AIR]
HELICOPTER
L
x
?
3.2
Flight deck
environment.
While realizing that most of the faults lay with myself, I did point out the need for
standardization within the Company Fleet, but that costs money, so ......
PW
CHIRP FEEDBACK ISSUE 19 APRIL 1989 (PAGE 3) I should like to add my own
comments to the "My Mistake" article in the above issue of Feedback.
About 3 years ago, in Nigeria, I was lucky enough not to be on board a Bell 206
helicopter which crashed when the Check Captain turned off the fuel valve in
mistake for the boost switch. The Check Captain was killed. I feel that Bell
Helicopters should be forced to either modify the switch positions or introduce a
guard to the fuel valve to prevent inadvertent operation.
At the time of the Nigerian accident I wrote to Bell, the CAA and the Nigerian CAA
expressing my concern, obviously the same thing still happens!! (I am of course
assuming that the incident related in Feedback occurred on a Bell 206).
Let's have some action before someone else dies!
PW
I was rostered for 5 consecutive days starting between 0600 0700 local.
Temperatures were high, reaching 23 degrees C on the ground and usually around
15 degrees C in the air. The heat from the mid-summer sun was intense, wind light
and sea temperature 12-14 degrees C.
The contracts for all my flights required me to wear an immersion suit at all times.
Most days two sorties of about 3 hours each were flown, with insufficient time to
make it worthwhile removing the suit between flights. I was therefore actually
wearing the suit for up to 8 hours a day. By the end of the period I was shattered,
and in retrospect should probably have refused to fly on the last day.
My suit is the full neck seal type which can not be unzipped or ventilated in flight.
Cockpit ventilation can not cope with the effect of the sun (no sun visors), while use
of the main vent and opening the windows also causes a marked rise in noise level.
The reason for wearing the suits is to enable the pilots to assist the passengers in
the water in the event of a ditching. I believe that first principles should apply, and
that the primary duty of the crew is to prevent a ditching. In my opinion the enforced
wearing of immersion suits in unsuitable conditions degrades the alertness and
performance of most pilots to a significant degree.
The CAA have already laid down conditions for the wearing of immersion suits. The
removal of the Helicopter Commander's discretion outside these rules by use of
commercial pressure is incongruous.
Refusal to wear a suit puts at risk the individual's job or the Company's contract.
Common sense seems to have gone out of the window. Only intervention by the
1126
[AIR]
HELIDECK
L
x

3.1
Low visibility
rig
approaches.
CAA to regulate the wearing of suits or reducing duty times in hot weather seems to
offer any solution.
PW
Whilst planning an 0645 Local flight to a platform in the Northern North Sea the area
forecast had been compiled the previous evening, no TAF or ACTUAL was available
for the closest and usual diversion. There was an ACTUAL available for airfields
close by but no TAF. The Sea Area TAF and area forecast gave low cloud mist and
drizzle with a low probability of fog. As the En Route Airfield TAF + ACTUAL were
reasonable I elected to update the MET on arrival. On departure 0815L the platform
was giving 8K 8/8 above 1000ft. A gut feeling made me increase the fuel above the
minimum which gave an airfield diversion from the En Route and a little spare on the
legs out and back to the platform. On arrival at the En Route the closest diversion
TAF + ACTUAL, another TAF and update from the platform were available. As the
land was covered in cloud over the hills with a 160 degree wind and the usual
diversion temp + dewpoint both +12 I elected to take the TAF with a pinch of salt
luckily the other airfield was OK. But the platform was now giving 1NM viz 8/400.
When we got VHF contact th ey gave 1-3/4NM 8/300. But they had a casivac who
required emergency surgery. Before the approach I asked the standby boat to check
the WX 3/4 mile with cloud just clear of the helideck (HT 200ft). I monitored the copilot on the approach. At 2NM and 250ft I could clearly see the surface. Always a
good sign. At one and a half NM and 200ft (MDH) I could see the surface but we
were still in the base of cloud. Descended to 150ft and gained forward viz at 1NM. At
3/4NM (MAP) no contact with platform but I was satisfied that with the ground speed
we were flying there was sufficient visual distance for a manoeuvre to clear it. Below
3/4NM the radar distance became impossible to judge but we became visual with
the support vessel and then the platform at I guess 600 metres with the deck in the
cloud base. Care was needed in avoiding re-entering IMC. The casualty was
successfully taken to hospital. At no time during the approach did I feel that we were
taking an undue risk. With the power being used we were well inside single engine
power except possible for the actually moving onto the helideck. But this is not
unusual during a rig landing. Throughout the approach the co-pilot flew accurately
and all aids and instruments cross checked correctly. Despite the TAF the Area
remained in fog for the majority of the day. Although in this case the need to carry
out the casivac was relevant a number of points are worthy of thought: 1. It is not
sensible to plan flights on a regular basis without all the necessary Met data being
available and current. As happens at present. 2. The North Sea operation relies
heavily on the quality of Met forecasting and its method of dissemination for the
whole area including the island and coastal airfields. Both these often, and
particularly early in the morning and at weekends, leave a lot to be desired. 3. I have
flown in both crew positions in similar conditions before in the full knowledge that we
have been below published minima but the pressure to continue when in contact
1130
[AIR]
HELIDECK
L
x

2.6 (3.8)
Pilot's view.
1164
[AIR]
HELICOPTER
S
x

1.14
Misuse of
adjacent
controls.
with the surface with forward visibility towards an installation where a refuel is
possible is great when compared to a diversion on minimum fuel to alternate that
may be unfamiliar and affected by the same weather system as the installation.
Changing the minima (i.e. the MDH for this approach had been 150ft for a period a
few years ago) only increases the pressure on the crew as they consciously break
the rules more readily. 4. In my experience crews tend to make the same judgement
as to what conditions to continue the contact phase of flights in and use similar
criteria to achieve this. Safety would be increased if the cockpit workload during this
phase of flight was reduced by the statutory provision of technological aids. Reply to
our note rcvd 27.09.89 says "I am old, and thick skinned enough not to care too
much if you transmit it on BBC1!" REPORT SENT TO CAPT RAMSDALE HD FLT
OPS DEPT 2 REPLY DD 12.10.89 RCVD 12.10.89 ATTACHED
FP PW
On approach to land at a drilling rig at night in good VMC, but no other visual
reference, other than the lit drill rig. The approach was conducted using the standard
daytime technique, put the rig in the bottom of the windscreen, and use an altitude,
airspeed countdown (i.e. 60kts 500ft, 50kts 400ft, etc) until good helideck visuals
can be obtained and the landing made purely by visual reference. This approach
however did not work out correctly and I found myself getting too low too early. The
descent was held at 200ft Rad Alt, - until a good visual landing could be made. I was
quite concerned at this incident as several months earlier another S76 had in a
similar situation contacted the water at night, but was able to lift off and land on the
rig, the cause of the incident was undetermined. Several days later I was able to re
simulate the incident during daytime, and my determination of the cause is as
follows:- During Oil Support daytime operations the S76 usually carried a
considerable load of passengers. The nose of the S76 (which is quite long for a
helicopter) is considerably lower than when unladen (as was the case in both
incidents). When laden the previous mentioned technique is a good method for
approach, due to the poor forward and down visibility of the S76. Using the same
technique unladen (aft C of G), if the sight picture is maintained and close attention
is not paid to altitude the aircraft will descend into the water some 3-400 metres
short of the rig. The shortcomings of this technique have probably not come to light,
as in conditions of good external reference curving approaches or flatter approaches
are usually made to touchdown. Although this incident occurred in some time ago
this report was prompted due similar incidents. I am attempting to have the Captain
of the aircraft that contacted the water also submit a report.
PW
CHIRP ISSUE 20 PAGE 6 Thank you for printing my letter and CAA reply in the
above issue, by the way please note address as above for future correspondence. I
am of course aware of the AD issued by the CAA to reposition the hydraulic switch
and paint the fuel valve switch red etc., but am still of the opinion that a potential
1469
[AIR]
HELICOPTER
L
x

3.6
Document
stowage.
2.19
Control
systems,
general (e.g.
missassembly,
jamming).
1490
[AIR]
HELICOPTER
S
x

3.17
Tail rotor
failure/ loss of
effectiveness.
flight safety hazard exists in the Bell 206 Helicopter. The fuel valve and hydraulic
valve switches are of identical design and operation and both switches are used
during operation of the helicopter. The hydraulic switch is used during run-up to test
the controls, and the fuel valve is operated during pre-flight checks to operate the
fuel/sediment system. The fact that both switches are used and that they are still
easily accessible from the pilots seat means that one day someone will operate the
wrong switch again. Painting the fuel valve red is OK, but what if it is night? There is
no separate lighting arrangement for this switch. I consider, as a regular Bell 206
pilot, that the fuel valve switch should either be re-located to some safer, less
accessible position, e.g. overhead switch panel, or have a guard fitted so that at
least two separate movements of the hand must be made to operate it. Over to you.
LR
Despite numerous requests to the company, the type of helicopter I and other
colleagues operate over the North Sea still has no acceptable level of cockpit
stowage for the ever increasing multitude of documentation we are expected to
carry. Nav. logs, checklists, tech. logs, mainifests, Aerads, route guides etc. etc. all
compete for floor space with pilot's feet, full and empty polystyrene coffee cups etc.,
not to mention the controls of the aircraft.
What a ridiculous situation for an aircraft that has been in operation for over a
decade.
PERSONAL EXPERIENCE REPORT ON ACCIDENT, FIRE AND EVACUATION
FROM A HELICOPTER AT A MIDDLE EAST AIRPORT IN 1990
GENERAL
An official report on the accident was produced that covers the usual ground with
particular emphasis on the technical investigation.
The conclusion was that a seizure of the tail rotor pitch control rod thrust bearing
torqued the normally non-rotating pitch control rod which is directly attached to the
servo piston rod. This caused the servo control rod to shear at the stirrup assembly.
This situation resulted in loss of feedback to the servo making pilot rudder pedal
input ineffective. The common stop lever on the servo became free allowing the full
servo pressure to drive the servo piston rod to either full extension or retraction,
exceeding control rigging limits.
It chose full retraction, driving the tail rotor blades beyond minimum pitch
compounding normal torque reaction. Manufacturers aerodynamics department
simulation of this condition shows a violent rotational speed of between 180 degrees
and 200 degrees per second.
A lot of what I consider to be important detail and personal survival aspects are not
covered in the report, hence this paper. My memories of the circumstances related
in the report were elicited whilst I was under heavy morphine sedation and my only
retrospective reaction is that I was able to produce any coherent answers at all!
However, I have no quarrel with its substance.
SITUATION IMMEDIATELY PRIOR TO OCCURRENCE
A normal, single-pilot operation start up and ground tax preceded a proposed
standard Easterly departure from the taxiway parallel to the runway in use 08. W/V
was 070/10. I was being held by ATC at the hover and had turned abeam the wind in
order to keep an eye on arriving and departing scheduled traffic. So I was heading
roughly North when the failure occurred. Hovering cross-wind required some right
pedal input, feet on the pedals overriding the autopilot heading hold. This pedal
position might have some bearing on the direction that the servo rod chose to travel
when "freed". There was never at any time any abnormal vibration, noise or binding
in the tail rotor control.
TIME OF OCCURRENCE
At what I presume to be the instant of the failure the aircraft gave a gentle kick to the
left which I made to correct with a further right pedal input, presuming it to be a wind
variation. I recall that the small input had no effect - setting my own alarm bells
ringing. As I began to feed in an inordinate amount of pedal I recognised that I had
no longer any yaw control. I called to the crewman in the left seat in no uncertain
terms that we had a major tail rotor problem!
(Company policy was to permit Crewmen to act as pilot's helpers, when operating
single pilot, and to occupy the left hand seat if there were no passengers carried.
They were never permitted to touch primary controls). The divergence to the left
immediately became a violent "kick" and from this moment onwards I seemed to be
able to comprehend details in a strangely detached manner.
I was aware that I had a tail rotor control failure and although the action I intended
taking, reducing collective pitch and stop-cocking both engines, would not have had
quite the desired effect due to the unusual nature of the failure I was not to know this
at the time.
Simultaneously the task of "flying the aircraft" was to deal with the violent ROLL to
the RIGHT whilst accelerating in yaw to the LEFT. This yaw/roll coupling is easily
demonstrated on the Puma and indeed a demonstration of this quirk should form
part of any type conversion. But in this instance the yaw control having gone beyond
the stops, the "roll under" was formidable, requiring full left cyclic against the stop to
prevent the helicopter rolling right over into the tarmac. I checked down on the
collective lever to reduce torque, but from the hover height of 15 feet there was little
leeway and I can recall bumping a main gear on the ground.
I had never come across an emergency situation before that I could not sort out.
After some 25 years flying lots of different helicopters and coping with tail rotor drive
and control failures on the simulator I was confident that I could salvage something!
IMMEDIATELY THEREAFTER
I think that I had the situation "stabilised" for a brief period in the violent rotation in
that I was able to remove my hand from the collective lever to try to reach for the
roof mounted fuel shut-off levers to secure the engines. However, in the initial surge
in yaw and roll I had been thrown to the right hand side of the cockpit. It may be that
the fuel shut-offs were physically beyond my reach but I have this nightmarish
recollection of sparing a second with my left hand away from the collective to make a
grab for the levers only to find that my hand met empty air as the levers apparently
slid sideways out of reach possibly due to the considerable rotational G forces.
We did not wear flight helmets unless operating as rear crew and my lightweight
headset left my head at an early stage of the proceedings.
It was now apparent that although I was "stabilised" in a violent left yaw I could do
no more than keep the aircraft in intermittent contact with the ground whilst still trying
to grab the fuel levers. I was unable to distinguish external visual detail, only dark
ground and light sky. I felt I might be drifting off the taxiway and was rapidly
becoming disorientated. I determined to try to lower the aircraft onto the ground in a
forlorn hope that I might be able to use the shearing action of the undercarriage to
slow the rotation somewhat, but being aware of the high C of G of this helicopter I
had little hope of staying upright.
I recall the right main gear, I think, bouncing on the surface. When it touched the
next time I checked down on lever hoping to "anchor" the leg to the ground, but by
this time I was completely disorientated and as I lowered the lever further the
fuselage never levelled itself about the right leg but continued to roll right until the
main blades hit the tarmac and disintegrated.
The aircraft actually rolled onto its side relatively gently initially but the noise was
ear-shattering! It was only as the stubs of the blades hit the tarmac that the ride got
really rough. At about this time the main gear box shifted and the engine high speed
inputs disconnected allowing the engine to run away up and burst their turbines. The
noise was quite unbelievable. I was still rotating with my face a few inches from the
tarmac through the open side window. The aircraft eventually came to rest and the
appalling noise stopped. I can recall being amazed that the helicopter had held
together so well.
"AFTER IMPACT"
My next recollection is of a period of quiet where not very much happened at all. It
was a time of collecting wits and the full enormity of the situation gradually dawned.
The unthinkable had happened and I had crashed and probably badly damaged an
aircraft, something that had formed the substance of nightmares for me since I had
started flying. The overwhelming physical sensation was of being totally
disorientated, from whirling like a dervish to total stillness and relative silence
seemingly in an instant. At this time I most definitely underwent an "out of body"
experience. I saw myself and the situation seemingly from a point above and some
distance away from the cockpit. It required a very considerable mental effort to reestablish myself "within" myself.
I had a major mental struggle to re-orientate. My dizziness was a problem and visual
inputs were still trying to slide out of view sideways. I also had a problem with
convincing myself that I was not sitting upright as I would normally be at the
conclusion of flight! I remember I found that if I kept my vision close inside the
cockpit and fought to ignore the spinning sensation and sliding vision I was able to
make some sense of the situation and convince myself that I was lying on my right
side.
I cannot help but conclude that the experience and mental discipline required to
overcome the "leans" encountered in instrument flight stood me in awfully good
stead helping me to cope with my situation.
The first problem was to find my harness release box, which I eventually did up by
my right shoulder. I had "submarined" through the harness and my lower torso was
lying on the right hand side of the aircraft from the front part of the door down into
the "chin" window. I had to have several attempts at releasing the harness. The first
try released only the shoulder straps and a fair amount of frenzied twisting was
required to get the box to release the lap strap.
I had to concentrate then to kneel up and locate the fuel-shut offs, booster pumps,
electrical gang bar etc. for the "After Impact" drills. I recall this required a great deal
of mental effort as a form of lethargy was trying to take over in some way. I had a
major problem with kneeling/crouching on the door which was "down" to slide myself
"up" to the overhead panel which appeared close in front of my face instead of over
my head! I "logicked" that by reaching directly to my left that I would find the shutoffs at the "front" of the panel which I did and secured them. I knew that I needed to
reach the forward interseat console for the booster pumps. I was unable to do this as
it became apparent that a major restriction to movement in the cockpit was the inert
body of my Crewman hanging in his harness "above" me.
I had my back to him, so to speak, and his bulk prevented me from turning fully. I
cannot recall if we communicated at all at this time.
FIRE IN THE COCKPIT
The realisation now dawned fully that we were on fire. It had been in the back of my
mind for some time but somehow it was not a top priority item. I must have had
visual and olfactory cues. I gave up on the "overhead" panel switchery although I
recall that a number of warning lights were illuminated. The gang bar must have
been only six inches from my nose. I do recall thinking that I might have a few
moments to press the engine fire extinguishers, but I further remember the sinking
feeling when I realised that I had wasted precious time looking for them on the
overhead panel when they were actually on the instrument panel, NOT the overhead
panel as they are in the later marks which we cross-operated.
I became fully convinced that we were on fire when I began to get burned on my
right hand side face, shoulder, back and upper arm. We habitually wore a
polyester/cotton, shorted sleeved flying suit and desert boots. Cape leather gloves
(as per military issue) were available. I had not worn them since leaving the RAF
years before.
I recall becoming seriously concerned about making an exit from the aircraft at this
point. Looking to my right into the cabin I was able to make out that it was well alight.
The cabin doors were both gone but there was a fierce draught blowing smoke and
flame into the cockpit through the passageway which was now in length horizontal
rather than the normal vertical. It acted as a kind of funnel and the flame rapidly
increased in intensity. The aircraft had come to rest tail into wind, fuel from the
ruptured over-wheel sponson tanks (almost the full fuel load) and the under floor
internals had spread onto the tarmac which was afire and this was causing the fierce
channelling of smoke and flame into the cockpit.
I sank back down out of the direct draught of the fire behind the bulkhead, but the
flame and smoke increased in volume, now directed onto the body of my crewman. I
should mention that he was a man of formidable build about eighteen to twenty
stone and not terribly fit. It is normal in that country to indicate affluence and success
in life by becoming corpulent and unfortunately he had followed this custom.
EXIT
I recall seeing the crewman stir, possibly making an effort to find his harness
release. He was clearly still only partly conscious and his movements were
ineffectual. This was taking place above my head and it was obvious that my only
escape route through the left hand (uppermost) cockpit door was blocked. The
cockpit was now filled with dense smoke, I could see very little and was inhaling bad
air. It was unlikely that the Crewman would be able to release his harness and
escape himself. I was now unable to see or reach him, and there was a very real
chance should he be able to release himself that he would fall to the bottom of the
cockpit pinning me beneath him.
At this stage, crouched on the bottom of the cockpit, things began to look really
bleak and panic definitely set in. I attempted to kick out the armoured windscreen
panel which was the closest. I paid for this with a badly strained groin which made
itself evident later in hospital. On examining the wreck some months later there is
evidence that I did manage to kick the screen almost completely through, but even
had I succeeded it is doubtful that I could have squeezed through the empty frame.
A part of my mind recognised that I had allowed a panic reaction to get hold and that
unless it was quelled it would lead down the road to destruction. I recall this
realisation quite vividly.
In the past I had been very fortunate to undergo the Long Fire Officers course in the
RAF some twenty five years previously. This course included "hands on" crash
rescue from blazing aircraft, admittedly wearing the full protective clothing and
propelled by the scruff of the neck into the flames by a beefy Flight Sergeant! The
experience (which we carried out half a dozen times) was invaluable in experiencing
the intense noise, almost complete lack of visual cues in the dense smoke and, of
course, the considerable heat.
In the cockpit I remember being able to get myself under control realising that "I had
been here before"! I concluded that kicking out the windscreen was futile and that by
lying on the door and reaching down to the chin window beyond the pedals, I could
probably kick that out. This I managed to do. I was aware that the tarmac was on fire
close to the aircraft and that I would have to crawl through it. I also recalled that in a
burning fuel spill in a reasonable wind the flame tends to stay fairly low, knee to
waist height, so my chances of subsequently getting to my feet would be fair.
Outside the transparencies were completely black, so I had no idea whether there
might be wreckage in my way. I expected that the tail boom would probably have
been severed and could be an obstacle to a blind exit.
I withdrew my legs, turned around and crawled down into the nose of the aircraft,
over the pedals, into a very confined space. I can remember the mental effort
required to put my right hand and arm down onto the burning tarmac to take my
weight as I extricated myself, but I had decided on this course of action at whatever
cost. From putting my head outside the aircraft I was completely blind. In fact I
closed my eyes and this probably saved them from more serious injury. Again I
recalled the experience of feeling my way through a smoke-filled house on the fire
course, where eyesight is largely useless. I extracted myself and making sure that I
kept my back in contact with the outside of the nose of the aircraft, I stood upright
getting the back of my flying suit slightly caught up on the pitot head assembly. I took
this to be a good sign that I was facing the right way!
From this moment I was fairly sure I would make it. I remember pausing with my
hands behind me on the aircraft nose to ensure that I was balanced then with
something of an effort I set off walking blindly directly forwards. I knew I must not run
in case I met some obstacle that would cause me to fall into the flame.
Unfortunately, with the following wind I had chosen a direction that gave me the
longest path through the fire, but I did veer slightly left, emerging from the smoke at
an angle to the aircraft according to eyewitnesses. Luckily, there was no significant
wreckage ahead of me, the tail boom had stayed on the aircraft, being only slightly
damaged and upwind of the fire, so making the subsequent technical investigation a
lot easier!
As I emerged from the smoke I was aware that my clothing was on fire around the
legs and was able to beat out what I could and rip off the material where I could not.
I asked the first person on the scene, a good friend who had come running over from
another helicopter, if I was on fire behind where I could not see and how bad did it
look? He looked badly shocked, so I assumed that I did not look too good. I told him
that the crewman was still in the aircraft and can remember hearing the fuel tanks
explode and knowing from that moment that he would not be able to get out alive.
SUBSEQUENTLY
At no time during what I have related did I feel any pain whatsoever. The pain began
during the Landrover journey to the nearest hospital. The burn injuries to both
hands, arms and legs, right face, neck, shoulder, and back began to hurt, I estimate,
about five minutes after leaving the aircraft. Throughout the accident, apart from the
onset of panic, I retained a surprisingly clear perception of events and detail around
me, even to recognising the onset of shock on the journey to hospital. The sight of
the injuries to my hands and arms did cause me some mental distress. At the
casualty entrance there was a lot of indecision as to whether to put me on a
stretcher which was nowhere to be found. I can recall being irritated and getting the
driver to open the Landrover door and the door of casualty, so I was able to walk into
the hospital unaided, thus probably saving considerable time!
I was subsequently stabilised at a military hospital then transferred to the local burns
unit then to UK and East Grinstead, sixteen days after the accident. Meshed split
skin grafts were carried out on my right hand and arm and left lower leg, some failed
and were re-grafted in a second operation. A further operation adding full thickness
grafts between the fingers and releasing webbing carried out in 1991 was not quite
as successful. Further surgery on the right hand may be required in the future. Apart
from scarring I have regained full use of my legs, left hand and arm, but have
suffered considerable loss of movement of the fingers of the right hand. My Pilot's
Licences were withdrawn in 1991.
The mental stresses that accompany severe burn injuries I (and my family) have
found to be as much a problem as the burns themselves. Never having experienced
any mental problems before, I have found them hard to come to terms with.
I would have gained considerably through being allowed to return to work as soon as
my surgeon felt I was fit enough. Being around familiar places and amongst my
friends would have helped a lot, even if it was only answering a telephone! As it was
I was stuck in UK and for probably political reasons was not allowed to return
immediately to the Middle East although I had been exonerated from any fault in the
accident.
I came to terms very early on with the loss of my crewman. I think it was as early as
the moments after leaving the aircraft when I heard the further explosions. I am also
aware that even if I could have stood the flame exposure I possibly could not have
freed him with his full, considerable weight on the release mechanism and had I
succeeded I would have been unable to support him. Lifting a man of his bulk
though an overhead, untested emergency exit in the prevailing conditions would
have been impossible and undoubtedly both of us would have perished.
CLOTHING
I was wearing Desert boots which apart from badly melted soles protected my feet
completely. Fairly bulky ankle socks of polyester cotton saved my legs up to normal
sock height. I wear a beard and although I lost a great part of it, it did afford some
facial protection. Although the flying suit was short sleeved and of polyester cotton it
resisted the flame surprisingly well becoming "glazed" and rigid in the worst places.
However, the flesh beneath this damage was injured.
OTHER ITEMS
Another point that may be of interest is that my wristwatch (I wear it on the right
wrist) protected an area of my wrist sufficiently large to enable a band of normal
flesh to remain. This avoided scar contractures crossing that joint and most certainly
helped to assist in mobilising the limb and hand. The watch is of the black plastic
resin type and although badly scorched and partially melted resisted the flames well
enough.
When I flew this type of helicopter in the RAF I remember that the type of harness in
use had a negative "G" strap which was attached to the front of the seat pan and
came up between the legs to fasten into the bottom of the QRB. This arrangement
would undoubtedly have prevented the "submarining" which I encountered in the
accident.
In a separate, earlier accident when another similar helicopter rolled onto its port
side, the engineer in the RH seat had found it very difficult to release with his weight
suspended in it. The company have subsequently changed all helicopter harness to
the type normally fitted to the later marks.
CONCLUSIONS
The report reached a number of conclusions regarding the technical aspects of the
accident:1. The failure of the single bearing in the control system which lead to catastrophic
failure suggests that the tail rotor servo design needs review for possible retrofit
modification to make it fail safe.
2. A safe hard life in both flying hours and calendar period needs to be assigned to
the bearing, not "on condition" or 3000 hours.
3. The aircraft fuel vent system had no non-return valve mechanism in the vent lines,
so as the aircraft was lying on its side fuel ran out of the vents and fed the fire on the
ground around the aircraft. The later marks have such a system.
4. The type certification for these helicopters had remained unchanged for twenty
years and needed a review as far as crash-worthy systems, now available as an
option, were concerned. It was recommended that the type certification requirements
be upgraded to make this type of fuel system mandatory.
My own conclusions, apart from the obvious one that I was extremely lucky to
survive the accident are:1. This type of failure is uncontrollable. The company simulated the same failure on
the simulator for later marks during normal yearly training. Even with two pilot
operation, it was not possible to catch the initial swing in time, and the simulator is
not able to reproduce the sustained "G" forces involved.
2. I had over the past twenty years or so, considered what detailed action I would
take if I had been placed in a number of emergency situations such as tail rotor
control/drive failure and how I would expect myself to react.
3. It might have given me a number of sleepless nights, and you may feel that I have
a rather pessimistic nature, but I consider this exercise in self- analysis helped
considerably in coping with the awful realization that the appalling event had actually
occurred and that I should get on and do something about it! I have discovered since
that the majority of pilots I spoke with about this type of scenario have never felt the
need nor inclination to carry out such an analysis.
4. The disorientation experienced following the rapid rotation in such an accident as
this is formidable. I can only say that the mental discipline and considerable effort
required to overcome the "leans" and disregard some sensory inputs is precisely the
same as I required to cope with the dizziness. Perhaps the several pints of high
octane adrenalin in my bloodstream at the time helped!
5. I have no answer to the problem of sensory deprivation within an aircraft (or any
other) fire. My previous experience in aircraft and domestic fire situations was of
incalculable value. Lacking that, I am uncertain what the outcome might have been. I
am at a loss as to how this lifesaving information/experience might be passed on,
unless by others reading of this type of experience.
6. Burns and other non-incapacitating injuries (I did some hefty damage to the
knuckles of my right hand) can seemingly be ignored to a large extent in the heat of
the moment (excuse pun). I felt no pain from the injuries until some time after leaving
the aircraft. Or perhaps I have simply forgotten.
7. The mental problems following such an accident should not be underrated, even
with the injuries I suffered. It could have been much worse all round.
8. Fear can paralyse the mind. My experience agrees completely with that. It is as
well to recognise that you will be in fear of your life in such a situation. You should
expect this and try to imagine how you might cope with it.
AVIATION EXPERIENCE
I submit the following extracts from my CV as regards aviation experience for any
comparisons you may wish to draw.
______
Note by CHIRP
"THIS CHAP HAD BEEN FLYING HELICOPTERS, BOTH MILITARY AND CIVIL,
FOR ABOUT 30 YEARS BEFORE THE ACCIDENT. HE HAD BEEN RATED AS
EXCEPTIONAL IN ABILITY AND WAS A FLYING INSTRUCTOR AND EXAMINER."
1532
[AIR]
HELICOPTER
L
x
?
Other.
Should you wish to use any of this information for publication, please contact me
beforehand as the matter is the subject of legal proceedings.
I should be happy to speak further on any aspects of the matter in the interests of
helping to enhance flight safety and crash survival.
PW
My concern addresses the growing problem of CAA control of flight operations over
the years. Commercial pressures have led to increased strain on aircrew who
operate for long hours, become tired and have to worry not only about flying but also
redundancy.
1581
[AIR]
ROTOR
S
x

1.7
Error prone
equipment.
Contrary to what CAA say and what some people believe, it is the CAA's attitude
towards flying operations in the commercial world which is directly contributing to
crew fatigue and unnecessary bureaucratic requirements which cost a lot of money
and significantly affect (adversely) company operations, particularly in relatively
small helicopter units. Why must unnecessary documents be carried on helicopters
where weight is critical when they can be inspected at base? Why create
Performance A figures which are so complicated as to make practical flying
impossible?
Why inflict flying patterns on light single and twin helios so as to make operations so
cumbersome and costly as to kill the cost effectiveness of helicopters as a means of
transport without adding one jot to flight safety? The answer: because CAA officials
must do so to justify their jobs. There can be no other reason, in view of the adverse
effect on flight safety.
PW
This report concerns the poor visual presentation of the combined Engine/Rotor
tachometer.
This was a revision flight for PPL H student who has approx 35 hours on this R22
and was his first flight day after a few days break.
I had demonstrated an into wind Quick Stop and handed control to my student for
him to practise this manoeuvre. During the flare stage, due to the severity of the flare
the collective lever was lowered almost fully to maintain constant height, and a split
needle condition existed, although not seen on the TACHO. The oil pressure low
warning light and the Alternator warning light illuminated. I told my student that the
engine had stopped, took control and performed an engine off landing.
At no time did either of us notice a change in noise level NOR and more importantly
notice where the engine tacho needle was. This awful gauge has three distinct
problems, firstly it is unlike any other engine/rotor tacho secondly the clutter of
coloured arcs "hide" the position of the needles when glanced at momentarily and
lastly the needles are too thin. My observation is that this gauge design is
fundamentally flawed by bad design which then puts the onus on the pilot to study
the gauge for the information whereby the information should be obvious upon a
millisecond glance. I am used to the presentation offered by the Bell 47, Hughes
300, Enstrom F28/280 and Hiller models which DO indicate clearly a "split needle"
condition. The two warning lights functioned extremely well and both of us noticed
those. Although instrument design may not be part of your responsibilities I do
believe the Human Factor interaction here is. May I suggest a solution.
[sketch appended here showing needle/s as presently presented versus suggested
presentation]
1594
[AIR]
NORTH SEA
L
x

3.19
HMI with new
flight deck
technology.
simplified diagram
PW
I was called late in the day to complete a flight that required three stops as well as a
refuelling stop. The weather was not too bad for the North Sea and I was crewed
with a co-pilot unfamiliar with type.
Our aircraft was fitted with a newer generation of Area Navigation Computer. I had
used it on a number of occasions before with little difficulty, albeit infrequently. It
would be the co-pilot's second flight to the area of operation. There was little time to
spare to complete the round trip before base airfield closed.
From the outset the Nav computer decided that this was the night that it was going
to play up. Attempting to update the Decca, VOR/DME, and DR positions as well as
generating and inserting new waypoints mostly with little success soon caused
excessive cockpit workload. Being aware of the danger of spending too much time
head down playing with this techno-box I regularly crosschecked my navigation
using raw data as well as having a general check around the cockpit. The wind given
by the Nav computer was twice that planned and although I doubted its accuracy I
had to take cognizance of the fact that it may be correct or partly correct. This could
have made the round trip impossible before base airfield closed.
I was having great difficulty correctly operating the Nav computer as I was carrying
out functions that I had either not had to do before or the complexity of the operating
functions caused me to repeatedly make mistakes. I was not helped by the logic of
this system being different for each function than its generic predecessor. The copilot was making a good job of reading snippets of wisdom from the instruction book
that came with this technological masterpiece that is about as user friendly as shiney
cardboard in the carzey!
After one and a quarter hours we arrived at the refuelling stop I had finally revised all
my knowledge on the Nav computer and all the errors and warnings were gone, all
three positions in its little brain were the same. It was just a shame that someone
had moved the refuelling stop 9 miles SSE! I could therefore not rely upon it for
either navigation or flight planning nor did I know whether it was u/s or whether I
was.
During the sector there had been no requirement for any load reconciliation, flight or
fuel planning nor any supervision of the co-pilot in these tasks. If I were to reinitialize
the Nav computer at the refuelling stop I would not know whether it was functioning
correctly until after I was airborne on the next sector where the workload was going
to be very high and by which time was effectively committed to attempting to
complete the round trip, and still with some real doubt about the wind strength.
I reluctantly decided that it was imprudent to proceed beyond the refuelling stop, and
on doing the descent checks found that for the preceeding one and a quarter hours
the engine anti-icing had been off!!
1702
[AIR]
HELICOPTER
L
x
?
3.2
Flight deck
environment.
We all spend a great deal of trouble in identifying human factors problems, carrying
out cockpit resource training and trying to be safety conscious in carrying out all
aspects of our various tasks in aviation. This Area Nav Computer requires the
detailed knowledge of an instruction book of 100+ pages and a cockpit check list of
half that size. There is no logical or progressive system for its use and it requires a
different sequence of actions to use its various sub-functions none of which are self
evident in use. The question is, has the techno-pratt who designed this made a
positive contribution to flight safety?
PW
SUBJECT QUESTION
DOES INHALATION OF TURBINE EXHAUST FUMES CAUSE TIREDNESS OR
ANY OTHER KNOWN LONG TERM HEALTH RISK.
I have never been able to satisfactorily explain why I am so tired after a duty period.
Most of us have to take to our beds to recover. I sleep well, exercise regularly am
experienced in the job which is not too demanding.
We fly many sectors in a shift. Average sector 15 mins average number of sectors
20. Each time we land and disembark passengers we get exhaust fumes in the
cockpit. We try to minimise this because of the discomfort to eyes and breathing but
it is always there. Is there any health risk?
1716
1935
[AIR]
NORTH SEA
[AIR]
HELIDECK
L
L
x
x
?
?
2.4
Human error
with no
associated
technical
failure.
Other.
ATTACHED: PILOT DUTY ROSTER FOR DECEMBER 1994 - S61N HELICOPTER
PILOTS - reporters duties highlighted. (OPERATION OFFSHORE OIL SUPPORT IN
THE FAR EAST)
PW
I was called in whilst on standby to take an ad hoc flight to the Northern North Sea.
By the time I arrived at work the flight was closed with a full load. With the co-pilot I
planned fuel minimums based on a refuel at an airfield both ways to give the max
payloads. As I was taking a full load out and the Wx at Base required holding fuel I
did not anticipate returning direct. Whilst outbound I checked the RNAV TAS
computation and it was correct. Having refuelled and called the rig log they
requested we offer a return payload without a refuelling stop - a rather unusual
request - I calculated the fuel requirement based on the RNAV then the co-pilot
calculated the payload. We both watched each other in our tasks. The return time
was one and a half hours. The alarm bells should have rung instantly but we were
both pleased to be on a one stop back to Base on a Friday night. Luckily the load
given allowed us oodles of extra fuel - it was only when in the cruise returning to
Base that I realised that a GPS of 176kts were needed to make Base in an hour and
a half. Check RNAV TAS should have been 130kts - showed 159kts! - I feel a little
silly as I am always trying to instill the need to cross check for gross error and never
to rely on fuel planning based only on the RNAV which always tells porky pies!
DWB 9 Sept 1996
This is public knowledge so confidentiality need not be maintained but you may find
the Human Factors aspects "interesting"
What it does not explain is that the company emergency check list was wrong
omitting the final item of undercarriage selector "down" after it has been manually
pumped into the kneeling position.
I learnt about flying from that.
(or my excuses for parking a Puma in the low profile position).
Good VMC airborne in the cruise 2000", xxxxxxxx
Warning light illuminated with ""SERVO"" on 32 Alpha. Shortly followed by ""LH
LEV"". I saw that colleague was hands on and I anticipated a total loss of the L/H
system. Colleague suggested a suitable diversion and I agreed.
I dialled up 129.7 but could get no answer from the Platform (although we had
stopped there before). I advised ABZ INFO of our failure and intentions. I QSY'd
back to 130.875 but could not raise the Platform. Back to 129.7, still no answer from
the Platform. Meanwhile I am monitoring the Hydraulic PX. Both L/H and AUX in the
green and xxxx happily flying AP out. I did not declare an emergency as we were
flying in VMC and there were no signs of fire, I knew I would raise the Platform
somehow as there was lots of traffic around. Finally I called a Second aircraft on the
AAA Monitor and asked him to raise the Platform on marine.
Back in the cockpit the L/H Hydraulic and AUX PX went to zero. It all went just like
the SIM very reassuring. So:
I picked up the emergency checklist and using the thumb index managed to open it
at "Double Transformer/Rectifier Failure". Re-selected and started reading, as one
does at the top left of page "R/H .. " etc. Finally I found "Complete loss of L/H
pressure" and carried out the checks by the book. Down to "Land as soon as
possible" at this point there is a line across the page so I put the checklist down. Its
a lot easier to pump the gear down in the aircraft than the SIM. I turned off the AUX
pump as required although it was not on the checklist.
By this time we are on finals for the Platform, we had spoken to them, the deck crew
are on their way up and it's time for me to give my final excuses for the possible
wobbly landing to the PAX. It was a superb landing! It was reassuring as we landed
to see the standby boat all prepared, fast rescue boat and scramble nets deployed.
We shutdown, off loaded the PAX, phoned base and climbed up to see where all the
oil was leaking from. I found a little disc of metal that had been blown (fractured) out
of a union. I contacted engineering to advise the details of the failure and organised
the deck crew to manhandle the aircraft to the edge of the deck.
Colleague and I were quite pleased with ourselves, we decided that we were both
more than happy with the way we had handled the situation I had even managed to
work the GPS to get us to the Platform (not that we needed it!)
While we waited for the cavalry (An S76 full of engineers) we cleaned up all the oil,
had lunch and promised the OIM we would be off his deck in a few hours.
The engineers arrived, replaced the union, replaced the hydraulic pump and told us
that as well as the union having failed there was also damage to the hydraulic pack
indicating there had been an overpressure. Both my colleague and I were concerned
that the amount of overpressure that blew a solid union apart could also have done
other damage.
FLASH BACK - Back to the first start up of the day, as Colleague turned the first
booster pump on we both heard/felt a clunk which we knew was not a booster pump!
Back to the Platform. The engineers have fixed it, so I supervised the deck crew in
manhandling the aircraft lock to the centre of the helideck. I saw XXX in P2 seat and
asked him to move to the P1 seat so he could operate the toe brakes. He did this by
shuffling his body across the cockpit as the deck crew were milling around lay the
cockpit doors.
Once into wind on the helideck it was time for a one minute ground run. The nose
wheel was off centre and we used external power. I did the walk round while XXX
did the cockpit checks. Then I got in, checked with XXX that he had done the checks
and I did a visual look round the cockpit. Whilst I did the control check I noticed that
the external power was off so we got it turned on. When it came on, there was a
solid "clunk" and we delayed the start for a few moments whilst we discussed it.
Remember we had just had a hydraulic failure in flight plus a "clunk" before start at
base. As there was nothing apparently wrong we decided to continue with the
ground run.
Yes we are in the kneeling position - so what? I had done a start in this position
before (once upon a time someone inadvertently lowered one down overnight on the
DB102 and I started it for them). On type conversion we had taxied and shut the
aircraft down kneeling and been told that it could be treated as normal. Technical
training was that all the logic circuits still recognise the ground condition whilst
kneeling so I am happy to start amber/green/amber.
FLASH BACK- Back in February, I am P1 in the SIM, the P2 is doing P1 under
instruction, I'm "H" he is "NH", rig radar with an undercarriage fault. Out of the corner
of my eye I notice that he keeps screwing it up by pumping the gear down with I
selected down, I did not allow myself to be to distracted whilst as "H" but 3 times
said "put the gear up, read the checklist and start again! " Now I know that the
circumstances were different but the impression left on my mind was that it was
normal to select "up" to pump the gear "down". (It is French, after all!).
As I pressed the starter button the external power dropped off line and as usual all
the warning lights dimmed. I did notice that the amber/green/amber undercarriage
lights were either so dim I could not see them or were out.
Eyes now returned to the hydraulic PX coming up. We ran at flight idle for about one
minute with all indications normal except no undercarriage indications but also no
""L/G SIG"" or ""L/G CONT"". But the aircraft was stable in the kneeling position.
We shutdown with no problem got out and had a chat with engineers about
everything that had happened. Everything "on top" was okay so it was decided to go
for a 10 minute ground run. We intended to lift into the hover to return the gear to the
normal position during this run.
XXX got in whilst I did another walk round. The aircraft was in the same
configuration as during the previous ground run so I felt happy to start it again...
I started #1 up to flight idle, all T+P's okay. Nothing abnormal. Started #2. Just as I
was advancing the SSL for the final push into the flight idle gate the aircraft started
to move forward and down. My only thought was to let it sink under control so it
stayed upright and to stop the rotors as quickly as possible. There was a lot of
grinding, grating and crunching noises as it went down but no panic!
After we had shutdown and my colleague had left the cockpit I noticed that the
emergency undercarriage handle had been returned to the "normal" condition. My
first thought was that this was the sole reason for the undercarriage retracting. My
colleague had pushed it down as he had shuffled his body across the cockpit!
So what had gone wrong. The FDR shows the undercarriage logic put it back into
flight before I shutdown on the initial landing and the rest you know but....
XXX and I were in a confident mood, we were pleased with the way we handled the
hydraulic failure and the resultant sorting things out....were we to hasty? Over
confident?
I was quite happy to start in the kneeling position - the Guru of the Puma (now not
with us) told me it was okay. I was perhaps overconfident having done it before - a
little bravado perhaps!
I was happy with the position of the undercarriage selector and emergency handle
after I had done the checks - it was okay on the LOFT exercise and in accordance
with the checks!
We were both very concerned about what had caused the hydraulic failure even
though it had been fixed, were we distracted?
I am more than happy to allow the P2 to do the cockpit checks - he after all trusts me
to do the walk round - it was for a ground run after all. Were we both complacent?
When the undercarriage indicator lights went out during the first start had they just
dimmed with the external power dropping? By the time I knew they were out we
were at flight/idle with everything okay.
The second start was only a repeat of the first nothing had changed so there was no
need to do all the nine yards The rest is history
2038
[AIR]
HELICOPTER
? (L)
x
?
3.23
Enhanced
HQs.
Now over to the reader - at what stage would you have a smelt a rat and been
alerted to the fact that something was amiss? That is a question I can not answer for
you, as we obviously were not. With hindsight, the first stage should have been the
BEFORE START checks. I should have been more conscious that being in the
kneeling position needed extra thought. Before the second start I knew the
undercarriage indicator lights were out and accepted that the aircraft logic circuits
would not allow the gear to come up...... Oh and the big ""clunk"" before the first
start......(I now believe it was the nose wheel actuator unlocking!)
DWB 10 June 1997
Re: FEEDBACK 42 - ATCO Familiarisation
Could ATC's please be made aware of how helicopters are flown.
Many, probably most, helicopters are flown single crew. Helicopters require both
hands (and both feet) to manoeuvre in the hover and during T/O and landing.
I almost always receive critical information such as runway, W/V, QF8, QNH,
Transponder Code, Altitude, Frequency Heading, other traffic in multiples during taxi
or T/O.
It matters little whether one is operating at a major international airport or at a small
grass strip, controllers simply don't realise that the pilot must either memorise all the
information given or land to write it down, the latter rarely being practical.
I don't believe this is particularly dangerous for typical rotary wing operations but
there are, quite clearly circumstances where safety could be compromised.
2041
[AIR]
HELICOPTER
S
x

4.2
Loss of
control/ over
control.
3.23
Enhanced
HQs.
2.6 (3.18)
Pilot view &
visual cueing
environment.
Helicopters are tricky little devils to fly so, ATC's please give us rotary pilots a break
and be aware that we need both hands unless we are on the ground or well clear of
it.
DWB 10 June 1997/PCT 17 June 1997
It was a clear night when I finally left AAA, a light wind and about 30km visibility.
I was in a twin engined helicopter, certified as single pilot IFR and had a current
instrument rating, approximately 5000hrs in helicopters of which 900 were on type.
My destination was a private landing site which I had only been to once before, but
BBB (International airport) was nearby and available if required.
The Met Office had issued a Fog warning, valid from the early hours until late
morning the next day so I was not too concerned as I departed on a direct track for
my landing site at around 2000hrs.
I climbed to 2000ft to enjoy the tremendous view and felt relaxed under a RIS
enjoying the fact that I was the only aircraft talking to them at that time. After 15
minutes clouds began to appear below me, but I was not yet concerned as I could
still see the lights below, through and around the clouds. A few minutes later it was
solid cover and I was flying VMC on top. It became clear that my landing site was
going to be overcast possibly in mist. Well that was still OK, I had people on the
ground with crossed headlights and data from my previous trip had allowed me to
work out the difference between QFE and QNH, best approach headings etc. I also
had a Radar Altimeter and sophisticated GPS which one could couple to the
Autopilot, or just use on the HSI. My escape routes were worked out, BBB was
nearby and AAA was in the clear, I'd give it a go.
I changed frequency to BBB and was positively identified and given a RIS.
I informed BBB of my intentions and set myself up for the first approach, Radar
Altimeter 'bugged' to 500ft.
At 500ft there was no ground contact, so I went around setting the 'bug' now for
300ft and commenced another approach. All was well, heading, rate of descent,
distance to run. I reached 300ft and had not broken cloud although I could see dark
patches of ground through what was obviously a thickening mist. I had just decided
to go around when the crossed headlights appeared 500m away in my two o'clock. I
immediately lowered the collective, flared and commenced a turn to the right
applying right pedal.. My eyes were glued to the lights and it was then that they
disappeared. At this time I was probably below 300ft at about 50kts, in a turn with a
rate of descent with no references whatsoever. I knew I was in big trouble.
I transferred back onto instruments and simultaneously raised the collective as high
as it would go, and rolled back the bank, expecting the ground to hit me any second.
After the second or two it took me to assess the instruments I was confused. The
ROD had descreased and was showing a proper response to the applied power by
beginning to show a healthy ROC of 1000ft/min, but the AI was showing a wild
oscillation in roll of about 20 degrees left then right and in pitch 15 degrees nose up
and down, but most alarming was the DI which was spinning so fast that I could not
tell which direction, let alone read the headings. Airspeed was zero.
I corrected the AI to 'wings level' re-checking the rate climb. I was still IMC and
extremely scared. The yaw pedals were useless as the Tail Rotor has clearly
'Broken Away' I had no idea which way I was rotating. I had enough height (1200ft)
now to do something about the Airspeed and lowered the collective a little and
pushed the nose gently forward. After what seemed an age the ASI began to
indicate, the rotating began to slow and eventually stop. I found myself IMC at 1500ft
straight and level at about 110kts.
With immense relief I commenced a climb to VMC on top and broke cloud at 1800ft.
The stars were very bright, but I had a further horrible moment when it appeared the
moon was overtaking me and for a moment I thought I was travelling backwards. I
suspected that my inner ear was still adjusting.
BBB gave me a vectored ILS pronouncing clear skies and greater than 10km
visibility. The aircraft remained there overnight and I took a taxi home.
2080
[AIR]
HELICOPTER
S
x
?
2.4
Human error
with no
associated
technical
I confessed to an Engineer that I may have 'overtorqued' the main rotor head and it
was inspected the next day before I flew it home. I hadn't. The 'overtorque pop-out'
was still in place.
DWB/PCT 3 Sept 1997
In response to the latest CHIRP, I enclose my offering. There is much more I could
say, but I have tried to restrict it to
a) first hand experience, and
failure.
b) the absence of guidelines for non visual approaches to rotary landing sites.
The commercial pressure/management coercion written about by your other
helicopter correspondent is valid enough but I would add pilot peer pressure ("he
could not get in, but I did"). It is only because there are no rules that this can flourish.
I am happy to discuss and elaborate this in person, as I am for my letter to be
published if it is considered to be helpful.
Report:
FB43 - Disorientation - An Alarming Experience
The 'Alarming Experience' in the latest CHIRP was such a riveting read it has
galvanised me into writing to you.
The writer's candour is commendable, but has your comment not rather missed the
point? Surely the burning issue ought to be how it can be possible for a helicopter to
be in the descent at 300 feet from the ground in IMC at night? This would be below
minima at many airfields served by recognised navaids and runway lighting?
The commercial pressure/management coercion described by your other helicopter
correspondent (FB43 Commander's Decision) is valid enough, but I would add pilot
peer pressure ("he could not get in, but I did"). It is only because there are no rules
that this can flourish.
Far be it for me to point a finger. As a co-pilot I have personally overflown a turreted
five-storey castle at 500 feet AGL and not seen it until alighting on the croquet lawn.
I have also descended at 200 feet AGL in fog before overshooting a manor house.
The aircraft's GPS (Global Positioning System) was inoperative at the time, so the
Captain used a hand-held GPS receiver resting on the door pull. My first touchdown
there was in sunshine; I noted the fine trees sheltering the house and paddocks and
could not help wondering!
Lastly, on a rainy night on finals to another castle, I found myself discerning
individual leaves on trees from my door window. The ancient pile was
comprehensively floodlit, but intermittently obscured by pockets of post cold front
fracto-stratus. Realising in a flash that just one more in front of us would doom us to
destruction, I called "####, Pull Up, Pull Up" as calmly as I could. To his great credit
he did, immediately and with full power.
Some weeks later in daylight I looked back along our flight path that night. Only the
crowns of the deciduous trees were visible across the park's skyline. In between,
and the closer they were, the more of them could be seen, were stately cedars. We
had been descending over rising ground - even something the best radar altimeter
cannot show.
In transit outside CAS the principle of terrain clearance in IMC is plain enough.
Anything you might otherwise bump into has been cleared by a minimum of 1,000
feet. Similarly, there is no ambiguity about a non-visual runway approach. Every
possible permutation of obstacle hazard, landing direction, navaid visible, even
aircraft handling characteristics has been computed to promulgate landing minima.
Compliance with these is not optional and is equally obligatory to helicopters.
But if descending without visual references to an area not designated for the
purpose of take-off or landing, just how low is a helicopter allowed to fly? There is no
definitive answer, and I am profoundly convinced it is time there was.
Only a short time ago a DIY IMC let-down was confined to what used to be called
'cloudbreakers'. The old RNAV's performance, prone to lane jumping and flashing its
orange warning light at exactly the wrong moment, was sufficient to deter most from
attempting anything more ambitious.
Since the Gulf War though, GPS has made such improvements in reliability,
presentation and even flight control integration in some equipment that, for the most
understandable reasons, and in a vacuum of defining parameters, pilots are doing
everything they possibly can to accommodate client requirements. This has created
the potential for a highly dangerous grey area. At the moment, anything goes
because regulation has not kept pace with the enhanced technology fitted to IFR onshore helicopters.
2106
[AIR]
HELICOPTER
L
x

Other.
3.23
Enhanced
HQs.
Within the last year the fatality record of British registered aircraft in this category is
very sobering. As winter draws near a rigorous scrutiny and reappraisal of non-visual
approaches to helicopter sites, in theory and practice, by the appropriate regulatory
authority would, I suggest, be most timely.
DWB 8 Dec 1997
During two instrument approaches with an ab-initio co-pilot who had just been
released to line flying as handling pilot I had to take control. Before doing so I had
been acting as a talking instrument panel to do all I could to help him stay within
acceptable parameters. It would be too easy for me to write a report on him and walk
away. With many years on type (AS332L) I see this is a repeated problem when new
pilots arrive on the fleet. I know that the learning curve is so steep and so long that it
can be months before new co-pilots are not working on the brink of overload all the
2207
[AIR]
HELIDECK
L
x

3.1
Low visibility
rig
approaches.
time. To expect a trainee to go from flying say an R22 on sunny days in South
England to operating IFR in the hostile environment of the North Sea is expecting
too much for the average pilot. A helicopter is unstable and the AP fitted has poor
authority, the co-pilot only has an air speed and altitude hold that are of little use on
an ILS. It is a very demanding task for an experienced helicopter pilot to fly an
uncoupled ILS in moderate to severe turbulence on this type. Soon the problem is
going to get worse as all new pilots will have to be instrument rated and not just pass
a company base check. This will only make the learning process longer before the
trainee can have a stable period to consolidate his limited experience. In the
meantime I hope this individual will come good before his overload overloads his
Captain with consequential disastrous results.
PCT 110198
We are tasked to fly a relatively short offshore passenger sector at night. The
weather at ### (point of departure) was clear but the weather at the ### (destination
rig) was reported as "not good". There are no trained met observers on ###
(destination rig).
The transit flight was normal, we planned a rig radar approach starting our descent
into wind at 4nm from 1200ft. The helideck orientation dictated a Left Hand Seat
landing. As Captain (RHS) I flew the approach intending to hand-over to the co-pilot
for the actual landing.
The approach proceeded as expected. The weather was not good, low cloudbase
and fog patches. At our MDH of 300ft (night) we were in the bottom of broken cloud.
At decision point of 0.75 nm, 300ft offset from our approach track by 15 deg the copilot indicated he had lights visual and to continue.
I descended a further 50' to 250' and at approx 1000 meters the co-pilot indicated he
was happy to take control of the landing. As soon as control was transferred, I called
height and airspeed continually. I could see the lights of the rig in my peripheral
vision and at approx 800m and 250ft with 50kts IAS I glanced up at the rig. As I
looked down the AVAD 100' warning activated and the rad alt showed us
descending through 100'. Corrective action had been instigated by the co-pilot, the
AVAD warning was verbally acknowledged by us both. I continued calling height and
airspeed, the a/c levelled at 50ft and 45kts. There was more power available and I
called for it to be applied. The a/c climbed away and at 250ft 60kts we were 300m
from the rig, the helideck was clearly visible the windsock on the nearest crane
confirmed the wind (Southerly 15kts) which gave us an unobstructed landing.
We continued the approach and the landing phase was normal and smoothly flown.
Discussing the incident after the flight, the co-pilot felt he had inadvertently
descended too low because of the visual cues he was getting from the platform
lights. I will add that in addition the safety vessel that was in close proximity to the
platform was more brightly illuminated (it was a supply vessel equipped with
floodlights) and was rising and falling in the swell.
I felt this incident would not have occurred if I had flown the a/c on instruments
monitored by the co-pilot until we were much closer to the platform with the helideck
clearly visible before handing over to the landing pilot as an S.O.P or if the a/c had
been fitted with rad alt height hold.
2250
[AIR]
HELICOPTER
L
x

3.19
HMI with new
flight deck
technology.
I wonder how many others have found themselves in a similar situation on a night
approach to a rig in bad weather who also have had a "fortunate outcome".
DWB 4 April 1999
I was line training a P2 on his 2nd N.Sea flight shortly after lifting from the Rig we
were advised that we may be required to divert to a nearby Rig (for a CASEVAC)
which was on contract to Shell for whom we do not fly. I had a locally produced A4
map giving rig positions but this is not for planning purposes so I needed to load the
position of the Rig into the area nav - this has a world wide base but all the N.Sea
waypoints rigs platforms are in the limited non protected supplementary data base. It
has a left and right screen operated by 2 concentric rotary knobs and a cursor
selector. To enter the Rig I first looked up the company nomenclature 'HRND',
selected 'SUP' with outer knob then 'CURSOR' then scrolling through the alphabet 4
plus times moving the cursor from space to space 'HRND' was not in the 'SUP'
(supplementary data base) to enter the Lat and Long requires 18 scrolls through the
alpha/numerics plus cursor moves. Having written the Lat and Long I got the co-pilot
to cross check it and pressed 'ENT' - BOTHER it wasn't accepted - I realised that
whilst carrying out the above I had also been diverting my attention to monitor my
PO's flying, so I did the whole data entry again - same result. Due to the fact that the
SUP data base was full I needed to remove a waypoint to make space. This required
the selection of 'OTHERS' on the other screen and then scroll through all the 100
plus waypoints to find one that can be removed. Having done that it was back to the
procedure for entering 'HRND'. Once I had done this I found we had flown 32 miles!
Time to do some fuel calculations. I was flying inbound to AB2 passing a nearby
platform also operated by Shell. I was reaching the point where I did not have fuel to
return to 'HRND' and hold a land div. I suggested that I wait on the platform while
they get a decision as to whether I was required to return to 'HRND' and I could take
on fuel to cover all contingencies. By the time they came back with agreement I was
well past the platform - I instructed the P2 to make a 180 while I went to put the
platform in the active route. Until a year ago we flew regularly to this platform so I
knew it was 'BUNA' or 'BUNNA' in the data base. I selected both these but neither
were successful - I checked the nomenclature, it should have been 'BUNA'. I was
not inclined to clear out another waypoint and go through another period of knob
twiddling. Using mental or common sense plus the aircraft radar managed to find the
platform lurking behind a shower! - the rest of the flight was a breeze and the
casualty safely delivered to hospital but no thanks to the Nav Aid.
The points are:
1. The method of operation is unwieldy - after having it on the fleet for 3 years all
crews still have problems using it to a greater or lesser degree - it is not intuitive in
use.
2. The N.Sea waypoints - platforms, reporting points, HMRs etc. are not in a fixed
data base.
3. The supplementary waypoint data base is not large enough to hold all N.Sea
requirements bearing in mind we need all the continental route structure for divs.
4. The size of the writing is meant for a fixed wing panel which is closer than the
centre consul mid position in a 2 crew helicopter. This is a particular problem for
older crew with glasses.
2271
[AIR]
NORTH SEA
L
x
?
3.19
HMI with new
flight deck
technology.
I question how this situation which has real human factors safety aspects is allowed
to continue. The cockpit workload pressure caused by an unsuitable area nav
causes real dangers for the unwary!
JAN 26 Aug 1999
As a line training Capt I was approached by a colleague from another fleet for
advice/confirmation of his decision. He had been offered an aircraft for service that
had just returned to the North Sea from an onshore dry lease. It was fitted with a
Racal R Nav 2 area navigation system which in this installation has inputs from
VOR/DME or Decca as well as a Dead Reckoning computer. He had a flight to an
area well outside VOR/DME range and where the Decca chain is no longer
available. As the flight included 2 x shut downs the DR function would become
inaccurate. The Company had provided a hand held GPS brand new and still in its
wrapping which clearly the crew had no time to learn how to use. In the prevailing
conditions we agreed the flight could be safely carried out. However, when the
aircraft was put on the flying program the night before and the hand held GPS
bought the Company did not know that the weather would allow the flight to be
2478
[AIR]
HELICOPTER
L
x

2.4
Human error
with no
associated
technical
failure.
carried out safely. As the North Sea is Class G(?) airspace and the MEL (Minimum
Equipment List) states that an area nav system is not required this potentially
serious encroachment on safety is legal. Any reasonably experienced North Sea
pilot can find their way to and from a rig without an area nav BUT they cannot
maintain the track structure, or maintain traffic separation for the descent/climb out
phase of flights. As it's legal the company will continue to cut costs in a nav
equipment!
PCT 21 Sep 00
It was my first flight with a Captain to clear him to fly a helicopter with which he was
not familiar following a merger of two companies. I was therefore being particularly
alert in my actions.
We were required to pick up passengers rotors running by taxiing to a "hot spot".
The empty spot was between two other A/C already loading rotors running. Once on
the spot I clearly called "brakes on please". There was an equally clear reply "the
brakes are on". We then allowed the ground staff and pax under the rotor disc while
we carried out a number of "head down" tasks in the cockpit. These are tasks which
had not been done by the crew prior to the merger. On completing the Before
Departure checks it was found that the brakes were NOT on the co-pilot had
inadvertently selected the nose wheel lock! We had sat sandwiched between two
A/C all rotors running loading pax on a sloping apron and the company refuses to
use chocks during hot spotting. I believe I had been as responsible as I could be in
having the parking brake applied. The parking brakes/nosewheel lock are not clearly
visible from the P1 seat particularly, as they are often obscured by documents /
plates / manifests etc.