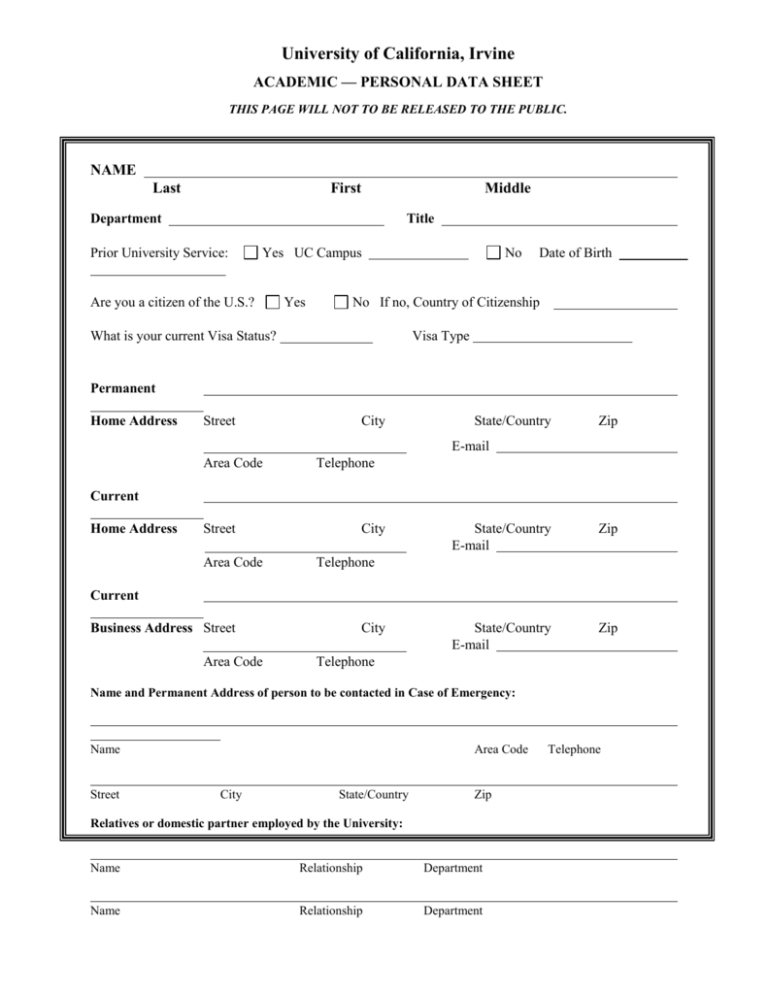 University of California, Irvine
ACADEMIC — PERSONAL DATA SHEET
THIS PAGE WILL NOT TO BE RELEASED TO THE PUBLIC.
NAME
Last
First
Middle
Department
Title
Prior University Service:
Yes UC Campus
Are you a citizen of the U.S.?
Yes
No
Date of Birth
No If no, Country of Citizenship
What is your current Visa Status?
Visa Type
Permanent
Home Address
Street
City
State/Country
Zip
E-mail
Area Code
Telephone
Current
Home Address
Street
Area Code
City
State/Country
E-mail
Zip
State/Country
E-mail
Zip
Telephone
Current
Business Address Street
Area Code
City
Telephone
Name and Permanent Address of person to be contacted in Case of Emergency:
Name
Street
Area Code
City
State/Country
Zip
Relatives or domestic partner employed by the University:
Name
Relationship
Department
Name
Relationship
Department
Telephone
I certify that the information I have provided on this form and any attached supporting documentation is true and complete
and that I have read and understand the privacy notice and nondiscrimination statement. (See Privacy Notification.)
Signature
Date
08/08
UCI-AP-9
Privacy Notification
The State of California Information Practices Act of 1977 (effective July 1, 1978) requires the University to provide the following
information to individuals who are asked to supply information about themselves:
The principal reason for requesting the information on this form is for purposes of academic personnel administration and University
public relations. University policy and state and federal statutes authorize the maintenance of this information.
For academic personnel administrative purposes, furnishing all information requested on this form is mandatory. Failure to provide
such information will delay or may even prevent completion of the action for which this form is being filled out. Information furnished
on this form may be transmitted to the federal and state governments when required by law.
Individuals have the right to review their own records in accordance with University personnel policy and collective bargaining
agreements. Information on applicable policies and agreements can be obtained from campus or Office of the President Staff and
Academic Personnel Offices.
The officials responsible for maintaining the information contained on this form are the campus Academic Vice Chancellors.