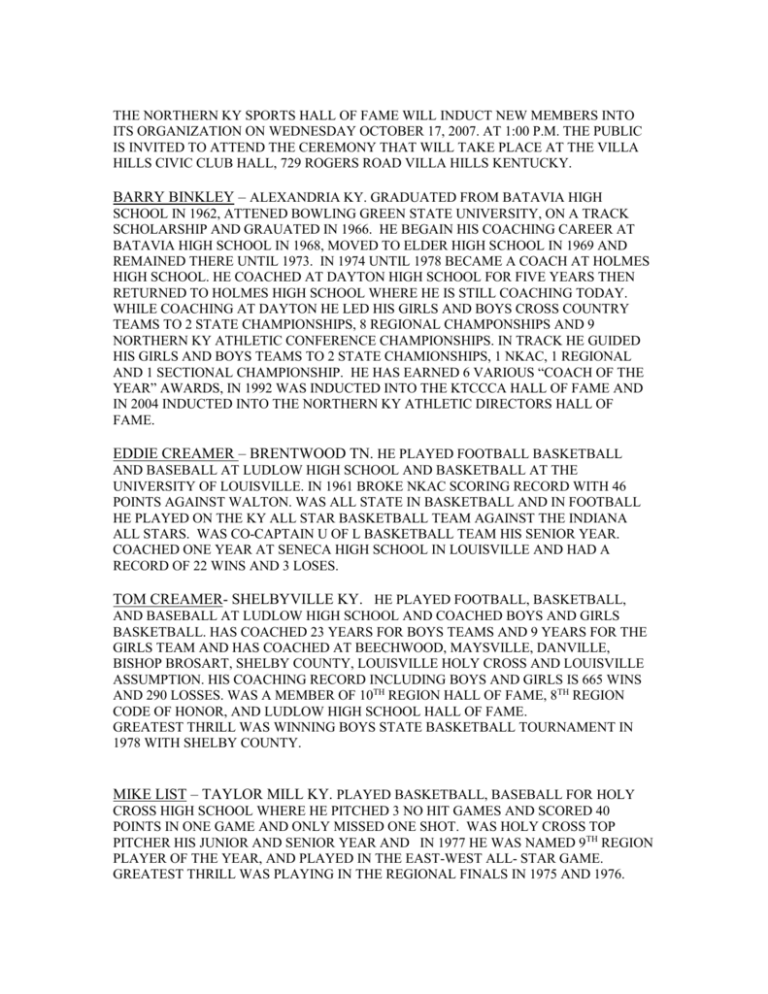 THE NORTHERN KY SPORTS HALL OF FAME WILL INDUCT NEW MEMBERS INTO
ITS ORGANIZATION ON WEDNESDAY OCTOBER 17, 2007. AT 1:00 P.M. THE PUBLIC
IS INVITED TO ATTEND THE CEREMONY THAT WILL TAKE PLACE AT THE VILLA
HILLS CIVIC CLUB HALL, 729 ROGERS ROAD VILLA HILLS KENTUCKY.
BARRY BINKLEY – ALEXANDRIA KY. GRADUATED FROM BATAVIA HIGH
SCHOOL IN 1962, ATTENED BOWLING GREEN STATE UNIVERSITY, ON A TRACK
SCHOLARSHIP AND GRAUATED IN 1966. HE BEGAIN HIS COACHING CAREER AT
BATAVIA HIGH SCHOOL IN 1968, MOVED TO ELDER HIGH SCHOOL IN 1969 AND
REMAINED THERE UNTIL 1973. IN 1974 UNTIL 1978 BECAME A COACH AT HOLMES
HIGH SCHOOL. HE COACHED AT DAYTON HIGH SCHOOL FOR FIVE YEARS THEN
RETURNED TO HOLMES HIGH SCHOOL WHERE HE IS STILL COACHING TODAY.
WHILE COACHING AT DAYTON HE LED HIS GIRLS AND BOYS CROSS COUNTRY
TEAMS TO 2 STATE CHAMPIONSHIPS, 8 REGIONAL CHAMPONSHIPS AND 9
NORTHERN KY ATHLETIC CONFERENCE CHAMPIONSHIPS. IN TRACK HE GUIDED
HIS GIRLS AND BOYS TEAMS TO 2 STATE CHAMIONSHIPS, 1 NKAC, 1 REGIONAL
AND 1 SECTIONAL CHAMPIONSHIP. HE HAS EARNED 6 VARIOUS "COACH OF THE
YEAR" AWARDS, IN 1992 WAS INDUCTED INTO THE KTCCCA HALL OF FAME AND
IN 2004 INDUCTED INTO THE NORTHERN KY ATHLETIC DIRECTORS HALL OF
FAME.
EDDIE CREAMER – BRENTWOOD TN. HE PLAYED FOOTBALL BASKETBALL
AND BASEBALL AT LUDLOW HIGH SCHOOL AND BASKETBALL AT THE
UNIVERSITY OF LOUISVILLE. IN 1961 BROKE NKAC SCORING RECORD WITH 46
POINTS AGAINST WALTON. WAS ALL STATE IN BASKETBALL AND IN FOOTBALL
HE PLAYED ON THE KY ALL STAR BASKETBALL TEAM AGAINST THE INDIANA
ALL STARS. WAS CO-CAPTAIN U OF L BASKETBALL TEAM HIS SENIOR YEAR.
COACHED ONE YEAR AT SENECA HIGH SCHOOL IN LOUISVILLE AND HAD A
RECORD OF 22 WINS AND 3 LOSES.
TOM CREAMER- SHELBYVILLE KY. HE PLAYED FOOTBALL, BASKETBALL,
AND BASEBALL AT LUDLOW HIGH SCHOOL AND COACHED BOYS AND GIRLS
BASKETBALL. HAS COACHED 23 YEARS FOR BOYS TEAMS AND 9 YEARS FOR THE
GIRLS TEAM AND HAS COACHED AT BEECHWOOD, MAYSVILLE, DANVILLE,
BISHOP BROSART, SHELBY COUNTY, LOUISVILLE HOLY CROSS AND LOUISVILLE
ASSUMPTION. HIS COACHING RECORD INCLUDING BOYS AND GIRLS IS 665 WINS
AND 290 LOSSES. WAS A MEMBER OF 10TH REGION HALL OF FAME, 8TH REGION
CODE OF HONOR, AND LUDLOW HIGH SCHOOL HALL OF FAME.
GREATEST THRILL WAS WINNING BOYS STATE BASKETBALL TOURNAMENT IN
1978 WITH SHELBY COUNTY.
MIKE LIST – TAYLOR MILL KY. PLAYED BASKETBALL, BASEBALL FOR HOLY
CROSS HIGH SCHOOL WHERE HE PITCHED 3 NO HIT GAMES AND SCORED 40
POINTS IN ONE GAME AND ONLY MISSED ONE SHOT. WAS HOLY CROSS TOP
PITCHER HIS JUNIOR AND SENIOR YEAR AND IN 1977 HE WAS NAMED 9TH REGION
PLAYER OF THE YEAR, AND PLAYED IN THE EAST-WEST ALL- STAR GAME.
GREATEST THRILL WAS PLAYING IN THE REGIONAL FINALS IN 1975 AND 1976.
MARTY MAYER – BELLEVUE KY. HE GRADUATED FROM KERMIT HIGH
SCHOOL IN KERMIT TEXAS IN 1964 AND FROM BAYLOR UNIVERSITY IN WACO
TEXAS IN 1968. AFTER SERVING FOR A TIME IN THE UNITED STATES NAVY, HE
BEGAN HIS COACHING CAREER AT BELLEVUE HIGH SCHOOL IN 1978. HE
REMAINED THERE AS COACH OF THE TRACK TEAM UNTIL HIS RETIREMENT IN
2001. HIS TRACK TEAMS WERE STATE CHAMPIONS IN 1991, 1992, AND 1993, AND
WERE STATE RUNNERS UP IN 1994 AND 1995.
HE WAS INDUCTED INTO THE KENTUCKY TRACK AND CROSS COUNTY COACHES
HALL OF FAME IN 1993.
JERRY SCUDDER – FLORENCE KY. PLAYED SOFTBALL FOR FLORENCE BANK,
HUGH'S OYSTER HOUSE, CHILE TIME, RICK'S AC, NEWPORT STEEL, ROCKCASTLE
AND EMR WORTH. ALSO COACHED FOR RICK'S AC AND WAS AN ASSISTANT
COACH FOR EMR-WORTH. HE PLAYED AND COACHED FOR 35 YEARS AND WAS
THE KENTUCKY STATE CHAMPS IN THE 35 AND OVER LEAGUE. IN 2005 THE EMRWORTH TEAM WON THE WORLD CHAMPIONSHIP.
THE GUEST SPEAKER FOR THE CEREMONY WILL BE JON DRAUD
STATE LEGISLATURE FROM THE 63RD DISTRICT, FORMER LUDLOW HIGH SCHOOL
SUPERINTENDENT, PLAYED BASEBALL AT EASTERN KENTUCKY UNIVERSITY
AND WAS CAPTAIN OF TEAM HIS SENIOR YEAR, COACHED HOLMES HIGH SCHOOL
BASEBALL TEAM TO THE STATE TITLE IN 1963.