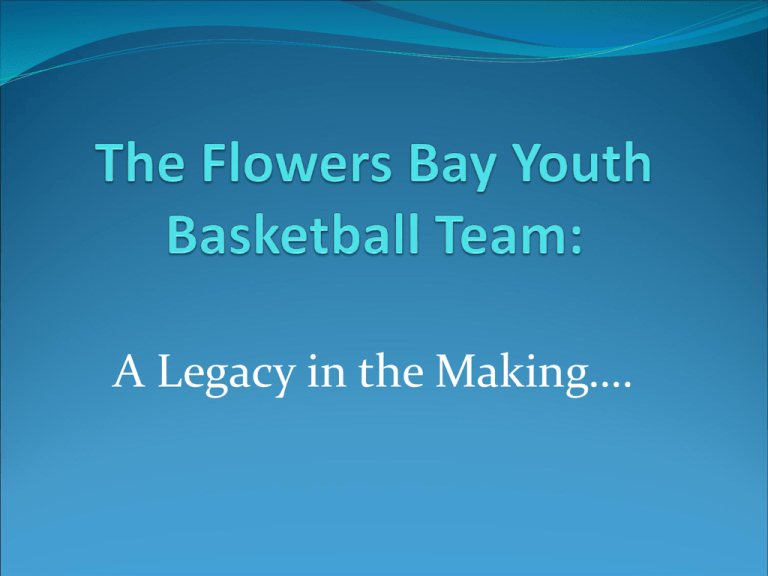 A Legacy in the Making….
Three years ago, in the beginning…
we won our first trophy.
So we decided to get more serious…
We practiced whenever we
could…
and played whenever we could.
And when we couldn't practice or
play, we watched and learned….
And when we weren't practicing, playing,
watching, and learning; we were spending
time together as a team….a family
Graduations…
Aron Watler
Denson Watler
Adventures….
Ziplining in West End
Paintballing in French Key
Church Services…
Harvest at Methodist
Methodist School Celebration
Sharing in all of the things they
loved….
Decorating my daughter's
play room
Thanksgiving feast
And some of the things I loved…
Downward dog at sunset
Finishing our sun salutation
Becoming more than just a team,
but a family.
Nurt and his Grandmother
My daughter's graduation
Flowers Bay Boys became a way of
life…but we wanted to do more.
So we painted an HIV Prevention
Mural in our community
The first few strokes
Nearly there…
And it was beautiful!
Then we did an HIV
Prevention/Safe Sex Event…
Teaching other youth about Protecting yourself is cool!
safe sex
And karma paid off…we got the first
real basketball court built in our
community!!!!
First game on the court
Yeah!!!!
So we played, and played, and
played, and played….
And then we got officially inscribed into the
National Basketball Federation of Honduras
And that same month 8 boys
from our community got
chosen to play basketball on
scholarship in Tegus
So we got an idea and took a trip
to the Mainland
 Lucky Nurt who got to tag
along
And we went to see how amazing our
boys were performing both in school
and on the court
Winning their division
tournament
Representing the Island!
So we tracked down Neil Roberts, who started an organization
that helps youth in Honduras get scholarships for basketball. And
we showed him videos of the Flowers Bay Boys.
And he was so impressed that he organized a training
camp in June of 2013 so that other recruiters from both
Honduras and the United States could come watch us
play ball. So we took the journey….
We learned a lot of new
drills
And won EVERY game we
played
And now 6 more of our boys have
been chosen to receive
scholarships for room/board and a
private school education through
C.A.B. O. (Central American
Basketball Organization) where
they will proudly represent Roatan
both on the basketball court and
off.
Isn't it time that we proudly
represent them too??