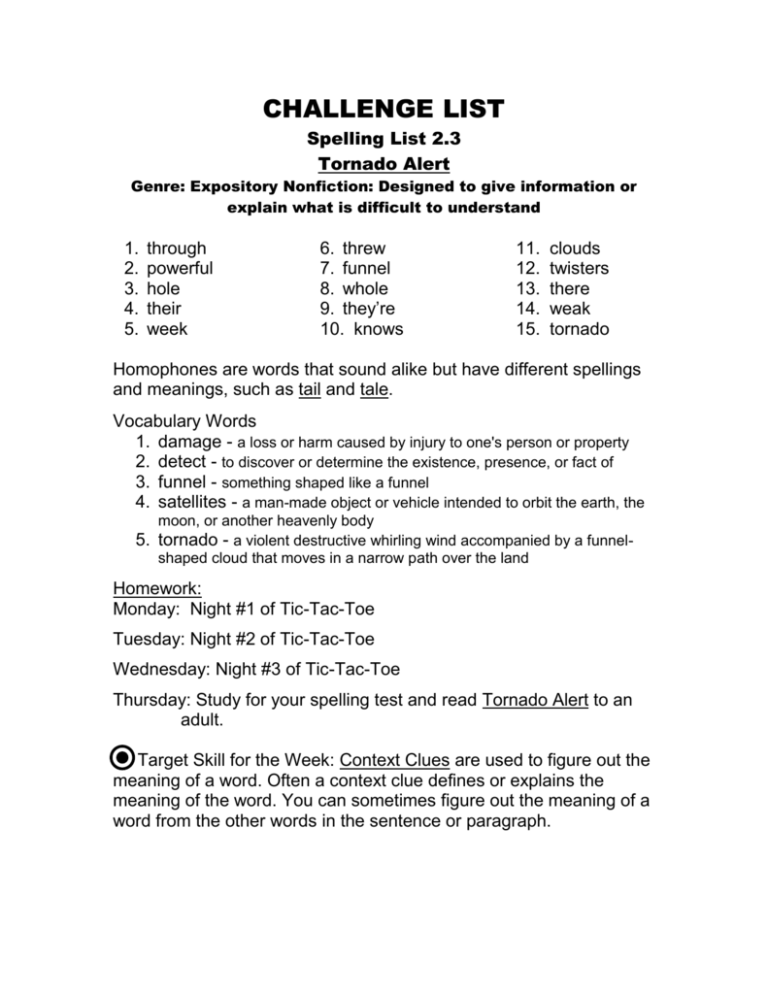 CHALLENGE LIST
Spelling List 2.3
Tornado Alert
Genre: Expository Nonfiction: Designed to give information or
explain what is difficult to understand
1.
2.
3.
4.
5.
through
powerful
hole
their
week
6. threw
7. funnel
8. whole
9. they're
10. knows
11.
12.
13.
14.
15.
clouds
twisters
there
weak
tornado
Homophones are words that sound alike but have different spellings
and meanings, such as tail and tale.
Vocabulary Words
1. damage - a loss or harm caused by injury to one's person or property
2. detect - to discover or determine the existence, presence, or fact of
3. funnel - something shaped like a funnel
4. satellites - a man-made object or vehicle intended to orbit the earth, the
moon, or another heavenly body
5. tornado - a violent destructive whirling wind accompanied by a funnelshaped cloud that moves in a narrow path over the land
Homework:
Monday: Night #1 of Tic-Tac-Toe
Tuesday: Night #2 of Tic-Tac-Toe
Wednesday: Night #3 of Tic-Tac-Toe
Thursday: Study for your spelling test and read Tornado Alert to an
adult.
Target Skill for the Week: Context Clues are used to figure out the
meaning of a word. Often a context clue defines or explains the
meaning of the word. You can sometimes figure out the meaning of a
word from the other words in the sentence or paragraph.