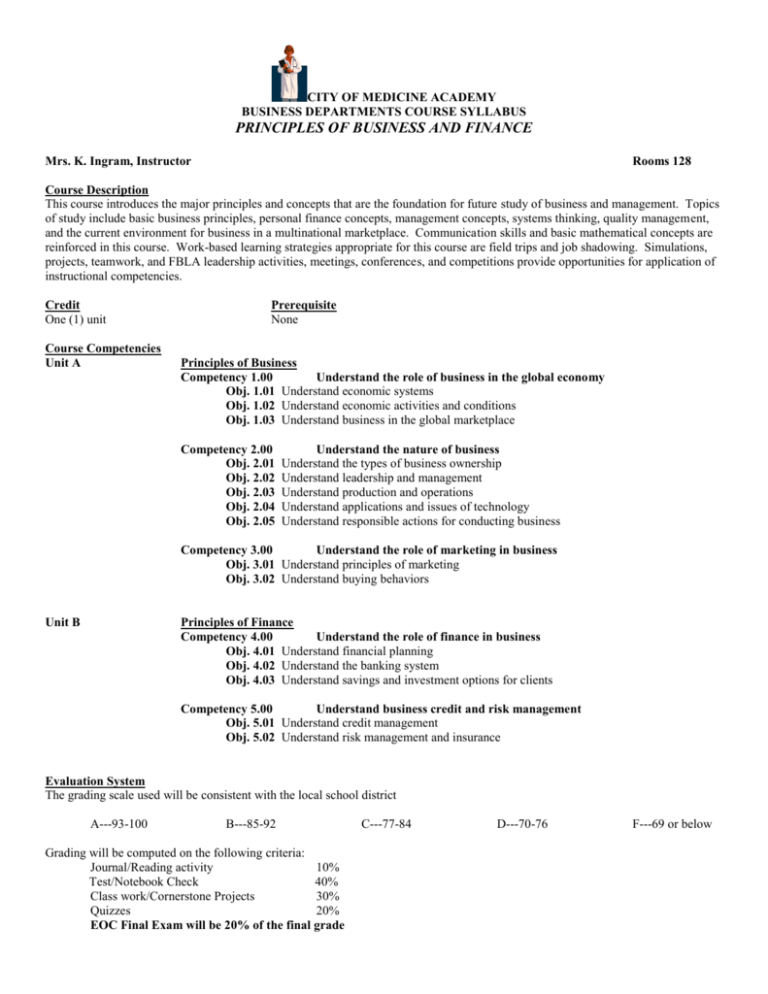 CITY OF MEDICINE ACADEMY
BUSINESS DEPARTMENTS COURSE SYLLABUS
PRINCIPLES OF BUSINESS AND FINANCE
Mrs. K. Ingram, Instructor
Rooms 128
Course Description
This course introduces the major principles and concepts that are the foundation for future study of business and management. Topics
of study include basic business principles, personal finance concepts, management concepts, systems thinking, quality management,
and the current environment for business in a multinational marketplace. Communication skills and basic mathematical concepts are
reinforced in this course. Work-based learning strategies appropriate for this course are field trips and job shadowing. Simulations,
projects, teamwork, and FBLA leadership activities, meetings, conferences, and competitions provide opportunities for application of
instructional competencies.
Credit
One (1) unit
Course Competencies
Unit A
Prerequisite
None
Principles of Business
Competency 1.00
Understand the role of business in the global economy
Obj. 1.01 Understand economic systems
Obj. 1.02 Understand economic activities and conditions
Obj. 1.03 Understand business in the global marketplace
Competency 2.00
Obj. 2.01
Obj. 2.02
Obj. 2.03
Obj. 2.04
Obj. 2.05
Understand the nature of business
Understand the types of business ownership
Understand leadership and management
Understand production and operations
Understand applications and issues of technology
Understand responsible actions for conducting business
Competency 3.00
Understand the role of marketing in business
Obj. 3.01 Understand principles of marketing
Obj. 3.02 Understand buying behaviors
Unit B
Principles of Finance
Competency 4.00
Understand the role of finance in business
Obj. 4.01 Understand financial planning
Obj. 4.02 Understand the banking system
Obj. 4.03 Understand savings and investment options for clients
Competency 5.00
Understand business credit and risk management
Obj. 5.01 Understand credit management
Obj. 5.02 Understand risk management and insurance
Evaluation System
The grading scale used will be consistent with the local school district
A---93-100
B---85-92
Grading will be computed on the following criteria:
Journal/Reading activity
10%
Test/Notebook Check
40%
Class work/Cornerstone Projects
30%
Quizzes
20%
EOC Final Exam will be 20% of the final grade
C---77-84
D---70-76
F---69 or below
Materials Needed
1" 3 ring binder or notebook
Pens/Pencils
Flash drive (1-2 G)
1 college ruled subject notebook
Make-up Work
Good attendance is vital to your understanding of the course materials, and the guidelines in the Student Handbook are strictly
enforced. The STUDENT is RESPONSIBLE for assignments when class has been missed due to illness or some other extenuating
circumstances. It will be the RESPONSIBILITY of the STUDENT to make necessary arrangements with the instructor (no later
than FIVE days following an absence). If a STUDENT misses an assignment or fails to turn in assignment on the due date because
they refused to do the work while in class they will be given 3 days to complete the assignment for a full grade after which students
will receive 50% credit on the assignment when turned in after the 3-day period but within a 1-week period. Incomplete assignments
will be graded as ZERO and will greatly affect the final grade. ASSIGNMENTS OVER 1 WEEK OLD WILL NO LONGER BE
ACCEPTED AND STUDENTS WILL RECEIVE A FAILING GRADE FOR MISSED ASSIGNMENTS. STUDENTS CAN
ONLY MAKE UP WORK THAT IS DEEMED ELIGIBLE CONTINGENT ON THE TIME FRAME GIVEN.
Tutoring Schedule
I will be available for tutoring on Tuesdays and Thursday immediately after school until 4:00 p.m. Students should make an
appointment.