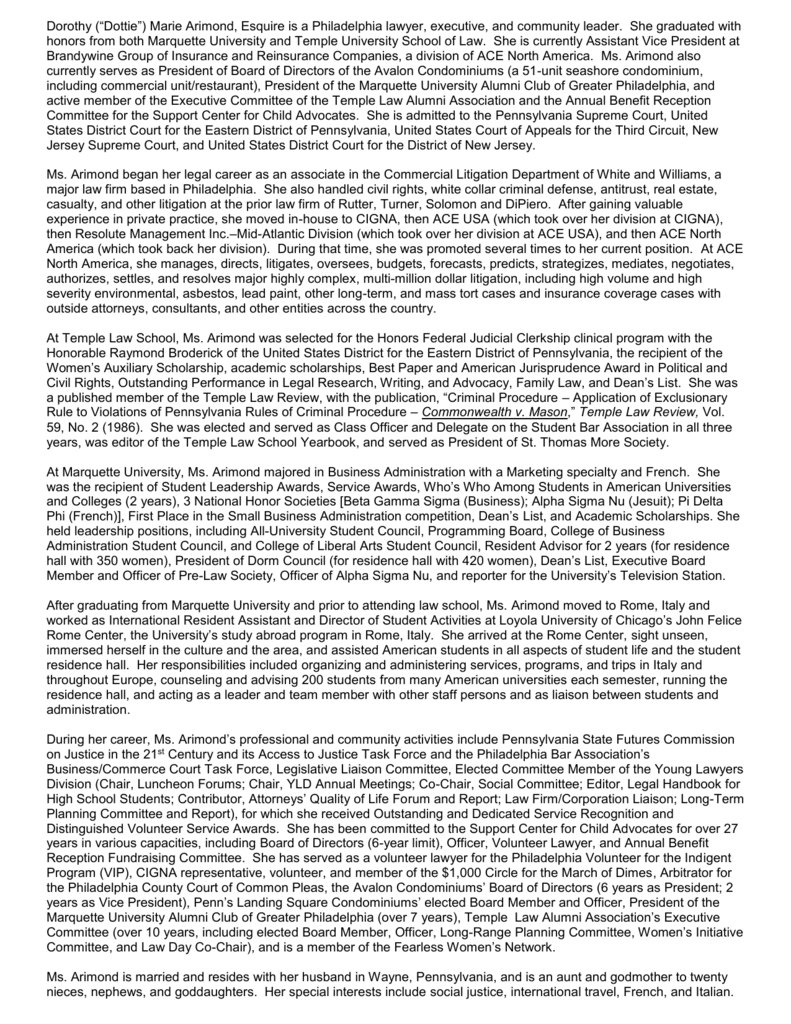 Dorothy ("Dottie") Marie Arimond, Esquire is a Philadelphia lawyer, executive, and community leader. She graduated with
honors from both Marquette University and Temple University School of Law. She is currently Assistant Vice President at
Brandywine Group of Insurance and Reinsurance Companies, a division of ACE North America. Ms. Arimond also
currently serves as President of Board of Directors of the Avalon Condominiums (a 51-unit seashore condominium,
including commercial unit/restaurant), President of the Marquette University Alumni Club of Greater Philadelphia, and
active member of the Executive Committee of the Temple Law Alumni Association and the Annual Benefit Reception
Committee for the Support Center for Child Advocates. She is admitted to the Pennsylvania Supreme Court, United
States District Court for the Eastern District of Pennsylvania, United States Court of Appeals for the Third Circuit, New
Jersey Supreme Court, and United States District Court for the District of New Jersey.
Ms. Arimond began her legal career as an associate in the Commercial Litigation Department of White and Williams, a
major law firm based in Philadelphia. She also handled civil rights, white collar criminal defense, antitrust, real estate,
casualty, and other litigation at the prior law firm of Rutter, Turner, Solomon and DiPiero. After gaining valuable
experience in private practice, she moved in-house to CIGNA, then ACE USA (which took over her division at CIGNA),
then Resolute Management Inc.–Mid-Atlantic Division (which took over her division at ACE USA), and then ACE North
America (which took back her division). During that time, she was promoted several times to her current position. At ACE
North America, she manages, directs, litigates, oversees, budgets, forecasts, predicts, strategizes, mediates, negotiates,
authorizes, settles, and resolves major highly complex, multi-million dollar litigation, including high volume and high
severity environmental, asbestos, lead paint, other long-term, and mass tort cases and insurance coverage cases with
outside attorneys, consultants, and other entities across the country.
At Temple Law School, Ms. Arimond was selected for the Honors Federal Judicial Clerkship clinical program with the
Honorable Raymond Broderick of the United States District for the Eastern District of Pennsylvania, the recipient of the
Women's Auxiliary Scholarship, academic scholarships, Best Paper and American Jurisprudence Award in Political and
Civil Rights, Outstanding Performance in Legal Research, Writing, and Advocacy, Family Law, and Dean's List. She was
a published member of the Temple Law Review, with the publication, "Criminal Procedure – Application of Exclusionary
Rule to Violations of Pennsylvania Rules of Criminal Procedure – Commonwealth v. Mason," Temple Law Review, Vol.
59, No. 2 (1986). She was elected and served as Class Officer and Delegate on the Student Bar Association in all three
years, was editor of the Temple Law School Yearbook, and served as President of St. Thomas More Society.
At Marquette University, Ms. Arimond majored in Business Administration with a Marketing specialty and French. She
was the recipient of Student Leadership Awards, Service Awards, Who's Who Among Students in American Universities
and Colleges (2 years), 3 National Honor Societies [Beta Gamma Sigma (Business); Alpha Sigma Nu (Jesuit); Pi Delta
Phi (French)], First Place in the Small Business Administration competition, Dean's List, and Academic Scholarships. She
held leadership positions, including All-University Student Council, Programming Board, College of Business
Administration Student Council, and College of Liberal Arts Student Council, Resident Advisor for 2 years (for residence
hall with 350 women), President of Dorm Council (for residence hall with 420 women), Dean's List, Executive Board
Member and Officer of Pre-Law Society, Officer of Alpha Sigma Nu, and reporter for the University's Television Station.
After graduating from Marquette University and prior to attending law school, Ms. Arimond moved to Rome, Italy and
worked as International Resident Assistant and Director of Student Activities at Loyola University of Chicago's John Felice
Rome Center, the University's study abroad program in Rome, Italy. She arrived at the Rome Center, sight unseen,
immersed herself in the culture and the area, and assisted American students in all aspects of student life and the student
residence hall. Her responsibilities included organizing and administering services, programs, and trips in Italy and
throughout Europe, counseling and advising 200 students from many American universities each semester, running the
residence hall, and acting as a leader and team member with other staff persons and as liaison between students and
administration.
During her career, Ms. Arimond's professional and community activities include Pennsylvania State Futures Commission
on Justice in the 21st Century and its Access to Justice Task Force and the Philadelphia Bar Association's
Business/Commerce Court Task Force, Legislative Liaison Committee, Elected Committee Member of the Young Lawyers
Division (Chair, Luncheon Forums; Chair, YLD Annual Meetings; Co-Chair, Social Committee; Editor, Legal Handbook for
High School Students; Contributor, Attorneys' Quality of Life Forum and Report; Law Firm/Corporation Liaison; Long-Term
Planning Committee and Report), for which she received Outstanding and Dedicated Service Recognition and
Distinguished Volunteer Service Awards. She has been committed to the Support Center for Child Advocates for over 27
years in various capacities, including Board of Directors (6-year limit), Officer, Volunteer Lawyer, and Annual Benefit
Reception Fundraising Committee. She has served as a volunteer lawyer for the Philadelphia Volunteer for the Indigent
Program (VIP), CIGNA representative, volunteer, and member of the $1,000 Circle for the March of Dimes, Arbitrator for
the Philadelphia County Court of Common Pleas, the Avalon Condominiums' Board of Directors (6 years as President; 2
years as Vice President), Penn's Landing Square Condominiums' elected Board Member and Officer, President of the
Marquette University Alumni Club of Greater Philadelphia (over 7 years), Temple Law Alumni Association's Executive
Committee (over 10 years, including elected Board Member, Officer, Long-Range Planning Committee, Women's Initiative
Committee, and Law Day Co-Chair), and is a member of the Fearless Women's Network.
Ms. Arimond is married and resides with her husband in Wayne, Pennsylvania, and is an aunt and godmother to twenty
nieces, nephews, and goddaughters. Her special interests include social justice, international travel, French, and Italian.