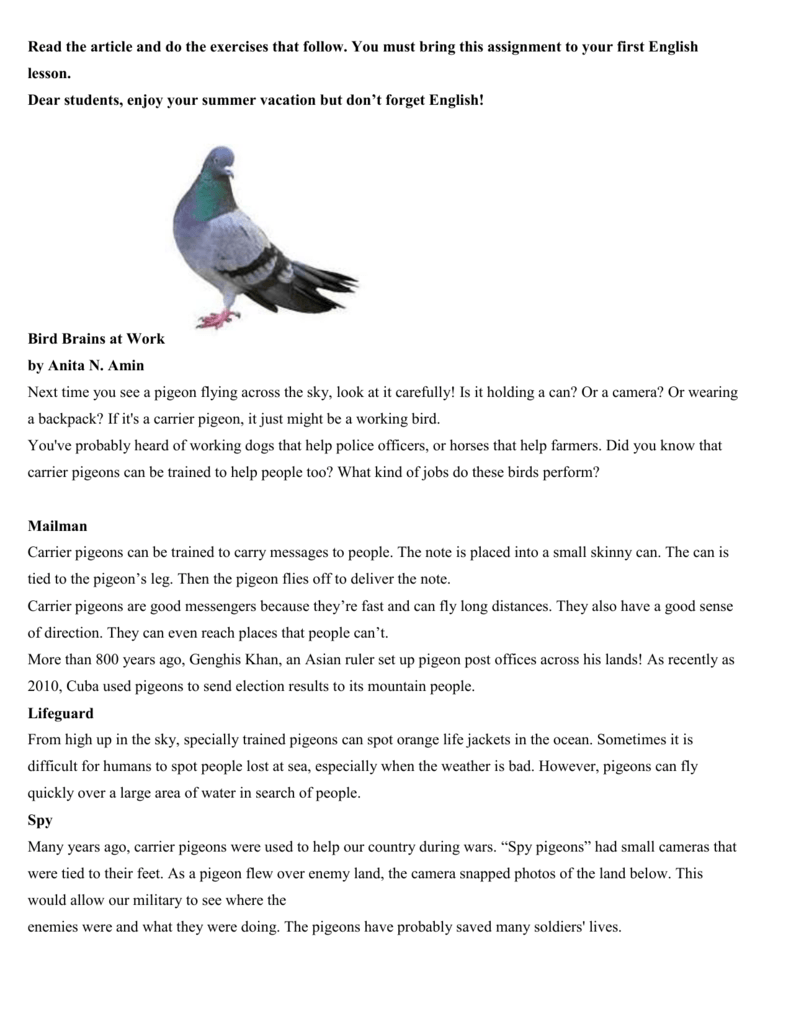 Read the article and do the exercises that follow. You must bring this assignment to your first English
lesson.
Dear students, enjoy your summer vacation but don't forget English!
Bird Brains at Work
by Anita N. Amin
Next time you see a pigeon flying across the sky, look at it carefully! Is it holding a can? Or a camera? Or wearing
a backpack? If it's a carrier pigeon, it just might be a working bird.
You've probably heard of working dogs that help police officers, or horses that help farmers. Did you know that
carrier pigeons can be trained to help people too? What kind of jobs do these birds perform?
Mailman
Carrier pigeons can be trained to carry messages to people. The note is placed into a small skinny can. The can is
tied to the pigeon's leg. Then the pigeon flies off to deliver the note.
Carrier pigeons are good messengers because they're fast and can fly long distances. They also have a good sense
of direction. They can even reach places that people can't.
More than 800 years ago, Genghis Khan, an Asian ruler set up pigeon post offices across his lands! As recently as
2010, Cuba used pigeons to send election results to its mountain people.
Lifeguard
From high up in the sky, specially trained pigeons can spot orange life jackets in the ocean. Sometimes it is
difficult for humans to spot people lost at sea, especially when the weather is bad. However, pigeons can fly
quickly over a large area of water in search of people.
Spy
Many years ago, carrier pigeons were used to help our country during wars. "Spy pigeons" had small cameras that
were tied to their feet. As a pigeon flew over enemy land, the camera snapped photos of the land below. This
would allow our military to see where the
enemies were and what they were doing. The pigeons have probably saved many soldiers' lives.
These "spy" birds had a dangerous job. They had to dodge bullets, poisonous gas, and bullies like hawks. During
World Wars 1 and 2, the USA and its allies
even had huge pigeon armies. Thousands of pigeons served! They were like flying soldiers. A few even received
medals for their brave work.
Scientist's Helper
In 2006, a group of scientists used pigeons to study air pollution in California. Special backpacks with miniature
cell phones were strapped onto pigeons. As the pigeons flew, machines in the backpacks tested to see what gases
were in the air. The cell phones sent
information about the air to the scientists.
Bird Brains at Work
So next time you see a pigeon, stop and watch it closely. What might look like an ordinary bird to most people,
might actually be a hard-working mail carrier, a scientist, a lifeguard, or even a spy!
Answer the following questions in writing. In questions 1 and 2 circle the correct answer.
1. What did Genghis Kahn use pigeons for 800 years ago?
a. He used pigeons to deliver election results.
b. He used pigeons to find people lost at sea.
c. He used pigeons to carry messages.
d. He kept pigeons as pets.
2. What was the author's purpose for writing this article?
a. to share fictional stories about pigeons helping people
b. to teach readers about the lives of wild pigeons
c. to persuade readers into liking pigeons more
d. to teach readers about real jobs held by carrier pigeons
3. Explain how pigeons helped the military during wartimes.
___________________________________________________________________________________________
___________________________________________________________________________________________
___________________________________________________________________________________________
4. Do you think some countries' military still uses carrier pigeons during wartime? Why or why not?
___________________________________________________________________________________________
___________________________________________________________________________________________
___________________________________________________________________________________________
Match each vocabulary word on the left with its definition on the right.
_____ 1. life jacket
a. person who rescues people who are in danger of drowning
_____ 2. military
b. wearable device that helps a person float in water
_____ 3. election
c. small discs given as awards c. small discs given as awards
_____ 4. poisonous
d. process in which citizens vote for a government official
_____ 5. lifeguard
e. armed forces
_____ 6. medals
f. machine for taking photos
_____ 7. camera
g. something that causes illness or death
Simple Present / Present Progressive
Using the words in parentheses, complete the text below with the appropriate tenses.
1. Every Monday, Sally (drive)…………………. her kids to football practice.
2. Usually, I (work) ……………as a secretary at ABT, but this summer I (study)………………French at a
language school in Paris. That is why I am in Paris.
3. Shhhhh! Be quiet! John (sleep)……………………...
4. Don't forget to take your umbrella. It (rain)…………………. I hate living in Seattle because it (rain,
always)………………...
6. I'm sorry I can't hear what you (say)………………. because everybody (talk)………………… so
loudly.
7. Justin (write, currently)……………………. a book about his adventures in Tibet. I hope he can find a
good publisher when he is finished.
8. Jim: Do you want to come over for dinner tonight?
Denise: Oh, I'm sorry, I can't. I (go)……………….. to a movie tonight with some friends.
9. The business cards (be, normally )……………….. printed by a company in New York. Their prices
(be)………………… inexpensive, yet the quality of their work is quite good.
10. This delicious chocolate (be)…………………….. made by a small chocolatier in Zurich, Switzerland.
Past Simple
Make the past simple - positive, negative or
question
1) Where…………………….. (you/live) when you were young?.
2) She…………………… (not/study) French at university..
3) He…………………. (travel) through the Middle East last year..
4)………………….. (they/visit) the Louvre in Paris?.
5) She………………….. (not/watch) TV yesterday..
6) We…………………… (buy) a new car last weekend..
7) Where………………… (you/teach) three years ago?
8) He………………….. (not/think) that he was right..
9) I…………………… (cook) steak last night..
10)……………………. (Lucy/read) 'War and Peace' at school?.
11) She…………………. (not/write) to her grandmother..
12) We……………………… (have) a computer when I was a child..
13) Where…………………….(you/go) on holiday?.
14) I…………………… (love) ice cream when I was a child..
15) They…………………… (not/meet) yesterday..
16)……………………… (she/swim) in the sea in Greece?.
17) We………………… (not/play) tennis yesterday because it was
raining..
18) He……………….. (try) to lift the box but he couldn't...
19) What………………….. (you/eat) for lunch?.
Exercise on Comparison of Adjectives
Fill in the correct form of the words in brackets (comparative or superlative).
1.
2.
3.
4.
5.
6.
7.
8.
9.
10.
My house is (big) ……………………. than yours.
This flower is (beautiful) …………………….. than that one.
This is the (interesting) ……………………………. book I have ever read.
Non-smokers usually live (long) ………………………… than smokers.
Which is the (dangerous) …………………………… animal in the world?
A holiday by the sea is (good) ………………………. than a holiday in the mountains.
It is strange but often a coke is (expensive) ……………………………… than a beer.
Who is the (rich) ……………………………. woman on earth?
The weather this summer is even (bad) ………………………………… than last summer.
He was the (clever) ……………………………. thief of all.
Use the right modal or semi modal verb ( may, might, must, can, could, should, have to, need
to, be able to) in the correct form and tense.
1. There is plenty of tomatoes in the fridge. You ………………….buy any.
2. It's a hospital. You ……………..smoke.
3. He had been working for more than 11 hours. He …………………be tired after such hard work. He
……………prefer to get some rest.
4. I ……………..speak Arabic fluently when I was a child and we lived in Morocco. But after we moved
back to Canada, I had very little exposure to the language and forgot almost everything I knew as a child.
Now, I ………………just say a few things in the language.
5. The teacher said we …………………read this book for our own pleasure as it is optional. But we
………………..read it if we don't want to.
6. ………………you stand on your head for more than a minute? No, I………………….
7. If you want to learn to speak English fluently, you ………………….to work hard.
8. Take an umbrella. It ……………………rain later.
9. You ………………..leave small objects lying around . Such objects ………………..be swallowed by
children.
10. People ……………………walk on grass.
11. Drivers ………………….stop when the traffic lights are red.
12. ………………….I ask a question? Yes, of course.
13. You……………………. take your umbrella. It is not raining.
14.……………………..you speak Italian? No, I……………………..