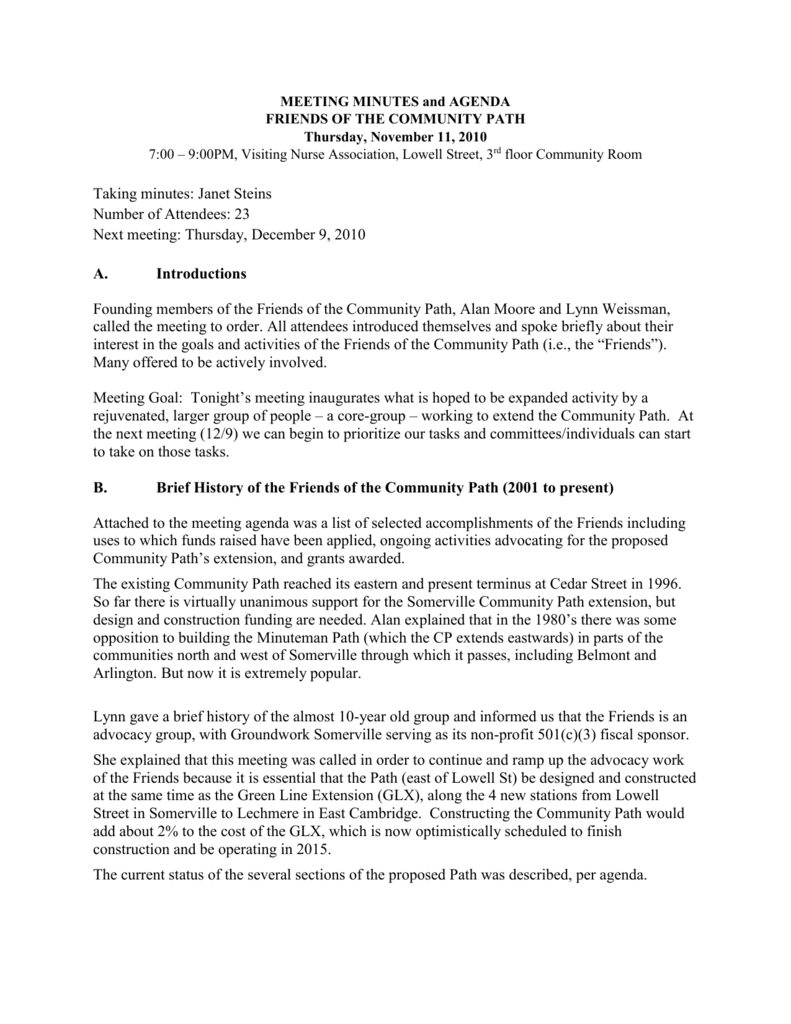 MEETING MINUTES and AGENDA
FRIENDS OF THE COMMUNITY PATH
Thursday, November 11, 2010
7:00 – 9:00PM, Visiting Nurse Association, Lowell Street, 3rd floor Community Room
Taking minutes: Janet Steins
Number of Attendees: 23
Next meeting: Thursday, December 9, 2010
A.
Introductions
Founding members of the Friends of the Community Path, Alan Moore and Lynn Weissman,
called the meeting to order. All attendees introduced themselves and spoke briefly about their
interest in the goals and activities of the Friends of the Community Path (i.e., the "Friends").
Many offered to be actively involved.
Meeting Goal: Tonight's meeting inaugurates what is hoped to be expanded activity by a
rejuvenated, larger group of people – a core-group – working to extend the Community Path. At
the next meeting (12/9) we can begin to prioritize our tasks and committees/individuals can start
to take on those tasks.
B.
Brief History of the Friends of the Community Path (2001 to present)
Attached to the meeting agenda was a list of selected accomplishments of the Friends including
uses to which funds raised have been applied, ongoing activities advocating for the proposed
Community Path's extension, and grants awarded.
The existing Community Path reached its eastern and present terminus at Cedar Street in 1996.
So far there is virtually unanimous support for the Somerville Community Path extension, but
design and construction funding are needed. Alan explained that in the 1980's there was some
opposition to building the Minuteman Path (which the CP extends eastwards) in parts of the
communities north and west of Somerville through which it passes, including Belmont and
Arlington. But now it is extremely popular.
Lynn gave a brief history of the almost 10-year old group and informed us that the Friends is an
advocacy group, with Groundwork Somerville serving as its non-profit 501(c)(3) fiscal sponsor.
She explained that this meeting was called in order to continue and ramp up the advocacy work
of the Friends because it is essential that the Path (east of Lowell St) be designed and constructed
at the same time as the Green Line Extension (GLX), along the 4 new stations from Lowell
Street in Somerville to Lechmere in East Cambridge. Constructing the Community Path would
add about 2% to the cost of the GLX, which is now optimistically scheduled to finish
construction and be operating in 2015.
The current status of the several sections of the proposed Path was described, per agenda.
Important things to keep in mind:
 Funding is not currently available to design and construct all of the Community Path
extension.
 MassDOT (the Massachusetts Dept. of Transportation) has agreed to fund the design
and partial construction the Community Path from Lowell to Washington Streets, but
not further southeast through Inner belt and North Point to Lechmere. Without this
section, there will be no connectivity to the Charles River Paths,
 Ellin Reisner, the President of Somerville Transportation Equity Partnership (STEP)
explained that because GLX construction is delayed, MassDOT must enact an "interim
offset project" ("mitigation" for lost clean air reductions) because of Clean Air Act
requirements. We are advocating for Community Path as an interim offset project.
 Because of the geography and topography, connecting the Community Path to Lowell
Street will be challenging. However, the developers of the Max Pack residential
development near Lowell and Cedar streets support construction of the adjacent
Community Path and are planning on creating 24/7 access through the site from the
Path to Lowell Street from the site and the Path. They are required to turn over use to
that part of the railroad right-of-way where the Path will be constructed to the city.
 Transit Realty Trust is the arm of the MBTA responsible for unused rail beds and other
real estate issues of the MBTA.
 Approximately eleven roadway bridges need attention, ranging from reconstruction to
modest widening, in order to accommodate the Green Line tracks along with the tracks
for the Amtrak Downeaster to Maine and the Lowell commuter train..
C. Current Goals and What's Next





Because the GLX and the Community Path are so interconnected, we are urged to
become involved with the formal GLX station design process which is about to
begin. Before this community-initiated, station-envisioning meetings were
already held, demonstrating that a broad consensus already exists in Somerville
for the Green Line:
http://www.somervillestep.org/files/CCPStationWorkshops_0610.pdf
Fundraising and outreach will be essential to get the Community Path extended.
Chelsea Clarke of Groundwork Somerville spoke about the CCP (Community
Corridor Planning, a coalition formed by community groups [Groundwork
Somerville (GWS), STEP,Somerville Community Development Corporation
(Somerville CDC)] focused on the neighborhoods around the GLX corridor. The
Community Path extension is a top priority of the Green Working Group /of the
CCP. Kent Elliott and Rebecca Schrumm volunteered to work with Chelsea as our
liaisons to the CCP/Green Working Group.
There is broad support for the Community Path, including from MassDOT,
MAPC (Metropolitan Area Planning Council) and the Conservation Law
Foundation; now we need to strategize about how to best get the needed funding
to complete the design and constructions of the Path.
Many people thought a new Facebook site is higher priority than updating the
Friends website.
AGENDA
Friends of the Community Path
www.pathfriends.org/scp/
Thursday November 11, 2010 Meeting
Lynn Weissman, Alan Moore, founding members
Introductions
1. Volunteer to take minutes
B. Brief history of the Friends of the Community Path (2001 to present)
1. Selected Accomplishments
See attached
2010 "Powderhouse Award" for Best Non-profit from the Somerville Chamber of Commerce
2. Current status of proposed Community Path extension (design, funding, timing, etc.)
Cambridge line to Cedar St. (existing, improvements underway, new city lease)
Cedar St. to Lowell St.
Lowell St. to to Inner Belt (Washington St.)
Somerville Junction Park
Inner Belt to Lechmere/NorthPoint/Charles River
C. Current Goals: We are urging MassDOT to:
1. Consider the design, construction, and completion of the Community Path extension as an interim
offset project for the likely Green Line delay (i.e., the Community Path could be completed prior to the
December 31, 2014 deadline for the Green Line Ext. since the retaining walls and reconstruction of
bridges should be completed early in the construction phase.
2. Ensure the inclusion, in the Green Line Project (GLX) work plan, of the design of the last section of the
Community Path from Inner Belt to Lechmere/North point and then via NorthPoint's internal links to the
DCR's Charles River Path network.
D. Our Activities: Organizing, Advocacy, Education, Strategy, etc.
Collaboration:
with the Massachusetts Dept. of Transportation (MassDOT), MBTA, Somerville Transportation Equity
Partnership (STEP), Great Neighborhood Initiative, Groundworks Somerville/Community Corridor
Planning/Green Working Group (CCP), City of Somerville, GreenStreets, Shape-Up-Somerville, Somerville
Chamber of Commerce, others
2. Advocacy/Promoting the Importance of the Path
MassDOT: GLX Community Meetings, GLX Design Working Group (Alan Moore, member), MassDOT
Board meetings, GreenDOT conference
MA Department of Environmental Protection ("enforcer" of the SIP Clean Air commitments (of which
the GLX is one)
Federal DOT re: MPO: Public comment (written and oral)
Locally: The Community Path and Green Line extensions will run near 6 Somerville public schools to
create safe, active routes to schools (and work) with good air quality, helping to fight the epidemics of
childhood obesity and asthma.
Regionally: This extension of the 13-mile Minuteman Trail will eventually link to the 17-miles of Charles
River path, connecting 37+ miles of path network through Bedford, Lexington, Arlington, Cambridge,
Somerville, and Medford to the Red and Green Lines (in Cambridge and Somerville) and to Boston,
Waltham, and Watertown.
Activities we need members to help with
Ongoing: Attending meetings/events, taking minutes, tabling, strategizing, making inroads, mapping,
urban planning, writing, fund raising, research, press announcements, technical, web/blog, social
networking, etc.
Current:
Attend Community Corridor Planning meetings
Web: Website, Blog, Facebook account, Yahoo email name
Design and work on 1-page brochure
Donations from businesses
Drafting/getting letters from regional supporters from neighboring cities/towns and groups, esp. along
current and future path
E. Meeting schedule for the core group
F. Group discussion and Q&A
Selected Accomplishments of the Friends of the Community Path
Some uses for past funds we've raised:

2006: Donated $5,000 to the City of Somerville to pay Pan Am Railways (formerly Boston & Maine
RR) to file for federal abandonment of trackage rights to the abandoned track from Cedar St. to
Lowell Street

2008: Contributed $8,000 for Junction Path Park, to show community support in
the City's grant application to construct the park and new path segment
http://www.somervillema.gov/Section.cfm?org=OSPCD&page=1321

2010: Committed $5,000 from our funds and procuring an additional $5,000
match for the City of Somerville's Tiger II grant application for Path Construction
http://www.somervillema.gov/cos_content/documents/TIGER%20II%20Application%20and%20App
endix%20FINAL%209_7.pdf
Ongoing Advocacy for the Community Path extension





2010 Winner: Powderhouse Award for Best Non-Profit, from the Somerville Chamber of
Commerce
Meeting with and writing letters to local, state, and federal officials? about the local and
regional significance of the Path, especially in relation to the Green Line extension (GLX).
Participating in GLX meetings and in current GLX Design Working Group meetings.
Collaborating with local groups like Somerville Transportation Equity Partnership (STEP),
Groundwork Somerville (GWS), Shape Up Somerville, Somerville Community Corporation (SCC),
the Somerville Bicycle Committee, and Mass Central Rail Trail, to advance progress on the Path.
Attending conferences and Green Line meetings to advocate for the Path Gathering hundreds
of Path support letters to submit to federal and state officials.
Education and Awareness






Made "the Community Path" a household phrase on the lips of state and local government
officials and politicians, non-profits, advocacy groups, community members, and the press.
People love the Community Path and want it to be extended with the Green Line.
Emphasizing that proposed Community Path extension will be a shared multi-use path – a
Community Path – and not simply a bicycle path.
Conducting periodic walking tours of the proposed Community Path
Tabling and parading at Artbeat, Spice of Life, Mystic Herring Run Festivals.
Raised funds & spirits with the Bicycle Canoe rig.
Organized City clean-ups at the Cedar-to-Lowell section of the Path (2001-2006).

Conducted community outreach including organizing a series of community meetings,
presenting at homes next to path, door-to-door outreach, etc. (2001-2003).
Grant Successes






2007 - Collaborated in a $500,000 Robert Wood Johnson Foundation grant effort (2007-2009)
for Active Living by Design. This grant funded the City of Somerville's first Bicycle-Pedestrian
Coordinator.
2003 Won a $50,000 Tourism grant from the Massachusetts Turnpike Authority. This was joint
application with the City of Somerville for the City to do early path design (before the Green Line
extension was definitely happening).
2003 Won a $10,000 Robert Wood Johnson Foundation grant for the City to do early path
design.
2003 Won a $10,000 Bikes Belong grant.
2003 Won a $1,000 Ben and Jerry's Foundation grant.
2002 Won a $200 Fields Pond Foundation grant.