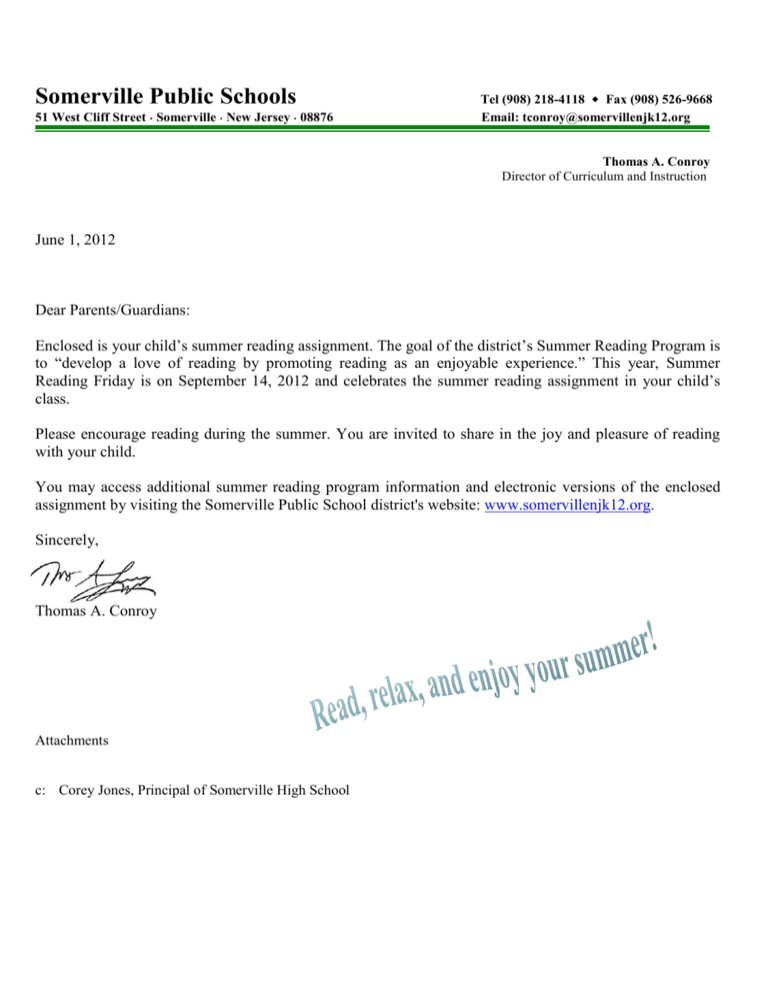 Somerville Public Schools
51 West Cliff Street  Somerville  New Jersey  08876
Tel (908) 218-4118  Fax (908) 526-9668
Email: tconroy@somervillenjk12.org
Thomas A. Conroy
Director of Curriculum and Instruction
June 1, 2012
Dear Parents/Guardians:
Enclosed is your child's summer reading assignment. The goal of the district's Summer Reading Program is
to "develop a love of reading by promoting reading as an enjoyable experience." This year, Summer
Reading Friday is on September 14, 2012 and celebrates the summer reading assignment in your child's
class.
Please encourage reading during the summer. You are invited to share in the joy and pleasure of reading
with your child.
You may access additional summer reading program information and electronic versions of the enclosed
assignment by visiting the Somerville Public School district's website: www.somervillenjk12.org.
Sincerely,
Thomas A. Conroy
Attachments
c: Corey Jones, Principal of Somerville High School
The required summer reading for all students
entering grade 10 is The Ditchdigger's Daughters
by Yvonne S. Thornton, M.D.
Each tenth grade student must read at least two books: the required
reading The Ditchdigger's Daughters by Yvonne S. Thornton, M.D.
and a book of his/her choice.
Suggestions for the self-selected reading choice are listed below.










90 Minutes in Heaven by Don Piper
A False Spring by Pat Jordan
A Yellow Raft in Blue Water by Michael Dorris
Brave New World by Aldous Huxley
Nineteen Minutes by Jodi Picoult
The Audacity of Hope by Barack Obama
The Book Thief by Markus Zusak
The Girl Who Loved Tom Gordon by Stephen King
World War Z by Max Brooks
A book of your choice selected from a current or past best seller list
Honors level
classes in
grade 10
receive
additional
summer
reading
requirements
•
•
•
•
•
•
•
•
•
•
Catch-22 by Joseph Heller
Ethan Frome by Edith Wharton
Giving by Bill Clinton
His Excellency: George Washington by Joseph J. Ellis
Into Thin Air by Jon Krakauer
On Writing by Stephen King
Rebecca by Daphne du Maurier
Siddhartha by Hermann Hesse
The Kite Runner by Khaled Hosseini
Wicked Years (series) by Gregory Maguire
Name: _______________________________________________
Entering:
10th Grade
Summer Reading Summary
Complete the summary below with information about the required reading.
Title: The Ditchdigger's Daughters
Author: Yvonne S. Thornton, M.D.
Moral implications of
this novel:
Summary of story:
Climax:
Resolution:
Donald Thornton raised his daughters with a definite plan to succeed in very specific ways. Is a strict upbringing
necessary to instill in children's success later on in life? Explain. How do you think the book might have been
different if told by a different daughter. What is stronger in the book, plot or character development? Why?
The second book I read was:
Title: __________________________________________ Author: _____________________________
Would you recommend this book to a friend: ______ Why or Why Not? _________________________
____________________________________________________________________________________
Read, relax, and enjoy your summer!