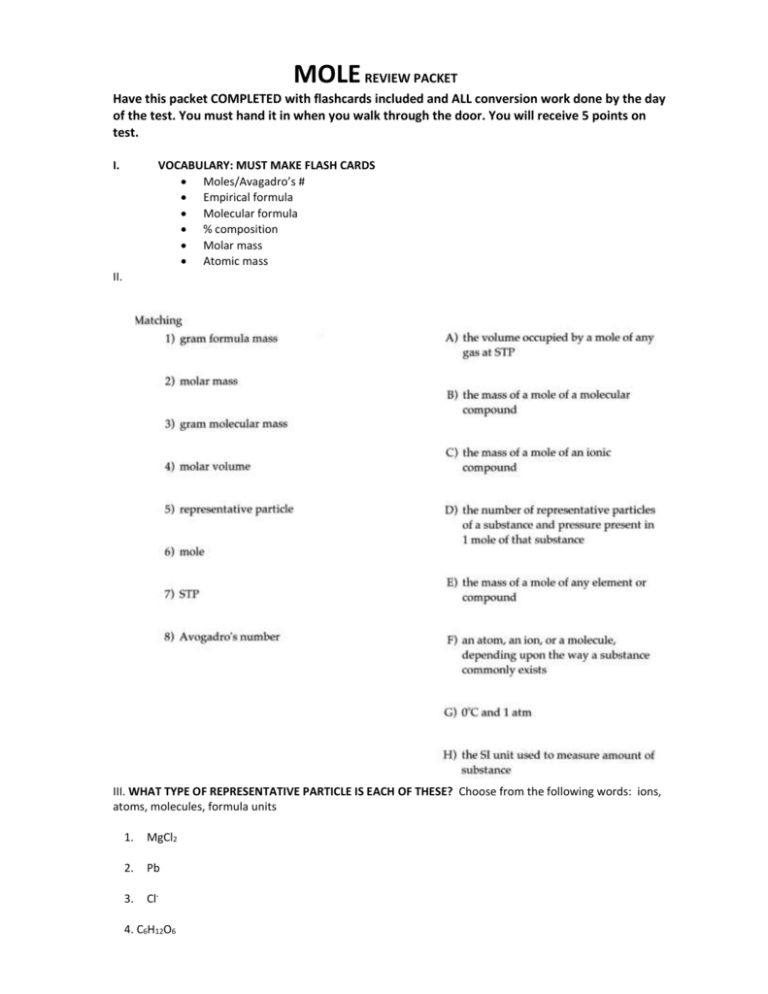 MOLE REVIEW PACKET
Have this packet COMPLETED with flashcards included and ALL conversion work done by the day
of the test. You must hand it in when you walk through the door. You will receive 5 points on
test.
I.
VOCABULARY: MUST MAKE FLASH CARDS
 Moles/Avagadro's #
 Empirical formula
 Molecular formula
 % composition
 Molar mass
 Atomic mass
II.
III. WHAT TYPE OF REPRESENTATIVE PARTICLE IS EACH OF THESE? Choose from the following words: ions,
atoms, molecules, formula units
1.
MgCl2
2.
Pb
3.
Cl-
4. C6H12O6
IV. Understanding concepts: Put the following vocabulary words in order of size:
Molecule
mole
atom
In one mole of a compound you have _______________ molecules. Each of these
molecules is made of _______. Suppose you have 1 molecule of CO2. There would be a
total of ____________ atoms. In this 1 molecule of carbon dioxide, there are ___ carbon
atoms and ___ oxygen atoms. In 1 ______ of CO 2 there are 6.02x1023 molecules.
V. Conversions
1.
If a sample of nitrogen gas (N2) has 3.16 x 1024 molecules, how many moles are in this sample?
2.
If a volcano erupts and ejects 24.8 moles of sulfur (S) into the atmosphere, how many atoms of sulfur is
this?
3.
A sample of sodium chloride (NaCl) has 2.80 x1023 molecules. How many grams if this?
4.
In lab you find the mass of zinc (Zn) to be 8.02 g. How many atoms are in the sample?
5. Determine the volume of a container that holds 2.4 mol of gas at STP.
6. How many moles are in 1.204 x 1024 formula units of copper (II) hydroxide (Cu(OH)2)?
7. What is the molar mass of phosphoric acid (H3PO4)?
8.
Calculate the mass percent of each element in the amino acid, lysine, C6H14N2O2.
9.
Determine the empirical formula for an unknown compound composed of 36.5% sodium, 38.1%
oxygen, and 25.4% sulfur by mass.
10.
11.
How many moles of nitrogen gas will be contained in a 2.00-L flask at STP?
A compound is analyzed and found to have the empirical formula CH2O. The molar
mass of the compound is found to be 153g/mol. What is the compound's molecular
formula?