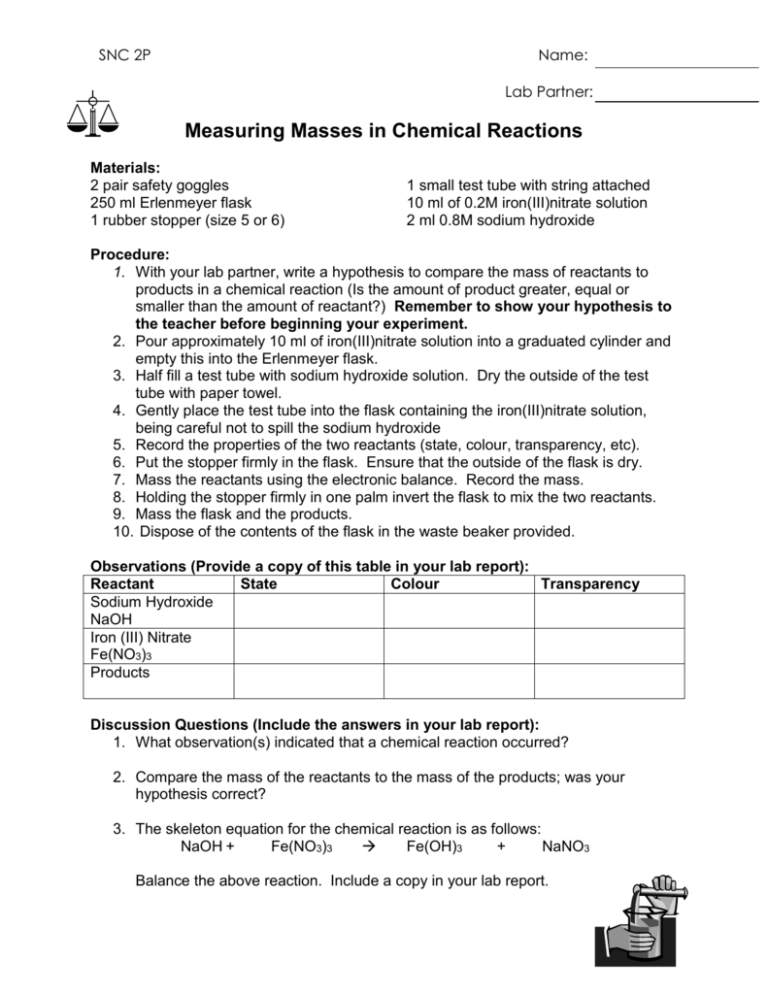 SNC 2P
Name:
Lab Partner:
Measuring Masses in Chemical Reactions
Materials:
2 pair safety goggles
250 ml Erlenmeyer flask
1 rubber stopper (size 5 or 6)
1 small test tube with string attached
10 ml of 0.2M iron(III)nitrate solution
2 ml 0.8M sodium hydroxide
Procedure:
1. With your lab partner, write a hypothesis to compare the mass of reactants to
products in a chemical reaction (Is the amount of product greater, equal or
smaller than the amount of reactant?) Remember to show your hypothesis to
the teacher before beginning your experiment.
2. Pour approximately 10 ml of iron(III)nitrate solution into a graduated cylinder and
empty this into the Erlenmeyer flask.
3. Half fill a test tube with sodium hydroxide solution. Dry the outside of the test
tube with paper towel.
4. Gently place the test tube into the flask containing the iron(III)nitrate solution,
being careful not to spill the sodium hydroxide
5. Record the properties of the two reactants (state, colour, transparency, etc).
6. Put the stopper firmly in the flask. Ensure that the outside of the flask is dry.
7. Mass the reactants using the electronic balance. Record the mass.
8. Holding the stopper firmly in one palm invert the flask to mix the two reactants.
9. Mass the flask and the products.
10. Dispose of the contents of the flask in the waste beaker provided.
Observations (Provide a copy of this table in your lab report):
Reactant
State
Colour
Transparency
Sodium Hydroxide
NaOH
Iron (III) Nitrate
Fe(NO3)3
Products
Discussion Questions (Include the answers in your lab report):
1. What observation(s) indicated that a chemical reaction occurred?
2. Compare the mass of the reactants to the mass of the products; was your
hypothesis correct?
3. The skeleton equation for the chemical reaction is as follows:
NaOH +
Fe(NO3)3

Fe(OH)3
+
NaNO3
Balance the above reaction. Include a copy in your lab report.