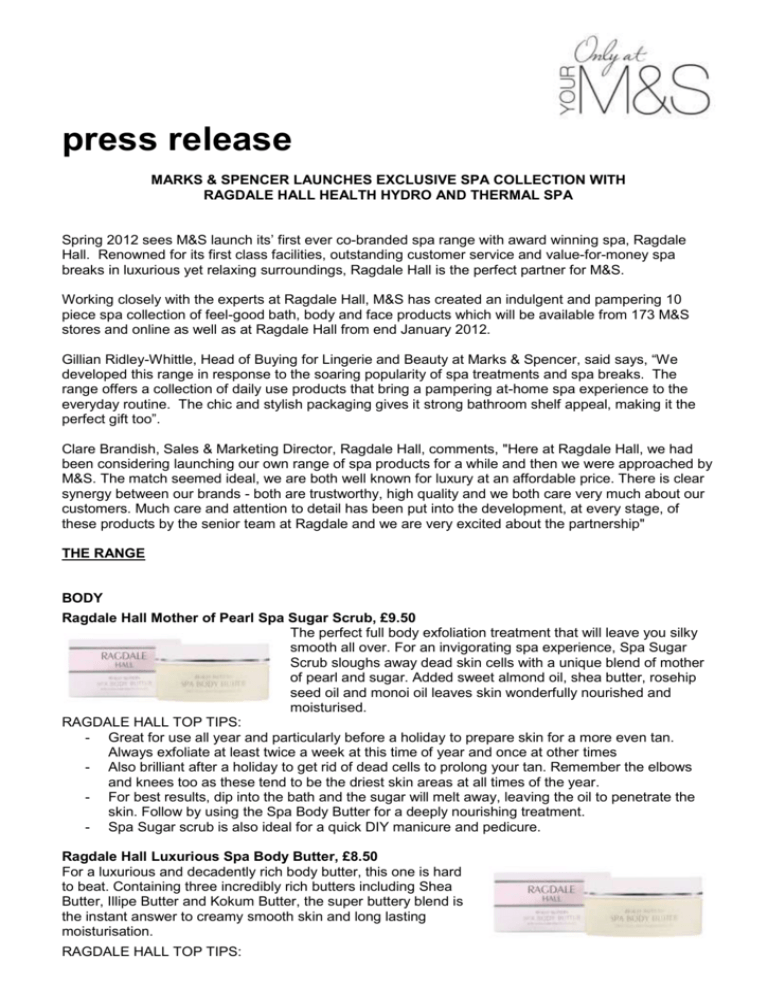 press release
MARKS & SPENCER LAUNCHES EXCLUSIVE SPA COLLECTION WITH
RAGDALE HALL HEALTH HYDRO AND THERMAL SPA
Spring 2012 sees M&S launch its' first ever co-branded spa range with award winning spa, Ragdale
Hall. Renowned for its first class facilities, outstanding customer service and value-for-money spa
breaks in luxurious yet relaxing surroundings, Ragdale Hall is the perfect partner for M&S.
Working closely with the experts at Ragdale Hall, M&S has created an indulgent and pampering 10
piece spa collection of feel-good bath, body and face products which will be available from 173 M&S
stores and online as well as at Ragdale Hall from end January 2012.
Gillian Ridley-Whittle, Head of Buying for Lingerie and Beauty at Marks & Spencer, said says, "We
developed this range in response to the soaring popularity of spa treatments and spa breaks. The
range offers a collection of daily use products that bring a pampering at-home spa experience to the
everyday routine. The chic and stylish packaging gives it strong bathroom shelf appeal, making it the
perfect gift too".
Clare Brandish, Sales & Marketing Director, Ragdale Hall, comments, "Here at Ragdale Hall, we had
been considering launching our own range of spa products for a while and then we were approached by
M&S. The match seemed ideal, we are both well known for luxury at an affordable price. There is clear
synergy between our brands - both are trustworthy, high quality and we both care very much about our
customers. Much care and attention to detail has been put into the development, at every stage, of
these products by the senior team at Ragdale and we are very excited about the partnership"
THE RANGE
BODY
Ragdale Hall Mother of Pearl Spa Sugar Scrub, £9.50
The perfect full body exfoliation treatment that will leave you silky
smooth all over. For an invigorating spa experience, Spa Sugar
Scrub sloughs away dead skin cells with a unique blend of mother
of pearl and sugar. Added sweet almond oil, shea butter, rosehip
seed oil and monoi oil leaves skin wonderfully nourished and
moisturised.
RAGDALE HALL TOP TIPS:
- Great for use all year and particularly before a holiday to prepare skin for a more even tan.
Always exfoliate at least twice a week at this time of year and once at other times
- Also brilliant after a holiday to get rid of dead cells to prolong your tan. Remember the elbows
and knees too as these tend to be the driest skin areas at all times of the year.
- For best results, dip into the bath and the sugar will melt away, leaving the oil to penetrate the
skin. Follow by using the Spa Body Butter for a deeply nourishing treatment.
- Spa Sugar scrub is also ideal for a quick DIY manicure and pedicure.
Ragdale Hall Luxurious Spa Body Butter, £8.50
For a luxurious and decadently rich body butter, this one is hard
to beat. Containing three incredibly rich butters including Shea
Butter, Illipe Butter and Kokum Butter, the super buttery blend is
the instant answer to creamy smooth skin and long lasting
moisturisation.
RAGDALE HALL TOP TIPS:
-
Especially effective in the winter months. Use in the evening, once showered and in to sloppies
to deeply nourish and penetrate the skin.
Or to give your skin a luxury treat before a special night out – skin will feel instantly hydrated and
radiant.
Ragdale Hall Softening Spa Foot Cream, £6.00
For serious feet softening, this ultra-nourishing foot cream combines high-purity
lanolin with black cumin seed oil, known for its moisturising properties and its
ability to improve rough, dry skin. If a fondness for heels has taken its toll, then
the invigorating peppermint helps put the spring back into tired feet.
RAGDALE HALL TOP TIPS:
- Great to use just before bed time – try keeping it on the bedside table to remind you! For best
results, apply generously all over the feet and put on cotton socks to help the cream penetrate
even deeper.
- It's perfect for keeping in your gym bag too! Apply to showered feet after every workout to
nourish and revive them.
Ragdale Hall Softening Spa Hand and Cuticle Cream, £6.00
Beat dry, moisture-starved hands and cuticles. For an intensively moisturising
and nourishing hand treatment, Spa Hand and Cuticle Cream includes a blend of
sweet almond oil, lanolin, glycerine and Allantoin as well as hydrolised keratin to
ensure skin is instantly hydrated, leading to beautifully soft hands and cuticles.
Spa perfection!
RAGDALE HALL TOP TIPS:
- Carry this product in your handbag and use it every time you wash your hands. For best results,
ensure you massage it into the cuticles to help stimulate nail strength and growth.
- For super hydration, apply generously to the hands and nails and put on cotton gloves before
going to bed to help lock in the cream.
Ragdale Hall Soothing Spa Hand Lotion, £6.00
Light and easily absorbed, Spa Hand Lotion is enriched with coconut and
almond oil to condition the skin, glycerine and panthenol to moisturise and milk
thistle extract for its powerful anti-oxidant properties. Perfect for your own DIY
manicure at home.
RAGDALE HALL TOP TIP:
- As well as at home, keep this product on your desk at work and keep moisturising all day,
especially in winter when the weather and central heating dry your hands out.
Ragdale Hall Refreshing Shower Gel, £6
Any time you need to wash away the stresses of the day, just reach for this
refreshing shower gel which includes reviving extracts of watermint and
soothing Oolong Tea
RAGDALE HALL TOP TIP:
- Use a nylon bath puff with the shower gel to get a good lather and to exfoliate at the same time.
Ragdale Hall Velvet Spa Cream Bath, £7.50
Awaiting image
For the ultimate in relaxation, nothing
beats a long hot soak in the bath
especially when it's filled with creamy, rich
foaming bubbles and luxuriously
fragranced with essential oils of white
grapefruit and sweet orange to revive the
senses and cedarwood essential oil to
help relax aching muscles and vanquish
every last drop of stress.
RAGDALE HALL TOP TIP:
- If you are in need of some quiet me-time, pour into the bath, light some candles, dim the lights,
put on an eye mask and just soak…whilst breathing in the relaxing fragrance.
Ragdale Hall Gentle Cleansing Spa Hand Wash, £6.00
This gentle yet effective hand wash has been specially formulated with mild
ingredients so vital moisture is not stripped from the skin no matter how many
times a day you wash your hands.
RAGDALE HALL TOP TIP:
- Keep this gentle hand wash by the kitchen sink as well as in your cloakroom and bath room.
Your hands deserve it!
FACE
Ragdale Hall Rejuvenating Spa Daytime Moisturiser SPF15, £9.50
An effective daytime moisturiser enriched with cocoa butter and
Vitamin E with SPF15 for daily protection. Osilift, a natural sugar
based tensor derived from oats, helps reverse the signs of ageing
by firming and toning the skin coupled with long-term smoothing
effects.
RAGDALE HALL TOP TIP:
- After the face, hands are the biggest giveaway of your age! Massage excess day cream into your
hands, especially the backs of the hands. The SPF15 protection will also help protect your hands from
harmful UV rays and help prevent premature ageing.
Ragdale Hall Restorative Spa Night Cream, £9.50
This rich nourishing night cream is easily absorbed into the
skin. Containing a moisturising blend of glycerine, shea and
kokum butters with milk protein and soya oil, Spa Night Cream
will help revitalise and nourish skin overnight to leave it
smoother and softer.
RAGDALE HALL TOP TIP:
- Hands need as much feeding as your face at night to keep them silky smooth. Massage any excess
night cream into your hands, followed by Spa Hand and Cuticle Cream to give intensive nourishment.
Ragdale Hall will be available exclusively from Marks & Spencer stores nationwide or online at
www.marksandspencer.com from end January 2012
Stockist enquiries: 0845 302 1234.
Images are available to download in high-resolution format from our image library at www.mandslibrary.com
and www.prshots.com.
For further information, images or samples please contact:
Janice Hards at Hards PR on 020 8293 7150 / janice@hardspr.com
For Ragdale Hall
Clare Brandish – Sales and Marketing Director Tel: 01664 434831 e: marketing@ragdalehall.co.uk
Vicki Taylor – Marketing Manager Tel: 01664 434831 e: marketing@ragdalehall.co.uk
www.ragdalehall.co.uk
Notes to Editors;
RAGDALE HALL HEALTH HYDRO AND THERMAL SPA
Ragdale Hall is one of the UK's best known spas. Set in the idyllic Leicestershire countryside, it has won
numerous awards since being established as a health hydro in 1973.
Boasting five pools and 11 heat facilities, extensive state-of-the-art spa treatments, classes and outdoor
activities as well as the innovative Mind Gym, Ragdale Hall is the perfect spa retreat for some serious
pampering.
Recent accolades include Sunday Times Travel Magazine Readers' Favourite UK Spa 2010; Spa Finder
Readers' Choice Best UK Spa 2011 (international award) and Zest's Best Spa for Great Value 2011.