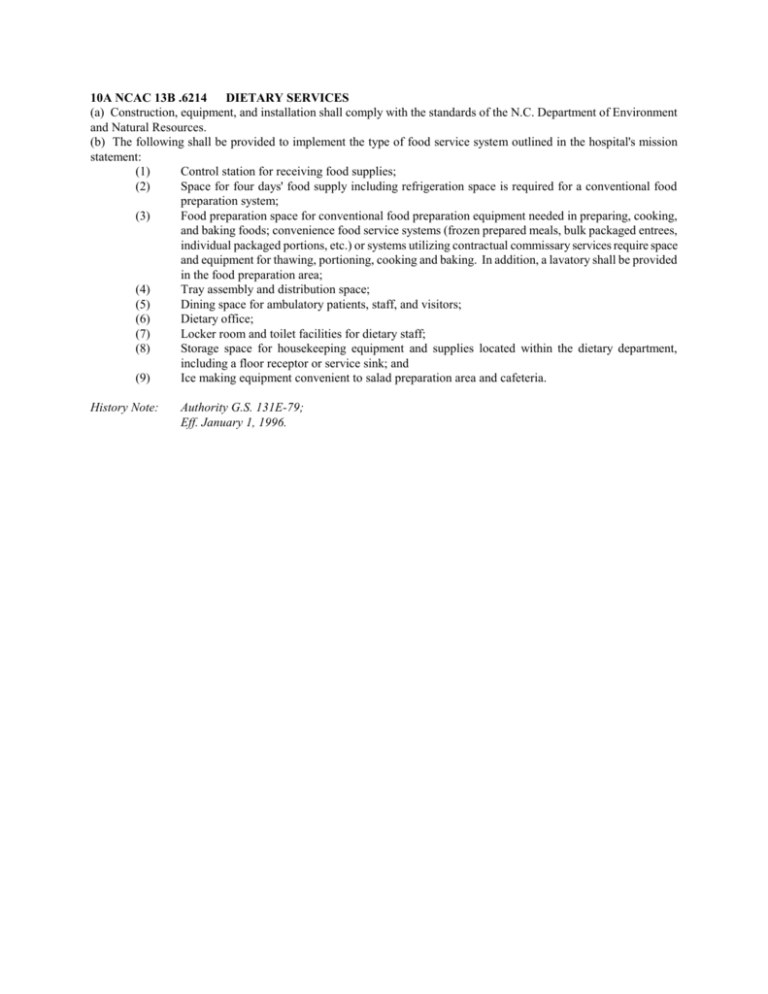 10A NCAC 13B .6214
DIETARY SERVICES
(a) Construction, equipment, and installation shall comply with the standards of the N.C. Department of Environment
and Natural Resources.
(b) The following shall be provided to implement the type of food service system outlined in the hospital's mission
statement:
(1)
Control station for receiving food supplies;
(2)
Space for four days' food supply including refrigeration space is required for a conventional food
preparation system;
(3)
Food preparation space for conventional food preparation equipment needed in preparing, cooking,
and baking foods; convenience food service systems (frozen prepared meals, bulk packaged entrees,
individual packaged portions, etc.) or systems utilizing contractual commissary services require space
and equipment for thawing, portioning, cooking and baking. In addition, a lavatory shall be provided
in the food preparation area;
(4)
Tray assembly and distribution space;
(5)
Dining space for ambulatory patients, staff, and visitors;
(6)
Dietary office;
(7)
Locker room and toilet facilities for dietary staff;
(8)
Storage space for housekeeping equipment and supplies located within the dietary department,
including a floor receptor or service sink; and
(9)
Ice making equipment convenient to salad preparation area and cafeteria.
History Note:
Authority G.S. 131E-79;
Eff. January 1, 1996.