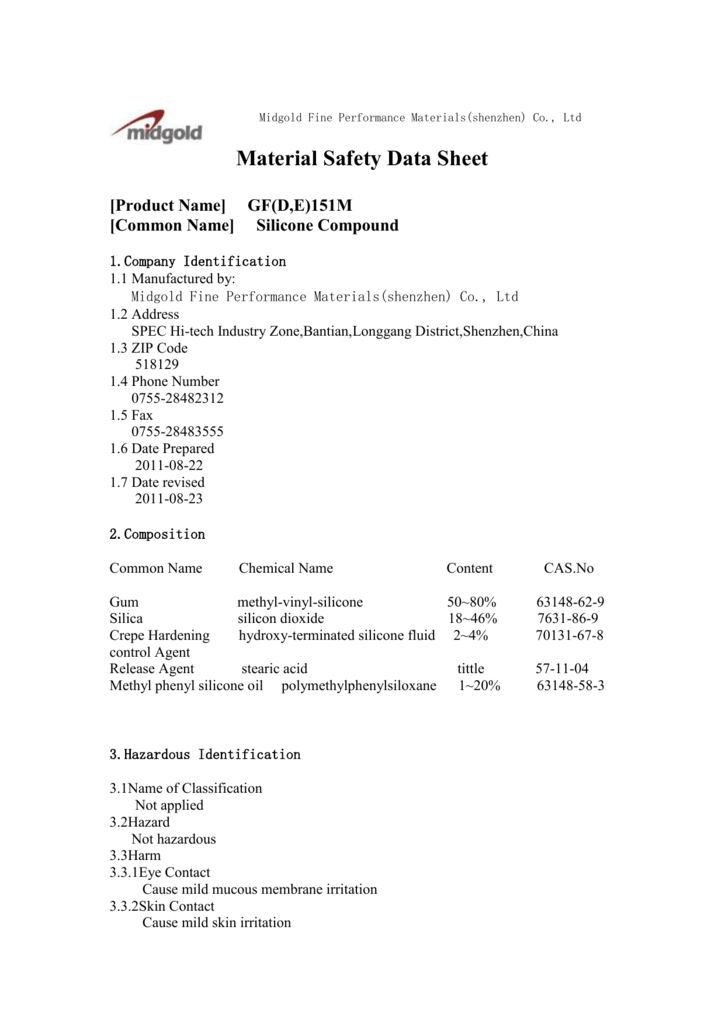 Midgold Fine Performance Materials(shenzhen) Co., Ltd
Material Safety Data Sheet
[Product Name] GF(D,E)151M
[Common Name] Silicone Compound
1.Company Identification
1.1 Manufactured by:
Midgold Fine Performance Materials(shenzhen) Co., Ltd
1.2 Address
SPEC Hi-tech Industry Zone,Bantian,Longgang District,Shenzhen,China
1.3 ZIP Code
518129
1.4 Phone Number
0755-28482312
1.5 Fax
0755-28483555
1.6 Date Prepared
2011-08-22
1.7 Date revised
2011-08-23
2.Composition
Common Name
Chemical Name
Content
Gum
methyl-vinyl-silicone
50~80%
Silica
silicon dioxide
18~46%
Crepe Hardening
hydroxy-terminated silicone fluid 2~4%
control Agent
Release Agent
stearic acid
tittle
Methyl phenyl silicone oil polymethylphenylsiloxane
1~20%
3.Hazardous Identification
3.1Name of Classification
Not applied
3.2Hazard
Not hazardous
3.3Harm
3.3.1Eye Contact
Cause mild mucous membrane irritation
3.3.2Skin Contact
Cause mild skin irritation
CAS.No
63148-62-9
7631-86-9
70131-67-8
57-11-04
63148-58-3
3.3.3Inhalation
Midgold Fine Performance Materials(shenzhen) Co., Ltd
Little hazard to respiratory
3.3.4Others
No data
4.Frist Aid Measure
4.1Eye
Immediately wash out with running water.
4.2Skin
Immediately wash out with soap and running water.
4.3Ingestion
Induce vomiting immediately. Get medical attention.
5.Fire Fighting Measures
5.1Fire fighting procedure
Remove sources of combustible. Using fire-fighting media or water.
The fire fighting should be done from the windward side, with suitable respiratory
protective device, if necessary.
5.2Extinguishing Media
Foam/Carbon dioxide/power
Water
6. Accidental Release Measure
Not applied due to solid.
7.Handling and Storage
7.1 Handling
Wear eye and hand protection when in handling.
7.2Storage
Storage in dark and cool place indoors, with container tightly closed.
8.Exposure Control/ Personal protection
8.1Adiministrative exposure limit
Not applied
8.2Laws from government
Not applied
9.Physical and chemical properties
9.1Appearance
Ivory-white or Translucent
9.2Odor
Slight smell
Midgold Fine Performance Materials(shenzhen) Co., Ltd
9.3 Volatility
None
9.4Melting Point
Not applied
9.5Density
1.1000-1.2000
9.6Solubility in water
Insoluble
9.7Others
No data
10.Dangerous information
10.1Flash point
Not applied
10.2Oxidization property
Non-oxidative
10.3Self reactivity and explosibility
None
10.4Stability and reactivity
The substance is substantially stable. The catalysis of strong acids and bases
cause polymerization or decomposition.
10.5Others
No data
11.Toxicological information
11.1Skindestruction property
No data
11.2Stimulus property
No data
11.3Sensilization property
No data
11.4Acute toxicity (LD50)
No data
11.5Sub-acutetoxicity
No data
11.6 Chronic toxicity
No data
11.7 Carcinogenicity
No data
11.8 Mutation
No data
11.9 Reproductive
No data
11.10Teratogenic
No data
Midgold Fine Performance Materials(shenzhen) Co., Ltd
11.11Others
No data
12.Ecological information
No data
13.Disposal consideration
Incineration should be made in approved chemical incinerator I accordance with
regulations.
14.Transport information
Not regarded as dangerous material.
15.Statute information
No
16.Others
16.1Qoutation document
Chemical Safe Administration Data Book.
16.2 Precaution
This material in developed and manufactured for industrial application only. For
medical or other special application, use other performing safety testing on the
product and confirming safety. Never use for human application such as implant,
impregnation, and possible residue-remaining in the body.
16.3 Any other precaution
The information herein is made based on references, information and data
available at present. It maybe revised when new information is available.
The descriptions herein are for normal handling. For special application , make
safety provisions suitable to them prior to use.