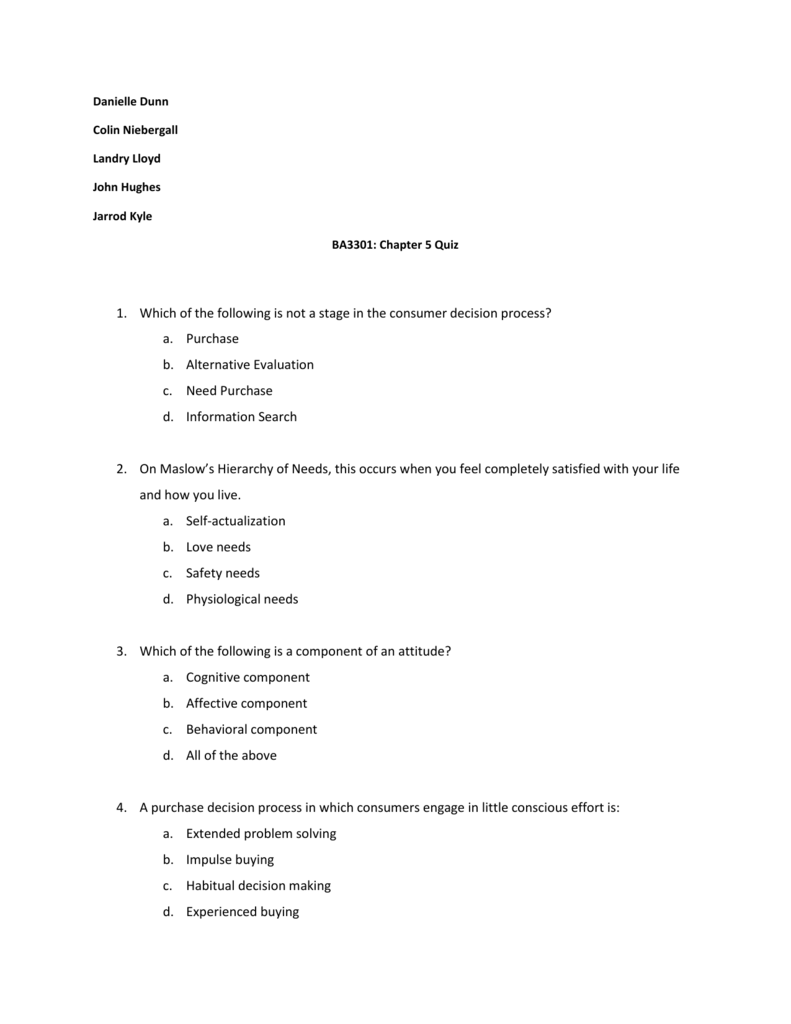 Danielle Dunn
Colin Niebergall
Landry Lloyd
John Hughes
Jarrod Kyle
BA3301: Chapter 5 Quiz
1. Which of the following is not a stage in the consumer decision process?
a. Purchase
b. Alternative Evaluation
c. Need Purchase
d. Information Search
2. On Maslow's Hierarchy of Needs, this occurs when you feel completely satisfied with your life
and how you live.
a. Self-actualization
b. Love needs
c. Safety needs
d. Physiological needs
3. Which of the following is a component of an attitude?
a. Cognitive component
b. Affective component
c. Behavioral component
d. All of the above
4. A purchase decision process in which consumers engage in little conscious effort is:
a. Extended problem solving
b. Impulse buying
c. Habitual decision making
d. Experienced buying
5. Which of the following are psychological factors that affect the consumer decision process?
a. Motives, attitudes, perceptions, learning and lifestyle
b. Purchase situation, shopping situation and temporal state
c. Family, reference groups and culture
d. None of the above
6. An attitude consists of what three components?
a. Love, safety, esteem
b. Social factors, situational factors, psychological factors
c. Cognitive, affective, behavioral
d. None of the above
7. ________ is one or more persons whom an individual uses as a basis for comparison regarding
beliefs, feelings, and behaviors.
a. Reference Group
b. Store atmosphere
c. Culture
d. Demographic
8. This happens when a consumer makes a purchasing decision with little conscious effort.
a. Habitual liar
b. Habitual decision making
c. Habitual consumer
d. Habitual buyer
9. When a customer feels that there are too many people around, they may feel this situational
factor, _______.
a. Promotions
b. Packaging
c. Store Atmosphere
d. Crowding
10. High involvement decision-making includes which of the following?
a. Greater attention
b. Deeper processing
c. Strong attitudes
d. All of the above
11. Marketers often use principles and theories from sociology and psychology to:
a. Decipher many consumer actions and develop basic strategies for dealing with their
behavior
b. Replace the old economic and accounting foundations of the disciplines in the 21st
century.
c. Add to the perception that science, as well as art are involved in marketing.
d. Distance the discipline from other management, finance and operations disciplines.
12. Marketers would like to be in consumers ______ set, but even more they like to be in the
______ set they will consider when making a purchase decision.
a. Global; preferred
b. Determinant; focused
c. Retrieval; evoked
d. Cognitive; behavioral
13. Marketers are particularly interested in ______ behavior because it entails actual rather than
potential customers.
a. Cultural
b. Ritual consumption
c. Self-actualization
d. Post-purchase
14. When consumers are dissatisfied, they:
a. Often want to complain to many people.
b. Return the item to the store.
c. Throw the item away unless it is really expensive
d. All of the above
15. Consumer purchases may be affected by perceived or actual ______, which refers to the way
consumers spend their time and money.
a. Compensatory decision making
b. Social factors
c. Culture
d. Situational factors
e. Lifestyles
16. A pattern of behavior tied to life events that affect what and how we consume is:
a. Physiological needs
b. Motive
c. Ritual consumption
d. Lifestyle
17. Marketers take the following steps to ensure customer post-purchase satisfaction, except:
a. Demonstrate correct product use.
b. Contacting customer everyday for satisfaction assurance.
c. Stand behind the product or service by providing money back guarantees and
warranties.
d. Encourage customer feedback.
18. To resolve customer post-purchase dissonance, a company might:
a. Thank the customer for their money.
b. Tell the customer that they increased the company's stock.
c. Notify that all the customer's wildest dreams will come true now.
d. Send letter to purchaser to positively reinforce the message that the consumer made a
wise decision by mentioning the high quality that went into the products design and
production.
19. "Morning people", "night people", and mood swings are examples of which situational factor
affecting the consumer decision process?
a. Shopping situation
b. Purchase situation
c. Temporal state
d. Store atmosphere
20. This type of consumer pays less attention to key elements of advertising messages and focuses
on heuristic elements such as brand name, price, and presence of celebrity endorsers.
a. Low-involvement consumer
b. Thorough consumer
c. Statistical consumer
d. High-involvement consumer
Answers:
1.
2.
3.
4.
5.
6.
7.
8.
9.
10.
11.
C.
A.
D.
C.
A.
C.
A.
B.
D.
D.
A.
12.
13.
14.
15.
16.
17.
18.
19.
20.
C.
D.
D.
E.
C.
B.
D.
C.
A.