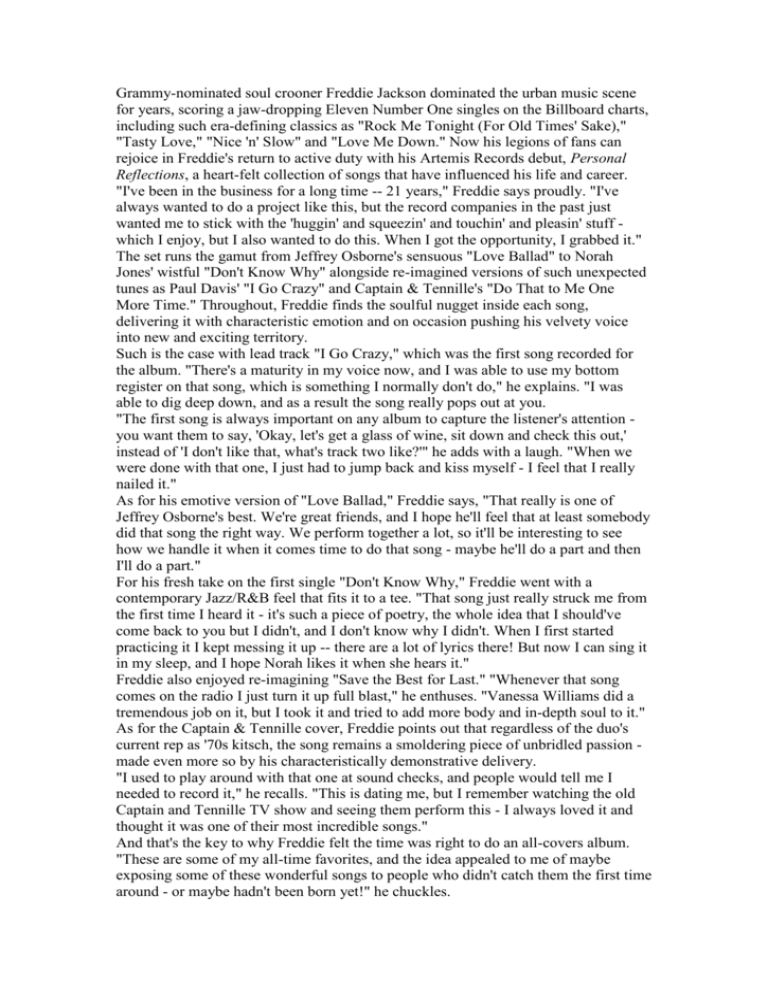 Grammy-nominated soul crooner Freddie Jackson dominated the urban music scene
for years, scoring a jaw-dropping Eleven Number One singles on the Billboard charts,
including such era-defining classics as "Rock Me Tonight (For Old Times' Sake),"
"Tasty Love," "Nice 'n' Slow" and "Love Me Down." Now his legions of fans can
rejoice in Freddie's return to active duty with his Artemis Records debut, Personal
Reflections, a heart-felt collection of songs that have influenced his life and career.
"I've been in the business for a long time -- 21 years," Freddie says proudly. "I've
always wanted to do a project like this, but the record companies in the past just
wanted me to stick with the 'huggin' and squeezin' and touchin' and pleasin' stuff which I enjoy, but I also wanted to do this. When I got the opportunity, I grabbed it."
The set runs the gamut from Jeffrey Osborne's sensuous "Love Ballad" to Norah
Jones' wistful "Don't Know Why" alongside re-imagined versions of such unexpected
tunes as Paul Davis' "I Go Crazy" and Captain & Tennille's "Do That to Me One
More Time." Throughout, Freddie finds the soulful nugget inside each song,
delivering it with characteristic emotion and on occasion pushing his velvety voice
into new and exciting territory.
Such is the case with lead track "I Go Crazy," which was the first song recorded for
the album. "There's a maturity in my voice now, and I was able to use my bottom
register on that song, which is something I normally don't do," he explains. "I was
able to dig deep down, and as a result the song really pops out at you.
"The first song is always important on any album to capture the listener's attention you want them to say, 'Okay, let's get a glass of wine, sit down and check this out,'
instead of 'I don't like that, what's track two like?'" he adds with a laugh. "When we
were done with that one, I just had to jump back and kiss myself - I feel that I really
nailed it."
As for his emotive version of "Love Ballad," Freddie says, "That really is one of
Jeffrey Osborne's best. We're great friends, and I hope he'll feel that at least somebody
did that song the right way. We perform together a lot, so it'll be interesting to see
how we handle it when it comes time to do that song - maybe he'll do a part and then
I'll do a part."
For his fresh take on the first single "Don't Know Why," Freddie went with a
contemporary Jazz/R&B feel that fits it to a tee. "That song just really struck me from
the first time I heard it - it's such a piece of poetry, the whole idea that I should've
come back to you but I didn't, and I don't know why I didn't. When I first started
practicing it I kept messing it up -- there are a lot of lyrics there! But now I can sing it
in my sleep, and I hope Norah likes it when she hears it."
Freddie also enjoyed re-imagining "Save the Best for Last." "Whenever that song
comes on the radio I just turn it up full blast," he enthuses. "Vanessa Williams did a
tremendous job on it, but I took it and tried to add more body and in-depth soul to it."
As for the Captain & Tennille cover, Freddie points out that regardless of the duo's
current rep as '70s kitsch, the song remains a smoldering piece of unbridled passion made even more so by his characteristically demonstrative delivery.
"I used to play around with that one at sound checks, and people would tell me I
needed to record it," he recalls. "This is dating me, but I remember watching the old
Captain and Tennille TV show and seeing them perform this - I always loved it and
thought it was one of their most incredible songs."
And that's the key to why Freddie felt the time was right to do an all-covers album.
"These are some of my all-time favorites, and the idea appealed to me of maybe
exposing some of these wonderful songs to people who didn't catch them the first time
around - or maybe hadn't been born yet!" he chuckles.
The album also provides him the opportunity to pay tribute to acts that influenced him
at a young age. " "I Wanna Know Your Name" by the Intruders was one of my
mother's and sisters' favorites when I was growing up in Harlem, so when I went into
the recording studio I didn't even need the lyrics, I knew it so well." With "Back
Together Again," the smoky duet with Meli'sa Morgan, Freddie salutes the original
recording by Roberta Flack and "my idol," Donny Hathaway.
Casual fans who lost track of Freddie after his long chart presence in the '80s and '90s
may be surprised to find out that he's never stopped working: he co-wrote "One
Wish," which ended up being the title track of Whitney Houston's 2003 Christmas
album, and he still tours constantly, both here and in Europe.
"I have a body of work that I'm fortunate is still working for me," he states. "Luther
Vandross' body of work will never die even though he's passed on; the music is just
that strong. If I can have that kind of longevity and impact, I'll truly be blessed."
Growing up in Harlem just a few blocks from the legendary Apollo Theater, Freddie
split his time between singing in church and attending concerts by the likes of Otis
Redding and Marvin Gaye. "All those guys worked so hard, they'd leave their sweat
on the stage," he declares. "There was no lip-syncing; it was all about giving people
their money's worth, which was a lesson I took to heart. I was able to study those
guys, see what they were doing, and then I'd be up in my bedroom with my little tape
player and my mother would think I was listening to James Cleveland … when I was
actually listening to Sam Cooke!"
Freddie's vocal talents soon led him to gigs singing background, both in the studio and
on the road, for James Mtume, Evelyn "Champagne" King, Angela Bofill, and Harry
Belafonte. "I got the fever for being on the road, and my gospel roots went right out
the door," he chuckles. A connection with Melba Moore ultimately led to
management with Hush Productions, headed by hit makers Charles and Beau
Huggins. This led to the chart-topping duet with Melba on "A Little Bit More". This
would be the first of many more hits to come. And just as he started, Freddie is once
again being managed by Charles and Beau at Orpheus.
Now Freddie is looking forward to introducing some of the greatest R&B songs of
years past to today's audiences, both via Personal Reflections and on the concert
stage. "I've always admired the careers of people like Ms. Natalie Cole and Mr. Rod
Stewart, who have had such great success by reaching back into the past and putting a
new spin on classic tunes," he says. "The industry has changed a lot since I started
out, but there's still nothing like a really great groove."
Of the sessions that resulted in this album, Freddie says, "Everyone just had such a
great time, which is what I like to see people have. These are beautiful songs that I've
always wanted to do - songs that I can just croon on and have a good time, feel
relaxed and show where I'm at." One listen to Personal Reflections, and listeners will
be more than willing to join the party.