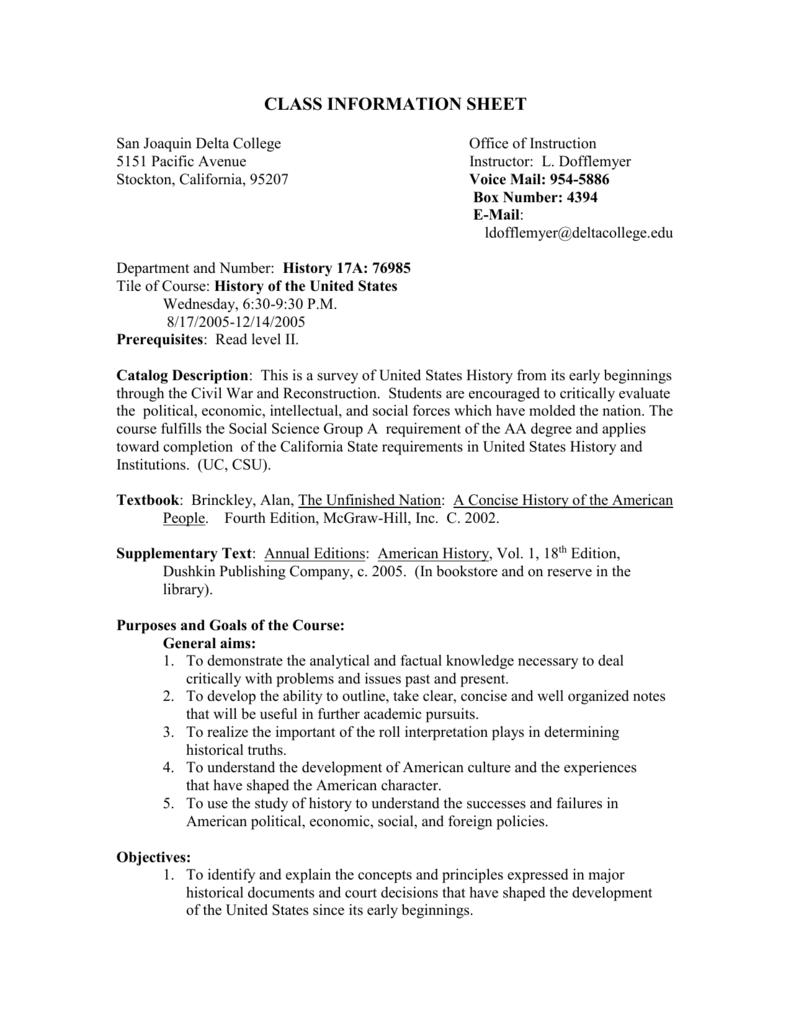 CLASS INFORMATION SHEET
San Joaquin Delta College
5151 Pacific Avenue
Stockton, California, 95207
Office of Instruction
Instructor: L. Dofflemyer
Voice Mail: 954-5886
Box Number: 4394
E-Mail:
[email protected]
Department and Number: History 17A: 76985
Tile of Course: History of the United States
Wednesday, 6:30-9:30 P.M.
8/17/2005-12/14/2005
Prerequisites: Read level II.
Catalog Description: This is a survey of United States History from its early beginnings
through the Civil War and Reconstruction. Students are encouraged to critically evaluate
the political, economic, intellectual, and social forces which have molded the nation. The
course fulfills the Social Science Group A requirement of the AA degree and applies
toward completion of the California State requirements in United States History and
Institutions. (UC, CSU).
Textbook: Brinckley, Alan, The Unfinished Nation: A Concise History of the American
People. Fourth Edition, McGraw-Hill, Inc. C. 2002.
Supplementary Text: Annual Editions: American History, Vol. 1, 18th Edition,
Dushkin Publishing Company, c. 2005. (In bookstore and on reserve in the
library).
Purposes and Goals of the Course:
General aims:
1. To demonstrate the analytical and factual knowledge necessary to deal
critically with problems and issues past and present.
2. To develop the ability to outline, take clear, concise and well organized notes
that will be useful in further academic pursuits.
3. To realize the important of the roll interpretation plays in determining
historical truths.
4. To understand the development of American culture and the experiences
that have shaped the American character.
5. To use the study of history to understand the successes and failures in
American political, economic, social, and foreign policies.
Objectives:
1. To identify and explain the concepts and principles expressed in major
historical documents and court decisions that have shaped the development
of the United States since its early beginnings.
2.
To demonstrate an understanding of the major economic, social, and
political concepts from the colonial period through 1865.
3. To demonstrate an understanding of the role of American foreign policy in
shaping World affairs.
4. To understand and explain the accomplishments and contributions of
outstanding historical personalities.
5. Demonstrate the ability to analyze the causes and effects of major movements,
events, and wars involving the United States.
Obligation of the Student:
1. This course "requires a minimum of three hours of work per week for each
unit of credit."
2. Attend class sessions, take notes, and participate in class discussions.
3. Read assigned chapters from text by assigned date, and read assigned essays
from Annual Editions.
4. Write 2 short papers or one term paper.
5. Take unannounced quizzes, midterm examinations, and the final Examination.
6. Maintain good attendance.
UNANNOUNCED QUIZZES OR WRITINGS COULD TAKE PLACE AT ANY
TIME DURING THE CLASS SESSION.
SOCIAL SCIENCE DIVISION
CLASSROOM EXPECTATIONS
It is expected that students in all Social Science Division classes will:
-be attentive, and participate in all instructional activities.
-be courteous to people with different perspectives and values.
-be on time.
-not leave early without instructor permission.
-not disrupt class sessions by inappropriate behavior.
-not cheat on assignments or examinations.
-not engage in plagiarism.
-not eat, drink, or smoke in the classroom.
COURSE CONTENT: The course is divided into four major chronological sections.
I.
Colonial Period to the Founding of the New Nation. Pp. 1-126.
II
Launching the New Republic.
Pp. 155-216.
III.
Nationalism and Sectionalism.
Pp. 218-398.
IV.
Civil War and Reconstruction.
Pp. 401-450.
APPROXIMATE DATE FOR EXAMINATIONS:
First Midterm Examination: Wednesday, September 14, 2005.
Second Midterm Examination: Wednesday, October 19, 2005.
Comprehensive Final Examination: Wednesday, December 14, 2005
(6:00-7:50 P.M.)
PAPER DEADLINES:
First short paper due: Wednesday , September 21, 2005.
Second short paper or Term Paper due: Wednesday, October 26, 2005
METHOD OF EXALUATION:
The student's final grade will be based on the percentage of points
earned out of the maximum possible points according to the following table:
PERCENTAGE
90%-100%
80%- 89%
65%- 79%
50%- 64%
0%- 49%
Midterm:
Quizzes
30%
4%
GRADE
A
B
C
D
F
Papers
Final
26%
40%
Points are earned through unannounced quizzes and class activities, the
midterm, the paper, quizzes, and the final examination.
NO MAKE-UP EXAMIANTIONS ARE GIVEN.
IMPORTANT NOTE:
The last day to drop course WITHOUT a "W" is. September 9, 2005.
The last day to drop course WITH a "W" is: November 15, 2005.
After November 15, 2005, you MUST take a letter grade.
Last date to drop with a refund is: August 26, 2005.
IT IS THE RESPONSIBILITY OF THE STUDENT TO DROP THE
COURSE
If you are still registered in the class after November 15, 2005, a letter grade
MUST be given.
Cell Phones: Please keep cell phones turned off and put away at all times during
class. If you are expecting a call, go outside until you receive the call. A
ringing cell phone is a class disturbance.
ATTENDANCE REGULATIONS:
According to Policy 5150, "Any student who fails to attend any class
session during the first three sessions of the class at the beginning of a term
will be dropped from the class unless the student has advised and obtained
an absence approval from the instructor.
(If unable to attend, please leave me a voicemail or E-mail message).
PAPERS:
Book Review: The reviews MUST be a minimum of 800 words in length, MUST be
typed double spaced, or written neatly in ink. NO PENCIL. A guideline will
be given you. THE FORMAT MUST BE FOLLOWED.
Short Research Paper: Papers MUST be a minimum of 800 words in length, MUST
use at least two sources, MUST be typed double spaced, or neatly written in ink.
A guideline for writing historical papers will be given you.
Term Paper: Papers MUST be a minimum of 1500 words in length, MUST use a
minimum of four sources, MUST be fully documented (Citations in the
text of the paper, and a complete bibliography). MUST be typed doublespaced, or neatly written in ink. A guideline for writing
term papers will be given you.
To earn full credit, papers MUST be turned in on time. The
highest grade a late paper may receive in a "C."
COURSE ASSIGNMENTS:
Chapter 1: The meeting of Cultures. Pages: 1-25.
Article 1: "Island Hopping to the New World," Page 3.
Article 2 "1491," Page 5.
Chapter 2: The English "Transplantations." Pages 28-58.
Article 3: "Slavery in the Lower South. Page 16.
Article 4: "Pocahontas," Page 20.
Article 6: "Instruments of Seduction: A Tale of Two Women," Page 22..
Chapter 3: Society and Culture in Provincial America. Pages 60-91.
Article 7: "Penning a Legacy," Page 32.
Article 8 "Blessed and Bedeviled." Page 34.
Chapter 4: The Empire Under Strain. Pages 94-120.
Article 9: "Roots of Revolution." Page 38
Article 10: "The American Self," Page 42.
Article 11: "Ben Franklin's Scientific Amusements." Page 48.
Chapter 5. The American Revolution. Pages 122-152.
Article 15: "Hamilton Takes Command," Page 75.
Article 16: "Winter of Discontent," Page 80.
Chapter 6: The Constitution and the New Republic. Pages 155-177.
Article 13: "Founding Friendship: Washington, Madison, and
The Creation of the American Republic," Page 59.
Chapter 7: The Jefferson Era.
Pages 180-215.
Article 19 "The First Democrats," Page 96.
Article 20: "The Revolution of 1803: Page 99.
Article 21: "Brains and Brawn: The Lewis and Clark Expedition,"
Page 103.
Chapter 8. Varieties of American Nationalism. Pages 218-240.
Chapter 9: Jacksonian America Pages: 242-270.
Article 23: "Andrew Jackson vs. The Cherokee Nation," Page 111.
Article 24: "New Horizons For the American West," Page 117.
Chapter 10: Americas Economic Revolution. Pages 272-308.
Chapter 11: Cotton, Slavery, and the Old South. Pages 310-335.
Article 22: "African Americans in the Early Republic." Page 106.
Chapter 12: Antebellum Culture and Reform. Pages 337-362.
Article 25: "The Great Famine," Page 122.
Chapter 13: The Impending Crisis. Pages 364-398.
Article 26: "James K. Polk and the Expansionist Sprit," Page 127.
Chapter 14: The Civil War. Pages 401-439.
Article 29: "The Doom of Slavery:" Page 143.
Article 33: "A Gallant Rush for Glory," Page 165
Article 34: "Between Honor and Glory." Page 170..
Article 35: "Absence of Malice," Page 181.
Article 36: "America's Birth at Appomattox," Page 189.
Chapter 15: Reconstruction and the New South. Pages 442-450.