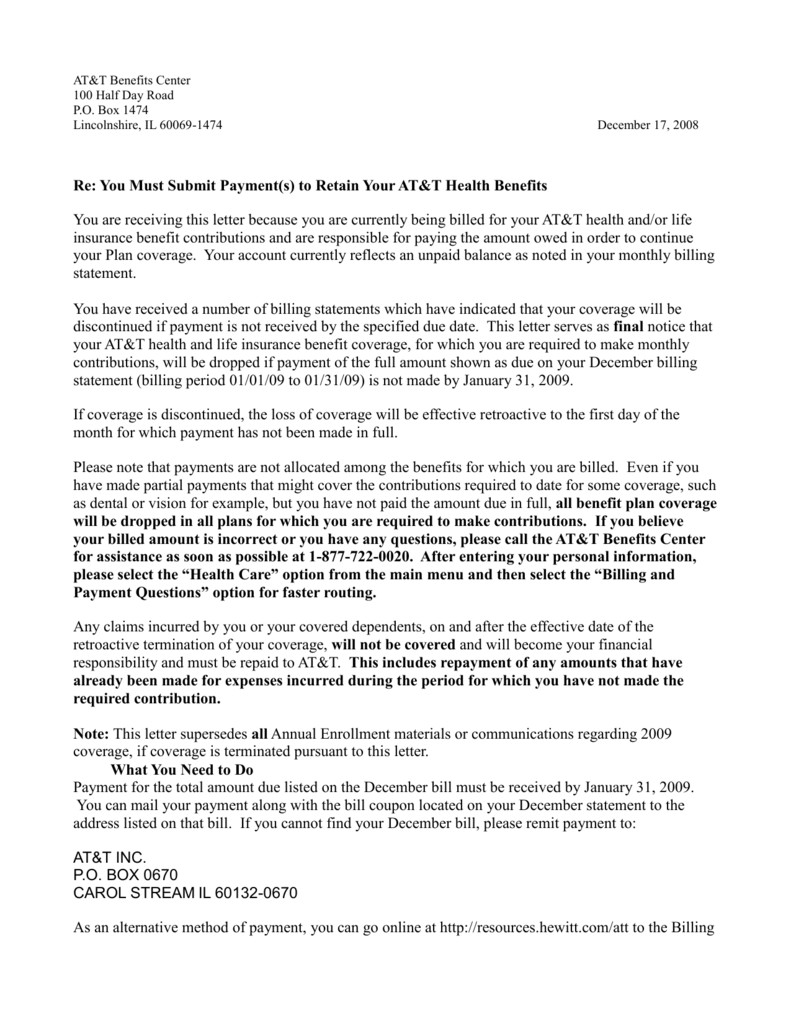 AT&T Benefits Center
100 Half Day Road
P.O. Box 1474
Lincolnshire, IL 60069-1474
December 17, 2008
Re: You Must Submit Payment(s) to Retain Your AT&T Health Benefits
You are receiving this letter because you are currently being billed for your AT&T health and/or life
insurance benefit contributions and are responsible for paying the amount owed in order to continue
your Plan coverage. Your account currently reflects an unpaid balance as noted in your monthly billing
statement.
You have received a number of billing statements which have indicated that your coverage will be
discontinued if payment is not received by the specified due date. This letter serves as final notice that
your AT&T health and life insurance benefit coverage, for which you are required to make monthly
contributions, will be dropped if payment of the full amount shown as due on your December billing
statement (billing period 01/01/09 to 01/31/09) is not made by January 31, 2009.
If coverage is discontinued, the loss of coverage will be effective retroactive to the first day of the
month for which payment has not been made in full.
Please note that payments are not allocated among the benefits for which you are billed. Even if you
have made partial payments that might cover the contributions required to date for some coverage, such
as dental or vision for example, but you have not paid the amount due in full, all benefit plan coverage
will be dropped in all plans for which you are required to make contributions. If you believe
your billed amount is incorrect or you have any questions, please call the AT&T Benefits Center
for assistance as soon as possible at 1-877-722-0020. After entering your personal information,
please select the "Health Care" option from the main menu and then select the "Billing and
Payment Questions" option for faster routing.
Any claims incurred by you or your covered dependents, on and after the effective date of the
retroactive termination of your coverage, will not be covered and will become your financial
responsibility and must be repaid to AT&T. This includes repayment of any amounts that have
already been made for expenses incurred during the period for which you have not made the
required contribution.
Note: This letter supersedes all Annual Enrollment materials or communications regarding 2009
coverage, if coverage is terminated pursuant to this letter.
What You Need to Do
Payment for the total amount due listed on the December bill must be received by January 31, 2009.
You can mail your payment along with the bill coupon located on your December statement to the
address listed on that bill. If you cannot find your December bill, please remit payment to:
AT&T INC.
P.O. BOX 0670
CAROL STREAM IL 60132-0670
As an alternative method of payment, you can go online at http://resources.hewitt.com/att to the Billing
Information section. In the Billing Information section, there is a "Pay Now" option to make an online
payment from a checking or savings account.
For More Information
If you have questions, call the AT&T Benefits Center toll-free at 1-877-722-0020 (domestic) or +1847-883-0866 (international). AT&T Benefits Center Service Representatives are available between 7
a.m. and 7 p.m. Central time, Monday through Friday.
Sincerely,
AT&T Benefits Center
This document was written for easy readability. Therefore, it may contain generalizations and informal language, such as
"AT&T employees," rather than precise legal terms. Also, this document only summarizes benefits, and individual situations
may vary. For full details, including eligibility, you should consult the summary plan descriptions, summaries of material
modifications or the official plan documents. In all cases, the official plan documents govern and are the final authority on
the terms of the plans. AT&T reserves the right to terminate or amend any and all benefits plans, subject to applicable
bargaining agreements. Participation is neither a contract nor a guarantee of future employment.