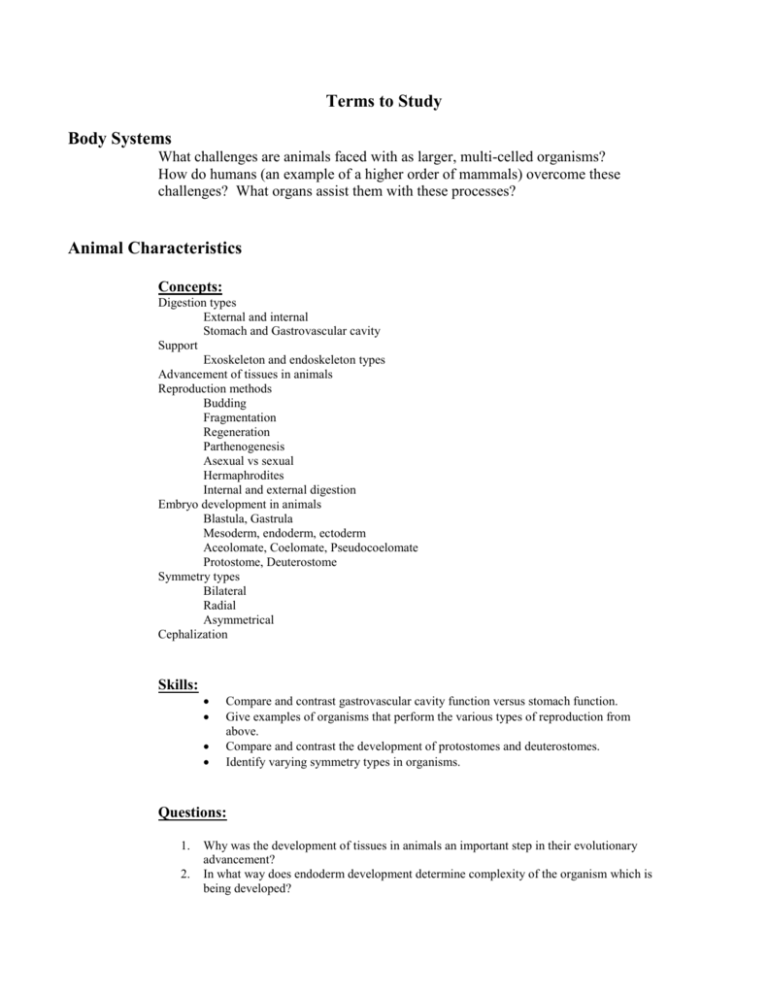 Terms to Study
Body Systems
What challenges are animals faced with as larger, multi-celled organisms?
How do humans (an example of a higher order of mammals) overcome these
challenges? What organs assist them with these processes?
Animal Characteristics
Concepts:
Digestion types
External and internal
Stomach and Gastrovascular cavity
Support
Exoskeleton and endoskeleton types
Advancement of tissues in animals
Reproduction methods
Budding
Fragmentation
Regeneration
Parthenogenesis
Asexual vs sexual
Hermaphrodites
Internal and external digestion
Embryo development in animals
Blastula, Gastrula
Mesoderm, endoderm, ectoderm
Aceolomate, Coelomate, Pseudocoelomate
Protostome, Deuterostome
Symmetry types
Bilateral
Radial
Asymmetrical
Cephalization
Skills:




Compare and contrast gastrovascular cavity function versus stomach function.
Give examples of organisms that perform the various types of reproduction from
above.
Compare and contrast the development of protostomes and deuterostomes.
Identify varying symmetry types in organisms.
Questions:
1.
2.
Why was the development of tissues in animals an important step in their evolutionary
advancement?
In what way does endoderm development determine complexity of the organism which is
being developed?
3.
Use the three Phylums of worms to explain the three types of coelome development.
Sponges/Porifera
Concepts:
Structure
Osculum
Spicules
Cellular structure
Porocytes
Choanocytes
Ameobocytes
Sponge symmetry
Sponge reproductive cycle
Asexual and sexual
Sponge reading
Sponges are the base of the tree of life based on DNA sequencing
Sponges are more closely related to fungi than plants
Sponge coelome development and its implications for tissue development
Skills:



Determine how the sponge structure allows it to do the following things: excrete
waste, digest food, collect food, reproduce, support its body, circulate foods
throughout its body.
ID a sponge under a microscope based on spicules.
Explain water flow through a sponge.
Questions:
1.
2.
3.
What is the difference between the three classes of sponges?
What characteristics specifically make sponges the most primitive of animals?
Why does poor water quality have a major effect on sponges?
Cnidarians
Concepts:
Medusa Structure
Bell
Ring Canal
Gastrovascular cavity
Tentacles
Oral arms
Gonads
Polyp structure
Retractor muscle
Gastrovascular cavity
Gonads
Cellular structure
Cnidocytes
Nematocysts
Cnidarian symmetry
Nerve net in cnidarians
Cnidarian reproductive cycle
Asexual and sexual
Jellyfish reproduction as a focus (strobilus and ephyra development)
Cnidarian coelome development and its implications for tissue development
Hydrozoa
Anthozoa
Scyphozoa
Man-o-war jellyfish
Box jellyfish
Bioluminescence importance in cnidarians
Zooxanthellae
Coral bleaching
Obelia
Skills:






ID polyp and medusa stages of cnidarians and explain the similarities and differences.
Explain the feeding responses and digestion in cnidarians.
Explain the action of the cnidocyte.
ID ancient cnidarian fossils and explain the appearance of Iowa when they lived.
Compare and contrast hard and soft corals.
Questions:
1.
2.
3.
In what way can the ring canal be considered a circulatory system?
What is coral bleaching and what factors are leading to it?
In what ways are cnidarians more advanced than sponges?