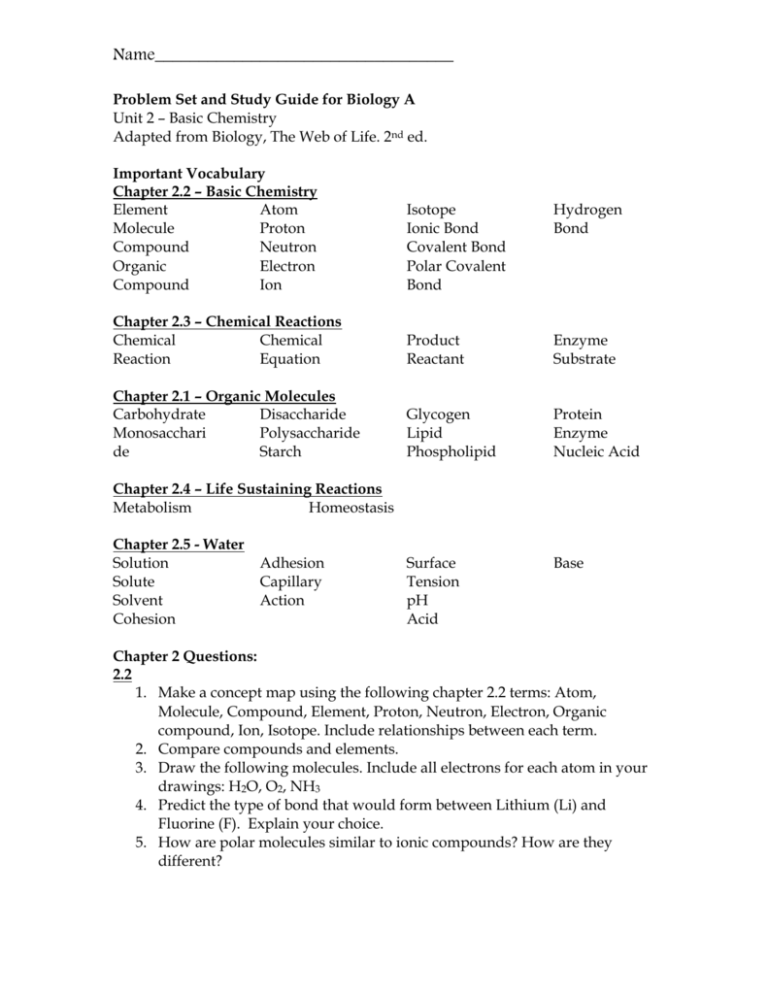 Name__________________________________
Problem Set and Study Guide for Biology A
Unit 2 – Basic Chemistry
Adapted from Biology, The Web of Life. 2nd ed.
Important Vocabulary
Chapter 2.2 – Basic Chemistry
Element
Atom
Molecule
Proton
Compound
Neutron
Organic
Electron
Compound
Ion
Isotope
Ionic Bond
Covalent Bond
Polar Covalent
Bond
Hydrogen
Bond
Chapter 2.3 – Chemical Reactions
Chemical
Chemical
Reaction
Equation
Product
Reactant
Enzyme
Substrate
Chapter 2.1 – Organic Molecules
Carbohydrate
Disaccharide
Monosacchari
Polysaccharide
de
Starch
Glycogen
Lipid
Phospholipid
Protein
Enzyme
Nucleic Acid
Surface
Tension
pH
Acid
Base
Chapter 2.4 – Life Sustaining Reactions
Metabolism
Homeostasis
Chapter 2.5 - Water
Solution
Solute
Solvent
Cohesion
Adhesion
Capillary
Action
Chapter 2 Questions:
2.2
1. Make a concept map using the following chapter 2.2 terms: Atom,
Molecule, Compound, Element, Proton, Neutron, Electron, Organic
compound, Ion, Isotope. Include relationships between each term.
2. Compare compounds and elements.
3. Draw the following molecules. Include all electrons for each atom in your
drawings: H2O, O2, NH3
4. Predict the type of bond that would form between Lithium (Li) and
Fluorine (F). Explain your choice.
5. How are polar molecules similar to ionic compounds? How are they
different?
Name__________________________________
6. Read the "Lab Zone" section on page 39 of your text. Answer questions 1-3 in the
lab zone.
7. The three boxes below are part of the periodic table. From the information in the
boxes, answer the following questions:
a. What is the name and chemical symbol of each element?
b. What is the atomic number of each element?
c. What is the atomic mass of each element?
d. How many protons, and electrons are found in an atom of this element?
e. How many neutrons are found in the most common isotope of this
element?
6
7
8
C
N
O
12.011
14.007
15.999
2.3
1. Summarize what happens during a chemical reaction.
2. Give 2 examples of chemical reactions. What evidence tells you that a chemical
reaction is occurring?
3. Make a labeled drawing that shows how an enzyme works.
4. Why are enzymes important to living cells?
5. The graph below shows enzyme activity over a range of temperature. Describe
the results at each temperature. Explain why you think these results were
obtained.
2.1
1. List and briefly describe 6 different
functions of protein.
2. Make and fill in a chart describing the 4
main types of organic molecules. For each type,
list building blocks, function, and examples.
3. Which type of organic compound contradicts
water's reputation as a "universal solvent"? Give a
specific example to support your answer.
2.4
1. Explain how each of the major life processes is dependent on chemical reactions.
2. Define the term metabolism in your own words.
2.5
1. List and explain the properties of water that support life.
2. Give 2 examples of acids and 2 examples of bases.
3. Into what range on the pH scale do acids fall? Bases?