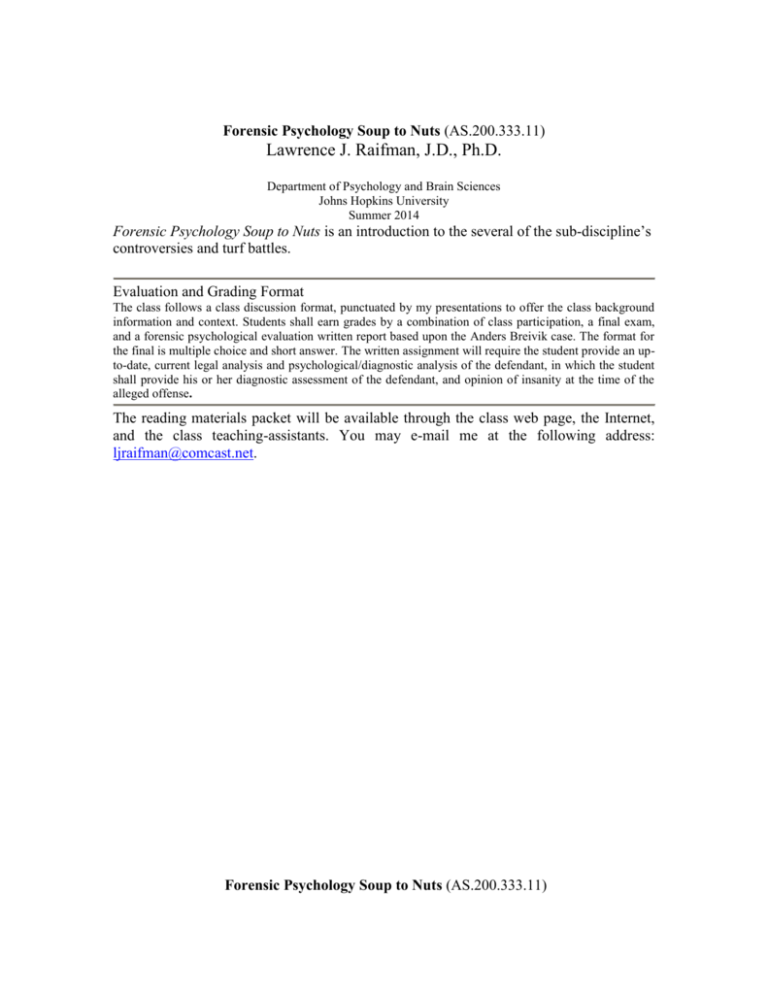 Forensic Psychology Soup to Nuts (AS.200.333.11)
Lawrence J. Raifman, J.D., Ph.D.
Department of Psychology and Brain Sciences
Johns Hopkins University
Summer 2014
Forensic Psychology Soup to Nuts is an introduction to the several of the sub-discipline's
controversies and turf battles.
Evaluation and Grading Format
The class follows a class discussion format, punctuated by my presentations to offer the class background
information and context. Students shall earn grades by a combination of class participation, a final exam,
and a forensic psychological evaluation written report based upon the Anders Breivik case. The format for
the final is multiple choice and short answer. The written assignment will require the student provide an upto-date, current legal analysis and psychological/diagnostic analysis of the defendant, in which the student
shall provide his or her diagnostic assessment of the defendant, and opinion of insanity at the time of the
alleged offense.
The reading materials packet will be available through the class web page, the Internet,
and the class teaching-assistants. You may e-mail me at the following address:
ljraifman@comcast.net.
Forensic Psychology Soup to Nuts (AS.200.333.11)
Page 2 of 5
Forensic Psychology Soup to Nuts
Lawrence J. Raifman, J.D., Ph.D.
Johns Hopkins University
Department of Psychological & Brain Sciences
Summer 2014
SUMMER SEMESTER SCHEDULE
I.
Introduction
1. Introduction to our class project: Evaluating Andres Breivik
2. What is forensic psychology? How does it differ from clinical psychology?
Jonas Rappeport, "Differences between forensic and general psychiatry,"
American Journal of Psychiatry, Vol 139, p. 331-5, March 1982.
Diagnostic and Statistical Manual of Mental Disorders, Fourth Edition
Revised
3. How to read a legal opinion, how to evaluate a legal standard.
Star v. Kentucky (Kentucky Supreme Court decision)
American Law Institute Test for Criminal Responsibility
4. Targeting the mentally ill: Should mentally ill persons be permitted to purchase
guns?
Joseph R. Stimpson, "Bad Risk? An overview of laws prohibiting possession
of firearms by individuals with a history of treatment for mental illness,
Journal American Academy of Psychiatry & Law, Volume 35, p. 330-8, 2007.
Virginia Firearms purchase eligibility Test
Matthew Barakat, "Rules should have barred weapon purchase," Washington
Post, April 20, 2007
II.
Punishment v. Coercing Rehabilitation
1. Policy analysis: Should Mentally ill defendants who commit crimes require
punishment or treatment?
D. J. Jaffe, "The Trouble with the Insanity Defense," Wall Street Journal,
March 25 2010.
Yuval Melamed, "Mentally ill persons who commit crimes: punishment or
treatment?" Journal of the American Academy of Psychiatry & Law, Volume
38, p. 100-3, 2010.
2. Appropriateness of "Guilty but Mentally Ill."
3. Death penalty and competency to be executed: a problem of favored diagnoses.
Richard Blanks & Debra A. Pinals. "Competency to be executed." Journal of
the American Academy of Psychiatry & Law, Volume 35, p. 381-5, 2007.
Page 3 of 5
Forensic Psychology Soup to Nuts
4. Inventing diagnoses for civil commitment of rapists
Thomas K Zander, "Commentary: Inventing Diagnosis for civil commitment
of rapists," Journal of the American Academy of Psychiatry & Law, Volume
36, p. 459-69, 2008.
5. The case of civil commitment of children----rehabilitation or punishment?
Thomas S. Szasz, "American Association for the abolition of involuntary
mental hospitalization," Letters to the Editor, American Journal of Psychiatry,
Vol 127, p. 134, June 1971.
Judge David Bazelon Center for Mental Health Law, Position Statement on
Involuntary Commitment, http://bazelon.org.gravitatehosting.com/Where-WeStand/Self-Determination/Forced-Treatment/Outpatient-and-CivilCommitment.aspx
6. Mass murder/suicide on university and high school campuses
1. Columbine High School massacre
2. Kip Kinkel, the killer at Thurston High, see PBS special
3. Cho, the Virginia Tech shooter
7. Compelling eating disorder treatment: is outpatient civil commitment
applicable?
Jacinta Tan, Anne Stewart, Raymond Fitzpatrick, Tony Hope, "Attitudes of
patients with anorexia nervosa to compulsory treatment and coercion,"
International Journal of Law and Psychiatry, Vol 33, p. 13-19, 2010.
III.
Insanity Defense Applications
1. Yates and Laney, post partum psychosis, mothers who kill their children in
Texas
2. Involuntary Intoxication, and Idiosyncratic Intoxication (pathological
intoxication); Final Analysis Film, Settled psychosis (Porreca v. State 433
A.2d
1204; Md. 1981,
3. Jeffrey Dahmer: sexual disorder and insanity
4. Battered Spouse, Battered Child syndrome
http://www.crimelibrary.com/notorious_murders/famous/menendez/index_1.html
Bobbitt case, and Iben Thamas v. U.S., 407 A.2nd 626, D.C. 1979, Remanded 455
A.2nd 893, 1983
5. Pathological gambling
6. Patty Hearst, Stockholm syndrome
7. Erotomania and Stalking (Stephen Spielberg and John Lennon stalkers)
8. Dissociative Disorders, (State v. Grimsley, 444 NE2nd 1071, 982)
IV.
Historic and current turf battles between doctors and lawyers when dealing with
fundamentalist religious ideology, political extremism, delusional thinking, and
criminality
1. Introduction: Rape Trauma Syndrome/False Memory Syndrome (Allewalt v.
Maryland, 517 A.2d 741, Md. Ct. App. 1986, Baby case, 2007)
Page 4 of 5
Forensic Psychology Soup to Nuts
2. Historic Cases
a. Dan Sickles kills his wife's paramour Mr. Key; Ezra Pound case
Sam Roberts, "Sex, politics, and murder on the Potomac," New York Times,
March 1, 1992.
Daniel Sickles Trial: 1859 - Cold-blooded Murder Or Justifiable Homicide?
http://law.jrank.org/pages/2552/Daniel-Sickles-Trial-1859-Cold-BloodedMurder-or-Justifiable-Homicide.html
b. Historic backdrop: John Brown's insurrection
Robert M De Witt, publisher, "The life, trial, and execution of Captain John
Brown, The Avalon Project, Yale Law School,
http://avalon.law.yale.edu/19th_century/john_brown.asp
c. Presidential assassins: McKinley and Reagan
i. McKinley's assassination
Mark Gado, "The Assassination of President William McKinley,
http://www.trutv.com/library/crime/terrorists_spies/assassins/mckinley/3.htm
l
ii. John W. Hinckley assassination attempt on President Reagan
2. Ted Kaczynski's terror campaign against technology
3. John Salvi's terrorist campaign against abortion clinics
Chip Berlet, "John Salvi Abortion Clinic Violent and Catholic Right
Conspiracism: The Politics of John Salvi's Conspiracy Theories,"
http://www.publiceye.org/rightist/sal vi.ht ml , March 19, 1996.
PBS Frontline, "Murder on Abortion Row, John Salvi and the Insanity
Defense, Jhttp://www.pbs.org/wgbh/pages/frontline/salvi/
4. Ron and Dan Lafferty, double murder in the name of God
Jon Krakauer, Under the Banner of Heaven: A story of violent faith,
Doubleday, 2005.
5. Mitchell's rape and abduction of Elizabeth Smart
6. Abdul Rahman, the Afghan Christian
V.
Case studies
1. Sgt. Hasan Akbar
The 2005 case at Fort Bragg, N.C., case of Sgt. Hasan Akbar was convicted and
sentenced to death for the attack upon members of the 101st Airborne Division at
Camp Pennsylvania in Kuwait. Two officers were killed and 14 other soldiers were
wounded in the rifle and grenade attack. Akbar attacked his fellow soldiers days
before the soldiers were to move into Iraq — because he was concerned about U.S.
troops killing fellow Muslims. A defense psychiatrist testified that Akbar suffered
from psychiatric illness, paranoia and schizophrenia symptoms, but was legally sane.
Page 5 of 5
Forensic Psychology Soup to Nuts
2. Zacarias Moussaoui, the 20th hijacker of 9/11
The case of Zacarias Moussaoui, trained in Afghanistan with al Qaeda, who came to
American in 2001 and learned to fly airplanes in Minnesota, he was arrested prior to 9/11 in
August 2001. The defendant was found to be qualified for the death penalty as a conspirator
to 9/11, a claim that Moussaoui agreed to, indicating that he was planning to fly a plane into
the White House. His defense team asserted he was mentally ill and insane. He alleged that
his father abused him when he was a child in France. In court, he shouted, "Crazy or not
crazy? That is the question." Was he delusional, schizophrenic or someone seeking
martyrdom?
3. Maj Nidal Hasan, the Ft. Hood massacre
The prosecution of Maj. Nidal Hasan, charged with 13 counts of premeditated murder
and 32 counts of attempted premeditated murder in the Nov. 5 shooting on the Fort
Hood Texas Army post. The Defendant Hasan was initially hospitalized in a San
Antonio military hospital, being treated for injuries sustained by gunshot wounds that
left him paralyzed.
VI.
Class Project: Andres Breivik
The strength of the university depends on academic and personal integrity. In this course,
you must be honest and truthful. Ethical violations include cheating on exams, plagiarism,
reuse of assignments, improper use of the Internet and electronic devices, unauthorized
collaboration, alteration of graded assignments, forgery and falsification, lying, facilitating
academic dishonesty, and unfair competition.
Report any violations you witness to the instructor. You may consult the associate dean of
students and/or the chairman of the Ethics Board beforehand. See the guide on "Academic
Ethics for Undergraduates" and the Ethics Board web site (http://ethics.jhu.edu) for more
information.