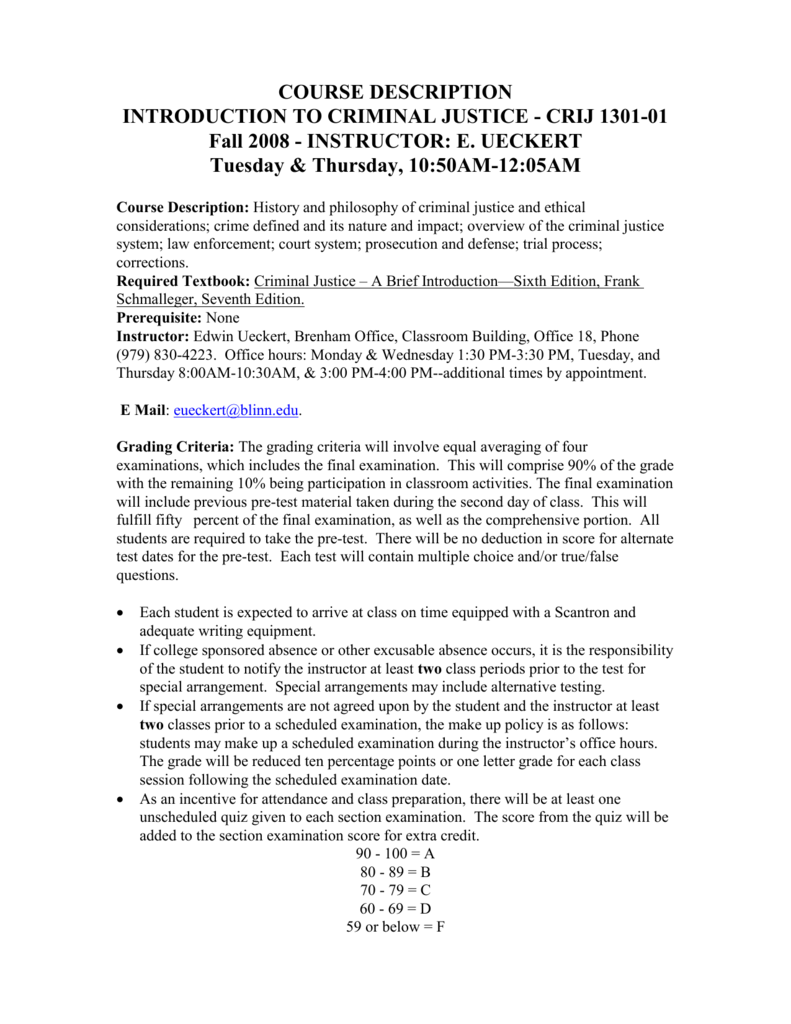 COURSE DESCRIPTION
INTRODUCTION TO CRIMINAL JUSTICE - CRIJ 1301-01
Fall 2008 - INSTRUCTOR: E. UECKERT
Tuesday & Thursday, 10:50AM-12:05AM
Course Description: History and philosophy of criminal justice and ethical
considerations; crime defined and its nature and impact; overview of the criminal justice
system; law enforcement; court system; prosecution and defense; trial process;
corrections.
Required Textbook: Criminal Justice – A Brief Introduction—Sixth Edition, Frank
Schmalleger, Seventh Edition.
Prerequisite: None
Instructor: Edwin Ueckert, Brenham Office, Classroom Building, Office 18, Phone
(979) 830-4223. Office hours: Monday & Wednesday 1:30 PM-3:30 PM, Tuesday, and
Thursday 8:00AM-10:30AM, & 3:00 PM-4:00 PM--additional times by appointment.
E Mail: [email protected]
Grading Criteria: The grading criteria will involve equal averaging of four
examinations, which includes the final examination. This will comprise 90% of the grade
with the remaining 10% being participation in classroom activities. The final examination
will include previous pre-test material taken during the second day of class. This will
fulfill fifty percent of the final examination, as well as the comprehensive portion. All
students are required to take the pre-test. There will be no deduction in score for alternate
test dates for the pre-test. Each test will contain multiple choice and/or true/false
questions.




Each student is expected to arrive at class on time equipped with a Scantron and
adequate writing equipment.
If college sponsored absence or other excusable absence occurs, it is the responsibility
of the student to notify the instructor at least two class periods prior to the test for
special arrangement. Special arrangements may include alternative testing.
If special arrangements are not agreed upon by the student and the instructor at least
two classes prior to a scheduled examination, the make up policy is as follows:
students may make up a scheduled examination during the instructor's office hours.
The grade will be reduced ten percentage points or one letter grade for each class
session following the scheduled examination date.
As an incentive for attendance and class preparation, there will be at least one
unscheduled quiz given to each section examination. The score from the quiz will be
added to the section examination score for extra credit.
90 - 100 = A
80 - 89 = B
70 - 79 = C
60 - 69 = D
59 or below = F
Learning Objectives: After reading the correlating chapters in the text, listening and
responding to classroom lectures and activities, and through independent study, students
will achieve the objectives below with at least 60% accuracy as demonstrated on written
examinations and classroom exercises.
A.
Students will understand the scope of the study of the criminal justice system;
identify the various criminal justice agencies and forces inside and outside of the
system which impact it; the constitutional context; the systems paradigm; crime
control and due process.
B.
Students will be able to describe the nature of crime and criminals; categories of
crime; list major crime theories; discuss the problem of measuring crime; identify
crime trends; and understand the impact of crime on victims and victims' rights
issues.
C.
Students will understand the fundamental principles of criminal law;
classifications of criminal law; criminal law procedure; social theories of criminal law
and procedure; and some political issues of criminal law and procedure.
D.
Students will understand the role and functions of law enforcement; history of
police, its nature and structure; and be able to contrast some realities of police work
with some myths about it.
E.
Students will be able to explain the impact of constitutional principles on police,
the law and its enforcement including issues such as arrest, searches, interrogation,
stop and frisk, and enforcing constitutional standards.
F.
Students will understand the nature of certain issues in police work such as the
police working personality, training and education, women and minority officers,
police misconduct, and police stress.
G.
Students will be able to describe the criminal court system and courtroom work
groups including its structure and functions; and characterize the role of judges,
prosecutors, and defense attorneys.
H.
Students will be able to explain the basic issues during the trial and/or disposition
by guilty plea phase.
I.
Students will be able to understand the history of sentencing, sentencing authority,
sentencing models, determinants of sentencing, the role of the pre-sentence
investigation and be able to list and discuss various types of sentencing, criticisms and
reforms, and understand the various issues surrounding the death penalty.
J.
Students will be able to identify imprisonment trends and understand the history
of American prisons; will be able to discuss issues involving prisoners, prisons and
jails.
K.
Students will describe the structure of prison management, the nature of prison
society, the impact of prison violence and the nature of prison programs; will
understand the problem of prison overcrowding.
L.
Students will discuss various prisoner litigation issues including prisoner's rights,
reforms, and grievance mechanisms.
M.
Students will describe the role of probation, parole, and intermediate sanctions
and various issues associated with these fields.
N.
Students will become familiar with the juvenile justice system including its
history, the nature of delinquency, and the contrasts between the juvenile and adult
systems.
Attendance Policy:
Attendance Policy:
The College District believes that class attendance is essential for student success; therefore, students are
required to promptly and regularly attend all their classes. Each class meeting builds the foundation for
subsequent class meetings. Without full participation and regular class attendance, students shall find
themselves at a severe disadvantage for achieving success in college. Class participation shall constitute at
least ten percent of the final course grade. It is the responsibility of each faculty member, in consultation
with the division chair, to determine how participation is achieved in his or her class. Faculty will require
students to regularly attend class and will keep a record of attendance from the first day of class and/or the
first day the student's name appears on the roster through final examinations. If a student has one week's
worth of unexcused absences during the semester, he/she will be sent an e-mail by the College requiring the
student to contact his/her instructor and schedule a conference immediately to discuss his/her attendance
issues. Should the student accumulate two weeks worth of unexcused absences, he/she will be
administratively withdrawn from class.
Students are expected to attend all classes—regular class attendance is a factor in success
at Blinn College. The instructor will keep an accurate record of each student's
attendance. If a student comes to class late, it is their responsibility to inform the
instructor at the end of the class period
It is the student's responsibility to officially drop a class s/he is no longer attending. To
officially drop a class the student must obtain the class withdrawal form from the Office
of Admissions and Records in the Administration Building. Failure to do so will result in
a grade of "F" for the course.
Purpose Statement: Blinn College teaches Technical Education courses to enable
students to enter the work force after completing a one-year certificate or a two-year
degree program. The Criminal Justice Program is designed for individuals seeking
careers with public or private agencies concerned with social welfare, public safety, law
enforcement and/or corrections. In addition, it prepares the student for transfer to a
baccalaureate level criminal justice program. Criminal Justice 1301 – Introduction to
Criminal Justice is offered as an introductory level course with emphasis on the entire
criminal justice system, its inner workings, and its effects on society and the individual.
Disability Resources Services: Blinn College has attempted to make its facilities
available to physically disabled students by providing parking spaces, ramps, accessible
rest room facilities, elevators, etc. The college's faculty and staff have worked closely
with students with disabilities to meet their particular needs. Blinn College does not
discriminate against qualified individuals with disabilities in the recruitment and
admission of students, the recruitment and employment of faculty and staff, and the
operation of any of its programs and activities, as specified by applicable federal laws and
regulations. The designated Coordinator for Blinn College's compliance Act of 1990 is
Patricia E. Moran, M. Ed., 902 College Avenue, Brenham, TX 77833, (979) 830-4157.
Students with documented disabilities may seek support from Blinn College's Offices of
Disability Services. These students should contact this office early so they can receive
the assistance needed while attending college. For services on the Brenham campus, call
(979) 830-4157, and for the Bryan Campus, call (979) 821-0258.
Civility Statement: Members of the Blinn College community, which includes faculty,
staff and students, are expected to act honestly and responsibly in all aspects of campus
life. Blinn College holds all members accountable for their actions and words.
Therefore, all members should commit themselves to behave in a manner that recognizes
personal respect and demonstrates concern for the personal dignity, rights, and freedoms
of every member of the College community, including respect for College property and
the physical and intellectual property of others. If a student is asked to leave the
classroom because of uncivil behavior, the student may not return to that class until he or
she arranges a conference with the instructor: it is the student's responsibility to arrange
for this conference.
Student Responsibilities: All the functions of all personal electronic devices designed
for communication and/or entertainment (cell phones, pagers, beepers, iPods, and similar
devices) must be turned off and kept out of sight in all Blinn College classrooms and
associated laboratories. Any noncompliance with this policy will be addressed with the
Blinn College civility policy (Administrative Policy). Additionally, any communication
understood by the instructor to be in the nature of cheating will have consequences in
accordance with the Blinn College policy section regarding academic dishonesty.
Students exempted from this policy section include, active members of firefighting
organizations, emergency medical services organizations, commissioned police officers,
on-call employees of any political subdivision of the state of Texas, or agencies of the
federal government. Exempted students are expected to set the emergency-use devices on
silent or vibrate mode only.