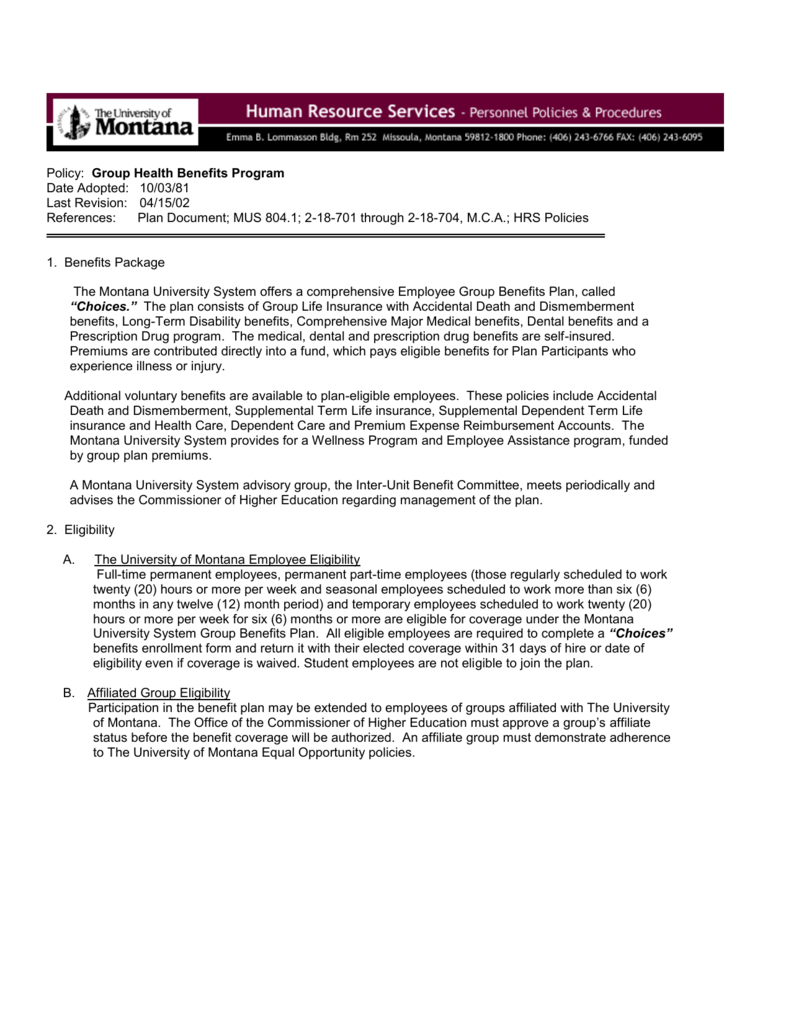 Policy: Group Health Benefits Program
Date Adopted: 10/03/81
Last Revision: 04/15/02
References:
Plan Document; MUS 804.1; 2-18-701 through 2-18-704, M.C.A.; HRS Policies
1. Benefits Package
The Montana University System offers a comprehensive Employee Group Benefits Plan, called
"Choices." The plan consists of Group Life Insurance with Accidental Death and Dismemberment
benefits, Long-Term Disability benefits, Comprehensive Major Medical benefits, Dental benefits and a
Prescription Drug program. The medical, dental and prescription drug benefits are self-insured.
Premiums are contributed directly into a fund, which pays eligible benefits for Plan Participants who
experience illness or injury.
Additional voluntary benefits are available to plan-eligible employees. These policies include Accidental
Death and Dismemberment, Supplemental Term Life insurance, Supplemental Dependent Term Life
insurance and Health Care, Dependent Care and Premium Expense Reimbursement Accounts. The
Montana University System provides for a Wellness Program and Employee Assistance program, funded
by group plan premiums.
A Montana University System advisory group, the Inter-Unit Benefit Committee, meets periodically and
advises the Commissioner of Higher Education regarding management of the plan.
2. Eligibility
A.
The University of Montana Employee Eligibility
Full-time permanent employees, permanent part-time employees (those regularly scheduled to work
twenty (20) hours or more per week and seasonal employees scheduled to work more than six (6)
months in any twelve (12) month period) and temporary employees scheduled to work twenty (20)
hours or more per week for six (6) months or more are eligible for coverage under the Montana
University System Group Benefits Plan. All eligible employees are required to complete a "Choices"
benefits enrollment form and return it with their elected coverage within 31 days of hire or date of
eligibility even if coverage is waived. Student employees are not eligible to join the plan.
B. Affiliated Group Eligibility
Participation in the benefit plan may be extended to employees of groups affiliated with The University
of Montana. The Office of the Commissioner of Higher Education must approve a group's affiliate
status before the benefit coverage will be authorized. An affiliate group must demonstrate adherence
to The University of Montana Equal Opportunity policies.
C. Dependent Coverage
UM employee and employees of approved affiliate groups may elect dependent coverage under the
benefits plan. Eligible dependents are defined in the Plan Document available through the Human
Resource Services Office.
3. Contributions
Employer/Employee Contributions
The employer contribution rate is established by the State of Montana legislature. The current employer
contribution rate is available from Human Resource Services. Employee benefit premium rates are
determined prior to each new plan year by the Commissioner of Higher Education. Employees electing
benefit coverage levels greater than the employer contribution are subject to the applicable premium rate
as a payroll deduction. All employee premiums are deducted through the payroll process before federal,
state, Medicare and Social Security taxes, as allowed by section 125 IRC and adopted by the Montana
University System, July 01, 1990. Employees may not receive the state contribution as wages in lieu of
the employer contribution.
4. Coverage
A. Default Coverage
Eligible employees have 31 days from date of hire or date of eligibility in which to elect their benefit
coverage. Employees will forfeit their right to elect coverage after 31 days and will be defaulted into
"Employee Only" coverage. Employees forfeiting their right to elected coverage will not be eligible to
enroll dependents or change default coverage unless there is a qualifying event under section 125
IRC, or at the next open enrollment period.
B. Coverage in an Extended Leave of Absence or Extended Sick Leave
Employees granted extended leave without pay under an appropriate personnel policy or collective
bargaining agreement may continue benefits, (with the exception of the Long Term Disability) for two
years provided employee and employer contributions are paid by the employee. Rates are available
in Human Resource Services.
C. Retiree Eligibility
A person retiring from The University of Montana or an affiliate group may continue post-retirement
coverage in the vision, medical and prescription drug program only, provided the retiree makes
arrangements to maintain continuous coverage by self-payment of the premiums. A retiree must be
eligible to receive a state retirement benefit from the Teachers Retirement System or the Public
Employees Retirement System. Retirees who receive retirement benefits under the Optional
Retirement System must have worked five or more years with the University System to be eligible to
remain with the plan. Rates are available in Human Resource Services.
D. Loss of Eligibility
Employees who terminate from employment with the University system or who lose eligibility to remain
with the benefits plan for other reasons will automatically receive a notice outlining continuation of
coverage rights for themselves and their dependents under COBRA (Consolidated Omnibus Budget
Reconciliation Act, Public Law 99-272, Title 10, April 1986). No Life Insurance, AD&D, Long Term
Disability or Optional Reimbursement accounts may be continued under COBRA. Benefit coverage
with The University of Montana-Missoula will cease, effective the last day of the month in which
eligibility is lost. COBRA rates are available in Human Resource Services.
E. Specific Plan Description
A plan summary, plan eligibility and coverage detail can found in the Group Benefits Plan booklet,
"Choices". Please refer to the Group Benefits plan guide or contact the Claims Administrator for
more detail on specific plan coverage.