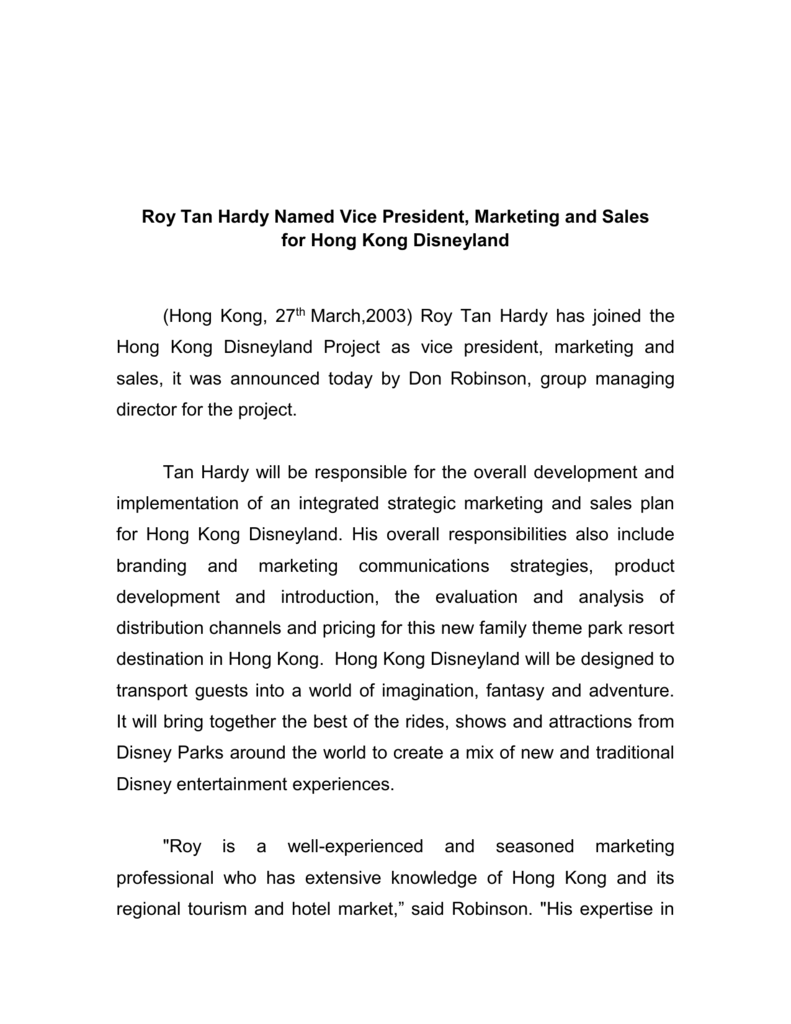 Roy Tan Hardy Named Vice President, Marketing and Sales
for Hong Kong Disneyland
(Hong Kong, 27th March,2003) Roy Tan Hardy has joined the
Hong Kong Disneyland Project as vice president, marketing and
sales, it was announced today by Don Robinson, group managing
director for the project.
Tan Hardy will be responsible for the overall development and
implementation of an integrated strategic marketing and sales plan
for Hong Kong Disneyland. His overall responsibilities also include
branding
and
marketing
communications
strategies,
product
development and introduction, the evaluation and analysis of
distribution channels and pricing for this new family theme park resort
destination in Hong Kong. Hong Kong Disneyland will be designed to
transport guests into a world of imagination, fantasy and adventure.
It will bring together the best of the rides, shows and attractions from
Disney Parks around the world to create a mix of new and traditional
Disney entertainment experiences.
"Roy
is
a
well-experienced
and
seasoned
marketing
professional who has extensive knowledge of Hong Kong and its
regional tourism and hotel market," said Robinson. "His expertise in
business and marketing strategy and communications will be an
invaluable asset to our entire team as we move forward on Hong
Kong Disneyland."
A resident of Hong Kong, Tan Hardy most recently spent three
years with Millennium & Copthorne International (M&C) as Senior
Vice President, Marketing & Sales responsible for all strategic
marketing and global sales activities, brand development, marketing
programs, partner alliances, corporate communications, distribution
and yield management for the group.
Prior to this, Tan Hardy was with Bass Hotels & Resorts (now
called Six Continents Hotels) where he was Vice President,
Marketing, Sales & Services for the Asia Pacific region with a portfolio
of 96 owned, managed and franchised hotels. Before joining Bass
Hotels & Resorts, he worked at American Express International, Inc.
where he held a variety of senior market and regional positions over a
ten-year period in different areas and divisions of their business.
Tan Hardy was raised in Hong Kong where he completed his
primary and secondary education. Since then, he has worked and
lived in various countries including Canada, Hong Kong, Singapore,
and in several others in the Asia region. He has over 20 years of
consumer, financial services, and travel marketing and sales
experience gained at various companies in the hospitality, travel
related, and financial services sectors.
Tan Hardy received his BA degree in Economics from the
University of Western Ontario, Canada, and is currently based in
Hong Kong.
###
About Hong Kong Disneyland
The Hong Kong Disneyland project was announced in November
1999 as a venture between The Walt Disney Company and the Hong
Kong SAR Government. With the completion of reclamation for Hong
Kong Disneyland Phase I by the Hong Kong SAR Government,
Disney began construction in January 2003 with the project
scheduled to open in late 2005/ early 2006. The opening day
program for Hong Kong Disneyland will include a Disneyland-style
theme park and two hotels. The Phase I build-out includes a
projected 10 million annual visitor Disneyland-style theme park, 2,100
hotel rooms, and an area for retail, dining and entertainment. The
project is estimated to create 18,000 new jobs at opening (both
Disney and other employment) growing to 36,000 once the first park
reaches build-out. The Hong Kong SAR Government estimated that
the first phase of the project will generate a present economic value
of HK$148 billion (US$19 billion) in benefits to Hong Kong over a 40year period. For more information, please refer to the Hong Kong
Disneyland website at www.hongkongdisneyland.com.