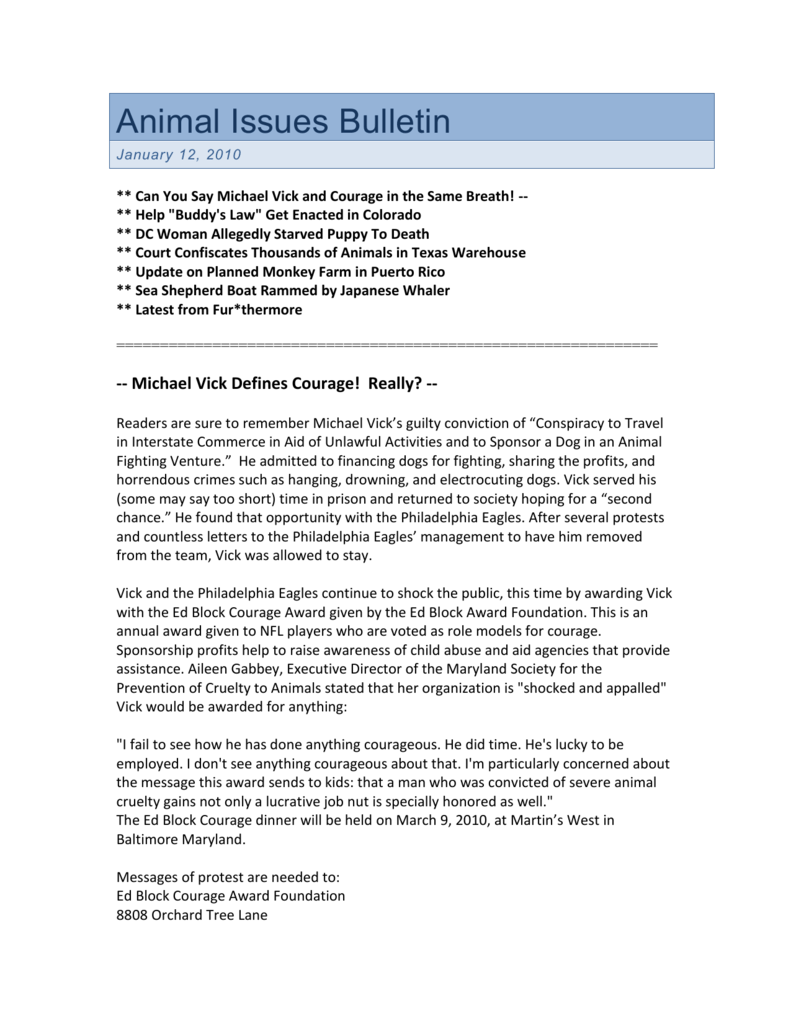 Animal Issues Bulletin
January 12, 2010
** Can You Say Michael Vick and Courage in the Same Breath! -** Help "Buddy's Law" Get Enacted in Colorado
** DC Woman Allegedly Starved Puppy To Death
** Court Confiscates Thousands of Animals in Texas Warehouse
** Update on Planned Monkey Farm in Puerto Rico
** Sea Shepherd Boat Rammed by Japanese Whaler
** Latest from Fur*thermore
==============================================================
-- Michael Vick Defines Courage! Really? -Readers are sure to remember Michael Vick's guilty conviction of "Conspiracy to Travel
in Interstate Commerce in Aid of Unlawful Activities and to Sponsor a Dog in an Animal
Fighting Venture." He admitted to financing dogs for fighting, sharing the profits, and
horrendous crimes such as hanging, drowning, and electrocuting dogs. Vick served his
(some may say too short) time in prison and returned to society hoping for a "second
chance." He found that opportunity with the Philadelphia Eagles. After several protests
and countless letters to the Philadelphia Eagles' management to have him removed
from the team, Vick was allowed to stay.
Vick and the Philadelphia Eagles continue to shock the public, this time by awarding Vick
with the Ed Block Courage Award given by the Ed Block Award Foundation. This is an
annual award given to NFL players who are voted as role models for courage.
Sponsorship profits help to raise awareness of child abuse and aid agencies that provide
assistance. Aileen Gabbey, Executive Director of the Maryland Society for the
Prevention of Cruelty to Animals stated that her organization is "shocked and appalled"
Vick would be awarded for anything:
"I fail to see how he has done anything courageous. He did time. He's lucky to be
employed. I don't see anything courageous about that. I'm particularly concerned about
the message this award sends to kids: that a man who was convicted of severe animal
cruelty gains not only a lucrative job nut is specially honored as well."
The Ed Block Courage dinner will be held on March 9, 2010, at Martin's West in
Baltimore Maryland.
Messages of protest are needed to:
Ed Block Courage Award Foundation
8808 Orchard Tree Lane
Towson MD 21286
Phone: 410.821.6252
Fax: 410.821.6240
Sam Lamantia – Chairman
[email protected]
Dave Copenhayer – Manager
[email protected]
Sample Message:
Michael Vick is certainly not worthy of an award for courage. His involvement in animal
fighting was despicable, and he simply served the sentence he so justly deserved. In the
opinion of many people, his "apology" leaves much to be desired. When notified of
receiving this reward, his words were self-centered and whiney. Now Vick is back in the
limelight and making money hand over fist. What a tough life! To give Vick a reward for
courage is to insult those who truly display courage and gallantry. Honoring Vick with
the Ed Block award for courage is an affront to those who have received this award in
the past and dishonors the intention of this honor. Whoever made this decision, and the
NFL players that supported this decision, should be ashamed of themselves.
[your name and contact information]
Remember to personalize this message for maximum impact.
Many thanks to animal activist Frank Branchini for providing information on this aware
and also to Ivy Collier for contributing this story as well as the one below on Shakata
Richardson to this issue of the Bulletin.
==============================================================
-- Support Buddy's Law in Colorado -On December 31, National Park Service rangers arrested a Grand Junction man accused
of dragging a dog to its death at Colorado National Monument. Federal prosecutors
charged Steven Clay Romero, 37, with the felony of animal cruelty. His arrest came a day
after a German Shepherd-Blue Heeler mix was found with a rope around its neck along
Rim Rock Drive, the main road through the park in western Colorado.
Rangers said the dog, named Buddy, was stolen by others from downtown Delta earlier
in the week. The dog was tied to a pickup truck and dragged for about 3 miles up the
steep and winding road. According to an arrest warrant affidavit, a witness wrote down
the license plate of a vehicle that stole the dog. Romero appeared in Mesa County court
Thursday on unrelated charges and was arrested as he left the courtroom.
On January 7, Romero was back in court for a preliminary hearing on felony animal
cruelty. His appearance brought out protesters, including members of PETA.
The U.S. Attorney called a park ranger to the stand to identify a possible motive for the
dog's theft, torture, and death. The ranger said that Romero's sister, Melissa Lockhart,
who was also arrested in connection with Buddy's death, told Romero to get rid of
Buddy after he apparently mauled a family cat. Melissa Lockhart faces felony theft
charges for stealing two dogs from a pick-up truck the day before her brother reportedly
killed Buddy. Lockhart turned herself in and has been released on $5,000 bond.
At Romero's preliminary hearing the judge ruled that there is enough evidence to go to
trial later this month. If convicted Romero could face 3 years in prison and a $100,000
fine. He is being held without bond.
Currently there is a petition circulating to make any form of animal abuse or neglect in
Colorado punishable as a felony. To help enact "Buddy's Law" in Colorado, people can
sign a petition at http://www.thepetitionsite.com/1/buddys-law---help-enact-it
To demand justice for Buddy, sign the petition at
http://www.thepetitionsite.com/6/demand-justice-for-buddys-killer. The petition goal
is 100,000 and as of January 11, almost 72,000 people had already signed on.
Assistant U.S. Attorney, Michelle Heldmyer is prosecuting this case. You might send her
a note encouraging a vigorous prosecution. Email Heldmyer at:
[email protected]
==============================================================
-- DC Woman Arrested for Animal Cruelty -On January 14 of last year, Washington Humane Society's Deputy Director for Humane
Law Enforcement responded to a call on the 4000 block of Kansas Ave NW in the District
of Columbia to find a dead four month old female puppy on the back porch. An
investigation discovered that the dog was starved to death over several weeks by her
owner, Ms. Shaketa Richardson. An arrest warrant was issued for Ms. Richardson but
she had fled to an unknown location in Virginia. But nearly a year later, on December 30,
2009, Metropolitan Police responded to a domestic disturbance at the previous location
on Kansas Ave involving Ms. Richardson. A warrant check revealed that she was wanted
for animal cruelty and she was taken into MPD custody.
According to a D.C. Superior Court docket, Richardson has been released temporarily
under the condition she not "own, purchase or assume responsibility for the care of an
animal." If convicted of animal cruelty, Richardson—who has entered a not guilty
please—faces up to 180 days in jail and/or a fine of up to $250. For more information,
see http://washhumane.typepad.com/blog/2010/01/year-long-search-for-animalabuser-ends-in-arrest.html.
==============================================================
-- Largest Animal Confiscation in History -A PETA undercover investigator spent seven months working at U.S. Global Exotics,
owned by Jasen and Vanessa Shaw, and documented horrifically cruel conditions for
animals. For years, the company has imported and exported hundreds of thousands of
animals every year for eventual sale at major pet stores and pet store chains all over the
world, including at U.S.-based PETCO and PetSmart. On December 15, Arlington, Texas,
officials and humane agents rescued more than 26,000 animals, including wallabies,
sloths, ringtail lemurs, kinkajous, coatimundis, agoutis, hedgehogs, chinchillas,
hamsters, gerbils, rats, mice, flying squirrels, guinea pigs, sugar gliders, prairie dogs,
ferrets, snakes, lizards, turtles, frogs, spiders, crabs, and scorpions from this facility. This
seizure is believed to be the largest animal confiscation in history.
Judge Michael Smith's decision to award custody of the animals to the city of Arlington
comes on the heels of a seven-day hearing during which lawyers for the exotic-animal
dealer tried every trick in the book to downplay the Shaws's failure to provide animals in
their care with basic, minimal necessities such as food, water, and adequate housing.
However, the evidence meticulously documented by PETA's investigator while inside
U.S. Global Exotics' facility—as well as the evidence gathered on the day of the seizure—
could not be refuted. For more details, go to
http://blog.peta.org/archives/2010/01/us_global_exotics.php
Also in Texas earlier this month, local sheriff's deputies and Humane Society officials
coordinated a raid on a large cockfighting pit in rural Poolsville, breaking up a cockfight
in progress. The raid resulted in the arrest of 176 people and seizure of 118 birds, with
15 children taken into custody. For more details, see
http://www.humanesociety.org/news/news/2010/01/texas_cockfighting_010410.html
==============================================================
-- Update on Puerto Rico "Monkey Farm" -Readers will remember a story that appeared in the Bulletin several months ago
concerning a Mauritius-based company, Bioculture, that wants to construct a facility in
Guayama, Puerto Rico, to breed and sell monkeys. Bioculture ships macaque monkeys
around the world for use in product testing. Local residents opposed the venture, raising
serious health and environmental concerns. After nearly six months of pressure from
the Physicians Committee for Responsible Medicine (PCRM) and other organizations, on
December 30 a judge ordered a temporary halt to construction of the facility. Judge
Juan Frau Escudero's ruling follows a report from the Puerto Rico Senate that found
strong evidence that Bioculture supplied misleading and contradictory information to
obtain permits for the project.
Read all about this decision in the Physicians Committee for Responsible Medicine
(PCRM) press release at http://www.pcrm.org/news/release091230_pr.html.
PCRM credits this victory to citizens the world over who joined local Guayamans in
opposition to Bioculture's plans. The judge's ruling is a significant victory, but it may not
be the last word in this fight. Please continue to let Puerto Rican officials know that you
support the international campaign to halt the construction of Bioculture's monkey
farm. You can send a quick on-line message to Governor Luis Fortuno by visiting:
https://secure2.convio.net/pcrm/site/Advocacy?pagename=homepage&page=UserActi
on&id=271&autologin=true&JServSessionIdr004=v2q9naw2b4.app202b
And speaking of primates, the Charles River Laboratories in Reno, Nevada, has been
fined $4,500 by the USDA for leaving a macaque in its cage while the cage was sent
through a mechanical washer, killing the primate. The research facility also paid more
than $10,000 in fines in 2008 for the deaths of 32 primates killed by extreme heat. See
http://www.rgj.com/article/20100106/NEWS/100106014/1321.
==============================================================
-- Japan Whalers 'Ram' Activist Boat -The "Whale Wars" have really heated up since the beginning of the year. Anti-whaling
activists have accused a Japanese vessel of ramming their high-tech speed boat, the Ady
Gil, during a confrontation in the Southern Ocean. All Sea Shepherd crew members
were rescued, but the Ady Gil eventually sank after its run in with one of Japan's
whaling vessels. Many videos of the incident are on the Internet, including YouTube.
For example, see http://www.youtube.com/watch?v=Bbuq0YEIPNU.
Each side is blaming the other for the collision. Sea Shepherd spokesman Paul Watson
said the incident had turned the confrontations between the whalers and the activists
into a "real whale war." A statement on the Sea Shepherd website said a Japanese
vessel that was accompanying the Nisshin Maru whaler "deliberately rammed" the Ady
Gil, a high-tech speed boat that resembles a stealth bomber, shearing off its bow.
Japan's Institute of Cetacean Research (ICR), which conducts the country's whale hunt,
accused Sea Shepherd of using the Ady Gil to attack its vessels. They alleged the
trimaran speedboat came dangerously close to the Nisshin Maru, trying to entangle its
rudder and propeller with a rope and launching stink bombs at the vessel.
Australian Deputy Prime Minister Julia Gillard ordered the Australian Maritime Safety
Authority to investigate the incident, which occurred in Australia's area of responsibility
for search and rescue. The Sea Shepherd Conservation Society kept up the pressure on
the Japanese at a protest held in Auckland, Australia, on January 11. The protest, held
outside the Japanese Consultae, was against the illegal slaughter of whales in the
Southern Ocean whale sanctuary and the inaction of Japanese, Australian and New
Zealand Governments to intervene and shut down the whaling operation.
Sea Shepherd also filed a piracy complaint in the Netherlands last Saturday against the
captain and crew of a whaling vessel involved in the Ady Gil collision. The complaint
argues the whalers are guilty of piracy because they served on a vessel that was used to
commit an act of violence and it urges Dutch authorities to take action within two
weeks. Sea Shepherd is also considering filing charges of attempted murder in New
Zealand, where the Ady Gil was registered. Glenn Inwood, the New Zealand-based
spokesman for Japan's Institute of Cetacean Research, which oversees the whaling fleet,
dismissed the complaint as a publicity stunt.
As Bulletin readers probably know, Japan abandoned commercial whaling in 1986 after
agreeing to a global moratorium but international rules allow it to annually kill hundreds
of whales under the auspices of a research program. Conservationists say the whaling is
a cover for the sale and consumption of whale meat. For more on this story, go to
http://www.latimes.com/news/local/la-me-whale-boat10-2010jan10,0,3650455.story,
BBC News at http://news.bbc.co.uk/2/hi/asia-pacific/8445504.stm or to keep up with
this constantly developing story go directly to http://www.seashepherd.org/.
==============================================================
-- The Latest From Fur*thermore -Ginnie Maurer's latest story in Fur*thermore is a heartwarming and fun tribute to the
lighter side of life with pets. You can find "Animals Do Some of the Funniest Things" at
http://www.journal-news.net/page/content.detail/id/529645.html. So have fun!