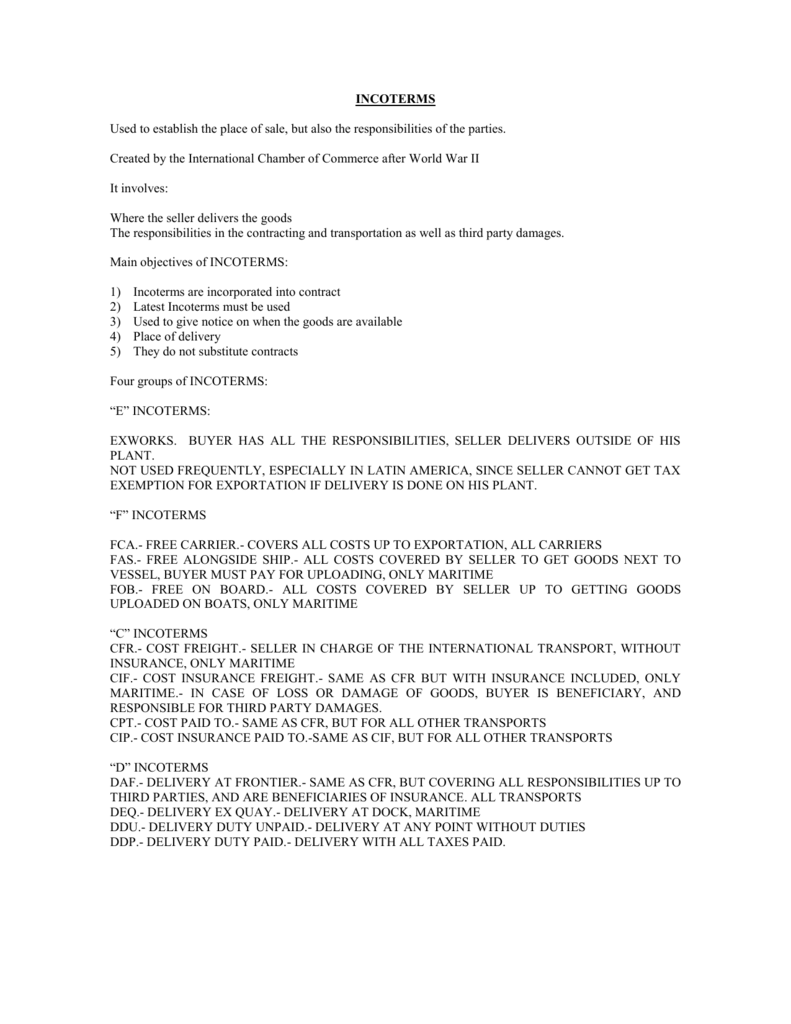 INCOTERMS
Used to establish the place of sale, but also the responsibilities of the parties.
Created by the International Chamber of Commerce after World War II
It involves:
Where the seller delivers the goods
The responsibilities in the contracting and transportation as well as third party damages.
Main objectives of INCOTERMS:
1)
2)
3)
4)
5)
Incoterms are incorporated into contract
Latest Incoterms must be used
Used to give notice on when the goods are available
Place of delivery
They do not substitute contracts
Four groups of INCOTERMS:
"E" INCOTERMS:
EXWORKS. BUYER HAS ALL THE RESPONSIBILITIES, SELLER DELIVERS OUTSIDE OF HIS
PLANT.
NOT USED FREQUENTLY, ESPECIALLY IN LATIN AMERICA, SINCE SELLER CANNOT GET TAX
EXEMPTION FOR EXPORTATION IF DELIVERY IS DONE ON HIS PLANT.
"F" INCOTERMS
FCA.- FREE CARRIER.- COVERS ALL COSTS UP TO EXPORTATION, ALL CARRIERS
FAS.- FREE ALONGSIDE SHIP.- ALL COSTS COVERED BY SELLER TO GET GOODS NEXT TO
VESSEL, BUYER MUST PAY FOR UPLOADING, ONLY MARITIME
FOB.- FREE ON BOARD.- ALL COSTS COVERED BY SELLER UP TO GETTING GOODS
UPLOADED ON BOATS, ONLY MARITIME
"C" INCOTERMS
CFR.- COST FREIGHT.- SELLER IN CHARGE OF THE INTERNATIONAL TRANSPORT, WITHOUT
INSURANCE, ONLY MARITIME
CIF.- COST INSURANCE FREIGHT.- SAME AS CFR BUT WITH INSURANCE INCLUDED, ONLY
MARITIME.- IN CASE OF LOSS OR DAMAGE OF GOODS, BUYER IS BENEFICIARY, AND
RESPONSIBLE FOR THIRD PARTY DAMAGES.
CPT.- COST PAID TO.- SAME AS CFR, BUT FOR ALL OTHER TRANSPORTS
CIP.- COST INSURANCE PAID TO.-SAME AS CIF, BUT FOR ALL OTHER TRANSPORTS
"D" INCOTERMS
DAF.- DELIVERY AT FRONTIER.- SAME AS CFR, BUT COVERING ALL RESPONSIBILITIES UP TO
THIRD PARTIES, AND ARE BENEFICIARIES OF INSURANCE. ALL TRANSPORTS
DEQ.- DELIVERY EX QUAY.- DELIVERY AT DOCK, MARITIME
DDU.- DELIVERY DUTY UNPAID.- DELIVERY AT ANY POINT WITHOUT DUTIES
DDP.- DELIVERY DUTY PAID.- DELIVERY WITH ALL TAXES PAID.