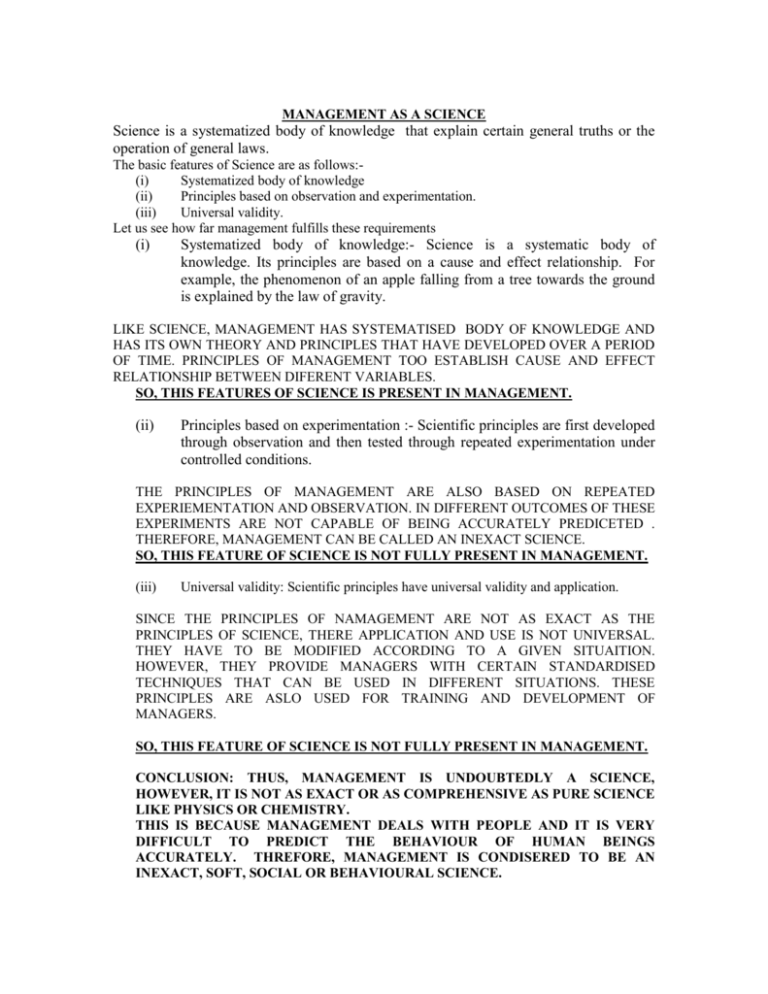 MANAGEMENT AS A SCIENCE
Science is a systematized body of knowledge that explain certain general truths or the
operation of general laws.
The basic features of Science are as follows:(i)
Systematized body of knowledge
(ii)
Principles based on observation and experimentation.
(iii)
Universal validity.
Let us see how far management fulfills these requirements
(i)
Systematized body of knowledge:- Science is a systematic body of
knowledge. Its principles are based on a cause and effect relationship. For
example, the phenomenon of an apple falling from a tree towards the ground
is explained by the law of gravity.
LIKE SCIENCE, MANAGEMENT HAS SYSTEMATISED BODY OF KNOWLEDGE AND
HAS ITS OWN THEORY AND PRINCIPLES THAT HAVE DEVELOPED OVER A PERIOD
OF TIME. PRINCIPLES OF MANAGEMENT TOO ESTABLISH CAUSE AND EFFECT
RELATIONSHIP BETWEEN DIFERENT VARIABLES.
SO, THIS FEATURES OF SCIENCE IS PRESENT IN MANAGEMENT.
(ii)
Principles based on experimentation :- Scientific principles are first developed
through observation and then tested through repeated experimentation under
controlled conditions.
THE PRINCIPLES OF MANAGEMENT ARE ALSO BASED ON REPEATED
EXPERIEMENTATION AND OBSERVATION. IN DIFFERENT OUTCOMES OF THESE
EXPERIMENTS ARE NOT CAPABLE OF BEING ACCURATELY PREDICETED .
THEREFORE, MANAGEMENT CAN BE CALLED AN INEXACT SCIENCE.
SO, THIS FEATURE OF SCIENCE IS NOT FULLY PRESENT IN MANAGEMENT.
(iii)
Universal validity: Scientific principles have universal validity and application.
SINCE THE PRINCIPLES OF NAMAGEMENT ARE NOT AS EXACT AS THE
PRINCIPLES OF SCIENCE, THERE APPLICATION AND USE IS NOT UNIVERSAL.
THEY HAVE TO BE MODIFIED ACCORDING TO A GIVEN SITUAITION.
HOWEVER, THEY PROVIDE MANAGERS WITH CERTAIN STANDARDISED
TECHNIQUES THAT CAN BE USED IN DIFFERENT SITUATIONS. THESE
PRINCIPLES ARE ASLO USED FOR TRAINING AND DEVELOPMENT OF
MANAGERS.
SO, THIS FEATURE OF SCIENCE IS NOT FULLY PRESENT IN MANAGEMENT.
CONCLUSION: THUS, MANAGEMENT IS UNDOUBTEDLY A SCIENCE,
HOWEVER, IT IS NOT AS EXACT OR AS COMPREHENSIVE AS PURE SCIENCE
LIKE PHYSICS OR CHEMISTRY.
THIS IS BECAUSE MANAGEMENT DEALS WITH PEOPLE AND IT IS VERY
DIFFICULT TO PREDICT THE BEHAVIOUR OF HUMAN BEINGS
ACCURATELY. THREFORE, MANAGEMENT IS CONDISERED TO BE AN
INEXACT, SOFT, SOCIAL OR BEHAVIOURAL SCIENCE.