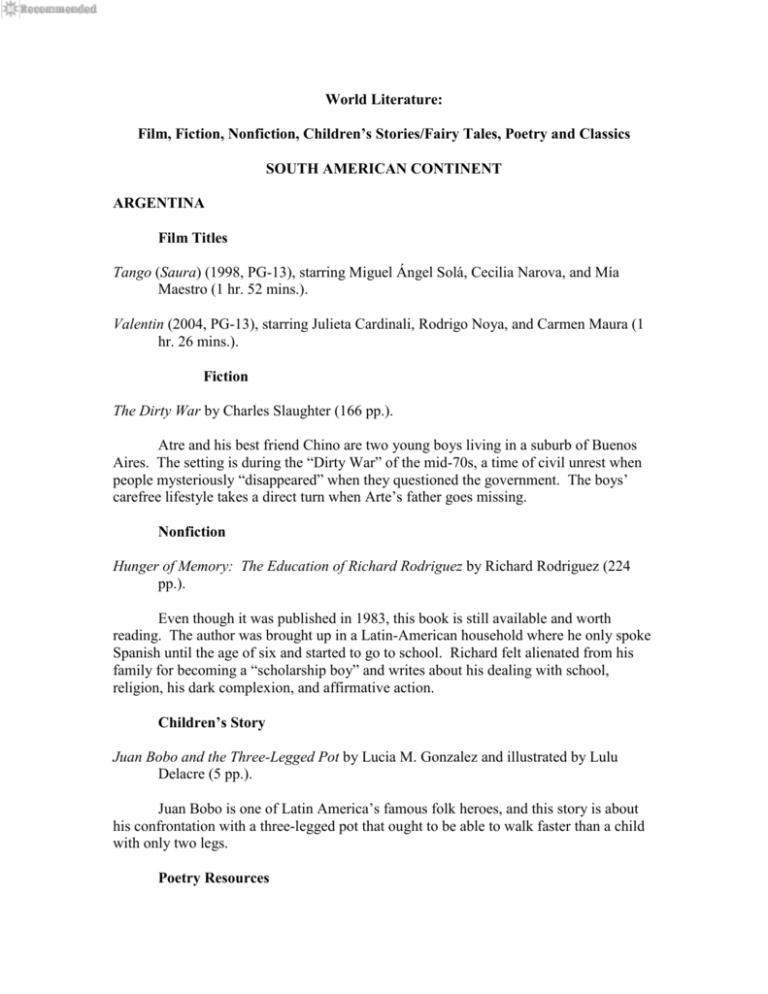 World Literature:
Film, Fiction, Nonfiction, Children's Stories/Fairy Tales, Poetry and Classics
SOUTH AMERICAN CONTINENT
ARGENTINA
Film Titles
Tango (Saura) (1998, PG-13), starring Miguel Ángel Solá, Cecilia Narova, and Mía
Maestro (1 hr. 52 mins.).
Valentin (2004, PG-13), starring Julieta Cardinali, Rodrigo Noya, and Carmen Maura (1
hr. 26 mins.).
Fiction
The Dirty War by Charles Slaughter (166 pp.).
Atre and his best friend Chino are two young boys living in a suburb of Buenos
Aires. The setting is during the "Dirty War" of the mid-70s, a time of civil unrest when
people mysteriously "disappeared" when they questioned the government. The boys'
carefree lifestyle takes a direct turn when Arte's father goes missing.
Nonfiction
Hunger of Memory: The Education of Richard Rodriguez by Richard Rodriguez (224
pp.).
Even though it was published in 1983, this book is still available and worth
reading. The author was brought up in a Latin-American household where he only spoke
Spanish until the age of six and started to go to school. Richard felt alienated from his
family for becoming a "scholarship boy" and writes about his dealing with school,
religion, his dark complexion, and affirmative action.
Children's Story
Juan Bobo and the Three-Legged Pot by Lucia M. Gonzalez and illustrated by Lulu
Delacre (5 pp.).
Juan Bobo is one of Latin America's famous folk heroes, and this story is about
his confrontation with a three-legged pot that ought to be able to walk faster than a child
with only two legs.
Poetry Resources
6-2
Cool Salsa: Bilingual Poems on Growing Up Latino in the United States (Luis Alberto
Ambroggio, poet) edited by Lori M. Carlson (160 pp.).
An Anthology of Contemporary Latin-American Poetry edited by Dudley Fitts (667 pp.).
Classics
The Honorary Consul by Graham Greene (310 pp.).
The Gaucho Martin Fierro by Jose Hernandez (99 pp.).
BRAZIL
Film Titles
Chronically Unfeasible (2000, not rated), starring Umberto Magnani and Cecil Thiré (1
hr. 41 mins.).
God Is Brazilian (2003, not rated), starring Antônio Fagundes and Wagner Moura (1 hr.
50 mins.).
Hour of the Star (1987, not rated), starring Marcelia Cartaxo and José Dumont (1 hr. 36
mins.).
Fiction
Asphalt Angels by Ineke Holtwijk (184 pp.).
Although this story is based on the author's meeting of a young boy in a homeless
shelter in Rio de Janeiro, it is about a made up 13 year old named Alex who's thrown into
the street by his stepfather after Alex's mother dies. Alex tries to remain clean, but life is
hard in the streets of Brazil especially when the "Asphalt Angels" is your new family.
Jaguar by Roland Smith (256 pp.).
It's just 14-year-old Jake and his dad, but unfortunately his dad's restlessness
takes him on wild pursuits to save endangered species all over the world. Jake leaves his
home in New York to follow his dad to Brazil and soon realizes his dad is planning to
stay because of his work in the Amazon Rain Forest.
Nonfiction
An Invisible Minority: Brazilians in New York City by Maxine Margolis (141 pp.).
6-3
The author gives the whys and hows of Brazilian immigration to the United
States, especially to New York.
Children's Story
The Sea Serpent's Daughter: A Brazilian Legend by Margaret H. Lippert (32 pp.).
This is a Brazilian legend that explains how nightfall became a part of the lives of
the people in the Amazon Rain Forest as told by Bonita, the daughter of the Great Sea
Serpent who lives at the bottom of the dark ocean.
So Say the Little Monkeys by Nancy van Laan (40 pp.).
Based on a Brazilian folktale, this rhythmic story is about the playfulness of
monkeys and all of their "jabbering" along the Rio Negro (black river) in Brazil.
Poetry Resources
An Anthology of Twentieth-Century Brazilian Poetry edited by Elizabeth Bishop and
Emanuel Brasil (203 pp.).
Looking for Poetry: Poems by Carlos Drummond de Andrade and Rafael Alberti and
Songs from the Quechua translated by Mark Strand (192 pp.).
Classics
Iracema by Jose Martiniano de Alencar and translated by Clifford E. Landers (148 pp.).
Memoirs of a Militia Sergeant by Manuel Antonio de Almeida (208 pp.).
Dom Casmurro by Joaquim Maria Machado de Assis and translated by John Gledson
(288 pp.).
CHILE
Film Titles
Machuca (2004, PG-13), starring Matías Quer, Ariel Mateluna, and Manuela Martelli (2
hrs. 1 min.). English subtitles.
Fiction
City of the Beasts by Isabel Allende (406 pp.).
Fifteen-year-old Alexander goes to live with his eccentric grandmother who's on
a quest to find "the Beast" that lives in the far corners of the Amazon jungle. On his
6-4
journey, Alex meets 12-year-old Nadios Santos, a girl raised in the Amazon, who helps
him help the People of the Mist.
Nonfiction
Travels in a Thin Country: A Journey through Chile by Sara Wheeler (302 pp.).
While on a cruise ship, Sara Wheeler meets a Chilean worker who tells her she
should write a book about his country. She travels for six months, going from North to
South, and learns about the people, the country, and the politics.
Children's Story
The Enchanted Raisin by Jacqueline Balcells and translated by Elizabeth Gamble Miller
(104 pp.).
Chilean author Blacells gives us a gift with seven original children's short stories.
The title story is about three mischievous boys whose antics wear their mother down into
a shriveled raisin.
Poetry Resources
Pablo Neruda: Selected Poems edited by Pablo Neruda and translated by Anthony
Kerrigan (512 pp.).
Classics
The House of the Spirits by Isabel Allende (448 pp.).
COLOMBIA
Film Titles
Clear and Present Danger (1994, PG-13), starring Harrison Ford, Willem Dafoe, and
Anne Archer (2 hrs. 21 mins.).
Missing Peace: The Kidnapping of Ingrid Betancourt (2005, Not rated), documentary (1
hr. 32 mins.).
Romancing the Stone (1984, PG), starring Michael Douglas, Kathleen Turner, and Danny
DeVito (1 hr. 45 mins.).
Fiction
Celebrating the Hero by Lyll Becerra de Jenkins (192 pp.).
6-5
Camila Draper's Colombian heritage has always fascinated her, so she jumps at
the chance to go to Santander, Colombia, for a celebration ceremony to honor her late
grandfather. This 17 year old finds out more than she'd care to know about her family
and the differences of a culture she thought she knew.
The Treasure of Diogenes Sampuez by James Munves (186 pp.).
Diogenes' father has died and Uncle Mauricio is selling off everything on the
family farm. Diogenes sets off with his younger sister and a friend across the Sierra
Nevada Mountains in Northern Columbia to find an older brother in Cartagena.
Stories of Life and Death / Historias De Vida Y Muerte by the Students of Fundacion
Creando Cambio (96 pp.).
Students from 10 to 16 years of age write their own fiction stories about living in
a poor town in Soacha, Columbia. Black and white photographs add to this troubling
glimpse into the lives of impoverished kids with dreams that we in the United States take
for granted. Both the Spanish and the English translation are presented.
Boy Kills Man by Matt Whyman (152 pp.).
Sonny is a 13-year-old grade school dropout who's growing up in an
impoverished barrio in Colombia. El Fantasma offers Sonny and his best friend Alberto
money in exchange for their "souls."
Nonfiction
Out of War: True Stories from the Front Lines of the Children's Movement for Peace in
Colombia by Sara Cameron (186 pp.).
In nine gripping narratives, Columbian teenagers detail death threats, killings,
gang violence, and poverty and how the Children's Movement for Peace in Columbia has
helped them overcome—one voice at a time.
Secrets of Colombian Cooking by Patricia McCausland-Gallo (251 pp.).
It is said that "a way to a man's heart is through his stomach," and perhaps we can
learn that eating is also an entry into a country's love. The author provides a nice
narrative to accompany many recipes that gives readers an additional Colombian flavor.
Presidential Homes of Colombia by Benjamin Villegas and Juan Gustavo Cobo Borda,
and translated by Andrew Alexander Reid (160 pp.).
Photos and descriptions of three Presidential homes, two in Bogotá and one in
Cartagena, are described by one of Colombia's most prominent poets, Juan Gustavo
Cobo Borda.
6-6
Children's Story
The Monkey People: A Colombian Folktale by Eric Metaxas and illustrated by Diana
Bryan (32 pp.).
Imagine moving every time your house gets too dirty, such is the behavior of this
Amazon tribe until an old man makes monkeys out of leaves to do all of their work.
Poetry Resources
Colombia International Poetry Web.
Cool Salsa: Bilingual Poems on Growing Up Latino in the United States (Daniel Jacome
Roca, poet) edited by Lori M. Carlson (160 pp.).
Classics
Love in the Time of Cholera by Gabriel Garcia Marquez (368 pp.).
One Hundred Years of Solitude by Gabriel Garcia Marquez (464 pp.).
PERU
Film Titles
The Bridge of San Luis Rey (2005, PG), starring Robert De Niro, Gabriel Byrne, and
Kathy Bates (2 hrs. 4 mins.).
Galapagos (1999, Not rated), starring Kenneth Branagh and David Pawson (39 mins.).
Master and Commander: The Far Side of the World (2003, PG-13), starring Russell Crowe, Paul
Bettany, and James D'Arcy (2 hrs. 18 mins.).
Secrets of Lost Empires: Inca (1997, Not rated), documentary (1 hr.).
Fiction
Go and Come Back by Joan Abelove (192 pp.).
A young teenager named Alicia instructs "two old fat ladies from New York"
about her village's culture. Abelove lived in the Amazon jungle for two years and shows
how behaviors of one culture can be misunderstood by another.
Secret of the Andes by Ann Nolan Clark (128 pp.).
6-7
Cusi, a young Inca Indian, only knows the hidden valley in Peru where he has
always lived with Chuto, the Old One. The day comes when Cusi decides to leave with
his pet llama to go to Cuzco, the Holy Place of the Ancients, to discover who he is.
A Gift for Ampato by Susan Van de Grier and illustrated by Mary Jane Gerber (112 pp.).
After a mummified body of a young girl was found on the slopes of Nevado
Ampato in 1995, the author created this story based on Inca culture. When crops failed,
young women were chosen to become human sacrifices for the gods. It was considered a
great honor to be selected, but when Timta is chosen, she thinks differently.
Evil Star: Book Two of the Gatekeepers by Anthony Horowitz (320 pp.).
Matt is one of five special teenagers who is chosen to save the world from evil
(the Old Ones). In this book, Matt meets up with Pedro, a street kid in Peru, and together
they must close the second gate. Language barriers get in the way of their efforts.
Interested readers may want to read the first book in the series Raven's Gate set in
Yorkshire (272 pp.) or the third book Nightrise set in Nevada (368 pp.), but neither is
necessary for understanding this book.
Nonfiction
Insight Guide Peru edited by Pam Barrett (267 pp.).
This guide informs the reader of ancient and recent Peruvian history and serves as
an excellent source for the enrichment of the Peruvian literature experience.
Children's Story
Llama and the Great Flood: A Folktale from Peru by Ellen Alexander (39 pp.).
A llama dreams of a great flood that will fill the world and tells is master who
then takes his family and belongings up to the highest peak in the Andes. They meet
every animal there on Mount Willka Qutu, and so it is believed we all are descendents of
Willka Qutu since the flood destroyed everything else.
Moon Rope by Lois Ehlert and translated by Amy Prince (32 pp.).
Based on an ancient Peruvian tale and presented in both English and Spanish, this
wonderful picture book explains the face we see in the moon and why moles live in the
ground.
Poetry Resources
The Complete Poetry: A Bilingual Edition by César Vallejo and translated by Clayton
Eshleman (732 pp.).
6-8
Classics
Letters from a Peruvian Woman by Francoise de Graffigny and translated by David
Kornacker (174 pp.).
Birds without a Nest: A Novel by Clorinda Matto de Turner and translated by J. G. H.
(205 pp.).