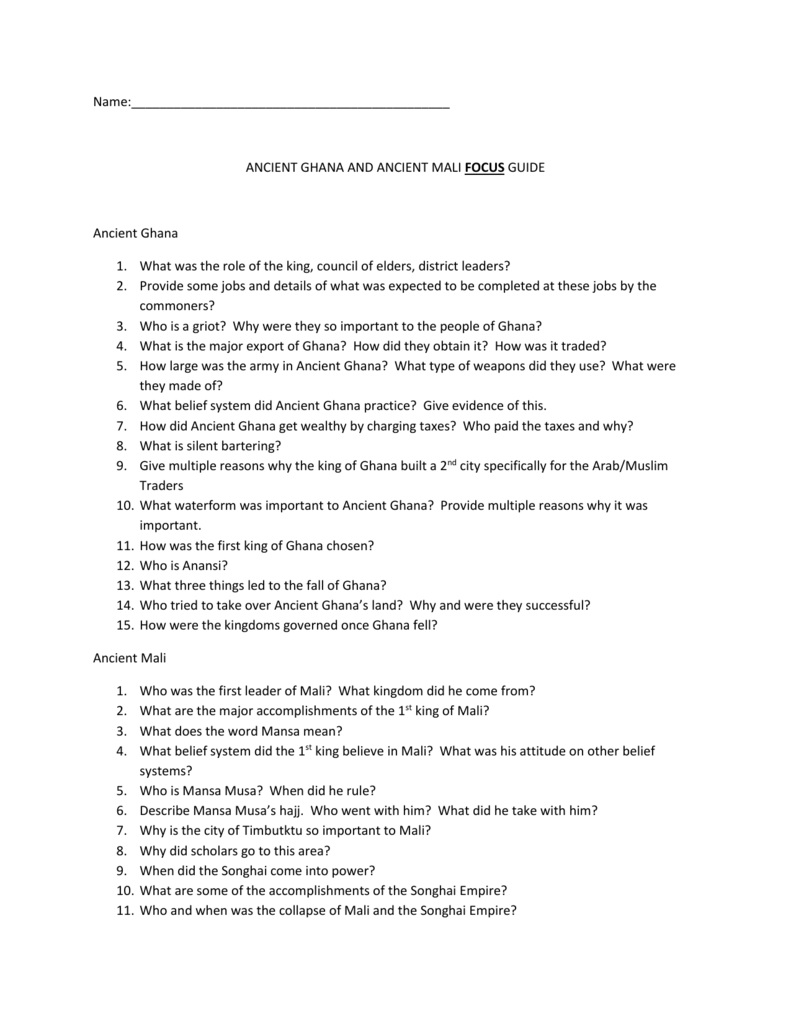 Name:_____________________________________________
ANCIENT GHANA AND ANCIENT MALI FOCUS GUIDE
Ancient Ghana
1. What was the role of the king, council of elders, district leaders?
2. Provide some jobs and details of what was expected to be completed at these jobs by the
commoners?
3. Who is a griot? Why were they so important to the people of Ghana?
4. What is the major export of Ghana? How did they obtain it? How was it traded?
5. How large was the army in Ancient Ghana? What type of weapons did they use? What were
they made of?
6. What belief system did Ancient Ghana practice? Give evidence of this.
7. How did Ancient Ghana get wealthy by charging taxes? Who paid the taxes and why?
8. What is silent bartering?
9. Give multiple reasons why the king of Ghana built a 2nd city specifically for the Arab/Muslim
Traders
10. What waterform was important to Ancient Ghana? Provide multiple reasons why it was
important.
11. How was the first king of Ghana chosen?
12. Who is Anansi?
13. What three things led to the fall of Ghana?
14. Who tried to take over Ancient Ghana's land? Why and were they successful?
15. How were the kingdoms governed once Ghana fell?
Ancient Mali
1.
2.
3.
4.
5.
6.
7.
8.
9.
10.
11.
Who was the first leader of Mali? What kingdom did he come from?
What are the major accomplishments of the 1st king of Mali?
What does the word Mansa mean?
What belief system did the 1st king believe in Mali? What was his attitude on other belief
systems?
Who is Mansa Musa? When did he rule?
Describe Mansa Musa's hajj. Who went with him? What did he take with him?
Why is the city of Timbutktu so important to Mali?
Why did scholars go to this area?
When did the Songhai come into power?
What are some of the accomplishments of the Songhai Empire?
Who and when was the collapse of Mali and the Songhai Empire?