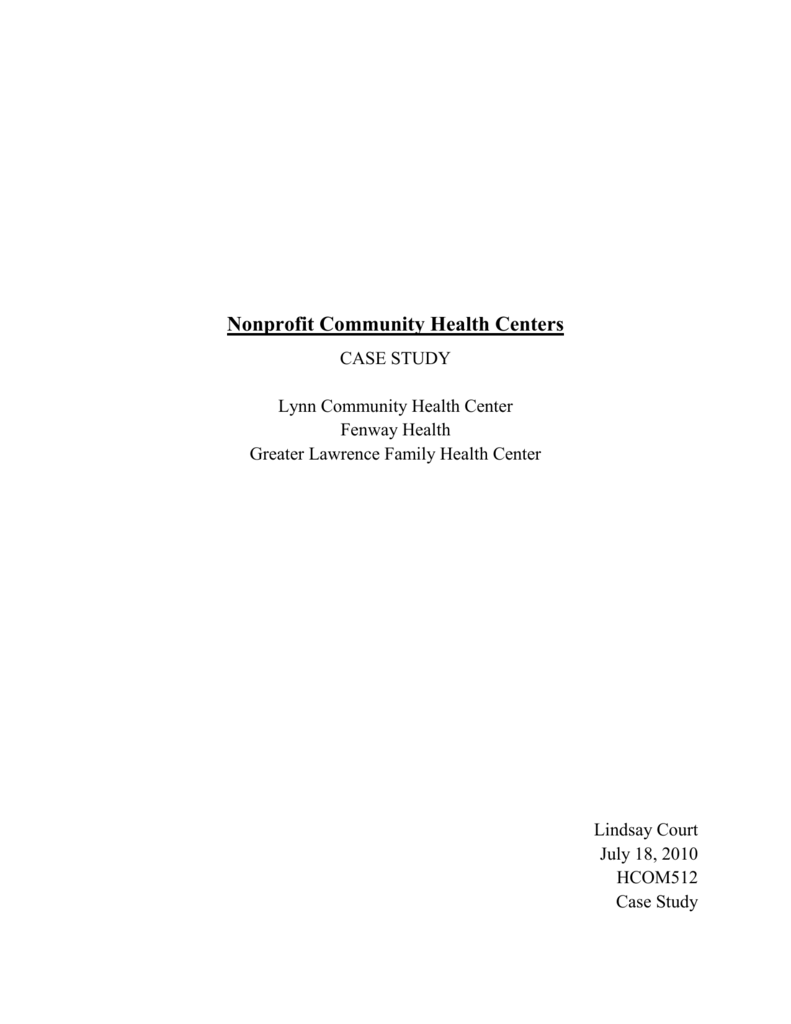 Nonprofit Community Health Centers
CASE STUDY
Lynn Community Health Center
Fenway Health
Greater Lawrence Family Health Center
Lindsay Court
July 18, 2010
HCOM512
Case Study
Lynn Community Health Center
Lynn, Massachusetts
www.lchcnet.org
Contact: Cynthia Steger-Wilson, Director of Development
Homepage
Lynn Community Health Center is a nonprofit health care organization located at 269
Union Street in Lynn, Massachusetts. There are additional clinics throughout the city to provide
service to the community. Lynn is the largest city in Essex County, densely populated and
culturally diverse.
Cynthia Steger-Wilson is the Director of Development and is primarily responsible for
the website's content. An employee from human resources will assist Wilson with job postings
and updating the list of health care providers. Since there is no budget allocated for website
development, a volunteer graphic designer works with Wilson to maintain the site. The website
for Lynn Community Health Center is a fairly static website because there are no regular
updates.
There is no budget for the website and no resources available. It is considered a low
priority recruiting tool. Out of 89,000 residents of Lynn, almost 30,000 are already patients at
Lynn Community Health Center. Patient recruitment relies on the health center's preexisting
presence in the community, word of mouth, and referrals from other services.
Mission and Target Audience
Mission statement:
"Our purpose is to provide comprehensive health care of the highest quality for everyone
in the Greater Lynn community, regardless of ability to pay. As community leaders, we are
responsible to the community for proactively identifying, developing, and improving programs to
address the full spectrum of health and mental health needs in our community.
Our strongest commitment is to assure access to comprehensive health care for all
populations in Lynn and surrounding communities on the North Shore, particularly medically
underserved, poor, minority and immigrant populations, children and families, the elderly and
others at high risk for health problems."
The Lynn Community Health Center is dedicated to providing health care to the
medically underserved, low income, minority and immigrant populations in Lynn as well as the
uninsured. Around 40% of Lynn residents are of a minority group. Hispanic and Black racial
groups are the two most prominent minority groups in Lynn. There is a high poverty rate and a
high unemployment rate.
Due to the needs of the community, the website for the health center should appeal to low
income families and people from diverse background. Currently the static website does not
provide the resources and content necessary to accommodate the residents of Lynn seeking
medical services. There is no web strategy in place.
The biggest issue with the website is the lack of translated content. Other than a short
paragraph on accepted insurance written in Spanish, the website yields no resources or
instructions in any other language other than English. This is a significant problem because
website users who are not native English speakers may feel alienated and avoid contacting the
organization due to perceived language barriers. Readability is also compromised when the
information that is offered is not written in plain language for non native speakers to read and for
people with low health literacy, likely in low income communities.
There are also task workflow issues with the website that interrupt usability function.
Searching providers "by department, by name, by location, or by language" does not supply
contact information for the specific doctor that is being sought. A person searching for a doctor
that speaks a certain language cannot be contacted directly.
Inquiries from non
English speakers may go
unanswered because all calls
go through the main office
where there is an automatic
voice message which directs
callers to follow verbal
instructions to reach the
appropriate receptionist.
The website design and
content does not cater to a
multicultural audience,
contrary to the health
center's mission statement. However, the Director of Development at Lynn Community Health
Center admits that the website is less for patients and prospective patients and more for
information seekers and for recruitment of fundraising.
Social Media and Technology
The website for the Lynn Community Health Center does not contain any social media
outlets and consists of very few other web technologies.
Under "Locations/Directions"
there is a Google Maps application which
allows users to quickly obtain directions,
as well as contact information for the
various clinics.
The website is extremely basis in design. Due to budget limitations, the Director of
Development has determined that there is no need for social media such as Facebook or blogs
because the website is updated so infrequently.
Users and Feedback
There are no mechanisms in place to measure the amount of traffic the website
encounters. There is no need for this information because increasing the number of web users is
neither a priority nor the purpose of the website. There has never been an official evaluation of
the website. It is unknown how many people have visited the site in the last year.
Branding and Redesign
The health center only has the resources to support a modest website. The purpose is to
provide basic information for those interested in learning more about Lynn Community Health
Center services. It is purely informative. At this point in time there are no future plans for a
redesign or changes without resources and funding.
SWOT Analysis
Strengths

Prominent health center in the
community
Weaknesses







Opportunities



Social media applications: Facebook,
Twitter
Bilingual content
Usability testing
Only one person responsible for web
content
No bilingual resources
Lack of important contact information
No social media
Lack of feedback tools
No permanently employed web
designer
Inefficient donation option
Threats


No budget for web development
Other more appealing websites and
information sources
Fenway Health
Boston, Massachusetts
www.fenwayhealth.org
Contact: Chris Viveiros, Associate Director of Communication
Homepage
Fenway Health is a nonprofit health center that provides many services to the Boston
community from family dental and eye care to HIV and STD testing. Fenway Health specializes
in serving the LGBT community with many outreach and educational programs that focus on
bisexual and transgender health, HIV prevention, and LGBT family services. Fenway Health is
a leading provider of LGBT health care and services and the region's largest HIV/AIDS
outpatient care provider. Fenway Health also operates The Fenway Institute, a prestigious HIV
research facility. The website for The Fenway Institute is incorporated into the main Fenway
Health website and offers resources and links to research, publications, and educational
materials.
There is a collaborative effort throughout the entire organization to advance the web
strategy. Although maintained by the communication department, input and resources are
collected from other departments and discussed in meetings with the Board of Directors. The
website for Fenway Health is allocated a large amount of resources and support from the
organization. Including the salaries of the people involved in web maintenance and
development, the budget is around $100,000.
Mission and Target Audience
Mission statement:
"The mission of Fenway Health is to enhance the physical and mental health of its
community, which includes those who are gay, lesbian, bisexual, transgender (LGBT), the people
who live and work in our neighborhood, and beyond. Fenway provides high quality,
comprehensive health care in a welcoming environment and seeks to improve the overall health
of the larger community, locally and nationally, through education and training, policy and
advocacy, and research and evaluation."
Fenway Health is dedicated to assisting the medically underserved population of Boston
including the LGBT community, communities of color, women and those living with HIV/AIDS.
These populations tend to face financial, personal, and cultural barriers when attempting to
access health care services which can influence their health status.
The website for Fenway
Health accommodates the
community's needs by providing
a variety of accessible
information and resources to
prevent access barriers and to
promote better health outcomes.
There is an abundant number of
links to publications and
brochures about various topics,
such as bisexual health.
The website also features a patient portal where usernames and passwords are required.
Patients can access test results and ask their doctor questions in a very private and confidential
manner.
Social Media and Technology
The Fenway Health
website incorporates Facebook,
a social media platform, as a
way to connect with the target
audience and engage web
users. Events and news articles
related to Fenway Health or
news of interest to the
community is posted on the
wall of the Facebook page by
the communication
department. Facebook is also a resource for recruiting participants for Fenway Institute research
studies.
Videos were uploaded to Facebook in 2009 to highlight the new Fenway Health building.
These video would be of particular interest to donors and potential donors. The Fenway Health
page on Facebook has 877 followers, or "877 people like this." This indicates that 877 people
are updated every time a new event or article is added to the page. The ability to easily share
Facebook information and events with other people on Facebook creates a larger network of
people exposed to Fenway Health events.
Donations are extremely important to the success of nonprofit organizations and it is
essential for payments to be simplistic. Fenway Health makes it easy. One click from the
homepage brings you to a page where you enter the amount, billing information, and card
number. The web design of the donation workflow ensures that people interested in donating are
not discouraged by interruptions or confusing directions.
Other technological components include Google Maps, an application which makes it
easy to get directions from any location. The online monthly newsletter, Fenway Focus, can be
downloaded or subscribed to for information about previous awards, upcoming research studies
and local community events.
Users and Feedback
The goal of establishing a website presence is to increase the number of
people using the website. There are currently 15,000 unique users visiting
the site per month. Although there have not been many formal evaluations
of the website, users are encouraged and welcome to provide feedback by clicking the link "How
did we do" located on the homepage. In the past people have requested a separate patient section
of the website, which was acted on and the patient portal was created.
Branding and Redesign
Full time communication and development staff members at Fenway Health update the
website daily. Formal evaluations and usability tests are conducted around every two years. In
2007, the organization was rebranded and the name was shortened from Fenway Community
Health Center to Fenway Health. This shorter title was intended to embody the whole
organization including The Fenway Institute. To accompany the new title, a new logo was
designed which is used today.
The organization's future goals include incorporating mobile web design in order for
users to access the website using cell phones and PDAs. This will involve creating a format of
the site which uploads quickly and is suitable for viewing at different resolutions. Fenway
Health is also interested in creating an IPhone application for quick access to Fenway Health
resources. Fenway Health is affiliated with Beth Israel Deaconess Medical Center and is
interested in integrating video and multimedia as they have. Video clips such as highlighted
events, doctor profiles, and health prevention tips would be a valuable addition to the website.
SWOT Analysis
Strengths







Affiliation with Beth Israel Deaconess
Medical Center
Very large budget
Confidential patient portal
Strong Facebook page
Search option
Monthly newsletter- email subscription
Well known, credible
Opportunities




Video and multimedia platform
Twitter
Blogs
Mobile applications
Weaknesses

Very text heavy
Threats

Other health websites and information
sources
Greater Lawrence Family Health Center
Lawrence, Massachusetts
www.glfhc.org
Contact: Marc Lemay, PR/Media Coordinator
Homepage
The Greater Lawrence Family Health Center is the second largest nonprofit community
health center in Massachusetts. The GLFHC has four clinics in Lawrence and 18 sites
throughout the Merrimack Valley that offer support services serving over 45,000 patients.
Although the center is more than a $44 million operation, there is only one staff member in the
public relations and media department that maintains the website. Marc Lemay is the PR/Media
Coordinator and oversees public relations, newsletter content, graphic and web design, and video
production. Lemay maintains the website in-house using Joomla!, a content management system
which provides website templates, easy installation, and simply web maintenance. The GLFHC
does not allocate many funds for web development. The total is less than a hundred dollars a
year. The main expense is paying for the webhosting service.
Mission and Target Audience
Mission statement:
"The mission of the Greater Lawrence Family Health Center is to improve and maintain
the health of individuals and families in the Merrimack Valley by providing a network of high
quality, comprehensive health care services and by training care professionals to respond to the
needs of a culturally diverse population."
Lawrence has a very large Latino population. Approximately 80% of residents are from
Puerto Rico or the Dominican Republic. Lawrence is also experiencing an increase in the
number of Vietnamese and Cambodian residents. Nearly 89 percent of GLFHC patients are
Spanish speaking, 90% live below the federal poverty level, and 25% have no health insurance.
To accommodate the health needs of Lawrence's diverse community, bilingual services are
essential. GLFHC offers a bilingual answering service providing after-hours access for nonEnglish-speaking patients. However the website does not provide any bilingual resources. The
PR/Media department is currently working to create and design materials that can be translated
into Spanish which will be posted on the website by the end of the year.
Although the website is very informative, it is lacking a few key features which would
make it user friendly. Although there are 50 physicians employed by GLFHC, none of their
information is posted on the website, preventing patients or potential patients from identifying
doctors they would like to see. The only way to make an appointment is to call the appropriate
facility, but that information is hidden beneath the link "Locations and Hours" which is not very
intuitive. The phone number for the bilingual answering service or the on call nurse is not posted
on the website. These are significant barriers that could prevent people from seeking care,
particularly non native English speakers.
Social Media and Technology
The Greater Lawrence Family Health Center website is connected to their audience
through several avenues such as Facebook and Twitter. The GLFHC Facebook page features
pictures from community events such as the Farmer's Market, links to articles about fundraising
in various locations, and status updates about other programs in the area. The page has 105
followers who are regularly updated on Facebook on GLFHC activity. The GLFHC Twitter
account is fairly new with only 194 tweets, but it has already attracted 68 followers. Many of the
tweets are re-tweets from various organizations such as Halifax Health and Fox 25 News. Some
of the tweets are live-tweets from GLFHC's PR/Media Coordinator who attends events and
seminars. The Facebook and Twitter accounts only exist outside the GLFHC website. It would
be beneficial to create a link from the GLFHC website directly to the Facebook and Twitter
accounts for easy access.
The homepage of GLFHC incorporates blogs which document the experiences of
GLFHC doctors who traveled to Haiti for relief work. The blogs can also be found under
"GLFHC News." The blogs have not been updates since April 2010. It appears that several
separate authors have blogged, but no one has kept an ongoing blog. It would be more
meaningful if one author were to share their story over a longer period of time. Links to Spanish
podcasts are also accessible from the homepage regarding the World AIDS Day event at
GLFHC.
The website offers some very unique services for their web audience.
In order to keep their users informed, GLFHC has included CDC news feeds
and a link to sign up for a text messaging service.
The CDC Flu Feeds are updated by the CDC can link GLFHC users
directly to the articles. During flu season this resource is incredible useful.
The text messaging service offered on the GLFHC website enables patients
and web users to get text messages sent to their mobile phone or PDA about the
latest news, weather, school emergencies, and traffic alerts from eagletribune.com,
a newspaper serving the Merrimack Valley.
Owning production equipment as allowed GLFHC to produce short videos
which have been linked from the GLFHC website to YouTube. Previous
productions have included a tribute to Mayor Michael Sullivan, a segment on Hispanic Heritage,
and a discussion about HIV and AIDS for Worlds AIDS Day 2009. There are on average about
70 views per segment on the GLFHC YouTube site. The GLFHC videos have been nationally
recognized. Videos and segments produced by GLFHC which have been linked to Twitter have
been re-tweeted by the National Association of Community Health Centers.
Video content is also
displayed on a television channel
which airs within GLFHC facilities.
Video and programs produced by
GLFHC are mixed with
programming from NBC Health,
video podcasts, and Channel 5
News to create hours of health
information for the enjoyment of
GLFHC patients. Content is 60/40
English to Spanish.
The GLFHC utilizes Pay Pal as a donation option on the homepage of the website. Pay
Pal allows donors to easily send money without sharing financial information with the flexibility
to use their own credit cars and bank accounts. Making it easier to donate translates into more
donations.
The Pulse newsletter on the website is a quarterly newsletter about GLFHC news and
events produced mainly for donor and potential donors. It can be downloaded from the website
in PDF form or can be read directly from the page, but there is not an online subscription option.
Users and Feedback
There are no feedback mechanisms for website users to make suggestion or request
certain services. Evaluations and usability tests have not been conducted to identify problem
area or to identify audience needs that are not being met.
Branding and Redesign
Within the organization, changes to the website are being discussed. One of the goals is
that by January 2011, the GLFHC website will be bilingual and offer Spanish translations.
Uploaded content and resources will be available in English and Spanish. Creating a bilingual
website will help meet the needs of Lawrence residents and patients.
SWOT Analysis
Strengths






Videos posted on YouTube
Strong Facebook page
Twitter
CDC Flu Feeds
Text messaging service
Use of Pay Pal for donations
Opportunities

Mobile application
Weaknesses




Limited budget
No bilingual resources
Lack of doctor contact information
No email subscription option for
monthly newsletter
Threats

Other health websites and information
sources
Comparison Chart
Lynn Community
Health Center
Facebook
Fenway Health

Twitter
YouTube, multimedia
Blog
E-Newsletter
Bilingual material
News feed
Text Messaging Service
Podcasts
Feedback option
Patient Portal
Search Option
Online donation option
(video on Facebook)





Greater Lawrence
Family Health Center
 (but not linked to
website)
 (but not linked to
website)


 (but no email
subscription)
(coming soon)




These three community health centers have a similar mission: to provide health care and
to meet the special needs of their communities. These community health centers have similar
missions: to provide excellent health care and to meet the special needs of their community.
However their websites vary greatly in the way they have incorporated social media and
technology platforms. Out of the three, the website for Lynn Community Health Center is the
least sophisticated. Social media channels have not been incorporated. The static website exists
in the most basic form. Without additional funding or evaluation by an experienced web
designer, the website will remain as it is.
The Great Lawrence Family Health Center may not have a large budget, but it utilizes
multiple forms of social media and online tools on its website. It has just about everything:
Facebook, Twitter, blogs, video and multimedia, podcasts, and more. As a larger organization
than Lynn Community Health Center, GLFHC hosts more events and requires a stronger web
presence in order to attract patrons and for outreach purposes.
Fenway Heath also has an established web strategy that involves Facebook. Content on
Fenway Health's Facebook page is very similar to GLFHC's Facebook page but with more
research study recruitment. Unique to Fenway Health's website is the patient portal login and
the search engine which locates information within the site. With such an extensive website,
segmentation and search options make Fenway Health's website very user friendly.
The website for the Greater Lawrence Family Health Center is the only one that uses
Twitter. Twitter is free and very effective at dispersing information to a large number of
followers. The only issue is that for it to reach its full potential, it requires constant maintenance
and surveillance. Fenway Health expressed interest in initiating Twitter but will not incorporate
it into the website until they have something to tweet about.
The GLFHC website is also the only one that incorporates blogs, podcasts, news feeds,
text messaging services, and multimedia. With the exception of multimedia, the additional
applications cost little to nothing to implement. However they do require regular updates and
technical knowledge. The multimedia component to GLFHC's website is entertaining as well as
informative. The YouTube videos attract more web users and link more people to the site who
might not have visited otherwise. Fenway Health is also interested in posting videos and
multimedia content in the future, just as their affiliate Beth Israel Deaconess Medical Center
does.
Both GLFHC and Fenway Health publish monthly newsletters for donors and potential
donors. Fenway Health allows web users to view the newsletter on the webpage as well as
subscribe to the newsletter so that it is directly emailed to recipients. The GLFHC uploads the
newsletter on their website, but it is not yet an option to subscribe to it.
Recommendations- Lynn Community Health
The website for Lynn Community Health could use a lot of improvement. Taking the
budget limitation into account, there are still many changes that Lynn Community Health could
make. Currently the website does not utilize any social media platforms. Lynn Community
Health Center would benefit from creating a Facebook account to post events and pictures and
community news. It is entirely free and would go far in engaging the Lynn community. Status
posts of events or health news could be written in English and Spanish. Facebook is also a way
to reach a younger audience. People may not always go out of their way to seek health
information, but if it came to them in the form of a Facebook update, young people in particular
would be more enticed to pay attention.
Small changes to the website that could make a big difference would simply be adding
more culturally relevant pictures and uploading brochures and heath information guides to the
website. One of the reasons why the website appears so static is because there are only three
pictures throughout the entire site. Two photos are on the homepage and another is used in more
than one place. To have a more inviting atmosphere, images of a culturally diverse community
should be interwoven throughout the website for the audience to identify with. The lack of
brochures and additional information discounts Lynn Community Center as a credible health
information source. Documents such as insurance forms and health information should be
available to download from the website so that it might be printed and shared.
Along with uploading more content, the content should also be translated into other
languages. It is hard enough to reach an audience as diverse as Lynn's without proving bilingual
services. Without bilingual content, segments of the population are alienated. This would
require more time and money, but would support the center's mission to provide for their diverse
community.
An even more expensive but necessary change would be to employ a web designer.
Currently only one person at Lynn Community Health Center is given the task of maintaining the
website and without design or web technology expertise, the website cannot reach its full
potential. A website requires constant monitoring and change. The Lynn Community Health
Center has so many things to communicate but it falls short when it comes to the website. A web
designer would make the site more functional and user friendly by redesigning the navigation
tabs to improve content discovery, uploading pictures and content, and regularly updating the
site, making it a reliable and useful resource for the community.
In order to further identify what the audience needs, it would be beneficial to incorporate
a feedback mechanism on the website. The website is meant to cater to the needs of the audience
and direct feedback would be a good starting point for website changes. A website usability test
is also recommended because it can diagnose information architecture issues and determine
functionality. The results from a website usability test are used to validate the web design and
identify where improvements can be made so that the website matches the organization's goals.
Recommendations- Fenway Health
Fenway Health has a fairly extensive website. It already has a very strong web presence
as a leading health information resource for the LGBT community. Fenway Health would see
even more benefits from continuing to expand their social media platform to Twitter.
Considering how many people are already followers of the Facebook page, Twitter could be
utilized to connect with even more people. Being able to tap into the Twitter community would
be very illuminating. There are many active communities on Twitter that would be interested in
knowing more about Fenway Health such as other LGBT organizations. Twitter would also
reinforce and strengthen Fenway Health's brand by increasing its visibility among web users and
other health organizations. It would also increase traffic to the website.
It is also recommended that Fenway Health build a video and multimedia platform.
Multimedia is an effective tool for education and entertainment because it engages users in a way
that print material does not. Videos posted on the website could be beneficial for advertising and
fundraising because an online video can be accessed anywhere, such as at meetings with
potential donors. If the videos are also posted on YouTube, direct links to Fenway Health's
website would increase user traffic. Fenway Health's audience would respond very well to
multimedia because they are avid web users.
Blogs have yet to be incorporated into the website. There are many possible blog topics
such as a patient's experience living with a disease, thoughts from a physician, or a blog that
follows Fenway Health events. This would be a low cost addition to Fenway Health's web
strategy. Blogs add a different perspective to health issues and are much more personal than
articles. Blogs could be very powerful way to connect with web users and patients at Fenway
Health.
Mobile applications are a great way to stay connected with an audience. If Fenway
Health could introduce a mobile application platform to the website, patients, donors and
information seekers could have access to Fenway Health's resources without a computer. Time
and space constraints would be removed so people could access the website at their leisure. It
also means that Fenway Health would have more direct access to their audience
Recommendations- Greater Lawrence Family Health Center
The Greater Lawrence Family Health Center would also benefit from activating a mobile
application platform. The GLFHC already utilizes many web technologies such as Twitter and
news feeds. Creating a mobile application platform is the next step for increasing GLFHC
visibility and web presence. With a mobile technology, users can view GLFHC's multimedia
content at their convenience as well as share it wherever they are. Live-tweets from events can
be viewed on the move. Web traffic would increase, attracting more social media users and
people interested in the center's services.
The Greater Lawrence Family Health Center lacks a bilingual component to their
website. Given the substantial number of Latinos in the Lawrence community, Spanish should
be the primary concern. The GLFHC is currently working on translating written materials and
making them available on the web. It would also be beneficial to acknowledge the Spanish
speaking population of Lawrence and their unique health issues by introducing a blog written in
Spanish by a Lawrence resident about Latino health concerns and where to go for help. A
patient's perspective would be very powerful.
In order to get the most use out of Pulse, the monthly newsletter, it is recommended that
it be made available via email. As of now the newsletter can only be viewed on the website.
However if there was a subscription service, the GLFHC could email patrons and patients
directly with the monthly news. Donation proceeds and fundraising could increase if people are
reminded with a monthly email that the Greater Lawrence Family Health Center is a growing
and innovative organization.
Usability testing to identify where the website is lacking is also recommended. Once the
bilingual component is in place, it would be beneficial to gather insights and perspectives from
people in the Latino community in order to recommend additional changes.