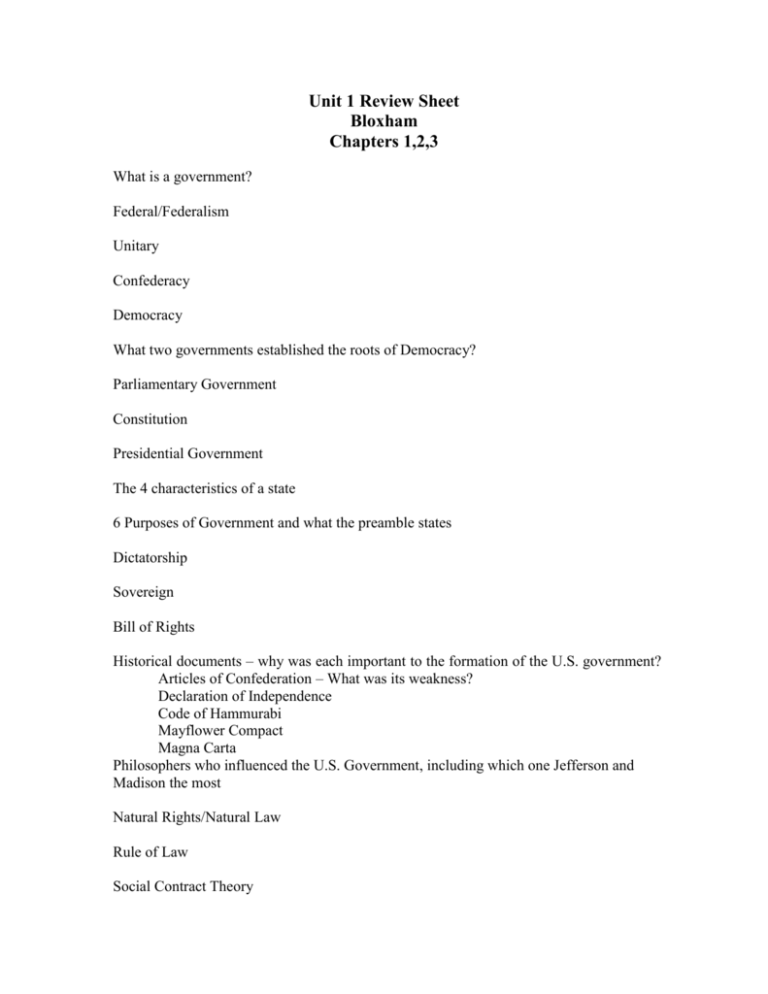 Unit 1 Review Sheet
Bloxham
Chapters 1,2,3
What is a government?
Federal/Federalism
Unitary
Confederacy
Democracy
What two governments established the roots of Democracy?
Parliamentary Government
Constitution
Presidential Government
The 4 characteristics of a state
6 Purposes of Government and what the preamble states
Dictatorship
Sovereign
Bill of Rights
Historical documents – why was each important to the formation of the U.S. government?
Articles of Confederation – What was its weakness?
Declaration of Independence
Code of Hammurabi
Mayflower Compact
Magna Carta
Philosophers who influenced the U.S. Government, including which one Jefferson and
Madison the most
Natural Rights/Natural Law
Rule of Law
Social Contract Theory
Divine Right
Force Theory
Evolution Theory
Virginia Plan
New Jersey Plan
Connecticut Plan (Great Compromise)
Father of the Constitution
Father of the Declaration of Independence
Equal Protection
Amend
Ratify
Representative Government
Separation of Powers
Due Process
Popular Sovereignty
Limited Government
Checks and Balances
What do articles 1,2,3 talk about (in order)
How many senators per state?
How many total?
How many House of Representatives per state?
How many total?
Total membership of Congress?
What are the 3 branches of the U.S. Federal government?
Proportional Government
What are the five Concepts of Democracy?