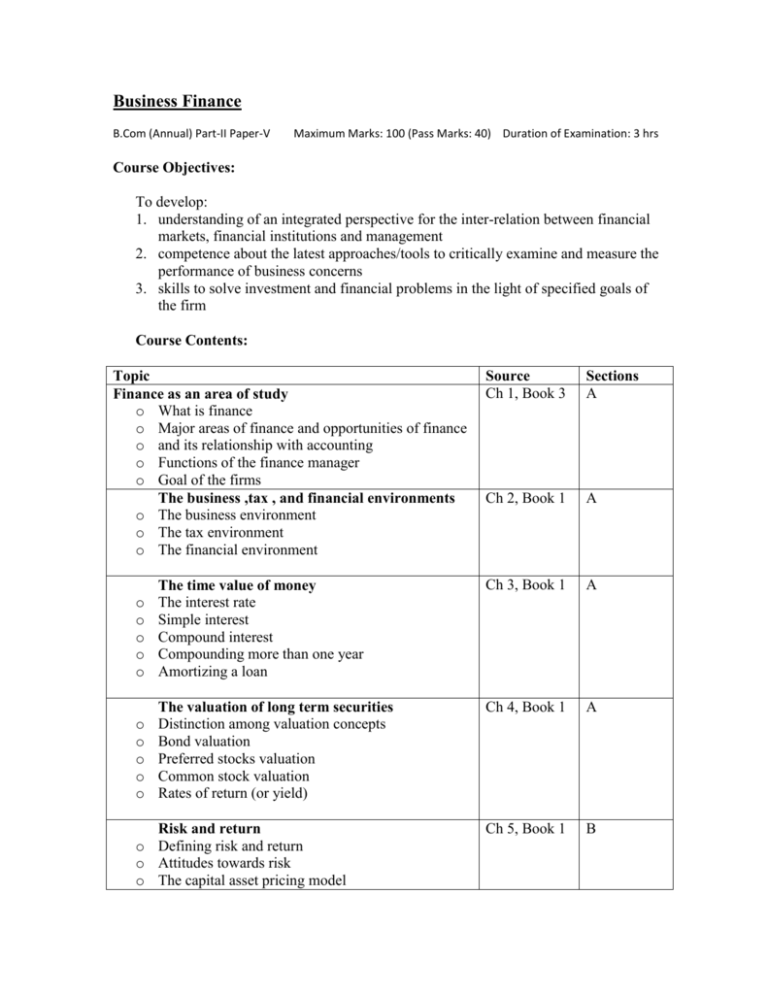 Business Finance
B.Com (Annual) Part-II Paper-V
Maximum Marks: 100 (Pass Marks: 40) Duration of Examination: 3 hrs
Course Objectives:
To develop:
1. understanding of an integrated perspective for the inter-relation between financial
markets, financial institutions and management
2. competence about the latest approaches/tools to critically examine and measure the
performance of business concerns
3. skills to solve investment and financial problems in the light of specified goals of
the firm
Course Contents:
Topic
Finance as an area of study
o What is finance
o Major areas of finance and opportunities of finance
o and its relationship with accounting
o Functions of the finance manager
o Goal of the firms
The business ,tax , and financial environments
o The business environment
o The tax environment
o The financial environment
Source
Ch 1, Book 3
Sections
A
Ch 2, Book 1
A
Ch 3, Book 1
A
o
o
o
o
o
The time value of money
The interest rate
Simple interest
Compound interest
Compounding more than one year
Amortizing a loan
Ch 4, Book 1
A
o
o
o
o
o
The valuation of long term securities
Distinction among valuation concepts
Bond valuation
Preferred stocks valuation
Common stock valuation
Rates of return (or yield)
Ch 5, Book 1
B
Risk and return
o Defining risk and return
o Attitudes towards risk
o The capital asset pricing model
Ch 7, Book 1
B
Overview of working capital
o Introduction
o Working capital issues
o Financing current assets: short –term and long-term
mix
Ch 8, Book 1
B
Short term financing
o Spontaneous financing
o Negotiated financing
o Factoring accounts receivable
o Composition of short term financing
Ch 11, Book
1
C
Required Return and Cost of Capital
o Creation of value
o Overall cost of capital of the firm
o CAPM
Introduction to financial analysis
 Financial statements
 Balance sheet ratios
 Income statement ratios
Ch 15, Book
1
C
Ch 6, Book 1
C
Funds Analysis, Cash flow analysis
Flow of funds (sources and uses) statements
o Accounting statement of cash flows
o Cash flow forecasting
o Range of cash-flow estimates
Recommended Text:
1. James C. Van Horne John M.Wachowicz, Jr. Fundamentals of financial
management. Prentice Hall International Inc 10th Ed.
Further Readings
2. Eugen F, Brigham, Joel F. Houston, Fundamentals of Financial Management(Latest
Edition), Harcourt Asia PTE LTD,
3. Gitman J. Lawarence, Principles of Managerial Finance (Latest Edition), Harper
Collins College Publishers.