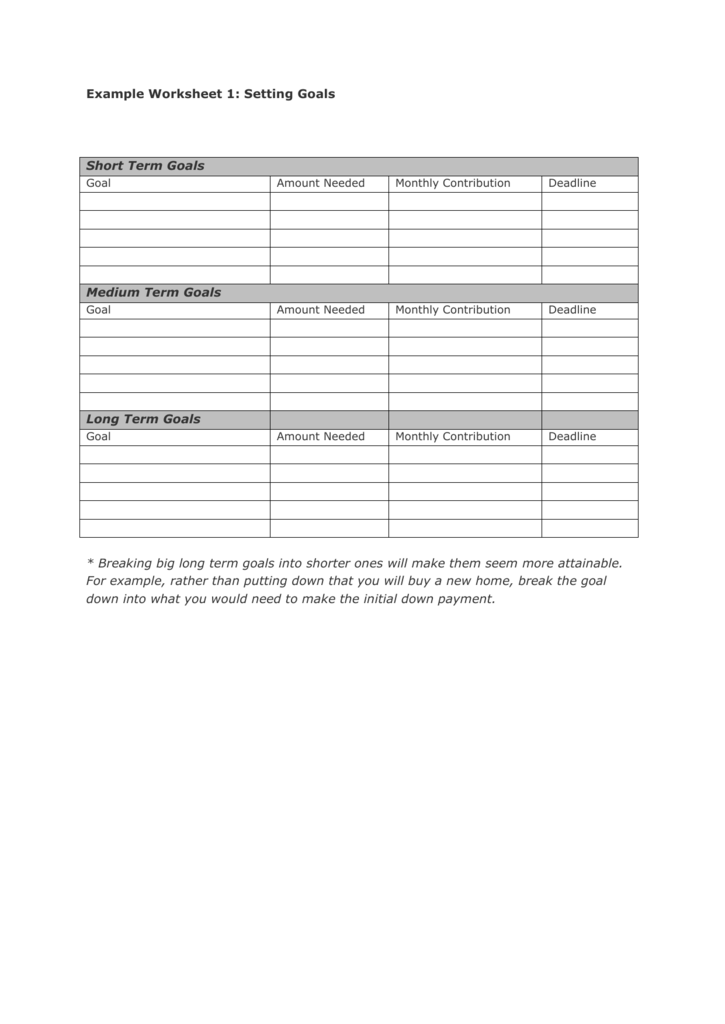 Example Worksheet 1: Setting Goals
Short Term Goals
Goal
Amount Needed
Monthly Contribution
Deadline
Amount Needed
Monthly Contribution
Deadline
Amount Needed
Monthly Contribution
Deadline
Medium Term Goals
Goal
Long Term Goals
Goal
* Breaking big long term goals into shorter ones will make them seem more attainable.
For example, rather than putting down that you will buy a new home, break the goal
down into what you would need to make the initial down payment.
Example Worksheet 2: Calculating Net Worth
Assets
Value (Currency)
Home
Car
Checking Account
Savings Accounts
Investment stocks
Retirement Accounts
Cash Value Insurance
Electronics
Jewelry
Art
Furniture
Etc…
Subtotal
Liabilities
Value (Currency)
Mortgage balance
Credit Card balance
Auto loans
Student loans
Other loans
Etc…
Subtotal
Networth (Assets – Liabilities)
Total Assets
Total
Liabilities
-
Total Net
Worth
* If you have a mortgage, count the value of the property if you were to sell it as an
asset and the balance you owe as a liability. The same applies for long term car leases or
other such situations.
Example Worksheet 3: Making a budget
Expense
Housing
Rent/Mortgage
Electric
Telephone/Internet
Water
Heat
TV (Cable/Satellite)
Furniture
Electronics
Maintenance
Other…
Transportation
Car (Loan/Lease)
Gas
Repairs/Maintenance
License/Registration
Parking
Tolls
Public Transportation
Other…
Food
Groceries
Dining Out
Snacks
Lunch
Other…
Healthcare
Medical
Dental
Eye doctor
Other…
Insurance
Health
Car
Home
Life
Other…
Monthly (Currency)
Yearly (Currency)
Entertainment
Movies/Concerts/Shows
Books/Magazines/Newspapers
Nightlife
After game entertainment
Pets
Vacations
Hobbies
Other…
Personal
Clothing
Sports Equipment
Laundry
Dry Cleaning
Haircut
Health Club Memberships
Other Memberships
Gifts for family/friends
Charity donations
Childcare
Other…
Savings/Debt
Saving deposit
Retirement contributions
Credit Card payments
Loans (Student Loans)
Other…
Taxes
Property
Auto
Income
Other…
* The more detail you put into your budget the more it will reflect the reality of your
spending and help you to have an honest and accurate overview of your finances.