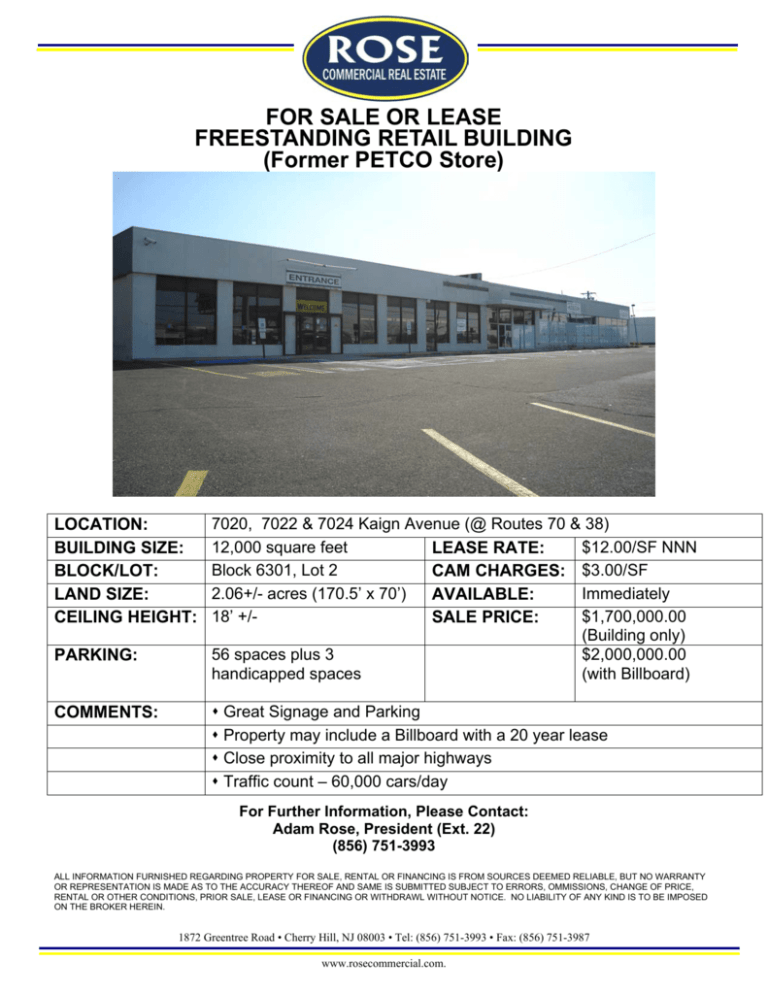 FOR SALE OR LEASE
FREESTANDING RETAIL BUILDING
(Former PETCO Store)
LOCATION:
BUILDING SIZE:
BLOCK/LOT:
LAND SIZE:
CEILING HEIGHT:
PARKING:
COMMENTS:
7020, 7022 & 7024 Kaign Avenue (@ Routes 70 & 38)
12,000 square feet
$12.00/SF NNN
LEASE RATE:
Block 6301, Lot 2
CAM CHARGES: $3.00/SF
2.06+/- acres (170.5' x 70')
Immediately
AVAILABLE:
18' +/$1,700,000.00
SALE PRICE:
(Building only)
56 spaces plus 3
$2,000,000.00
handicapped spaces
(with Billboard)
ΠGreat Signage and Parking
ΠProperty may include a Billboard with a 20 year lease
ΠClose proximity to all major highways
ΠTraffic count Р60,000 cars/day
For Further Information, Please Contact:
Adam Rose, President (Ext. 22)
(856) 751-3993
ALL INFORMATION FURNISHED REGARDING PROPERTY FOR SALE, RENTAL OR FINANCING IS FROM SOURCES DEEMED RELIABLE, BUT NO WARRANTY
OR REPRESENTATION IS MADE AS TO THE ACCURACY THEREOF AND SAME IS SUBMITTED SUBJECT TO ERRORS, OMMISSIONS, CHANGE OF PRICE,
RENTAL OR OTHER CONDITIONS, PRIOR SALE, LEASE OR FINANCING OR WITHDRAWL WITHOUT NOTICE. NO LIABILITY OF ANY KIND IS TO BE IMPOSED
ON THE BROKER HEREIN.
1872 Greentree Road • Cherry Hill, NJ 08003 • Tel: (856) 751-3993 • Fax: (856) 751-3987
www.rosecommercial.com.