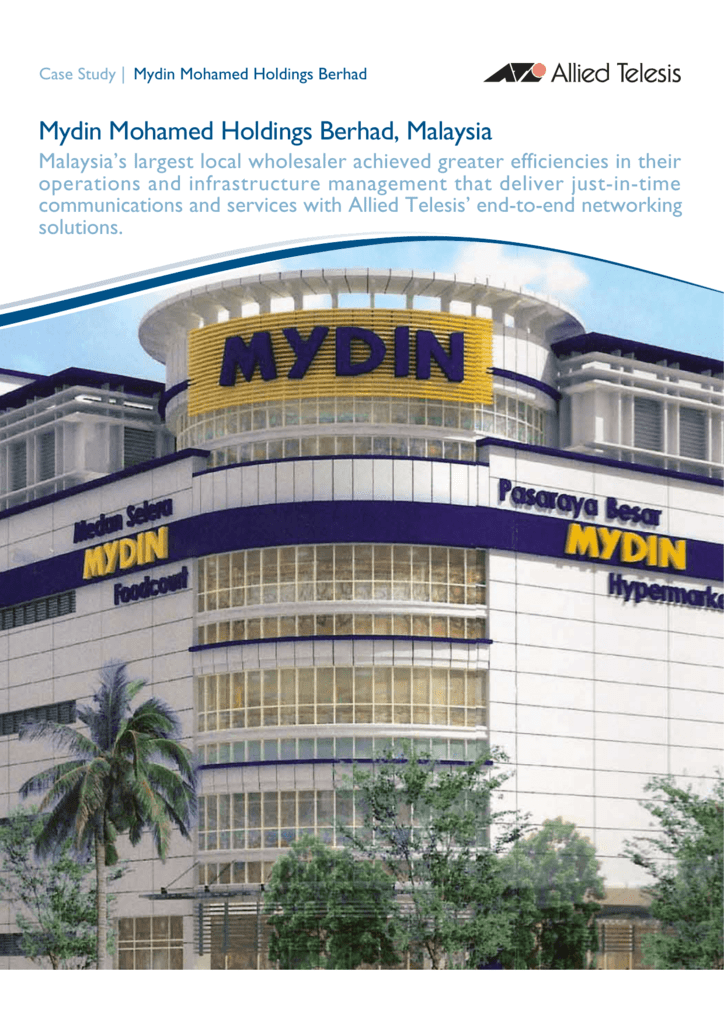 Case Study | Mydin Mohamed Holdings Berhad
Mydin Mohamed Holdings Berhad, Malaysia
Malaysia's largest local wholesaler achieved greater efficiencies in their
operations and infrastructure management that deliver just-in-time
communications and services with Allied Telesis' end-to-end networking
solutions.
Case Study | Mydin Mohamed Holdings Berhad
THE CUSTOMER
Mydin Mohamed Holdings Berhad had its humble beginnings
back in 1957 in the same year that Malaysia got its independence.
The founder, Mr. Mydin Mohamed was a keen trader. His first
shop was in Kota Baru, Kelantan where he catered to the needs
of the Indian Muslim community.
Following his success in Kelantan, he decided to open another
branch in the heart of Kuala Lumpur at the Masjid Jamek area.
From there on, through sheer hard work and keen business
acumen, there was no turning back.
Today, Mydin is the largest local wholesaler in Malaysia that
serves all communities. It has 4,000 employees across 28
branches nationwide. In the hypermarket industry, having
the right technology is the key that enables business to grow
profitably and compete successfully in the market. Mydin has
to be constantly on its toes to cater to its customers' ever-changing
needs. This means that Mydin has to provide its products at the
right time and at the right price to the right customer while
ensuring excellent service.
The objective is to achieve marketing speed and overall efficiency
of operations and supply chain management. From the suppliers
to the logistics and warehouse, to Mydin's ground staff and to
the management team, efficiency and productivity are important
factors for timely and accurate decision-making. With so many
strong competitors in the local retail outlets, one cannot afford
to be tardy.
To differentiate itself, Mydin had to redefine the value it brings
to its customers. Mydin's brand name signifies convenience,
quality and value for money. Thus, it looks into Information and
Communications Technology (ICT) to achieve these goals.
THE CHALLENGE
Situation Analysis
Getting the right information to the right people at the right
time is crucial. Mydin's top priority is to ensure consistent
flow of communication in their supply chain network, from the
suppliers, to logistics and warehouse, to the ground staff and
Page 2 | Allied Telesis Case Study: Mydin Mohamed Holdings Berhad
management team. To date, the hypermart has put in place
the Voice over Internet Protocol (VoIP) system, IP telephony
system, Point of Sales (POS) system, business intelligence system,
logistics and manufacturing system, security surveillance and
many more. "Tying and linking all these systems together so
that they can communicate to one another is very crucial
because the network infrastructure is the backbone of our entire
IT system. In a way, it is the bloodline of our ICT infrastructure
that affects our day to day operations," said Malik Murad Ali,
IT Manager of Mydin Mohamed Holdings Berhad.
The company's previous networking systems were not able to
complement and supports the complexity of their systems. As a
result enormous costs and additional resources are needed to
reconcile the problems and transactions faced by the employees
and customers.
Challenges and Issues
Mydin manages over 200,000 unique items and processes
millions worth of transactions daily. Its key challenge is to gain
insight into these huge volumes of transactions. The company
needs to track the exact products and volumes of goods flowing
in and out of the company.
Next, a real-time network infrastructure is required to drive
incremental sales and top line results. Mydin next move is to
improve the communication with all its 28 branches nationwide.
Its suppliers typically have a very small quota for promotional
items. "If we want to buy in bulk to enjoy greater savings, we need
to act fast to place the orders on the same day. Therefore, determining
each store's inventory and quota at the shortest time possible is the
real challenge. In the past, we are unable to take full advantage of
the promotional offers when they are available," said Malik.
It is therefore important that timely and accurate information
can reach the right person at the time to aid them in their daily
operations and decision making. In this way, additional business
value can be delivered to customers when real-time in-formation
can be accessed by the sales personnel and store managers.
In order to fuel their growth, Mydin sets out to look for a standard
based solution that can complement and support its current IT
systems; a solution that is reliable, scalable and robust.
www.alliedtelesis.com
Selection Criteria
Mydin was looking at 'value for money' pricing, good customer
support and an open and direct communication with its vendor as
its key selection criteria. After a thorough selection process,
Mydin chose Allied Telesis, one of the leading global IP networking
solutions leaders.
"Allied Telesis products are standard based. Apart from the
standard criteria of reliable, scalable and robust, their products
were able to complement most of our other IT systems. Open
communication is especially important to us. I'm happy that
Allied Telesis met all these criteria. I am also very grateful for
their openness in accepting issues and to immediately rectify
these issues. That is why we have standardized on Allied Telesis'
products."
The Solution
Allied Telesis proposed the LAN infrastructure elements that
comprise the SwitchBlade which was equipped with high
performance feature rich, Layer 3 switch as CORE and
Allied Telesis' AT-8300/8000S series advanced stackable
Layer 2 managed switches for ACCESS needs.
The proposed solution is an end-to-end Layer 3 network with
advanced functionality that ensures availability, manageability,
security, adaptability and performance that compliance to
Mydin's design and business objective. The overall backbone
designed is based on redundant collapsed gigabit backbone
with scalability in mind. 640Gbps switching performances at
the CORE provide non-blocking high-speed transfer of data
packets to and from the server farm and access.
Core IP routing with advanced, flexible Policy-Based Quality
of Service, rich and proven multicast support and a
comprehensive set of configuration and control features to
simplify administration and maintenance tasks. The design
also incorporates the needs to control and provide efficiency
in delivering of data application and future support for Voice
and Video deployment.
SERVER FARM
Internet
LACP
Router
AT-SB4108
SwitchBlade
CORE
ACCESS
AT-8300 Series
1Gbps
10/100 Mbps
www.alliedtelesis.com
Allied Telesis Case Study: Mydin Mohamed Holdings Berhad | Page 3
Case Study | Mydin Mohamed Holdings Berhad
AT- SB4108
8 line card slots supporting up to 384 ports of 10/100TX
(RJ-45), 256 ports of 100FX, 4 ports of 1000X or combinations
Provides uncompromised packet switching performance, enabled by a
non-blocking switch fabric delivering Layer 2 and Layer 3 IP/IPX data at
wirespeed on all ports regardless of packet size. With advanced QoS, up
to 128Gbps switching capacity and MAC/IP addresses scalable to 232,000,
the SB4108 switches boost network performance by eliminating congestion.
The SB4108 switches offer all the functionality required.
AT-8326GB
4 port 10/100TX managed stackable
Fast Ethernet switch plus 2 copper Gigabit ports and 2 GBIC bays
Pass traffic with wirespeed performance and non-blocking architecture.
Stacked up to 144 ports with the integrated stacking modules, the AT-8326GB
pass data packets at an impressive stacked backplane speed of 2.66Gbps.
Features includes IEEE 802.1Q VLAN tagging, IEEE 802.1p Prioritization,
IEEE 802.3ad Link Aggregation, Group VLAN Registration Protocol (GVRP),
Port Security, and Port Mirroring. Based on IEEE 802.3ad, the AT-8326GB
supports up to 3 trunk groups.
AT-8000S series
Layer 2 Stackable Fast Ethernet Switch
The 8000S series with wide range of port densities and uplink options
ensures that the majority of network designs can be cost-effectively
built. The AT-8000S series supports IP voice and data networking QoS
with 8 traffic priority types in 4 queues per port, with 802.1p for layer
2 networking and DSCP (Diffserv) for layer 3. It also features 802.1p to
DSCP remarking, to prepare traffic ready for transport over the layer 3
portion of the network.
Page 4 | Allied Telesis Case Study: Mydin Mohamed Holdings Berhad
www.alliedtelesis.com
Results
Allied Telesis
The decision of choosing Allied Telesis and the investment
proved worthwhile. Mydin started to see an improvement
in its network infrastructure within the first few months itself.
Now, the IT department is able to monitor its network in a
more proactive manner. And if there is a problem, the IT
team will be able to know the issue/s in real time.
Founded in 1987, Allied Telesis is a member of the Allied Telesis
Group, a global provider of secure Ethernet/IP access solutions
and an industry leader in the deployment of IP Triple Play
networks over copper and fiber access infrastructure. Our
POTS-to-10G iMAP integrated Multiservice Access Platform and
iMG intelligent Multiservice Gateways, in conjunction with
advanced switching, routing, IPv6 compliant and WDM-based
transport solutions, enable public and private network
operators and service providers of all sizes to deploy scalable,
and carrier-grade networks for the cost effective delivery of
packet-based voice, video and data services.
In the near future, the company expects more savings both
in terms of business and IT management costs. From the
business aspect, the company now gains timely, accurate
and consistent management and financial information that
enable it to monitor activities and transactions more closely
and react proactively to any changes in its environment and
the supply chain management.
In terms of IT management costs, applications of the solution
give Mydin the ability to attain a competitive advantage –
improved services and communications, while internal &
external customers gain operational efficiency and increased
productivity.
"I am impressed by how rich and detailed the functions of
Allied Telesis' switches are and of course the credit goes to
Allied Telesis' team who has the in-depth knowledge and
expertise in the technology and technical and requirements
of the retail industry," said Malik.
Mydin will be adding another 14-15 branches in the next 36
months and all these branches will have to come into its
network infrastructure systems.
"I look forward to work with the Allied Telesis' team again in
the near future. This will help strengthen our partnership ties
and enhance our working relationship," concluded Malik.
www.alliedtelesis.com
Allied Telesis Case Study: Mydin Mohamed Holdings Berhad | Page 5
USA Headquarters | 19800 North Creek Parkway | Suite 200 | Bothell | WA 98011 | USA | T: +1 800 424 4284 | F: +1 425 481 3895
European Headquarters | Via Motta 24 | 6830 Chiasso | Switzerland | T: +41 91 69769.00 | F: +41 91 69769.11
Asia-Pacific Headquarters | 11 Tai Seng Link | Singapore | 534182 | T: +65 6383 3832 | F: +65 6383 3830
www.alliedtelesis.com
© 2007 Allied Telesis Inc. All rights reserved. Information in this document is subject to change without notice. All company names, logos, and product designs that are trademarks or registered trademarks are the property of theirrespective owners.