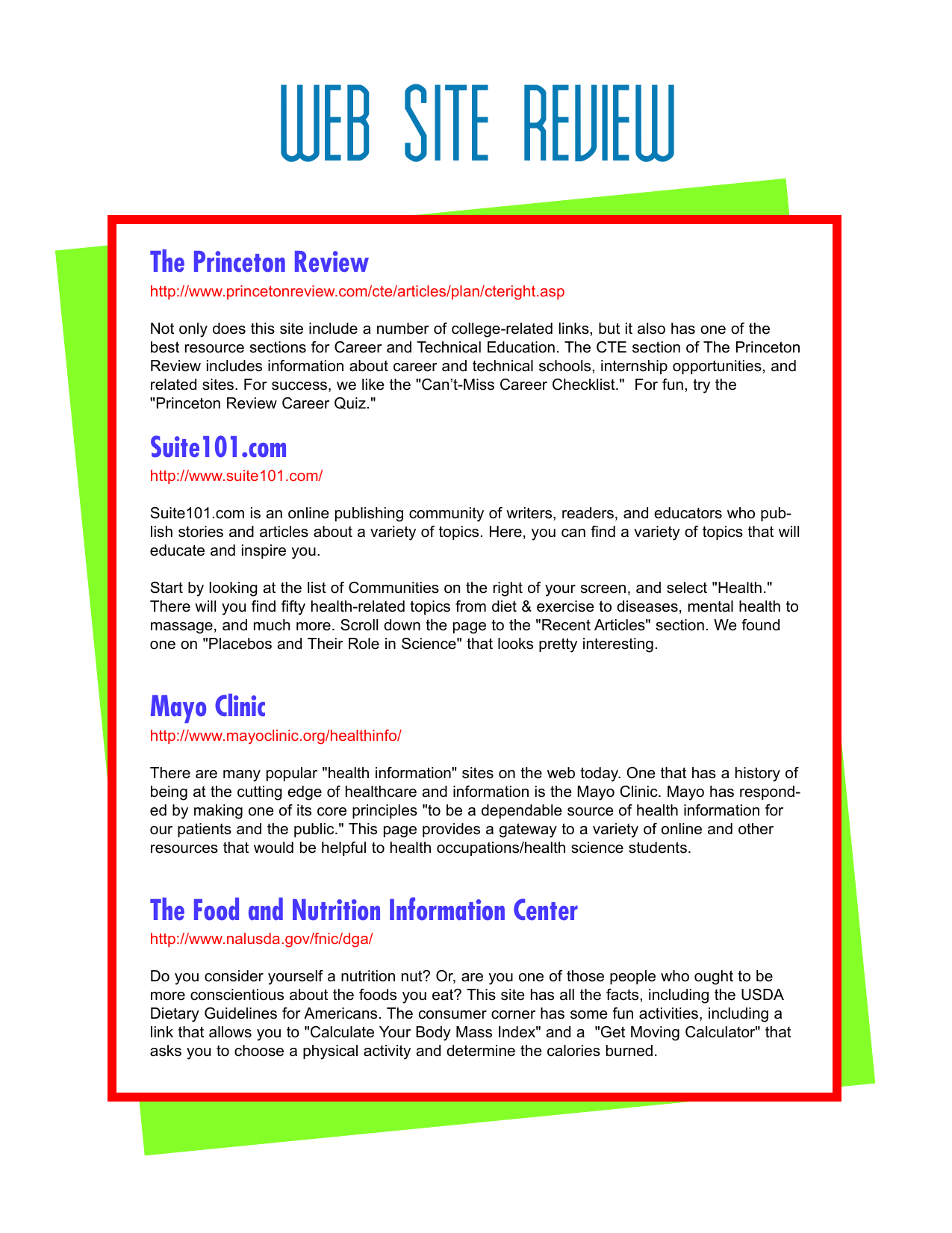 WEB SITE REVIEW
The Princeton Review
http://www.princetonreview.com/cte/articles/plan/cteright.asp
Not only does this site include a number of college-related links, but it also has one of the best resource sections for Career and Technical Education. The CTE section of The Princeton Review includes information about career and technical schools, internship opportunities, and related sites. For success, we like the "CanÕt-Miss Career Checklist." For fun, try the "Princeton Review Career Quiz."
Suite101.com
http://www.suite101.com/ Suite101.com is an online publishing community of writers, readers, and educators who pub lish stories and articles about a variety of topics. Here, you can find a variety of topics that will educate and inspire you. Start by looking at the list of Communities on the right of your screen, and select "Health." There will you find fifty health-related topics from diet & exercise to diseases, mental health to massage, and much more. Scroll down the page to the "Recent Articles" section. We found one on "Placebos and Their Role in Science" that looks pretty interesting.
Mayo Clinic
http://www.mayoclinic.org/healthinfo/ There are many popular "health information" sites on the web today. One that has a history of being at the cutting edge of healthcare and information is the Mayo Clinic. Mayo has respond ed by making one of its core principles "to be a dependable source of health information for our patients and the public." This page provides a gateway to a variety of online and other resources that would be helpful to health occupations/health science students.
The Food and Nutrition Information Center
http://www.nalusda.gov/fnic/dga/ Do you consider yourself a nutrition nut? Or, are you one of those people who ought to be more conscientious about the foods you eat? This site has all the facts, including the USDA Dietary Guidelines for Americans. The consumer corner has some fun activities, including a link that allows you to "Calculate Your Body Mass Index" and a "Get Moving Calculator" that asks you to choose a physical activity and determine the calories burned.