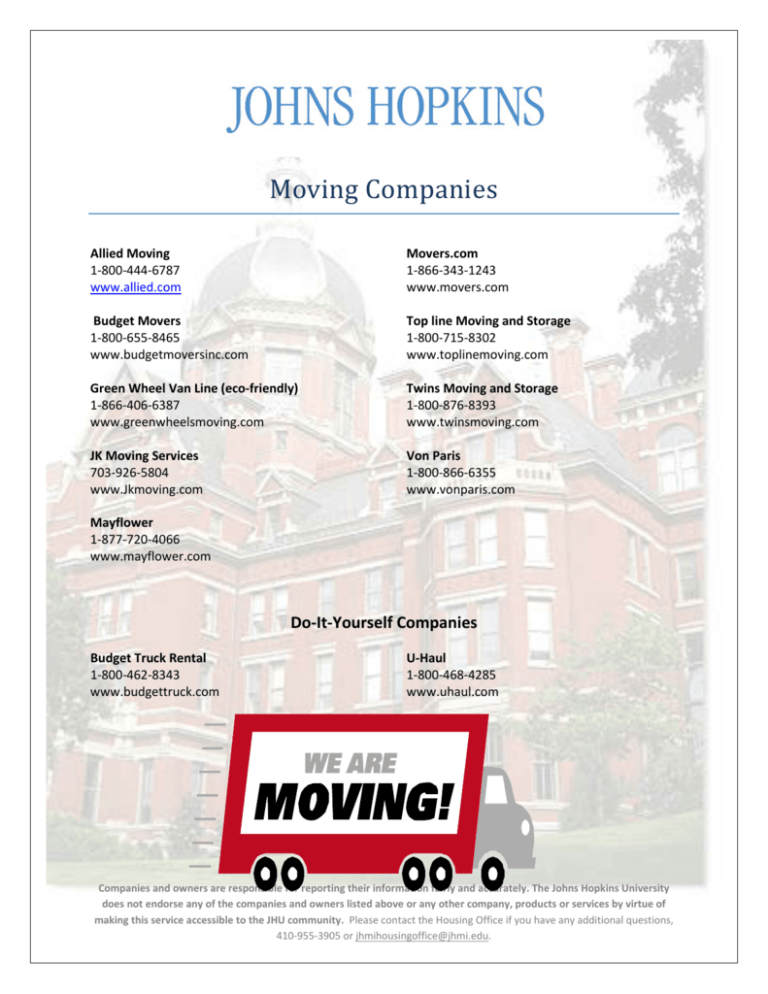 Allied Moving
1-800-444-6787
www.allied.com
Moving Companies
Movers.com
1-866-343-1243
www.movers.com
Budget Movers
1-800-655-8465
www.budgetmoversinc.com
Top line Moving and Storage
1-800-715-8302
www.toplinemoving.com
Green Wheel Van Line (eco-friendly)
1-866-406-6387
www.greenwheelsmoving.com
Twins Moving and Storage
1-800-876-8393
www.twinsmoving.com
JK Moving Services
703-926-5804
www.Jkmoving.com
Von Paris
1-800-866-6355
www.vonparis.com
Mayflower
1-877-720-4066
www.mayflower.com
Do-It-Yourself Companies
Budget Truck Rental
1-800-462-8343
www.budgettruck.com
U-Haul
1-800-468-4285
www.uhaul.com
Companies and owners are responsible for reporting their information fairly and accurately. The Johns Hopkins University
does not endorse any of the companies and owners listed above or any other company, products or services by virtue of
making this service accessible to the JHU community. Please contact the Housing Office if you have any additional questions,
410-955-3905 or jhmihousingoffice@jhmi.edu.