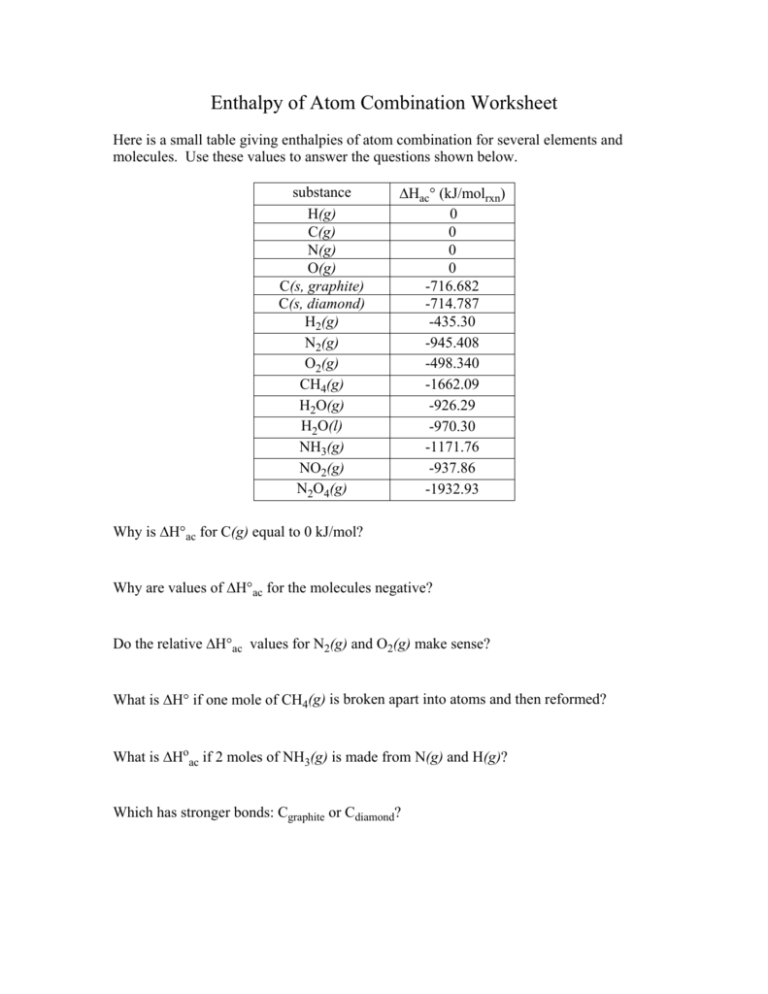 Enthalpy of Atom Combination Worksheet
Here is a small table giving enthalpies of atom combination for several elements and
molecules. Use these values to answer the questions shown below.
substance
H(g)
C(g)
N(g)
O(g)
C(s, graphite)
C(s, diamond)
H2(g)
N2(g)
O2(g)
CH4(g)
H2O(g)
H2O(l)
NH3(g)
NO2(g)
N2O4(g)
ΔHac° (kJ/molrxn)
0
0
0
0
-716.682
-714.787
-435.30
-945.408
-498.340
-1662.09
-926.29
-970.30
-1171.76
-937.86
-1932.93
Why is ΔH°ac for C(g) equal to 0 kJ/mol?
Why are values of ΔH°ac for the molecules negative?
Do the relative ΔH°ac values for N2(g) and O2(g) make sense?
What is ΔH° if one mole of CH4(g) is broken apart into atoms and then reformed?
What is ΔHoac if 2 moles of NH3(g) is made from N(g) and H(g)?
Which has stronger bonds: Cgraphite or Cdiamond?