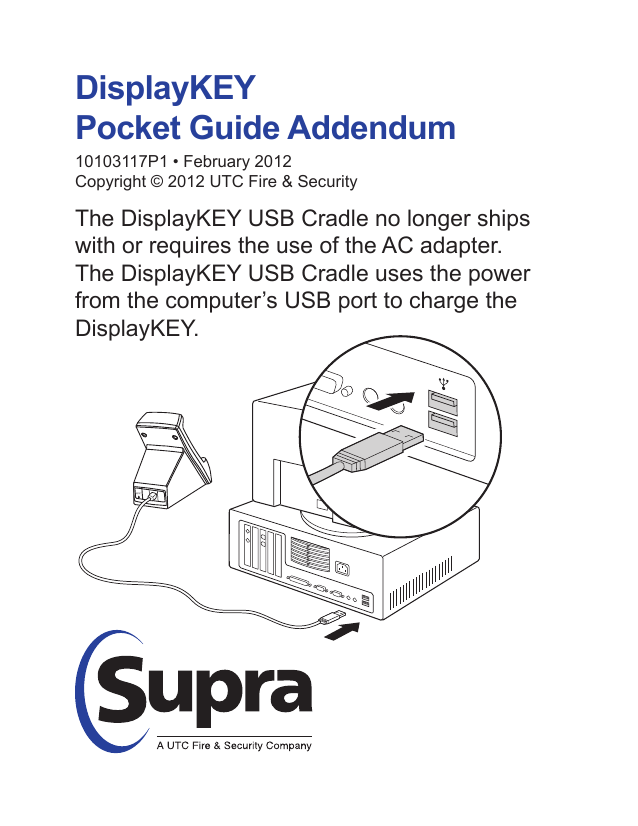 DisplayKEY
Pocket Guide Addendum
10103117P1 • February 2012
Copyright © 2012 UTC Fire & Security
The DisplayKEY USB Cradle no longer ships
with or requires the use of the AC adapter.
The DisplayKEY USB Cradle uses the power
from the computer's USB port to charge the
DisplayKEY.
RESET
Regulatory Compliance
United States (FCC)
This device complies with part 15 of the FCC rules.
Operation is subject to the following conditions:
1. This device may not cause harmful interference.
2. This device must accept any interference received,
including interference that may cause undesired
operation
Changes or modifications not expressly approved by the
party responsible for compliance could void the user's
authority to operate the equipment.
Canada (IC)
This Class B digital apparatus complies with Canadian
ICES‑003. Cet appareil numérique de la classe B est
conforme à la norme NMB-003 du Canada.
European Union (CE)
This Class B digital apparatus conforms to the
requirements of the following EU directives:
1. R&TTTE Directive (1999/5/EC)
2. WEEE Directive (2002/96/EC)
Australia / New Zealand
This apparatus fully complies with ACMA requirements
and is C-Tick marked.