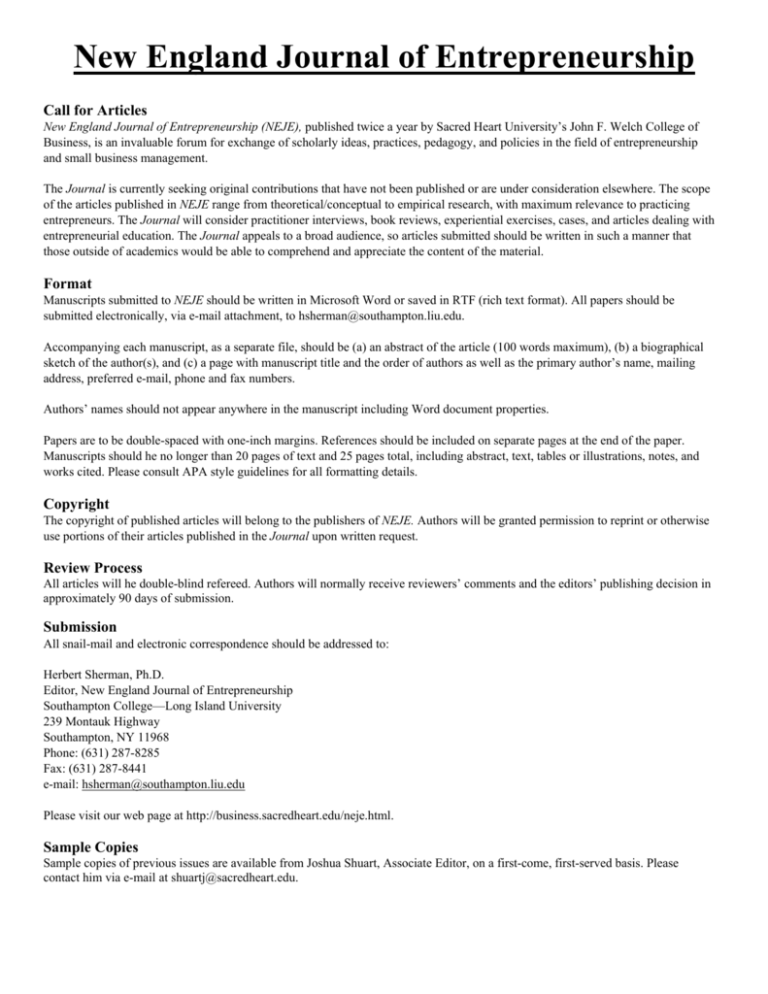 New England Journal of Entrepreneurship
Call for Articles
New England Journal of Entrepreneurship (NEJE), published twice a year by Sacred Heart University's John F. Welch College of
Business, is an invaluable forum for exchange of scholarly ideas, practices, pedagogy, and policies in the field of entrepreneurship
and small business management.
The Journal is currently seeking original contributions that have not been published or are under consideration elsewhere. The scope
of the articles published in NEJE range from theoretical/conceptual to empirical research, with maximum relevance to practicing
entrepreneurs. The Journal will consider practitioner interviews, book reviews, experiential exercises, cases, and articles dealing with
entrepreneurial education. The Journal appeals to a broad audience, so articles submitted should be written in such a manner that
those outside of academics would be able to comprehend and appreciate the content of the material.
Format
Manuscripts submitted to NEJE should be written in Microsoft Word or saved in RTF (rich text format). All papers should be
submitted electronically, via e-mail attachment, to hsherman@southampton.liu.edu.
Accompanying each manuscript, as a separate file, should be (a) an abstract of the article (100 words maximum), (b) a biographical
sketch of the author(s), and (c) a page with manuscript title and the order of authors as well as the primary author's name, mailing
address, preferred e-mail, phone and fax numbers.
Authors' names should not appear anywhere in the manuscript including Word document properties.
Papers are to be double-spaced with one-inch margins. References should be included on separate pages at the end of the paper.
Manuscripts should he no longer than 20 pages of text and 25 pages total, including abstract, text, tables or illustrations, notes, and
works cited. Please consult APA style guidelines for all formatting details.
Copyright
The copyright of published articles will belong to the publishers of NEJE. Authors will be granted permission to reprint or otherwise
use portions of their articles published in the Journal upon written request.
Review Process
All articles will he double-blind refereed. Authors will normally receive reviewers' comments and the editors' publishing decision in
approximately 90 days of submission.
Submission
All snail-mail and electronic correspondence should be addressed to:
Herbert Sherman, Ph.D.
Editor, New England Journal of Entrepreneurship
Southampton College—Long Island University
239 Montauk Highway
Southampton, NY 11968
Phone: (631) 287-8285
Fax: (631) 287-8441
e-mail: hsherman@southampton.liu.edu
Please visit our web page at http://business.sacredheart.edu/neje.html.
Sample Copies
Sample copies of previous issues are available from Joshua Shuart, Associate Editor, on a first-come, first-served basis. Please
contact him via e-mail at shuartj@sacredheart.edu.