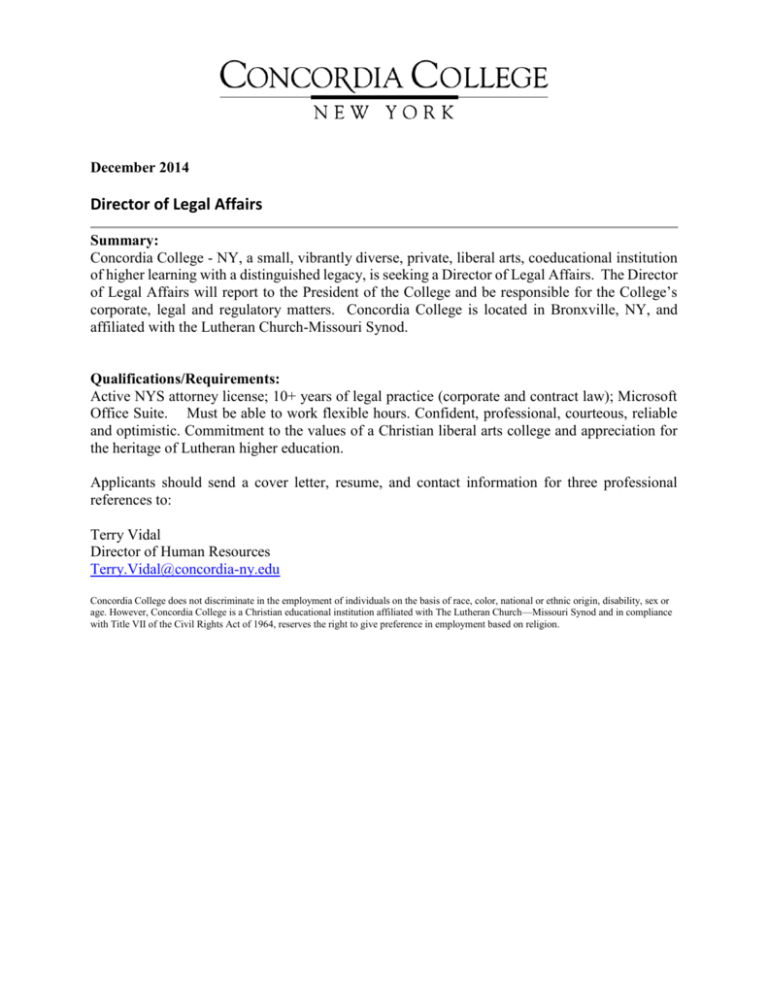 December 2014
Director of Legal Affairs
Summary:
Concordia College - NY, a small, vibrantly diverse, private, liberal arts, coeducational institution
of higher learning with a distinguished legacy, is seeking a Director of Legal Affairs. The Director
of Legal Affairs will report to the President of the College and be responsible for the College's
corporate, legal and regulatory matters. Concordia College is located in Bronxville, NY, and
affiliated with the Lutheran Church-Missouri Synod.
Qualifications/Requirements:
Active NYS attorney license; 10+ years of legal practice (corporate and contract law); Microsoft
Office Suite. Must be able to work flexible hours. Confident, professional, courteous, reliable
and optimistic. Commitment to the values of a Christian liberal arts college and appreciation for
the heritage of Lutheran higher education.
Applicants should send a cover letter, resume, and contact information for three professional
references to:
Terry Vidal
Director of Human Resources
Terry.Vidal@concordia-ny.edu
Concordia College does not discriminate in the employment of individuals on the basis of race, color, national or ethnic origin, disability, sex or
age. However, Concordia College is a Christian educational institution affiliated with The Lutheran Church—Missouri Synod and in compliance
with Title VII of the Civil Rights Act of 1964, reserves the right to give preference in employment based on religion.