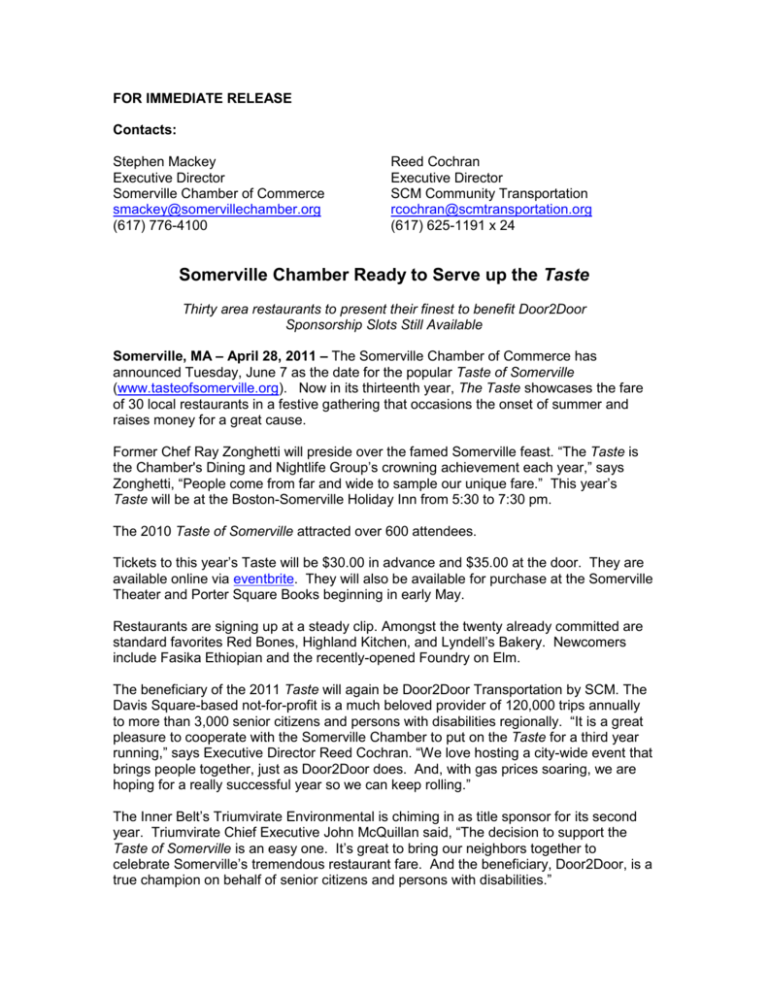 FOR IMMEDIATE RELEASE
Contacts:
Stephen Mackey
Executive Director
Somerville Chamber of Commerce
smackey@somervillechamber.org
(617) 776-4100
Reed Cochran
Executive Director
SCM Community Transportation
rcochran@scmtransportation.org
(617) 625-1191 x 24
Somerville Chamber Ready to Serve up the Taste
Thirty area restaurants to present their finest to benefit Door2Door
Sponsorship Slots Still Available
Somerville, MA – April 28, 2011 – The Somerville Chamber of Commerce has
announced Tuesday, June 7 as the date for the popular Taste of Somerville
(www.tasteofsomerville.org). Now in its thirteenth year, The Taste showcases the fare
of 30 local restaurants in a festive gathering that occasions the onset of summer and
raises money for a great cause.
Former Chef Ray Zonghetti will preside over the famed Somerville feast. "The Taste is
the Chamber's Dining and Nightlife Group's crowning achievement each year," says
Zonghetti, "People come from far and wide to sample our unique fare." This year's
Taste will be at the Boston-Somerville Holiday Inn from 5:30 to 7:30 pm.
The 2010 Taste of Somerville attracted over 600 attendees.
Tickets to this year's Taste will be $30.00 in advance and $35.00 at the door. They are
available online via eventbrite. They will also be available for purchase at the Somerville
Theater and Porter Square Books beginning in early May.
Restaurants are signing up at a steady clip. Amongst the twenty already committed are
standard favorites Red Bones, Highland Kitchen, and Lyndell's Bakery. Newcomers
include Fasika Ethiopian and the recently-opened Foundry on Elm.
The beneficiary of the 2011 Taste will again be Door2Door Transportation by SCM. The
Davis Square-based not-for-profit is a much beloved provider of 120,000 trips annually
to more than 3,000 senior citizens and persons with disabilities regionally. "It is a great
pleasure to cooperate with the Somerville Chamber to put on the Taste for a third year
running," says Executive Director Reed Cochran. "We love hosting a city-wide event that
brings people together, just as Door2Door does. And, with gas prices soaring, we are
hoping for a really successful year so we can keep rolling."
The Inner Belt's Triumvirate Environmental is chiming in as title sponsor for its second
year. Triumvirate Chief Executive John McQuillan said, "The decision to support the
Taste of Somerville is an easy one. It's great to bring our neighbors together to
celebrate Somerville's tremendous restaurant fare. And the beneficiary, Door2Door, is a
true champion on behalf of senior citizens and persons with disabilities."
Other sponsors include CPCU Credit Union, East Cambridge Savings Bank, and Mt.
Auburn Hospital. Still, organizers report that still more are needed. To attract
endorsements, an ad book has been added for 2011. All sponsors at $500 or greater will
enjoy a full-page placement. Sponsorship opportunities can be found on the event web
site.
Updates about this year's Taste of Somerville will be made regularly on the web site and
sent out on twitter @TasteofSomervil
About the Somerville Chamber of Commerce
The Chamber is an independent, local, non-profit business association of over 300
member businesses and organizations. Dining & Nightlife is the jewel of Somerville's
economy. Recognized throughout greater Boston and beyond, Dining & Nightlife is the
reason many people seek to live, work, and play here. The Dining & Nightlife Group
serves as an advocate for this industry before municipal boards and commissions, helps
coordinate industry education and marketing activities, and helps promote Somerville as
a premiere Dining & Nightlife destination in greater Boston. More information can be
found at www.somervillechamber.org
About Door2Door Transportation by SCM
SCM Community Transportation promotes the independence of seniors and persons
with disabilities through community-based transportation. Their friendly, safe and reliable
Door2Door service helps people maintain healthy, mobile and connected lives. SCM
also provides private transportation and excursions, the proceeds of which directly
support critical services for low income riders.
SCM was founded in 1983 by the Massachusetts communities of Somerville, Cambridge
and Medford (SCM). It is one of Greater Boston's longest standing and most beloved
non-profit transportation services. More information can be found at
www.scmtransportation.org
About Triumvirate Environmental
Triumvirate provides distinctive environmental services to education, healthcare,
industrial and life sciences companies. Recognized as a leader in customer service, the
Triumvirate team demonstrates an incomparable level of commitment to clients,
ensuring compliance, efficiency, and the safest possible work environment. They work
as a cohesive team to provide the most effective and manageable hazardous waste
programs. Environmental health and safety professionals can turn to Triumvirate for
expert advice, analysis, and solutions; ultimately saving both time and money. More
information can be found at www.triumvirate.com.