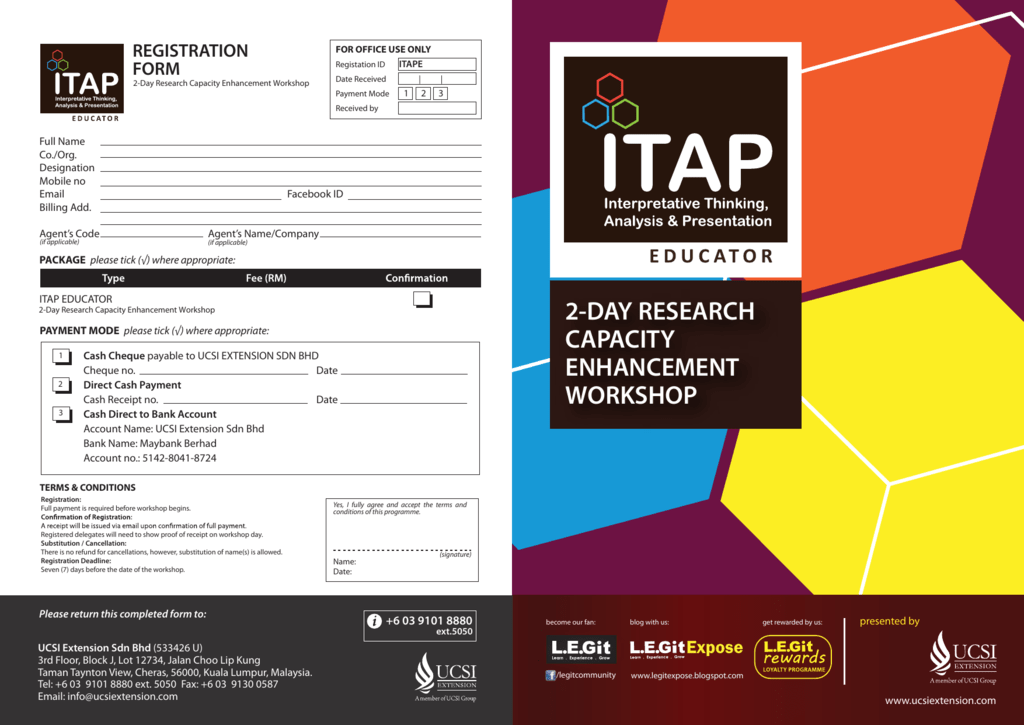 REGISTRATION
FORM
FOR OFFICE USE ONLY
Registation ID
ITAPE
Date: 22 & 23 February 2012
Venue: UCSI University, North Wing
Payment Mode
2-Day Research Capacity Enhancement Workshop
Full Name
Co./Org.
Designation
Mobile no
Email
Billing Add.
Agent's Code
(if applicable)
Date Received
|
1
|
2
3
Received by
Facebook ID
Agent's Name/Company
(if applicable)
PACKAGE please tick (√) where appropriate:
ITAP EDUCATOR
2-Day Research Capacity Enhancement Workshop
800 / participant
2-DAY RESEARCH
CAPACITY
ENHANCEMENT
WORKSHOP
PAYMENT MODE please tick (√) where appropriate:
1
2
3
Cash Cheque payable to UCSI EXTENSION SDN BHD
Cheque no.
Date
Direct Cash Payment
Cash Receipt no.
Date
Cash Direct to Bank Account
Account Name: UCSI Extension Sdn Bhd
Bank Name: Maybank Berhad
Account no.: 5142-8041-8724
TERMS & CONDITIONS
Registration:
Full payment is required before workshop begins.
Registered delegates will need to show proof of receipt on workshop day.
Substitution / Cancellation:
There is no refund for cancellations, however, substitution of name(s) is allowed.
Registration Deadline:
Seven (7) days before the date of the workshop.
Please return this completed form to:
Yes, I fully agree and accept the terms and
conditions of this programme.
Name:
Date:
(signature)
+6 03 9101 8880
ext.5050
UCSI Extension Sdn Bhd (533426 U)
3rd Floor, Block J, Lot 12734, Jalan Choo Lip Kung
Taman Taynton View, Cheras, 56000, Kuala Lumpur, Malaysia.
Tel: +6 03 9101 8880 ext. 5050 Fax: +6 03 9130 0587
Email: [email protected]
become our fan:
/legitcommunity
blog with us:
get rewarded by us:
presented by
www.legitexpose.blogspot.com
www.ucsiextension.com
Think like a researcher,
write like a consultant
This workshop aims to develop advance research skills of
participants through lectures, presentations, use of software,
robust training techniques, hands-on practice, exercises and
real life examples. Along with theoretical understanding,
participants are challenged to exercise the concepts and then
apply those to and in their own settings.
Day 1
Target Participants
• Early Stage Researcher
• Faculty members
• Research Scholars (MPhil/PhD)
• Research Associates
• Researchers of Medical Sciences
• Researchers of R&D Organisations
• Researchers of Social Sector Organisations
1. Overview of the Workshop
2. Component of Dissertation and
Rationale
3. Structure of Dissertation and
Value Proposition
4. The Literature Review
5. Research Methods : Concept
6. Findings, Discussions &
Conclusions
Component of Deliverables (IT + AP)
INTERPRETATIVE THINKING
1. Analysing organisational needs
2. Complete Cycle of Research
(Chapter structure, literature
review, framework, Research
Design)
3. Concept of Research and
Methodologies
"Think like a Researcher"
ANALYSIS PRESENTATION
1. Statistical analyses of personnel
improvements, and other similar
areas
2. Mentorship (Common theme, group
for start-up of ideas/problem
statement from each participant)
3. Hands on SPSS and Tools (Basic)
"Write like a Consultant"
Aims of ITAP
• To equip participants with the concepts and skills necessary to undertake
high level critical thinking research, with the competency to present in a
form appropriate to the intended audience.
• To provide a strong foundation to allow participants to identify and critically
review appropriate research publications and resources necessary to
workplace.
• To expose the available range of methods, techniques and tools needed to
propose solutions and recommendations.
SPSS and AMOS:
Crash Course
for Beginners
worth RM 30.00
FREE COPY for each
workshop participant
The
Facilitators
Assoc Prof Dr Keoy Kay Hooi
• Director, Centre of Excellence for Research,
Value Innovation and Entrepreneurship &
Associate Professor, Faculty of Hospitality
and Management, UCSI University.
• Advisory Committee-Business Ideation
and Innovation Centre, UCSI University.
• Founding member of Green Research
Entrepreneurial Cluster (GrenReC).
• 8 Years of Experience in UK, Centre of
Entrepreneur and Entrepreneurship
Management, Bradford University, UK.
• Certified TTT Exemption.
Day 2
1. Introduction to SPSS Software
and its Application
2. Data Preparation by Using SPSS
Software
3. Data Analysis by using SPSS
Software
a.(Part I : Descriptive Analysis)
b.(Part II : Scale Measurement)
c. Software (Part III : Inferential
Analysis)
4. Introduction to AMOS Software
and Its Concept
5. Data Analysis by Using AMOS
Assoc Prof Dr Kwek Choon Ling
• Senior Lecturer, Faculty of Management &
IT, UCSI University.
• Experienced academic and researcher with
over 9 years of teaching and research
experience.
• Research Interest : Education Marketing.
• Certified TTT Exemption.