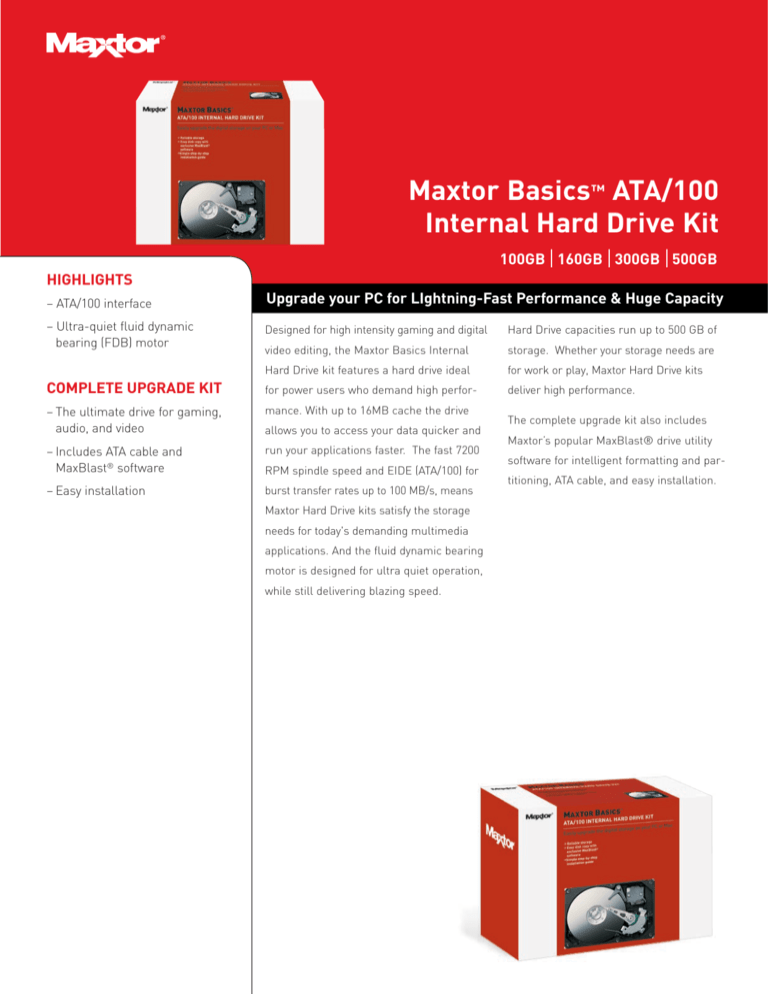 Maxtor Basics™ ATA/100
Internal Hard Drive Kit
100GB 160GB 300GB 500GB
Highlights
– ATA/100 interface
– Ultra-quiet fluid dynamic
bearing (FDB) motor
Upgrade your PC for LIghtning-Fast Performance & Huge Capacity
Designed for high intensity gaming and digital
Hard Drive capacities run up to 500 GB of
video editing, the Maxtor Basics Internal
storage. Whether your storage needs are
Hard Drive kit features a hard drive ideal
for work or play, Maxtor Hard Drive kits
COMPLETE UPGRADE KIT
for power users who demand high perfor-
deliver high performance.
–The ultimate drive for gaming,
audio, and video
mance. With up to 16MB cache the drive
–Includes ATA cable and
MaxBlast® software
run your applications faster. The fast 7200
–Easy installation
burst transfer rates up to 100 MB/s, means
allows you to access your data quicker and
RPM spindle speed and EIDE (ATA/100) for
Maxtor Hard Drive kits satisfy the storage
needs for today's demanding multimedia
applications. And the fluid dynamic bearing
motor is designed for ultra quiet operation,
while still delivering blazing speed.
The complete upgrade kit also includes
Maxtor's popular MaxBlast® drive utility
software for intelligent formatting and partitioning, ATA cable, and easy installation.
Maxtor Hard Drive Kit
Windows System Requirements
Simple Set Up:
- Installation has never been so easy. Just connect your new hard
drive, run MaxBlast, and start your newly enhanced system
– Available 3.5-inch drive bay
– Windows 98SE, Me, 2000 or XP
– CD-ROM drive
– Drives larger than 137GB require Windows 2000 SP3
or higher, XP SP1 or higher, or ATA PCI card
– Specially marked kits with ATA/100 card require available
PCI slot
Easy to Use Software:
- MaxBlast features quick and trouble-free installation
Easy Installation
– Step-by-step illustrated guide
– Automatic setup with MaxBlast® software
– Easy-to-use diagnostic tools
Included in This Kit
– 3.5-inch ATA/EIDE hard drive
– Ultra ATA interface cable
– Mounting screws
– MaxBlast installation software CD-ROM
– Installation guide
Specifications
Macintosh System Requirements
– Available 3.5-inch drive bay
– Power Mac G4 or
other Power Mac with Mac-compatible ATA PCI card
(not included)
– Mac OS 8.6 or higher, OS X 10.1 or higher
– Drives larger than 137GB require Mac-compatible ATA PCI card
(not included)
Packaging Specifications
Capacity
100GB, 160GB, 300GB, 500GB
Interface
ATA/EIDE
Average Seek Time*
<9.3ms
Rotational Speed 7200 RPM
Data Transfer Rate*
up to 100MB/sec
Cache Buffer
16 MB
Compatibility
Mac & PC
Standard Warranty
3 years
– Box dimensions: 9"(L) x 7.1" (W) x 3" (H) (228 x 181 x 95 mm)
– Box weight: 3 lbs ( 0.17 kg)
– Units per pallet:
4 layers 224
5 layers 280
*See label on the side of the retail box for exact drive specifications
For support or information, visit WWW.MAXTORSOLUTIONS.COM
One gigabyte, or GB, equals one billion bytes when referring to hard drive capacity. One terabyte, or TB, equals 1,000 gigabytes when referring to hard drive capacity. Accessible capacity may
vary depending on operating environment and formatting. Quantitative usage examples for various applications are for illustrative purposes and are based on the following assumptions: each
hour of DVD-quality video is 2.1GB, each digital photo is 1MB, and each MP3 is 4 minutes long. Actual quantities will vary based on various factors, including file size, file format, features
and application software ­
©2006 Seagate, Seagate Technology. Maxtor and the Maxtor stylized logo are registered trademarks and Maxtor Basics and Maxtor DriveLock are trademarks of Seagate Technology LLC.
Other trademarks are the property of their respective holders. Seagate Technology, 920 Disc Drive, Scotts Valley, CA 95066 U.S.A DS-PATA_HDD 12/06-SR.