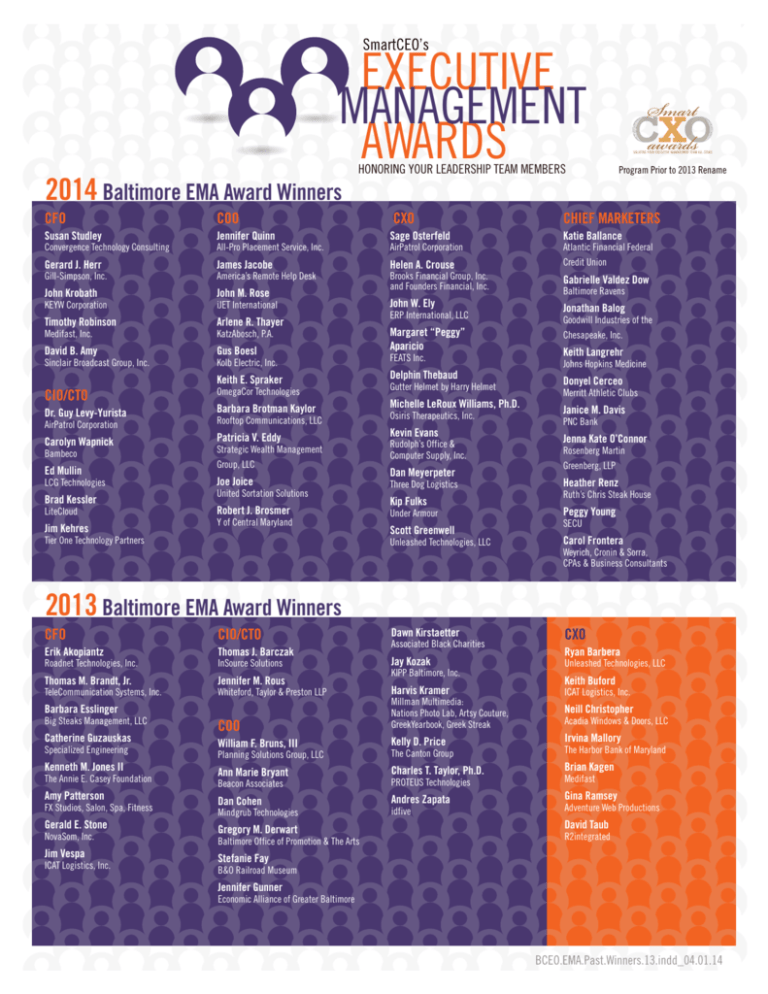 SmartCEO's
EXECUTIVE
MANAGEMENT
AWARDS
2014 Baltimore EMA Award Winners
HONORING YOUR LEADERSHIP TEAM MEMBERS
C O
CXO
SALUTING YOUR EXECUTIVE MANAGEMENT TEAM ALL-STARS
Program Prior to 2013 Rename
CFO
COO
CXO
CHIEF MARKETERS
Susan Studley
Jennifer Quinn
Sage Osterfeld
Katie Ballance
Gerard J. Herr
James Jacobe
Helen A. Crouse
John Krobath
John M. Rose
Timothy Robinson
Arlene R. Thayer
David B. Amy
Gus Boesl
Margaret "Peggy"
Aparicio
Keith E. Spraker
Delphin Thebaud
Barbara Brotman Kaylor
Michelle LeRoux Williams, Ph.D.
AirPatrol Corporation
Rooftop Communications, LLC
Carolyn Wapnick
Patricia V. Eddy
Kevin Evans
Convergence Technology Consulting
Gill-Simpson, Inc.
KEYW Corporation
Medifast, Inc.
Sinclair Broadcast Group, Inc.
CIO/CTO
Dr. Guy Levy-Yurista
Bambeco
Ed Mullin
LCG Technologies
Brad Kessler
LiteCloud
Jim Kehres
All-Pro Placement Service, Inc.
America's Remote Help Desk
iJET International
KatzAbosch, P.A.
Kolb Electric, Inc.
OmegaCor Technologies
AirPatrol Corporation
Brooks Financial Group, Inc.
and Founders Financial, Inc.
Gabrielle Valdez Dow
John W. Ely
Jonathan Balog
ERP International, LLC
FEATS Inc.
Gutter Helmet by Harry Helmet
Osiris Therapeutics, Inc.
Strategic Wealth Management
Group, LLC
Rudolph's Office &
Computer Supply, Inc.
Joe Joice
Three Dog Logistics
United Sortation Solutions
Robert J. Brosmer
Y of Central Maryland
Tier One Technology Partners
Atlantic Financial Federal
Credit Union
Dan Meyerpeter
Kip Fulks
Under Armour
Scott Greenwell
Baltimore Ravens
Goodwill Industries of the
Chesapeake, Inc.
Keith Langrehr
Johns Hopkins Medicine
Donyel Cerceo
Merritt Athletic Clubs
Janice M. Davis
PNC Bank
Jenna Kate O'Connor
Rosenberg Martin
Greenberg, LLP
Heather Renz
Ruth's Chris Steak House
Peggy Young
SECU
Unleashed Technologies, LLC
Carol Frontera
Dawn Kirstaetter
CXO
Weyrich, Cronin & Sorra,
CPAs & Business Consultants
2013 Baltimore EMA Award Winners
CFO
CIO/CTO
Erik Akopiantz
Thomas J. Barczak
Roadnet Technologies, Inc.
Thomas M. Brandt, Jr.
TeleCommunication Systems, Inc.
InSource Solutions
Jennifer M. Rous
Whiteford, Taylor & Preston LLP
Catherine Guzauskas
Specialized Engineering
Kenneth M. Jones II
The Annie E. Casey Foundation
Amy Patterson
FX Studios, Salon, Spa, Fitness
Gerald E. Stone
NovaSom, Inc.
Jim Vespa
ICAT Logistics, Inc.
Jay Kozak
KIPP Baltimore, Inc.
Harvis Kramer
Ryan Barbera
Unleashed Technologies, LLC
Keith Buford
ICAT Logistics, Inc.
COO
Millman Multimedia:
Nations Photo Lab, Artsy Couture,
GreekYearbook, Greek Streak
William F. Bruns, III
Kelly D. Price
Irvina Mallory
Planning Solutions Group, LLC
The Canton Group
The Harbor Bank of Maryland
Ann Marie Bryant
Charles T. Taylor, Ph.D.
Brian Kagen
Beacon Associates
PROTEUS Technologies
Medifast
Dan Cohen
Andres Zapata
Gina Ramsey
Barbara Esslinger
Big Steaks Management, LLC
Associated Black Charities
Mindgrub Technologies
Gregory M. Derwart
Baltimore Office of Promotion & The Arts
idfive
Neill Christopher
Acadia Windows & Doors, LLC
Adventure Web Productions
David Taub
R2integrated
Stefanie Fay
B&O Railroad Museum
Jennifer Gunner
Economic Alliance of Greater Baltimore
BCEO.EMA.Past.Winners.13.indd_04.01.14
SmartCEO's
EXECUTIVE
MANAGEMENT
AWARDS
HONORING YOUR LEADERSHIP TEAM MEMBERS
2012 Baltimore SmartCXO Award Winners
CFOs
CIOs/CTOs
COOs
Todd Cope
Ron Burr
Michael Altman
John L. Fink
Chris Chodnicki
Arlene R. Ciroula
Howie Friedman
Gary Davis
David Collier
Brian J. Greenbaum
Louise Finn
Frank Giachini
Grif Highley
Steve Hamby
Donald Knox
Scott Preston
Todd Jennings
Mia Millette
Deri Rowe
Dan Kitchens
Arthur Perlman
Christiane Schulz
Sung Lee
Craig VanBrackle
W. Thomas Sinnott
Josh Lippy
Dave Wade
Cathy Snellinger
Sonny Taragin
Caroline H. Worrall
The Atlantic Remodeling Corporation
Delbert Adams Construction Group LLC
DC Dental
Concrete Protection and Restoration
Convergence Technology Consulting
High Street Partners
Columbia National Real Estate Finance
L.I.F.E.
Cornerstone Records Management
Mahan Rykiel
CSA Medical
Edgewebhosting, Inc.
R2integrated
KatzAbosch
Carroll County Public Schools
Proteus Technologies
Loyola University Maryland
PSA Financial
Orbis Technologies
ARC Construction Services
Quality Health Strategies
GANTECH
Morgan Keller
EXECUTIVE MANAGEMENT
TEAMS
Comer Construction
GWWO, Inc./Architects
IMC Consulting
KTBSPayroll
Lancaster Foods
Living Classrooms Foundation
Next Day Blinds
Orases
Software Consortium
Trusant Technologies
Kayden Premier Enterprises
Howard Community College
ADG Creative
ARHD
CTI (Continental Technologies, Inc.)
Towne Park
MEDVAL
2011 Baltimore SmartCXO Award Winners
CFOs
CIOs/CTOs
COOs
Christopher Camut
Peter Plourd
Mick Arnold
David M. Churchill
William A. Glover
Aaron Bukowitz
Brendan Connors
Rick Havrilla
Martin J. Copsey
Tim Delbrugge
David Spencer
Ben Fenlon
Craig Horner
Steve Briggs
Dave Nichols
Scott Jenkins
Jorge Elguera
Brian Pfeifer
G. Jeffery Kerns
Chris Brandenburg
Thomas P. Powderly
Michael McNeely
Tori Boats
Margaret McDonald-Sheetz
Nancy S. Noppenberger
Peter Murray
Annette Walter
Amy T. Seto
Ted Tompkins
Michelle Wittig
T.H.E. Medical
Brown Advisory
Medifast, Inc.
Welocalize
Kelly & Associates Insurance Group
BFPE International
ThompsonGas & Electric
Enterprise Community Partners
Maryland Zoological Society, Inc.
Baltimore Community Foundation
American Urological Association
Archdiocese of Baltimore
CollabraSpace, Inc.
Fortress International Group, Inc.
ICAT Logistics
Laureate Education, Inc.
Millennial Media
ProSync Technology Group
University of Maryland, Baltimore
VetCentric, Inc.
Arnold's Factory Supplies, Inc.
Offit Kurman P.A.
MacKenzie Contracting Co., LLC
Carchex
Towne Park, Ltd.
Payce, Inc.
CyberCore Technologies
Medifast, Inc.
The Strata Group
Mechanical Engineering & Construction
Corporation (MEC2)
FOLLOW US ON TWITTER
@SmartCEO #EMAwards
www.smartceo.com
EXECUTIVE MANAGEMENT
TEAMS
Edaptive Systems
Ascend One Corporation
Health Care for the Homeless, Inc.
Howard Bank
Jones Toyota Chrysler Jeep and Dodge
Medex Global Solutions
OrthoMaryland
PharmAthene, Inc.
Saint Agnes Hospital
Vision Technologies, Inc.