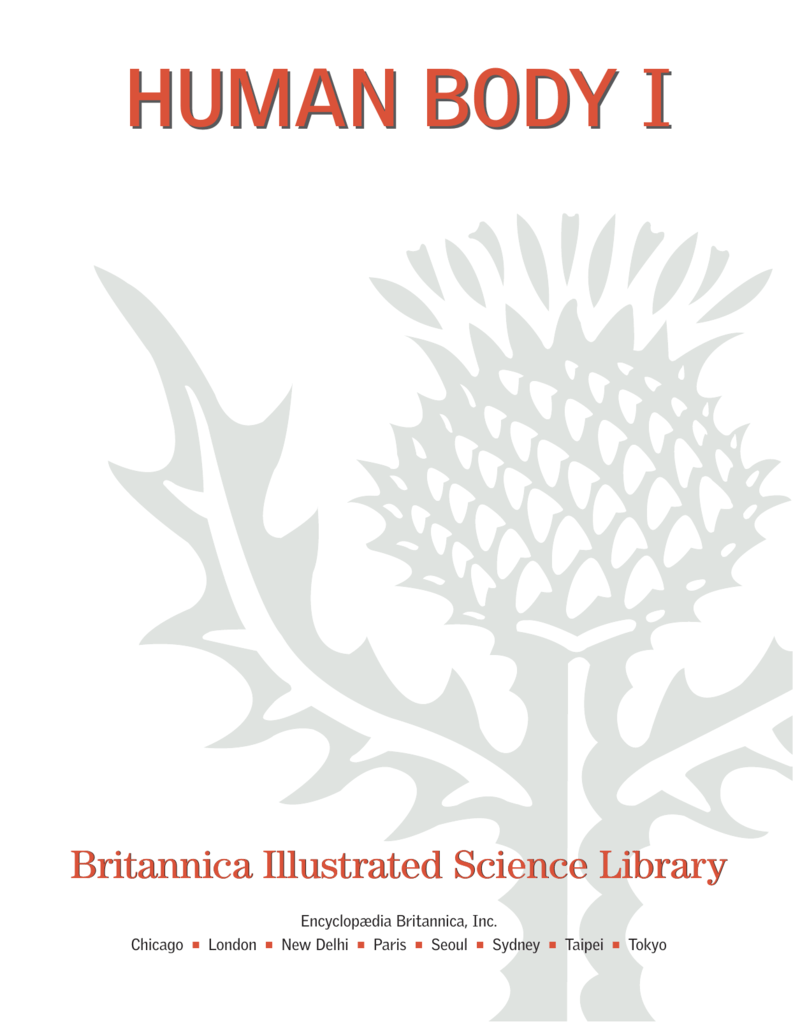 HUMAN BODY I
Britannica Illustrated Science Library
Chicago
■
London
■
Encyclopædia Britannica, Inc.
New Delhi ■ Paris ■ Seoul ■ Sydney
■
Taipei
■
Tokyo
Britannica Illustrated
Science Library
© 2008 Editorial Sol 90
All rights reserved.
Idea and Concept of This Work: Editorial Sol 90
Project Management: Fabián Cassan
Photo Credits: Corbis, ESA, Getty Images, Graphic News,
NASA, National Geographic, Science Photo Library
Illustrators: Guido Arroyo, Pablo Aschei, Carlos Francisco
Bulzomi, Gustavo J. Caironi, Hernán Cañellas, Leonardo César,
José Luis Corsetti, Vanina Farías, Manrique Fernández Buente,
Joana Garrido, Celina Hilbert, Inkspot, Jorge Ivanovich, Iván
Longuini, Isidro López, Diego Martín, Jorge Martínez, Marco
Menco, Marcelo Morán, Ala de Mosca, Diego Mourelos, Laura
Mourelos, Pablo Palastro, Eduardo Pérez, Javier Pérez, Ariel
Piroyansky, Fernando Ramallo, Ariel Roldán, Marcel Socías,
Néstor Taylor, Trebol Animation, Juan Venegas, Constanza
Vicco, Coralia Vignau, Gustavo Yamin, 3DN, 3DOM studio
Composition and Pre-press Services: Editorial Sol 90
Translation Services and Index: Publication Services, Inc.
Portions © 2008 Encyclopædia Britannica, Inc.
Encyclopædia Britannica, Britannica, and the thistle logo are
registered trademarks of Encyclopædia Britannica, Inc.
Britannica Illustrated Science Library Staff
Encyclopædia Britannica, Inc.
Editorial
Michael Levy, Executive Editor, Core Editorial
John Rafferty, Associate Editor, Earth Sciences
William L. Hosch, Associate Editor, Mathematics and
Computers
Kara Rogers, Associate Editor, Life Sciences
Rob Curley, Senior Editor, Science and Technology
David Hayes, Special Projects Editor
Jacob E. Safra, Chairman of the Board
Jorge Aguilar-Cauz, President
Michael Ross, Senior Vice President, Corporate Development
Dale H. Hoiberg, Senior Vice President and Editor
Marsha Mackenzie, Director of Production
Art and Composition
Steven N. Kapusta, Director
Carol A. Gaines, Composition Supervisor
Christine McCabe, Senior Illustrator
Media Acquisition
Kathy Nakamura, Manager
Copy Department
Sylvia Wallace, Director
Julian Ronning, Supervisor
International Standard Book Number (set):
978-1-59339-797-5
International Standard Book Number (volume):
978-1-59339-809-5
Britannica Illustrated Science Library: Human Body I 2008
Printed in China
Information Management and Retrieval
Sheila Vasich, Information Architect
Production Control
Marilyn L. Barton
Manufacturing
Kim Gerber, Director
www.britannica.com
Contents
What Are We
Made Of?
Page 6
Bones and
Muscles
Page 18
Internal Systems
and Organs
Page 34
The Senses
and Speech
Page 68
Control
Centers
Page 80
A LIVING STRUCTURE
The skeleton consists of
206 separate bones,
which differ in form, size,
and name. It supports
and shapes the body,
protects the internal
organs, and—in the
bone marrow of certain
bones—manufactures
various types of blood cells.
A Perfect
Machine
ow can we understand what we are?
What are we made of? Are we aware
that all that we do—including reading
this book—is the work of a marvelous
machine? We know very little about how we
are able to be conscious of our own actions;
nevertheless, even though we are usually not
very aware of it, this community of organs
that is the body—an integrated system that
includes the brain, heart, lungs, liver, kidneys,
muscles, bones, skin, and endocrine glands—
acts together in exquisitely regulated
harmony. It is interesting that various
mechanisms work together to keep the
temperature of the body at 98.6° F (37° C);
thanks to the dynamic structure of bones
and cartilage, the body is maintained in
perfect balance. The body also has a
fantastic ability to transform the food it
ingests into living tissues, bones, and
teeth, all of which contribute to its growth.
By this same process, we obtain the energy
for working and playing. It is hard to
imagine that not long ago the cells of the
body of the person reading this book were
autonomous and were duplicating
themselves freely within the walls of a
mother's uterus. Certainly no one
reading this book could recognize herself
or himself in those cells. Nevertheless,
each cell carried within it the information
necessary for the development of that
person. Everything that happens inside us is
truly fascinating. Therefore, we invite you to
enjoy this book. It is full of incredible facts
and illustrations that will show you the
complex ways each part of the body works.
H
What are cells like, and how do they form
tissue? What is blood, and why are proteins
so important? The heart, usually thought of as
the wellspring of love and the emotions, is
actually the engine of the circulatory system.
It is because of the heart that all the cells of
the body receive a constant supply of
nutrients, oxygen, and other essential
substances. The heart is so powerful that it
pumps about 10 pints (4.7 l) of blood per
minute. The nervous system is the most
intricate of all the body's systems. It works
every second of every day, gathering
information about the organism and its
surroundings and issuing instructions so that
the organism can react. It is this computer
that permits us to think and remember and
that makes us who we are.
he nervous system is a complex network
of sensory cells, originating in the brain
and spinal cord, that transmits signals
throughout the body, employing a caravan of
chemical messengers to make sense of this
marvelous complex that we catalogue as
touch, taste, smell, hearing, and vision. In fact,
at this precise moment, because of an
extraordinary relationship between our eyes
and our brain, we are able to see and
understand what we are reading. Modern
cameras are designed on the same basic
principles as our eye, but they have never been
able to equal the visual power of the eye. The
focus and the automatic aperture of the human
eye are perfect. Our ears share a similar
complexity and allow us to have excellent
hearing. The external ear operates by receiving
sound waves in the air. Sound waves travel
through the auditory canal and are transmitted
by the bones of the intermediate ear toward
the cochlea, which contains liquid and is
spiraled like the shell of a small sea snail. The
cochlea converts waves of air into vibrations of
liquid, which are detected by special filaments
in the ear that are of many lengths and that
detect sound waves of different lengths. These
filaments then transmit nerve impulses to the
brain and provide us with our ability to
interpret what we hear. This book will also
tell you about the function of our skin, the
largest organ of the body, which serves as an
elastic barrier covering and protecting
everything inside our bodies. Captivating
images will show you how each of our
extraordinary body systems function, and
incredible facts will help you understand why
the human body is so amazing.
T
What Are We Made Of ?
MITOSIS
An enlarged view that shows
the process of mitosis, the
most common form of
cellular division
UNDIVIDED ATTENTION 8-9
WATER AND LIQUIDS 10-11
THE CELL 12-13
MITOSIS 14-15
SYSTEMS OF THE BODY 16-17
T
o understand the truest and
most elementary characteristics
of life, we must begin with the
cell-the tiny organizing
structure of life in all its forms.
Most cells are too small to be
observed with the naked eye, but they
can be distinguished easily through an
ordinary microscope. Human body
tissues are groups of cells whose size
and shape depend on the specific
tissue to which they belong. Did you
know that an embryo is a mass of
rapidly dividing cells that continue to
develop during infancy? We invite you
to turn the page and discover many
surprising things in this fascinating
and complex world.
8 WHAT ARE WE MADE OF?
HUMAN BODY I 9
per hour
225 miles
At birth the infant brain contains 100
billion neurons. That is about as many
nerve cells as there are stars in the
entire Milky Way Galaxy! Then as the
infant receives messages from the
senses, the cerebral cortex begins its
dynamic development.
(360 km/h)
Neurons
Each neuron in the brain can be
connected with several thousand other
neurons and is capable of receiving
100,000 signals per second. The signals
travel through the nervous
Brain
system at a speed of 225 miles per hour
(360 km/h). Thanks to this complex
communication network, the brain is
capable of remembering, calculating,
deciding, and thinking.
DENDRITES
They are the branches
through which a neuron
receives and sends messages.
With this system each neuron
can be stimulated by
thousands of other neurons,
which in turn can stimulate
other neurons, and so forth.
THE VELOCITY OF THE NERVOUS
SYSTEM'S SIGNALS
3 pounds
(1.4 kg)
Undivided
Attention
Learning
Each child has his or her own intellectual filter; the
quality of the filter depends on undivided attention and
on how the child responds to a broad variety of stimuli.
From birth the infant's brain
cells develop rapidly,
making connections that can
shape all of life's
experiences. The first three
years are crucial. When
neurons receive visual,
auditory, or gustatory stimuli,
they send messages that
generate new physical
connections with
neighboring cells. The signals
are sent through a gap called
a synapse by means of a
complex electrochemical
process. What determines
the formation of a person's
synapses and neural
networks? One key factor is
believed to be the undivided
attention and mental effort
exerted by the person.
IS THE WEIGHT OF
A HUMAN BRAIN.
Respiration
Respiration is usually an involuntary,
automatic action that allows us to take in
the oxygen we need from the air and exhale
carbon dioxide. These gases are exchanged
in the pulmonary alveoli.
A WORLD OF SENSATIONS
The tongue recognizes four tastes (sweet,
salty, sour, and bitter), and the nasal fossas
contain cells that have more than 200 million
filaments, called cilia, which are capable of
detecting thousands of odors.
THE SENSE OF TOUCH
SKIN
It is predominant in the fingers and hands. The
information is transmitted through neurotransmitters,
nerves that carry these impulses to the brain and
that serve to detect sensations such as cold, heat,
pressure, and pain.
The skin is one of the
most important organs of the
body. It contains approximately
five million tiny nerve endings
that transmit sensations.