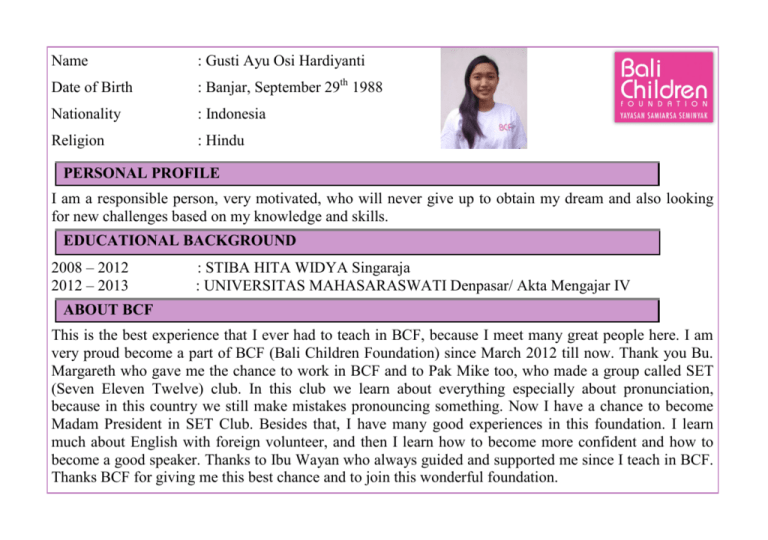 Name
: Gusti Ayu Osi Hardiyanti
Date of Birth
: Banjar, September 29th 1988
Nationality
: Indonesia
Religion
: Hindu
PERSONAL PROFILE
I am a responsible person, very motivated, who will never give up to obtain my dream and also looking
for new challenges based on my knowledge and skills.
EDUCATIONAL BACKGROUND
2008 – 2012
2012 – 2013
: STIBA HITA WIDYA Singaraja
: UNIVERSITAS MAHASARASWATI Denpasar/ Akta Mengajar IV
ABOUT BCF
This is the best experience that I ever had to teach in BCF, because I meet many great people here. I am
very proud become a part of BCF (Bali Children Foundation) since March 2012 till now. Thank you Bu.
Margareth who gave me the chance to work in BCF and to Pak Mike too, who made a group called SET
(Seven Eleven Twelve) club. In this club we learn about everything especially about pronunciation,
because in this country we still make mistakes pronouncing something. Now I have a chance to become
Madam President in SET Club. Besides that, I have many good experiences in this foundation. I learn
much about English with foreign volunteer, and then I learn how to become more confident and how to
become a good speaker. Thanks to Ibu Wayan who always guided and supported me since I teach in BCF.
Thanks BCF for giving me this best chance and to join this wonderful foundation.