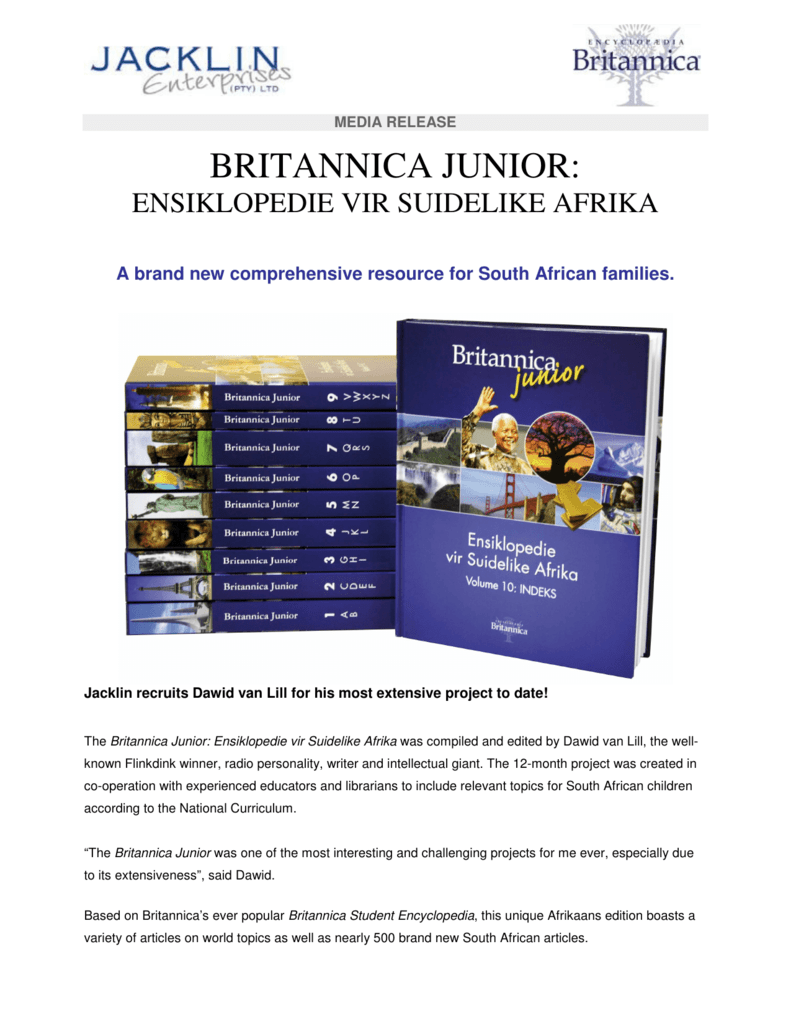 MEDIA RELEASE
BRITANNICA JUNIOR:
ENSIKLOPEDIE VIR SUIDELIKE AFRIKA
A brand new comprehensive resource for South African families.
Jacklin recruits Dawid van Lill for his most extensive project to date!
The Britannica Junior: Ensiklopedie vir Suidelike Afrika was compiled and edited by Dawid van Lill, the wellknown Flinkdink winner, radio personality, writer and intellectual giant. The 12-month project was created in
co-operation with experienced educators and librarians to include relevant topics for South African children
according to the National Curriculum.
"The Britannica Junior was one of the most interesting and challenging projects for me ever, especially due
to its extensiveness", said Dawid.
Based on Britannica's ever popular Britannica Student Encyclopedia, this unique Afrikaans edition boasts a
variety of articles on world topics as well as nearly 500 brand new South African articles.
An investment that will continue over future generations
Britannica Junior
TOP 10 FACTS
The ten books introduce young readers, between the ages of 8 – 16
years, to interesting people, countries, plants and planets. Many colourful
photographs, maps, illustrations and interesting facts help to make the
information even more understandable.
1. Based on the ever popular
Britannica Student Encyclopedia.
2. More than 2 300 enlightening articles
to explore.
3. Approximately 2 700 photographs,
"We are extremely proud to be associated with this milestone in the
publication of Afrikaans literature", says Mike Jacklin, Managing Director
illustrations, tables and 1 200 maps
and flags.
4. 2 970 pages filled with information.
of Jacklin Enterprises.
5. Ten high quality volumes, bound
Knowledge is accessible to young readers
According to Jacklin, this new Afrikaans treasure filled with information,
is an essential resource and a necessity for every public and school
library. "We intend to have the Britannica Junior on the shelves of as
many libraries as possible so that all learners will have access to this
new relevant resource."
according to library standards.
6. Separate index volume.
7. Contributions by experienced
educators and librarians.
8. Compiled and edited by
Dawid van Lill.
9. Verified factual information checked
by Britannica, a world leader in
trustworthy information
FOR MEDIA ENQUIRIES, CONTACT:
Helen Holyoake at tel (011) 462 2302, fax (086) 648 2375 or
e-mail: [email protected]
10. First newly printed Afrikaans
encyclopedia in nearly
30 years!
NOTES TO EDITORS:
About Dawid van Lill
Dawid van Lill is a writer, journalist, translator and Internet consultant, specializing in the creation and presentation of
quiz programs for radio, television, magazines and the Internet. He was a contributor to the South African version of
Trivial Pursuit, and verified the questions and answers for five series of The Weakest Link. In 1984 and 1986, he was
winner of the popular TV quiz series Flinkdink. Dawid is currently the CEO of Think Media, a quiz and trivia company. His
latest books include Wonders of Africa, African Wildlife Trivia and Manmade Wonders of Africa published in 2008.
About Britannica Encyclopædia, Inc.
The Encyclopædia Britannica is a home of writers, thinkers and philosophers, wits and teachers. Contributors since its
origin in 1768 have included such celebrated academics and authors as A.C Grayling, Peter Kellner, Paul de Sousa,
Gary Dickson, Sigmund Freud, Bertrand Russell, Albert Einstein, Marie Curie, Leon Trotsky and Harry Houdini.
In 1994 the company developed Britannica Online, the first encyclopedia for the Internet, which made the entire text of
the printed Encyclopædia Britannica available online, as well as a Britannica disc version. New initiatives for the Web are
continuously under way.
About Jacklin Enterprises
Jacklin Enterprises is a Publishing Company specialising in trade distribution and continuity programmes in South Africa
and the UK. The company was registered in 1997, but at the time already represented the culmination of almost 20
years experience in South African publishing, mail order continuity marketing and fulfilment.
Based on this solid foundation of experience, the company was granted the Southern African distribution rights for
Britannica publications in 2008. A wide selection of Britannica book sets, individual publications and children's
publications are available from selected major booksellers or directly from Jacklin Enterprises.